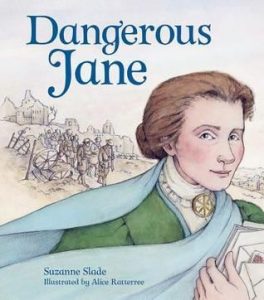 Slade, Suzanne. Dangerous Jane. Peachtree, 2017. 9781561459131. Unpaged. $17.95. Gr. 2-5.
Slade's work is a simple introduction to the life of Jane Addams, American social worker and peace activist, who founded Hull House, a settlement house for immigrants in Chicago.  Beginning with her early life, the author tells us that Jane became aware of poverty when visiting a poor part of town and vowed to help people in need when she grew up.  On a trip in Europe as a college graduate, she saw poverty in London and visited a settlement house that helped poor people acquire job and literacy skills.  This inspired Jane to return to Chicago and found Hull House.   Later we read that Jane Addams was involved in the peace movement to bring an end to World War l.   Initially, she was scorned for these efforts and was called "Dangerous Jane" by the FBI.  However, by 1931, public opinion became favorable and she earned the Nobel Peace Prize. This picture book biography does not give a lot of details about her other contributions, such as the founding of the NAACP. More information is contained in the author's note and timeline, where some of the gaps are filled in. The illustrations by Alice Ratterree are done in soft muted watercolors.  However, Jane stands out in every drawing, because she is always pictured wearing bright green, even as a child.  There are two black and white photographs in the back matter.  THOUGHTS: This text serves as a good introduction to the life of this important figure in American history and will make for a great read aloud.  Students wishing to learn more will need to seek additional resources, which the author provides in the bibliography.  This book is a worthy addition to elementary collections.
Picture Book; Biography     Denise Medwick, West Allegheny School District

Weissman, Elissa Brent Ed. OUR STORY BEGINS: Your Favorite Authors and Illustrators Share Fun. Atheneum Children's Books, 2018. 978-1-4814-7208-1. $17.99. 192 pp. Gr. 3-6.
"Everyone's story begins somewhere." Authors are inherently able to reminisce about that moment when they felt the power of story start to change their lives. Sometimes it was through the received recognition or struggle or heartache that the seeds to their future careers began. Join Elissa Brent Weissman as she collects individual memories and samples from 26 authors and illustrators and revel in their variety, inspiration, and child-like gifts of bringing stories to life. Kwame Alexander shares a poem he wrote for his mom; several authors (R.J. Palacio and Kathi Appelt among them) share their love of horses and unicorns; Alex Gino shares a sci-fi short story, and Brian Selznick shares some early drawing tips. The selections show diversity of age, geography, and heritage, which provides both windows and mirrors for young readers. Plus, children will have that inspiring and relatable notion that indeed, authors were once kids too!  THOUGHTS: The insights that budding writers' will gain from this collection cannot be measured. Seeing the editing process and imperfect samples from famous folks allows for many writing mini-lessons. Showing the variety of writing works and styles also gives classes a chance to compare and discuss. Plus, the artwork will inspire doodlers and illustrators alike to grab a pencil or paintbrush and get creating!
800; Literature     Dustin Brackbill, State College Area School District
Wood, Susan and Ross MacDonald. American Gothic: The Life of Grant Wood. Abrams Books for Young Readers, 2017. 978-1-4197-2533-3. $18.95. Unpaged. Gr. 1-4.
Even as a young Iowa farm boy, Grant Wood loved to draw. As he aged, his drawings progressed, and he explored the art culture beyond his midwestern landscape, but in the end, Grant came back to create a vision of the region that he loved. Readers will enjoy learning how Grant came to paint the classic American Gothic and represent common people during the Great Depression. The details of his life are sparse in the story, but the author's note and timeline at the end help anyone looking to know more. Ross MacDonald provides color-coated images of Wood and his work in an inviting and stylized manner. The farm couple at the center of Grant's masterpiece would be proud to share their story once more.  THOUGHTS: Although brief, the pages where Grant Wood contemplates his artistic style provide a primer through art history and the approaches that artists take. Impressionism, Cubism, Abstract, and Gothic styles are all depicted. It would be beneficial for budding artists to explore more images of Grant Wood's art and compare them to the book.
Biography       Dustin Brackbill, State College Area School District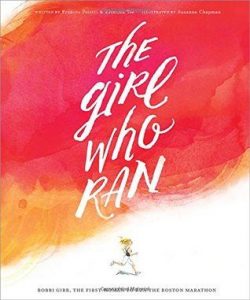 Yee, Christina, and Frances Poletti. The Girl Who Ran: Bobbi Gibb, the First Woman to Run the Boston Marathon. Compendium Inc., 2017. 9781943200474. 48 pp. $16.95. Gr. 1-5.
This biography in picture book form is accessible to all ages of readers. Bobbi Gibb could never sit still and loved to run. Even when she was discouraged from all sides–her parents and the admissions people to the Boston Marathon–she did not give up. She trained by running across the country. Ultimately Bobbi ended up sneaking onto the starting line disguised as a boy in a hoodie, her brother's shorts, and men's running shoes (they didn't make women's at the time, even though it was 1966) and joined the race! THOUGHTS: The watercolor pictures flow perfectly with the poetry verses that express Bobbi's joy of running. This is a great book to use as a starter for women in sports and discuss which sports still haven't admitted women yet.
Biography; Picture Book     Emily Woodward, The Baldwin School