Winter, Jeanette. The World is Not a Rectangle: A Portrait of Architect Zaha Hadid. Beach Lane Books, 2017. 978-1481446693. 32 pp. $17.99. Gr. Pre-K – 5.
As a child in Iran, Zaha Hadid grew up visiting natural places and ancient ruins. Throughout her life, the memories of these locations never leave her. Hadid travels to London to attend school and becomes an architect. The book presents the obstacles Hadid had to overcome, as a young female math-loving grade school student and as a Muslim at a Catholic school. Hadid was selected as the winner of an architecture contest twice, but the city refused to build the concert hall she designed because of her gender and ethnicity and the building's unconventional style. Hadid perseveres and prevails, with the author showing in simple elegant images how seashells became sports stadiums and marsh grass inspired buildings that resembled waving. THOUGHTS: A valuable addition to any library collection, this well-told, inspirational story highlights the accomplishments of a woman who overcame great challenges because of her gender, her religion, where she came from, and her unconventional ideas.
Biography; Picture Book          Emily Woodward, The Baldwin School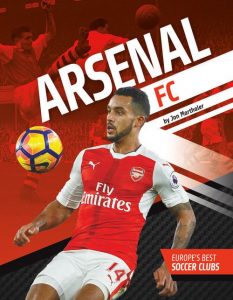 Europe's Best Soccer Clubs. ABDO, 2018. $22.95 ea. $183.60 set of 8. 48p. Gr. 3-6.
Avise, Jonathan. FC Barcelona. 978-1-5321-1131-0.
Carothers, Thomas. Juventus FC. 978-1-5321-1134-1.
Karpovich, Todd. Manchester United. 978-1-5321-1135-8.
Kortemeier, Todd. AC Milan. 978-1-5321-1129-7.
Kortemeier, Todd. Real Madrid CF. 978-1-5321-1136-5.
Marthaler, Jon. Arsenal FC. 978-1-5321-1130-3.
Marthaler, Jon. FC Bayern Munich. 978-1-5321-1132-7.
Seidel, Jeff. Chelsea FC. 978-1-5321-1133-4.
European soccer seemingly gains in popularity in the United States with every passing year. In an effort to better inform U.S. fans about their favorite teams, ABDO has recently released a new eight volume series entitled Europe's Best Soccer Clubs. Each volume outlines the history of the club, highlights well-known players and matches from club history, and discusses club traditions. The volume received for review, Arsensal FC, spotlights one of England's most popular football clubs. Not only does this volume explain the basic information about the club, it also includes information about the various leagues and cups present in European football. The text is supplemented by current and historical photos as well as fact boxes, a timeline, glossary, and a website to obtain further up-to-date informational links on the club. THOUGHTS: If your school has soccer fans, you will want to add this series to your collection. While biographies of individual European players are not uncommon for middle grade readers, books that focus on individual clubs fill a void in the soccer nonfiction market. Recommended.
796.334 Soccer     Elizabeth Henry, Lampeter-Strasburg SD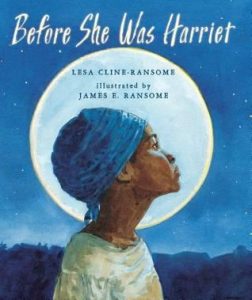 Cline-Ransome, Lesa. Before She Was Harriet. Holiday House, 2017. 9780823420476. Unpaged.Gr. 2-5.
Cline-Ransome takes us on a journey through the life of Harriet Tubman in this unique picture book biography. Told in reverse chronological order, the book describes the various roles that Tubman played as an important figure in American history.  Some of these may not be as well-known to young readers, such as nurse, Union spy, and suffragist. Each page discusses one of these roles in simple yet lyrical text and is accompanied by full bleed illustrations by the award winning illustrator James Ransome.   Most illustrations depict Harriet on a large scale, so that she is the main focus of each two page spread. The story comes full circle as it begins and ends with Harriet as an old woman. The concept of journey is conveyed even further by the metaphor of the train and other modes of transportation, such as the boat in the river and the soldiers riding horses.  Ransome includes an illustration of a train in the countryside before the title page.  On the title page itself, we see a woman waiting for this train.  At the end of the book, we meet this woman again, now knowing that this is Harriet, who is free to ride this train wherever she chooses.   The author is perhaps sending the message that Harriet is no longer "riding" the Underground Railroad as an oppressed person because she is now free. THOUGHTS:  This is a beautiful book that deserves a place in every library collection.  While not a detailed account of Tubman's life, this tribute is a wonderful introduction.  Young readers will gain a better understanding of Tubman's many accomplishments and how one person can change the world.
Biography; Picture Book         Denise Medwick, West Allegheny SD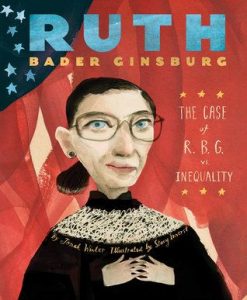 Winter, Jonah. Ruth Bader Ginsburg: The Case of R.B.G. vs. Inequality. Abrams Books for Young Readers, 2017. 978-1419725593. 32 pp. $17.99. Gr. 2-5.
This biography of Supreme Court Justice Ruth Bader Ginsburg is told as a picture book court case. With unusual and eye-catching illustrations, this highly reviewed version of Bader Ginsburg's life shows her courage and fortitude in the face of prejudice and gender discrimination. Starting with her father and continuing through her education and being a working mother, Bader Ginsburg proves to everyone that she wins against inequality.  THOUGHTS: This is a great introduction to any research project about overcoming hardships to succeed. Particularly appropriate in highlighting women in leadership roles.
Biography; Picture Book     Emily Woodward, The Baldwin School