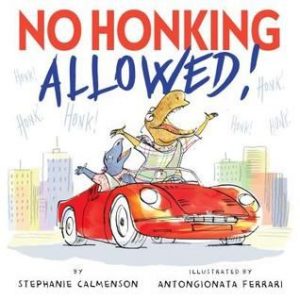 Calmenson, Stephanie. No Honking Allowed! Holiday House, 2017. 978-0-8234-3672-9. $16.95. Unpaged. Gr. K-2.
Friends (and dinosaurs) Rex and Stego go on a driving adventure in Rex's car in this rhyming tale from Stephanie Calmenson. Rex is very excited about his car and wants to demonstrate his favorite features: the engine ("vroom"), the brakes ("screech"), and his favorite feature on the vehicle: the horn ("honk!"). In fact, everywhere he goes in the city, Rex wants to honk the horn. But before he can stark honking, Stego points out to him the "No Honking. Except for Safety." signs posted throughout the city. When a fire truck needs to get through the crowded street, Stego finally gives Rex permission to honk the horn, which Rex does with enthusiasm. But after the fire truck passes, Rex must try to regain control over his urge to honk. THOUGHTS: Sure to be popular with readers, this humorous, rhyming story would be a perfect read-aloud choice. Recommended for schools and classrooms serving younger readers.
Picture Book      Elizabeth Henry, Lampeter-Strasburg SD
Yoon, Salina. That's My Book! And Other Stories. Bloomsbury, 2017. 978-1-611963-891-4. Upaged. $9.99. Gr. K-2.
Salina Yoon returns with three new stories in the newest installment of Duck, Duck, Porcupine!.  In "That's My Book!", Porcupine and Big Duck are bored.  They ask Little Duck to borrow his books, but instead of reading them, they play dominos, "walk fancy", and make a stage out of books.  This bothers Little Duck, so he takes his books back.  When Porcupine and Big Duck find a left-behind book, they open it and learn that reading is fun.  Story two, "Let's Have a Talent Show!", showcases that everyone has talents even when they don't know it.  Big Duck wants to have a talent show, but Porcupine doesn't seem to have any talents.  He soon realizes, as do the others, that he too has talents they are just different from Big Duck's talents.  In the final story, "Dress-Like-A-Pirate Day", Porcupine gives Little Duck an eye patch for Dress-Like-A- Pirate Day, but Big Duck doesn't know it's that day, so he's worried that something is wrong with Little Duck because he's wearing an eye patch and will only say, "Arr!"  He misses all of the signs as he tries to figure out what's wrong with Little Duck.  THOUGHTS:  All three stories are fun read alouds with elementary students.  Each story has a great theme/moral that can lead to great character and kindness discussions.  This is a great addition to elementary libraries and classrooms.
Picture Book       Erin Bechdel, Beaver Area SD
Balla, Trace. The Thank You Dish. Kane Miller, 2017. 978-1-61067-644-1. Unpaged. $9.99. Gr. K-2.
The Thank You Dish highlights all of the people and things necessary for one meal.  As Grace and her mama sit down to dinner, Mama starts by thanking rain, soil, and the sun for helping with the meal.  Grace then begins to add in all of the other animals, people, and things that helped create the meal on her plate.  Each page spread uses muted yellows, oranges, and greens and highlights the image of Grace's thank you.  THOUGHTS:  Although not a must-have, this is a nice concept book about what it takes to create a meal and also how to show gratitude for what one has.  It would be good to read around Thanksgiving or with a kindergarten class learning about kindness.
Picture Book     Erin Bechdel, Beaver Area SD
Sís, Peter. Robinson. Scholastic Press, 2017. 978-0-545-73166-9. 32 pp. $17.99. Gr. Pre-K-2.
A little boy who loves to play pirates with his friends is excited for a Halloween contest at school. His mom suggests he be the character from his favorite book, Robinson Crusoe, and he creates an elaborate costume. The boy is excited, until he gets to school and his friends laugh at him for wearing something so unusual. Upset, the boy goes home to bed and dreams of sailing to an island and living like Crusoe. In the end his friends come over to apologize and learn more about the boy's favorite book.  THOUGHTS: An adventurous read about acceptance and being ok with one's self. The drawings are typical of Peter Sís, beautiful and soft.
Picture Book          Emily Woodward, The Baldwin School