Holmes, Sarah Lewis. The Wolf Hour. New York: Scholastic, 2017. 978-0-545-10797-6. 320 p. $16.99. Gr. 7 and up.
Sarah Lewis Holmes has written an interesting, if overly long, take on classic fairy tales.  Using the familiar tropes of the wicked witch, the haunted wood, and the wayward child, Holmes spins the stories of the Three Little Pigs and Little Red Riding Hood on their heads.  The story is told from three perspectives: Magia, the daughter of a woodcutter; the Pigs – Biggest, Little, and Littlest; and Martin, a wolf. Magia's dream is to follow in her father's footsteps and chop the special wood from the trees in the Puszka, the dark forest that borders her home.  Magia's mother has other plans for her though; she wants Magia to use her prodigious singing talents to make a name for herself in the city.  While Magia is happy that her singing soothes her mother's pregnancy pains, she does not want to make a career out of it.  The Pigs' dream is to get their mother back; they have been told by the witch that the only way to do so is to play out their story, over and over again: get chased by the wolf, take shelter in the house made of bricks, trick the wolf into climbing into the chimney where he falls to his death into a pot of boiling water. Martin's dream is to stay safe in his tower of books and find the safety and love that he experienced before his mother was killed by a human.  Martin's mother always warned him to stay away from stories, because they can suck you in, and you can lose yourself, and so Martin was raised on books of facts.  And then there's the witch, the puppetmaster holding all of the strings.  Eventually, the characters all find themselves in the same story, and, for better or worse, need to figure out how to extract themselves in order to set things right.  THOUGHTS:  While the book definitely lags in the middle, and Holmes takes her time getting to the real meat of the story, her premise is clever, and the characters are well-drawn.  The love that each of these characters (other than the witch, perhaps) feels for their families is palpable and heartbreaking. Hand this book to lovers of fairy tales, and those who enjoy a slow-burning plot.
Fantasy        Lauren Friedman-Way, The Baldwin School
Gagnon, Michelle. Unearthly Things. Soho Teen, 2017. 978-1-61695-696-7 278p. $21.99.  Gr. 8 and up.
After Janie's parents are killed in an accident, she is shipped off to a family in San Francisco, her dad's best friend, supposedly. She is thrown into a world where buying an $800 dress seems to be the norm, while back home in Hawaii, that money could have paid a lot of bills. Janie is sent to a private school where everything seems foreign; she can't even wear comfortable shoes to school. Things get pretty sinister and creepy as there seems to be a ghost in the house that is bothering Janie more than the other residents in the house. The motivations of her benefactors come into question.  Between that and the haunting, Janie does not feel safe anymore, but what can she do?   THOUGHTS: This is a fast-paced book that is more than a little sinister with plot twists galore. It is a retelling of Jane Eyre, that moves quickly. Students who have not read Jane Eyre would still enjoy this suspenseful tale.
Horror; Suspense      Toni Vahlsing, Abington Friends School
Pullman, Philip. The Book of Dust. Knopf Books for Young Readers, 2017. 978-0-37581-530-0. 464 p. $22.99. Gr. 7-12.
Fans of Pullman's classic His Dark Materials series will be delighted to re-enter the world of Lyra Belacqua. Set several years before The Golden Compass, Dust focuses on Malcolm, a twelve year old boy working at his parents' inn on the River Thames. In his spare time, Malcolm helps the nuns with odd jobs around the local priory and takes care of his precious boat, La Belle Sauvage. The quiet of his little town is disrupted when the nuns take in orphaned baby Lyra, and Malcolm and his daemon Asta begin to pay special attention when curious visitors begin to frequent the inn. One of those visitors is Hannah, who befriends and exchanges information with Malcolm, and works to decipher the mysterious alethiometer device. Another guest is one less kindly; a strange man and his disfigured hyena daemon, who Malcolm believes is trying to kidnap Lyra. When a terrible storm begins to flood the town, Malcolm must set out on La Belle Sauvage to protect Lyra at any cost. THOUGHTS: A rich, absorbing fantasy set in the familiar, parallel world crafted by Pullman so many years ago. This exhilarating read is the beginning of another trilogy.
Fantasy     Vicki Schwoebel, Friends' Central School
Pullman, Philip. La Belle Sauvage. Alfred A. Knopf, 2017. 9780375815300. 449 pp. $22.99. Gr. 8 and up.  
Philip Pullman's His Dark Materials series has always been a favorite of mine and countless other fantasy fans. The long wait since the publication of The Amber Spyglass is rewarded with the first novel in Pullman's new companion trilogy, The Book of Dust.  La Belle Sauvage is a welcome return to the fantastical, alternate world of England in the early 20th century.
This story follows 11-year old Malcolm Polstead, a charming and observant boy who works in his family's inn near Oxford. By chance he finds a clue meant for a Resistance spy, who is working against the totalitarian Magisterium. The clue leads him to a friendship with Dr. Hannah Relf, a master of the alethiometer and the spy's local contact in Oxford.  Intrigue builds as many characters come to town in search of information about a mysterious baby who has been left under the care and protection of nuns in the village. Malcolm and a local servant girl, Alice, become the protectors of baby Lyra as she comes under threat from agents of the Magesterium and a flood of biblical proportions. The three children and their daemons take refuge in Malcolm's trusty boat, La Belle Sauvage, in search of Lyra's father Lord Asriel.  THOUGHTS: Readers will be more than satisfied with this captivating adventure tale with terrific and complex new characters, an intriguing plot and the promise of more adventures to come. One of my favorite books of 2017.
Fantasy      Nancy Summers, Abington School District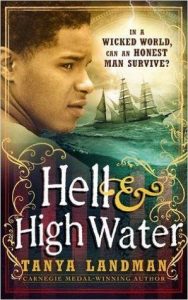 Landman, Tanya. Hell and High Water. Candlewick Press, 2017. 978-07636-88752.  $17.99 312 pp. Gr. 7-12.
Caleb Chappell and his father make a living as traveling performers of Punch and Judy shows in 1752 England.  Caleb admires his father Joseph, who has creative, technical and moral understanding, so it is a blow when his father is wrongly imprisoned.  Rather than death, Joseph is sentenced to be sent to the colonies.  For Caleb, it feels like death.  But his father tells him to find his aunt (unknown to him) who will care for him, and he will find him again, "come hell or high water."  His aunt and cousin Letty accept him, unlike the rest of the town who suspects him of everything due to his skin color.  Survival in their small town of Tawpuddle is dependent upon dangerous sailing trips and the wishes of nobleman Sir Robert Fairbrother.  Then Caleb is shocked to find his dead father's body washed ashore, identifiable only by his ring.  But while Caleb summons help, the ring is stolen and the man buried, meant to be forgotten.  But much, much more is amiss, and Caleb's determination to prove the man was his father leads him to unearth a landslide of secrets and power in this small seaside town.  THOUGHTS: A well-crafted and twisty tale with the right amount of suspense, atmosphere and characterization (even the puppets) to intrigue readers. With a focus on unmasking racism, sexism and the power of class structure to determine one's fate, this is not to be overlooked.  
Historical, Mystery      Melissa Scott, Shenango Area School District