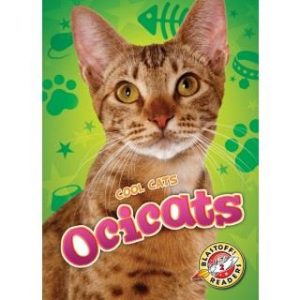 Rathburn, Betsy.  Siberians.  Bellwether Media, 2017. 9781626176287. 24 pp. $19.50. Gr. K-2.
Rathburn, Betsy. Ocicats. Bellwether Media, 2017. 9781626176287. 24 pp. $19.50. Gr. K-2.
This series on various cat breeds is designed for the primary grade reader.  With colorful photographs and simple text, these books are a good choice for libraries who need to update or add more "cat books" to their collection.  There are 26 books in the Cool Cats series, which includes breeds not found in other series, such as Siberians and RagaMuffins.  Words found in the glossary are highlighted in the text, but without a pronunciation guide. The author begins with a history of each breed and then gives a description of what the cat looks like and how it behaves.  Readers will be interested to learn that Siberians love to play in the water and that some Ocicats can open lids to get treats. An index and suggestions for further print or online reading are contained in the back matter. The photographs are appealing and show cats in different colored coats. THOUGHTS:  This series is sure to be a hit in elementary libraries, especially with children who enjoy reading about this popular pet.  
636.8 Cats                     Denise Medwick, West Allegheny SD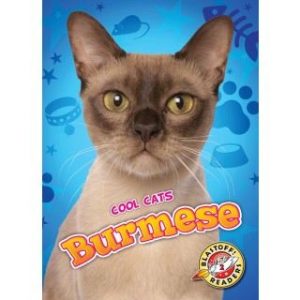 Rathburn, Betsy. Cool Cats.  Bellwether, 2017. $25.95. 24pp. Gr. K-2.
Japanese Bobtails. 978-1-62617-562-4.
Selkirk Rexes. 978-1-62617-564-8.
Burmese. 978-1-62617-561-7.
These three books from the Cool Cats series offer beginning readers and researchers an attractive non-fiction text. Vibrantly colored pages showcase compelling photographs of the cats. There is minimal text per page and in large font for easy reading. Selected words are bolded, corresponding to the glossary. Each slim volume provides a table of contents, glossary, index and a "To Learn More" page with suggested reading and websites. This is the one concern with these books: they direct readers to search on www.factsurfer.com for further information. There is no attribution with the search engine to identify who is sponsoring the tool. Additionally, while two of the searches yielded three results, when searching Burmese Cats the search is returned as No Results Found. THOUGHTS:  The books are visually appealing and well organized for the young researcher with accurate information, but the problematic search engine issue is an irritant.
Cats     Nancy Nadig, Penn Manor School District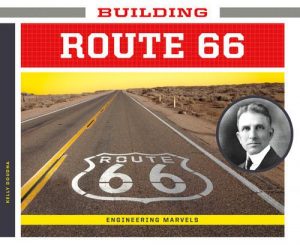 Doudna, Kelly. Building Route 66. Abdo Publishing, 2018. 9781532111082. $17.95. 24p.
Gr. K-4.
This book, about the building of Route 66, begins by defining what a road is and a little bit of history of early cars, roads, and a short biography of the "Father of Route 66" planner, Cyrus Avery. The book is defined into three sections: Planning the Road, Building the Road, and The Road Today. Each section has bold headings, appropriate photographs to accompany the text, and large photo captions. THOUGHTS: This is a well-designed, easy-to-use nonfiction picture book that could be used for enjoyment or research. It includes a map, glossary, old photographs, a section on other famous roads of the world, and a short quiz at the end.
Transportation     Bridget Fox, Central Bucks SD
Kurtz, Kevin. Living Things and Non-Living Things: A Compare and Contrast Book. Arbordale Publishing, 2017. 9781628559859. $17.95. 32pp. Gr. K-3
The book Living Things and Non-Living Things tries to help young people identify living and nonliving things by using thought-provoking questions and accompanying photographs. The difficulty is that there are both living and nonliving things that grow, move, change, reproduce, move, need oxygen, etc. The photographs are beautiful and are integral to helping readers see why it is difficult for scientists to come up with an accurate definition of what makes something living or nonliving.  THOUGHTS: This nonfiction book is a wonderful resource for teaching the concepts of living and non-living and comparing and contrasting skills. There is a page for creative minds, which includes a short glossary, and several pages of photographs with checklists for the reader to quiz themselves on identifying living and non-living things. This book also includes Curriculum Connections and an online Teaching Activity Guide.
NF Picture Book      Bridget Fox, Central Bucks SD