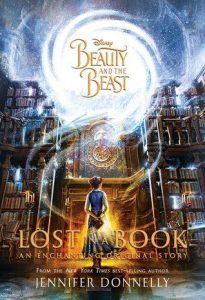 Donnelly, Jennifer. Lost in a Book. Disney, 2017. 978-148478098. 16.99. 341 p. Gr. 3-6.
If any child has ever wished for a more in-depth telling of Beauty and the Beast, Disney and Jennifer Donnelly have provided such a story. This awkward book offers readers not so much as a backstory, or a continuation of the familiar tale, but a fleshed-out moment of Belle's adventure. The spectral beings as Love and Death wager over Belle's life and the resulting drama is the basis of Lost in a Book. Belle, trapped in the Beast's castle, stumbles upon an enchanted book which allows her to escape into the story, into a more exciting world where she thinks she is free, but in actuality is being lured into Death's trap. The book is a frustrating waste of Donnelly's talents and seems to have no discernable target audience. The storyline of Love and Death requires a more sophisticated reader than the young princess-loving base of Disney's audience, but does anyone old enough to appreciate the horror of Belle's life being toyed with for a wager still care about Disney princesses?  THOUGHTS: Not a quality fairytale rewrite such as those by Alex Flinn, this book screams commercial tie-in. Purchase if there is a demand for fairytale books.
Fantasy     Nancy Nadig, Penn Manor School District
Dairman, Tara. The Great Hibernation. Wendy Lamb, 2017. 978-1-5247-8. $16.99. 256 p. Gr. 3-7.
The town of St. Polonius-by-the-Fjord has many traditions that bind the inhabitants together, but none more important than the annual Tasting of the Sacred Bear Liver which recalls the year of the Great Hibernation, when the town's founders fell into a deep sleep. Now that Jean has passed the magical age of 12 years, four months and six days, she must partake in the ceremonial tasting. She is terrified and does not manage to keep it down long. Shortly thereafter, all the adults, those who partook of the liver, are fast asleep and not waking up. Is this Jean's fault because she did not eat the liver? Led by the dictatorial son of the town's mayor, the children marshal resources to keep the town running, each child tasked with assuming her parent's career with predictably hilarious results. However, Jean is determined to discover why the adults are asleep, and soon starts to unearth rather unsettling facts about the children in the town. Teamwork among an unlikely group of friends saves the day. THOUGHTS: A delightful mix of faux-myth, mystery, and giggles. Jean is an intrepid heroine, assisted by new friend Isara, whose family recently emigrated to St. Polonius. The topical issue of welcoming immigrants is deftly handled without bogging down the plot with moralizing.  
Fantasy    Nancy Nadig, Penn Manor School District
Rosenberg, Madelyn and Wendy Wan-Long Shang. This is Just a Test. Scholastic, 2017. 978-1-338-03772-2. $17.99. 243 p. Gr. 4-7.
If middle school weren't difficult enough for David Da-Wei Horowitz , mixing two cultures is not going well. His Chinese and Jewish grandmothers are turning his upcoming Bar Mitzvah into an ethnic battleground. But fame strikes when geeky David and his friend Hector are invited by cool guy Scott to form a team for the school trivia tournament and pull off the upset win. David and Scott form a friendship while building a 1980s bomb shelter in case the Soviets attack.  But tensions arise when the pair discuss who to invite into the shelter. Can David get Scott to allow Hector and crush Kelli Ann in? As the two work, David learns that there are all kinds of families, and perhaps his over-loving ethnic-goulash is far better than a perfect "American" family. THOUGHTS:  A wonderful period piece along the lines of Gary Schmidt's The Wednesday Wars or Jack Gantos' Dead End in Norvelt. The book conveys the political tensions of the cold war as well as exploring the definition of family.
Historical Fiction       Nancy Nadig, Penn Manor School District
Benton, Jim. The Handbook. Scholastic, 2017. 978-0-545-94240-9. $12.99. 222 p. Gr. 4-6.
Jack only proved what every kid knows: there really is a parent's handbook. It all started when Jack, who loves picking through the neighbors' trash in search of treasure, scored an interesting looking box of junk from a neighbor who was moving to Florida. He forgot about the box until neighborhood adults start acting suspiciously. Upon closer examination, Jack discovers, hidden in an innocuous book on turnips, the Secret Parent's Handbook. Jack, with his friends Mike and Maggie, unlocks the secrets of parenthood and the three gleefully manipulate their own parents with techniques lifted from the book. But their behavior does not go unnoticed, both by the authorities and the tiny tot resistance, and the trio frantically works to engineer a solution that will please everyone. THOUGHTS:  Traditional dumb-parent trope with the unique twist of the protagonists eventually working with their parents to restore order.  Students may enjoy the thought that there is a source for all the tried and true parenting lines like "because I said so".
Humor     Nancy Nadig, Penn Manor School District