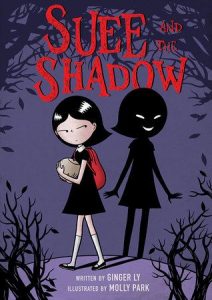 Ly, Ginger. Suee and the Shadow. Amulet Books, 2017. 978-1-4197-2564-7. 240 p. $12.99. Gr 4-8.
Suee Lee and her father recently moved from Bustle Street to Outskirtsville, and Suee is not pleased. While she is weary of her new 5th grade classmates, Suee is used to being alone since her inattentive father has worked long hours since her parents divorce. In fact, she prefers it that way – her black dresses, excellent vocabulary, and pointy hair aren't always appreciated by other twelve year olds. One afternoon after an odd visit to the school's exhibit room, Suee notices her shadow is talking to her, and finds out that the previous day she had passed out in the exhibit room – an episode she does not remember. When her classmates start acting like zombies, the always pragmatic and level-headed Suee is most definitely not intimidated, and knows she is the only one who can get things back to normal. She might even make a friend in the process! THOUGHTS: Molly Park's illustrations in black, grey and red may seem somber at first, but the clean and minimalist art makes Suee's narration stand out. A clever, engaging read about bullying and fitting in that will appeal to fans of graphic novels like Anya's Ghost or Ghostopolis.
Graphic Novel    Vicki Schwoebel, Friends' Central School
Thompson, Gare. Mount St. Helens 1980: Fiery Eruption! Barron's, 2017. 978-1-4380-0972-8. $7.99. 225 p. Gr. 4-7.
Alex lives in Nighthawk, Washington, in the shadow of Mount St. Helens. A promising artist and self-proclaimed loner, Alex loves spending time in the mountain range near his home, sketching the various faces of the dormant volcano. But the year is 1980, and scientists are predicting that the volcano might be primed for an eruption. Alex's best friend, Wendy, is fascinated by volcanos, and visits Alex frequently to document changes in Mount St. Helens. The pair are on an early morning hike to observe the rumbling, smoking volcano when the major eruption occurs, leaving them in a race against time to reach safety and avoid becoming victims of the volcano. The book, part of the Great Escapes series, skillfully intertwines 1980's pop culture and the timeline of the actual eruption with a suspenseful plot and likeable characters. An epilogue informs readers of factual incidents and people on whom the book is based, as well as providing a list of sources for further research. THOUGHTS:  This exciting book is sure to be a hit with readers outgrowing the I Survived series and well as lovers of action-adventure books. However, you may have to convince readers to look past the ghastly cover which completely misrepresents the book and its characters.  
Action-Adventure; Historical Fiction    Nancy Nadig, Penn Manor School District