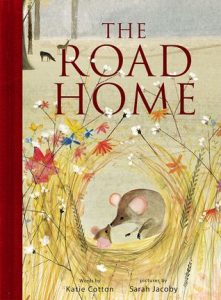 Cotton, Katie.   The Road Home.  Abrams Books for Young Readers, 2017. 9781419723742. Unpaged. $15.95. Gr. K-2.
In this poetic and comforting tale, animals prepare for winter.  Each pair of animals has a goal in mind. The mouse builds a nest underground, and the bird and her chick fly off to a warmer climate.   On their journey, the rabbit and her kit find themselves in an alarming situation. They are being pursued by a wolf and cub who feel hunger or that "burning thing that settles like a stone."  The author describes the rabbits' fear as they try to outrun their predator. The reader is reassured to see that the pair have escaped the hungry wolves and have found safety in their leafy home as night falls. As spring arrives, all the animals return to the meadow, having survived the harsh winter. The illustrator Sarah Jacoby has chosen watercolors in a soft and muted color palette, which helps set the mood of the story.  Her engaging drawings take us through the seasons, as the tale begins in late summer and ends in spring. Most of the illustrations are full bleed and are done over a two-page spread. In the drawing of the fall leaves being blown about, one can almost feel and hear the wind. The winter landscape looks bleak and cold, with a blanket of snow topped by thorny bushes. The message here is that whenever parent and child are together, that place is home, no matter how difficult the road was to get there.  THOUGHTS: This lyrical story works well in winter-themed storytimes and would make a wonderful bedtime story.  Children will enjoy looking at the sweet drawings of the animals. A worthy selection for elementary collections.
Picture Book            Denise Medwick, West Allegheny SD
Cuevas, Michelle and Sydney Smith. Smoot: A Rebellious Shadow. Dial Books. 2017. 978-0-525-42969-2. $17.99. Unpaged. Gr. K-2.
A shadow's job is typically to obediently follow you around, but "if life is a book, then Smoot the Shadow has been reading the same yawn-colored page for the last seven and a half years." One day, Smoot has the chance to live out his dreams and wishes when he comes unstuck from his boy. As Smoot continues his journey, other shadows find courage and try their own fantasies. Smoot worries that this could get out of hand, so the rebellious shadow takes matters into his own shadowy hand, all within the curious eye of his boy. Will they find a connection? Sydney Smith's gentle wwatercolorswith inky shadows make for an interesting contrast, and Michelle Cuevas keeps her text lyrical and well paced. The shadow of Smoot may just encourage more dreaming and action for other children who are stuck in a rut.  THOUGHTS: Smoot would make for a fun twist for science lessons or the old groundhog stories that primary teachers use every year.
Picture Book     Dustin Brackbill, State College Area SD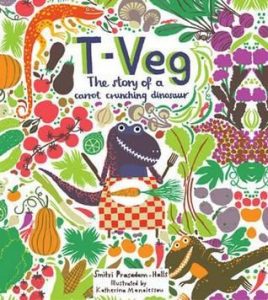 Prasadam-Halls, Smriti. T. Veg. Abrams Books, 2017. 978-1-4197-2494-7.  $16.95. Unpaged. Gr. K-2.
Poor Reginald the T. Rex just doesn't fit in with his jungle friends. He is great at roaring and stomping, but come dinner time, he opts for carrot cake over steak. He attempts to convince his family and friends to try grapes, greens, avocado pie and smoothies, but they insist that a T. Rex should just eat meat, meat, meat. Eventually, the poor little dino, tired of being teased and tormented, packs his bag and runs away, looking to hang out with like-minded herbivores instead. But that proves to be challenging for a variety of reasons, leaving Reg frustrated and alone. However, his friends and family are missing him, too, and when Reg saves the clan from disaster, they finally appreciate the benefits of eating their fruits and veggies. The story is related in rollicking rhyme, and the palate of the  bold illustrations bring to mind carrots, peas and eggplant. THOUGHTS: A cute book to underscore the freedom to be different, or to encourage healthy eating.   
Picture Book     Nancy Nadig, Penn Manor SD
Denos, Julia. Windows. Candlewick, 2017. 978-0-7636-9035-9. $15.99. Unpaged. PreK – 1.
Evening begins to fall and a young boy heads out into his neighborhood, taking his small dog for a walk. As the pair amble past homes and businesses, the boy notices the variety of activities taking place in the windows, eventually returning home to a familiar, welcoming warmth. The detailed illustrations will invite children to closely examine each page and each window to see what is happening.  THOUGHTS: Beautifully illustrated, this is a lovely book for one-on-one reading.  
Picture Book     Nancy Nadig, Penn Manor School District