Philbrick, Rodman. Who Killed Darius Drake. Scholastic, 2017. 978-0-545-78978-3. $17.99.  192 p. Gr 4-8.
The book features two unlikely friends, Arthur and Darius, teaming together to solve a mystery. There are clear supporting characters from adventurous Deidre,  intimating "Scar man," cheerful Mr. Robertson, and assured community leader Jasper Jones. The local history focus and mysteries research in the book is strong. Many students could be inspired to learn about their community.  In the afterward Philbrick reflects that his writing has come full circle. THOUGHTS: Rodman Philbrick is a popular author among my middle school students, so I was eager to read this book. The strong elements of mystery will lure students into the book.
Mystery     Beth McGuire, Hempfield Area School District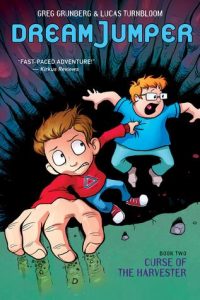 Grunberg, Greg, and Lucas Turnbloom. Dream Jumper Book Two: Curse of The Harvester. Scholastic, 2017. 978-0-545-82608-2. $12.99. 220pp. Gr 4-7.
Vibrant colors in the artwork add to the storytelling in the second book of the Dream Jumper series. Ben and Jake work together to make money assisting others to conquer their bad dreams. Odd things happen in the process of helping and they wonder if items travel from Dream World to real world. There is also a new visitor in Dream World and dangers to escape escalate. Readers will be waiting for the next book as a result of this exciting graphic novel. THOUGHTS: This book is the second in a series. Students should read book 1 first to fully enjoy this graphic novel.
Graphic Novel, Adventure      Beth McGuire, Hempfield Area School District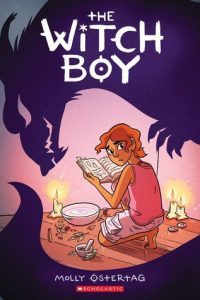 Ostertag, Molly. The Witch Boy.  Scholastic, 2017. 978-1-338-08952-3. $24.99. 224 p. Gr 3-7.
Roles are very clear in this society. Boys become shapeshifts and girls become witches.  Ofen Aster hides to observe the lessons girls receive, and he gets in trouble for doing so. While practicing witchery, Astor is overseen by Charlotte, known as Charlie, and they become fast friends. Astor is unable to get his animal spirit to arrive while other boys go missing. Aster is visited by a dark creature that offers how to teach him to shapeshift. Should he take the offer from the creature, should he try to heal Charlie's broken leg with magic, should Aster pursue his passion or the path society wishes him to follow? Thoughts: The graphic novel delivers action and an inspiring tale. Add this title to your collection.
Graphic Novel, Fantasy     Beth McGuire, Hempfield Area School District