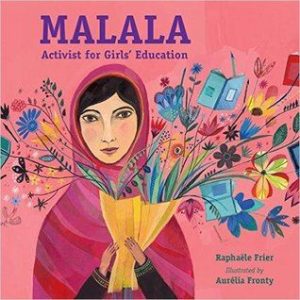 Frier, Raphaële.  Malala: Activist for Girls' Education.  Charlesbridge, 2017.  9781632895912. 45pp. $17.99.  Gr. 3-6.
This French import is the biography of Malala Yousafzai and recounts the story of the young education advocate beginning with her life as a child through young adulthood.  Frier tells the story in a factual way and includes the history of the rise of the Taliban in Pakistan in the text. The author's voice is clear as she discusses how the Taliban used violence to silence the critics of its policies in Pakistan.   Frier focuses on the Taliban's impact on women's civil rights, such as access to education, early marriage, and clothing. Aurélia Fronty's full-bleed illustrations are done in a colorful folk art style, but appear to be flat and static. The illustration of the assassination attempt shows two shadowy figures with guns, while Malala is the focal point circled with yellow rays of light.  The next drawing shows Malala rising above another gun carrying shadow as she is transported via plane to England for medical care. The final page of the story shows Malala holding a bouquet of flowers and books, as the author discusses her honors and accomplishments, including the Nobel Peace Prize. The back matter is quite extensive and includes photographs and a timeline of Malala's life.  There is also information on the country, a map, and languages as well as more on the accomplishments of Malala, including actual inspiring quotes. As an activist for the education of girls, Malala is an inspiration to middle-grade readers and shows that one person can make a difference. Frier's text is designed for older readers, unlike Malala's Magic Pencil, a more literary narrative for younger readers. THOUGHTS:  This biography nicely details the life of this remarkable young women and is a useful resource to begin research for a report. This book is a long read aloud but is a great choice to highlight during Women's History Month.  Elementary and middle school libraries will want to add this inspiring story to their collections.
92, Biography            Denise Medwick, West Allegheny SD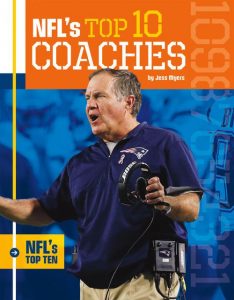 NFL's Top 10. ABDO SportsZone, 2018. 978-1-5321-1137-2. 32 pp. $151.60 set of 8. Gr. 4-8.
NFL's Top 10 Coaches begins with an introduction and countdowns from the 10th best coach to the first rated coach. Coaches ranked 10-2 have a one-page spread containing paragraphs of facts and at least one photograph. The top-ranked coach, Bill Belichick, has a two-page spread taking a closer look at his development and successes in the NFL. Next is a section for 6 honorable mention coaches. Additional information includes a glossary and further resources. Abdo manages a website that updates web pages to visit related to football. The book concludes with a concise index and an about the author paragraph. THOUGHTS: The book has the potential to spark a lot of conversation with readers. The fact that Chuck Noll, a beloved coach for the Pittsburgh Steelers, is listed as the fifth best coach will generate a lot of discussion in western PA and readers that identify with the Steeler fan base. The book is sure to find lots of readers!
Football      Beth McGuire, Hempfield Area School District
1st in Fashion (series).  ABDO, 2018.  32 p.  $18.95 ea.  Gr. 3-6.
Felix, Rebecca.  Eddie Bauer:  Down Jacket Developer.  9781532110733
Felix, Rebecca.  Louis Reard:  Bikini Designer.  9781532110764
Felix, Rebecca.  Mary Quant:  Miniskirt Maker. 9781532110757
Felix, Rebecca. Sam Foster:  Sunglasses Success.  9781532110740
Felix, Rebecca.  Chuck Taylor:  Sneaker Sensation.  9781532110788
Olson, Elsie.  Levi Strauss:  Blue Jean Genius. 9781532110771
Eddie Bauer: Down Jacket Developer provides straightforward information about outdoor enthusiast and entrepreneur Bauer. The highlight is the story of the near-fatal experience Bauer had with hypothermia that led him to invent a warmer winter jacket. While the text is merely serviceable, the book's design is engaging, with appealing graphics and abundant photographs throughout.  A timeline, glossary, and index add to the book's usefulness. THOUGHTS:  Recommended for elementary and middle school libraries where biographies are in demand.  
Biography          Maggie Bokelman, Cumberland Valley SD