Wegelius, Jakob. The Murderer's Ape.  Translated by Peter Graves. Delacorte Press, 2017. 978-1101931752. 624pp.  $17.99 Gr. 5-8.
This beautifully illustrated mystery is the English translation of a Swedish novel published in 2014.  The book's heroine, Sally Jones, is an anthropomorphic gorilla who can read, write, and understand language but cannot speak.  She is single-mindedly determined to prove that her best friend, Chief Koskela, a ship's captain, is innocent of the murder he has been convicted of.  Her quest to free him takes her on a wild adventure from Portugal through India, where she struggles not only to follow a convoluted trail of evidence but for her own safety.  THOUGHTS:  Sally Jones is an unforgettable animal heroine extraordinaire who has more humanity than most humans, and yet remains a gorilla to her core.  This fun romp blends mystery, animal fantasy, and adventure, and is highly recommended for middle school libraries.
Mystery       Maggie Bokelman, Cumberland Valley SD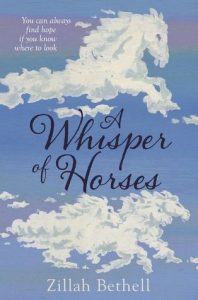 Bethell, Zillah. A Whisper of Horses.  Feiwel and Friends, 2017.  978-1250093943. 339 p.  $16.99. Gr. 5-8.
Serendipity lives in the walled city of Lahn Dahn, which clever readers will recognize as a futuristic, dystopian version of London.  She is a member of the lowest of three castes, and her most treasured possession is a map which shows a route outside the city to a place where horses–which are believed to be extinct–still thrive.  Serendipity dreams of finding the horses but despairs of finding a way outside the city until she meets Tab, an orphan who knows all about eluding the law. Together, Serendipity and Tab forge a tenuous alliance when they discover that each has resources the other can use to achieve their separate goals. THOUGHTS:  Excellent writing, an unusual storyline, and themes of friendship and loyalty that are developed in nuanced and thought-provoking ways make this book more than a run-of-the-mill dystopian novel.  One thing to note is that Bethell plays with language, imagining how words might evolve in a dystopian future ("amazering" instead of "amazing," etc.); some readers will enjoy this, while others may find it frustrating or distracting.  Recommended for middle school libraries.
Dystopian    Maggie Bokelman, Cumberland Valley SD