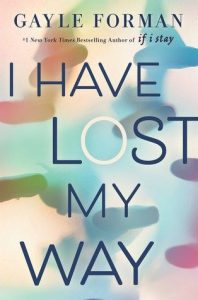 Forman, Gayle. I Have Lost My Way. Viking Books for Young Readers, 2018. 978-0-425-29077-4. 304 p. $10.99. Gr. 9 and up.
Meet Freya, a teen singing sensation who has attracted fans and is about to finish her debut album – until she loses her voice. Meet Nathaniel who is hiding something and seems directionless since arriving in New York. Meet Harun who struggles internally to live the life of his dreams instead that of his family's. Each character is on the brink of self-discovery, but it is only when brought together that they will find the strength to face their greatest fears.
THOUGHTS: I requested an ARC of I Have Lost My Way because I've enjoyed other books by Gayle Forman, the description intrigued me, and I love multi-narrator books. While it wasn't my favorite Forman book, readers will become invested in the characters and read on to see the outcome for each.
Realistic Fiction          Maryalice Bond, South Middleton SD
---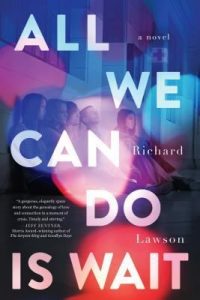 Lawson, Richard. All We Can Do Is Wait. Razorbill, 2018. 978-0-448-49411-1. 288 p. $17.99. Gr. 10 and up.
Following a fatal bridge collapse in Boston, five teens meet in a hospital waiting room while anticipating news of their loved one(s). Jason and Alexxa are siblings waiting to hear about their parents. With the exception of last summer when they were able to put their differences aside, this brother and sister haven't had the best relationship and they need each other now more than they realize. Scott is waiting to hear about his girlfriend Aimee. He is desperate to hold on, even as Aimee is looking towards her future. Scott knows if given the chance, he can show Aimee that theirs is a love that will last. Skyler's sister Kate has always been her rock, and Skyler needs the chance to repay Kate for always being there.
While desperate for news, each teen relives his or her recent interactions with loved one(s), and readers are given a glimpse into what their lives are like. Each has some reason, some regret, or something to tell his or her loved one(s), and one at a time each is given news that will change his or her life forever.
THOUGHTS: Readers will devour the story, desperate to know the outcome for each character. The pacing of this novel was fantastic, and the alternating perspectives will keep the pages turning. Many issues and insecurities are addressed, but to name them would give away the surprise. Mature readers will devour this story of regrets and desperate wishes for one more conversation.
Realistic Fiction          Maryalice Bond, South Middleton SD
---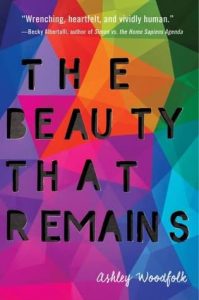 Woodfolk, Ashley. The Beauty That Remains. Delacorte Press, 2018. 978-1-524-71587-8. 352 p. $10.99. Gr. 9 and up.
Grief takes center stage for each of the narrators in The Beauty That Remains. Autumn doesn't know how to return to school and her friend group after her best friend's death, Shay is lost without her twin sister, and after the death of his ex-boyfriend Logan no longer can write out his emotions in a song. Each character has a connection to music, one band specifically.
While each narrator unravels in his or her own way, music plays an integral role in calming him or her. Readers will root for these characters to learn how to live again, even after suffering the life-changing loss of a loved one.
THOUGHTS: Fans of compelling, grief-stricken books will appreciate the experience of each teen who is learning to live with a close loss. I've read a lot of sad books over the past year. Give this one to fans of Zentner's Goodbye Days, Armentrout's If There's No Tomorrow, Ramey's The Sister Pact, Biren's The Last Thing You Said, Hart's After the Fall, Brashares's The Whole Thing Together, and Bateman's Someone Else's Summer. Some drug use and underage drinking make this title more suited for high school readers.
Realistic Fiction          Maryalice Bond, South Middleton SD
---