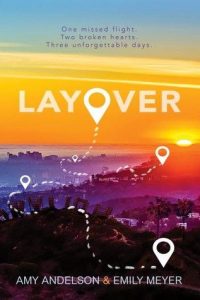 Andelson, Amy, and Emily Meyer. Layover. Crown Books for Young Readers, 2018. 978-1-254-76487-6. p. $17.99. Gr. 9 and up.
Two years ago at thirteen, Flynn's mom was in an accident. After losing her mom, Flynn leaves her Northern California home, moving across the country to New York, to live with her dad, stepmom, stepbrother, and half sister. Though Flynn has adjusted and it's not as fresh, the pain of losing her mom is still with Flynn.
Amos has just returned to New York after trying to avoid an uncomfortable and confusing situation. He fled New York going to boarding school in Massachusetts. While some parts of his life remain the same, his friendship with Flynn is quite different, and Amos wonders if running away was the answer he had wanted.
Poppy is happy to have her siblings back under one roof, so they can do the things they always used to do – together.
While en route to meeting their parents on a winter vacation in Bora Bora, these siblings decide to take a stand and stick together. What happens on their layover in Los Angeles is a whirlwind few days of being together yet sometimes feeling torn apart.
THOUGHTS: What a cute story! Readers will delight in the sibling relationships with narrators Flynn, Amos, and Poppy. The various storylines propel readers forward, as they will want to learn the outcome and see how each sibling resolves his or her situation. Underage drinking and discussion of mature relationships as well as a lack of parental supervision throughout the novel make this a suitable high school read.
Realistic Fiction          Maryalice Bond, South Middleton SD
---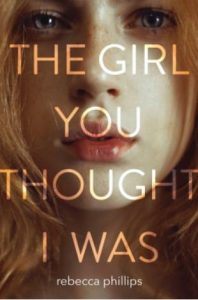 Phillips, Rebecca. The Girl You Thought I Was. HarperTeen, 2018. 978-0-062-57094-9. 368 p. $17.99. Gr. 9 and up.
Though her parents recently divorced and her older sister is now off at college, to everyone else Morgan Kemper appears to live an ideal life. She and her dad have adjusted well to their new apartment and are getting by together.

Things aren't always as they seem; however, and when Morgan is picked up for shoplifting at the mall, her carefully constructed life begins to crack. Able to hide her crime from all of her friends, Morgan is spared the embarrassment of a trial by volunteering and taking an online shoplifting class.

While volunteering, she meets Eli, the boss Rita's nephew. Rita knows why she's really there, but Morgan can't bring herself to tell Eli. As she falls for Eli and volunteers throughout the summer, Morgan struggles with her urge to shoplift. She still has not processed her mother's infidelity and used shoplifting to feel some control in her life. In order to move forward and heal, Morgan needs to accept herself and her life for what it is.  

THOUGHTS: Pressures placed on teens and the aftermath of divorce as well as sibling, parent/child, and teen romantic relationships are all addressed in an authentic way. At times predictable, readers still will root for Morgan to get her life together. This is an excellent addition where realistic, character driven books (with a little romance) are popular.
Realistic Fiction          Maryalice Bond, South Middleton SD
---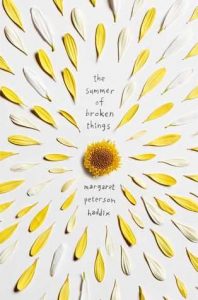 Haddix, Margaret Peterson. The Summer of Broken Things. Simon and Schuster Books for Young Readers, 2018. 978-1-481-41764-8. 400 p. $17.99. Gr. 7 and up.
Avery Armisted has everything any 14 year old girl could possibly want, and she doesn't have to work hard to get it. When she doesn't get her way and is forced to spend the summer before high school in Spain while her dad is there on business, she is anything but thrilled. Instead of seeing the trip as an opportunity or adventure, she fights to attend soccer camp with her best friends. Even her mom doesn't seem to be on her side this time, though. To soften the blow, Avery's parents compromise and allow her to bring a friend along. Their choice is Kayla Butts, a childhood friend of Avery's who is a far cry from someone Avery considers a friend these days.
While Avery sulks in Spain, Kayla seems to thrive, despite her simple, normal upbringing. While reinventing herself without the "Butt Girl" stigma of her small-town school, Kayla begins to see that maybe Avery doesn't really lead such a charmed life. When the girls discover a shocking secret that links their past, they have to work together to move forward and understand who they really are.
THOUGHTS: Avery is not the most likeable character. In fact, she's a spoiled brat. That doesn't mean she deserved to uncover a family secret the way she did. At an impressionable time in her teenage life, Avery's world crumbles, and she's an ocean away from home. Readers will go from despising Avery to rooting for her in this coming of age novel of deciding who you are in the face of adversity. This is a clean read that is suitable for any middle or high school student looking for a book about friendship, family, and self-discovery.
Realistic Fiction          Maryalice Bond, South Middleton SD