Ramey, Stacie. The Secrets We Bury. Sourcebooks Fire, 2018. 978-1-492-65420-9. 320 p. $10.99. Gr. 10 and up.
Dylan is on the run; he only has a few months until he can decide for himself that he's not attending the school for psychologically challenged students where his family wants him. Though he lacks survival and hiking experience, Dylan decides the Appalachian Trail is the perfect place to hide. A few months of hiking until he's 18 is nothing, right?
Most people that know Dylan would say his issues would get in the way of hiking the Trail, but Dylan finds himself at home and able to think of others for the first time. Dylan isn't the only one hiding on the Trail, though, and others need the serenity as much as he does. When it comes to survival in his carefully, yet unpredictable world, will Dylan be selfish or put the needs of others before his own.
THOUGHTS: Readers that like a character-driven novel will root for Dylan as he tries to remain anonymous. As more details are made available through his hike, readers come to understand why he's in the situation he is. Readers looking for a realistic adventure with a bit of mystery and a subtle love interest will devour Ramey's newest work to see if Dylan can make it.
Realistic Fiction          Maryalice Bond, South Middleton SD
---
Watt, Erin. One Small Thing. Harlequin Teen, 2018. 978-1-335-01727-7. 384 p. $18.99. Gr. 9 and up.
Beth feels trapped in a cage – her house – ever since her older sister died tragically. Fed up with not being seen or heard by either of her parents, Beth is looking for a little taste of control in her life. Sneaking out to a party in the next town and hooking up with a guy she meets is just what Beth needs. Afterwards, though, she begins to realize how monumental her decision was, and part of her feels regret. Luckily, she'll never see him again.
Now out of juvie and determined to live life under the radar, Chase attempts to assimilate with his former life. A welcome home party and a pretty girl who throws herself at him is just what he needs.
It isn't until Beth and Chase realize who the other is that they truly realize the impact of their connection. Forbidden from being together yet drawn to the other, Beth and Chase struggle with their feelings as well as with grief, guilt, and loss.
THOUGHTS: Initially drawn in by the cover and the title, One Small Thing left me feeling torn. As a parent, I can understand wanting to protect your child, but Beth's parents take protection to a suffocating level. Teens will devour this story of first love, desperate to know the outcome for Beth and Chase. Underage drinking and mature relationships make this more suitable to high school readers.
Realistic Fiction          Maryalice Bond, South Middleton SD
---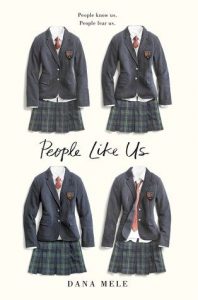 Mele, Dana. People Like Us. G.P. Putman's Sons Books for Young Readers, 2018. 978-1-524-74170-9. 384 p. $17.99. Gr. 10 and up.
Bates Academy was Kay Donovan's ticket out of her old life. Being at the top of the social food chain has had its advantages for Kay. She's a soccer star, has a great group of friends, and has plans to earn a college soccer scholarship.
When a classmate is found dead the night before a major scouting tournament, games are cancelled and Kay begins to panic. A mysterious email from the deceased classmate that arrives the following day sets Kay on a path to make sure her long-hidden secrets stay that way. Though she's been enjoying life at the top, Kay will do anything to get what she wants.
THOUGHTS: This deceptive, fast-paced scenario will leave readers racing ahead to see if Kay stays on top or is ruined by her past secrets. As she fights the clock to solve the mystery, Kay becomes more involved and more suspect. Fans of mystery fiction (especially those with a small town and/or private school flare) will enjoy this read. Underage drinking and casual descriptions of sexual relationships make this more suitable for mature readers.
Realistic Fiction          Maryalice Bond, South Middleton SD
---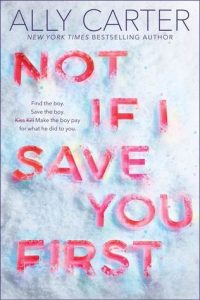 Carter, Ally. Not If I Save You First. Scholastic Press, 2018. 978-1-338-13414-8. 304 p. $18.99. Gr. 7 and up.
Maddie and Logan don't live the typical 10 year old's lifestyle. In their spare time, they find secret ways to get from one place to the next – in the White House. Together they enjoy escaping the adults and the high profile lifestyle they live as the President's son and the President's Secret Service agent's daughter.
Life changes drastically after shots are fired during a botched kidnapping attempt. Maddie and her dad leave DC behind and move to Alaska, where there isn't another person around (or any way other than written letters for Maddie to contact one) for miles. In Alaska Maddie learns a new skill set to help her survive the harsh wilderness. Though she misses her best friend and writes him daily, Maddie gradually moves on and accepts her life.
Flash forward six years, and Logan hasn't been the model First Son. He's now being shipped to Alaska (and back into Maddie's life) to learn a lesson. Before Maddie has the chance to give Logan a piece of her mind, they are attacked in the woods, and Logan is dragged off. Maddie wants Logan dead, but she also wants the pleasure of getting her own revenge.
THOUGHTS: Fans of survival and mystery stories will be delighted by the treacherous Alaskan setting. A strong female heroine shows that girls can have brains and beauty. Readers will be disappointed that this Carter book isn't part of a series.
Realistic Fiction          Maryalice Bond, South Middleton SD
Maddie and Logan were best friends until the fateful night when terrorists gained access to the White House, and Maddie's dad was shot. Now, six years later, Logan is back in Maddie's life, but it's not the life she had. Before her dad was shot, Maddie lived in Washington D.C., and her best friend was the president's son. Now, she lives in the wilderness of Alaska with no friends, no school, and a dad who's away for work often. Logan's return to Maddie's world brings back all of her anger towards him and his disregard for their friendship after she left. But when Logan is kidnapped by a henchman of "the Wolf", the man who six years prior infiltrated the White House, Maddie must bury her anger and save her friend before the Wolf or Alaska kill him. Will Maddie's wit and knowledge of the Alaskan wilderness be enough to save Logan and out maneuver a terrorist seeking revenge, or will Alaska win before Maddie has a chance to save Logan first?  
THOUGHTS: This is another fast-paced adventure from Ally Carter author of the Embassy Row and Heist Society series. The strong female protagonist will appeal to all readers because of the relationship between Maddie and Logan and the relatability of the two. Highly recommended for middle school and high school readers.
Adventure          Erin Bechdel, Beaver Area SD
---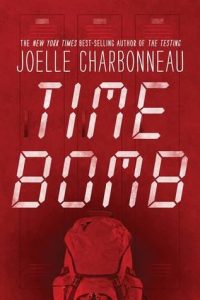 Charbonneau, Joelle. Time Bomb. HMH Books for Young Readers, 2018. 978-0-544-41670-3. 352 p. $17.99. Gr. 9 and up.
Each in school for different reasons, characters take a turn as the lead suspect when the radio announces one of them is the bomber. Narrated by a diverse cast of characters, seemingly innocent and not connected to each other, Time Bomb will grab readers right from the beginning and hold them hostage as the seconds tick by.
THOUGHTS: Loving character-driven, multi-point of view narratives, I knew right from the description (and author) that Time Bomb was going to be a book for me. Reminiscent of Karen McManus's One of Us Is Lying's Breakfast Club style cast of characters, readers will be hooked from the beginning. Hand this one to fans of Hate List by Jennifer Brown, This is Where it Ends by Marieke Nijkamp, and Violent Ends by various authors. Though intense in topic, this book is still suitable for younger high school readers, especially given recent national events.
Realistic Fiction          Maryalice Bond, South Middleton SD