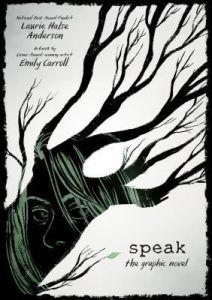 Anderson, Laurie Halse. Speak: The Graphic Novel. Illustrated by Emily Carroll. Farrar Straus Giroux, 2018. 978-0-374-30028-9. 374 p. $19.99. Gr. 9 and up.
Melinda enters high school having called the cops at an end of summer party. On the first day, she has "the wrong hair, the wrong clothes, the wrong attitude, and…[no one] to sit with" (4). Through the course of the graphic novel, readers experience Melinda's first year of high school following a sexual assault which goes unreported. As Melinda withdraws further into herself, readers can see and feel the impact of her assault and the loneliness she experiences by keeping it a secret.
THOUGHTS: Years of readers will rejoice with this graphic novel version of Anderson's modern classic Speak. If possible Carroll's illustrations heighten Melinda's lonely and bleak narrative. While art is a major comfort to Melinda in the novel, artwork is at the center of this adaptation. No scenes are graphically depicted; however, Melinda's situation is unchanged.
Graphic Novel     Maryalice Bond, South Middleton SD
---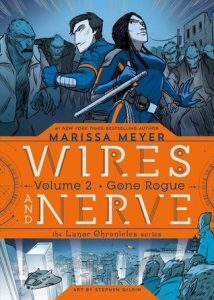 Meyer, Marissa. Wires and Nerve Vol. 2: Gone Rogue. Feiwel & Friends, 2018. 978-1-250-07828-5. 324 p. $21.99. Gr. 10 and up.
Spoiler Alert: If you haven't yet read The Lunar Chronicles, stop now and go read!
Once again told from Cinder's right hand android, Wires and Nerve Volume 2 is narrated by Iko as she tracks down Alpha Lysander Steele, leader of a rogue group of Levana's wolf-soldiers. Steele seeks revenge on Cinder for withholding the mutation anecdote from the remaining wolf-soldiers.
With preparations for a world peace celebration and Queen Selene's visit to Earth on the horizon, Iko has a lot of work to do. Before she can kick back and relax, Iko has to make sure all of her friends are safe. Iko has had enough of Kinney's constant jabs about her "android-ness," causing her to explore her own origins. Regardless, Iko is ready to celebrate, and she knows how to have a good time!
THOUGHTS: Featuring all of your favorite characters, readers who love Meyers' Lunar Chornicles world will be sad to see it over but satisfied with the open-ending of Volume 2.
Graphic Novel     Maryalice Bond, South Middleton SD
---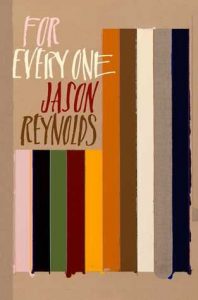 Reynolds, Jason. For Every One. Antheneum/Caitlyn Dlouhy Books, 2017. 978-1-481-48624-8. 112 p. $14.99. Gr. 6 and up.
Much in the manner of Jimmy V's 1993 ESPY speech and Randy Pausch's 2007 Last Lecture (minus the terminal diagnosis), Reynolds tells every one never to give up on his or her dreams, no matter how big or small. Written before his dreams were realized, Reynolds' story is that much more motivating. He is the living example of never giving up on one's dreams, though he didn't achieve them when he thought he would.
This inspiring poem is the perfect graduation or just because gift – for every one.
THOUGHTS: Teachers using Reynolds' books in their classrooms can pair this poem to give students some background on his life, or it would make a beautiful addition to teaching poetry. Kids will connect with his words. No matter what part of life readers are in, they will find hope and encouragement. The title could not be more fitting, as this book truly is for every one.
811 Poetry          Maryalice Bond, South Middleton SD