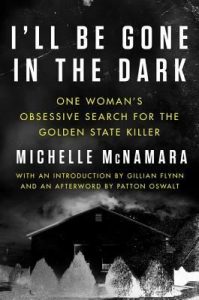 McNamara, Michelle. I'll Be Gone in the Dark: One Woman's Obsessive Search for the Golden State Killer. Harper, 2018. 978-0-06-231978-4. 328 pp. $27.99. Grades 11+.
Michelle McNamara, author of TrueCrimeDiary.com (and wife of comedian Patton Oswalt) had not yet completed I'll Be Gone in the Dark when she passed away suddenly in 2016. With the help of her editor and two of her fellow crime researchers, the book was eventually completed. In it, the authors chronicle the crimes of the "Golden State Killer" (GSK), formerly known as the East Area Rapist and/or the Original Night Stalker. A prolific serial criminal, the GSK committed at least fifty rapes and twelve murders in California between 1976 and 1986. He left a maddeningly broad swath of clues, yet even after the advent of DNA profiling the case was never solved. Detectives possessed a DNA profile for "the responsible" (McNamara's preferred term), which enabled them to connect crimes across California to one perpetrator, but they had no identity to attach it to. The case remained unsolved for over thirty years. But as McNamara warned the GSK in her chillingly prophetic epilogue: "A ski mask won't help you now … This is how it ends for you." Indeed, an arrest was made just months after the the release of her book.
THOUGHTS: I'll Be Gone in the Dark is a masterful, deeply compassionate true crime narrative that is destined to be a classic of the genre. It also necessarily includes descriptions of sexual violence and brutal murders. It's appropriate for older teens who appreciate Truman Capote's In Cold Blood, are interested in criminal justice, or who are just intrigued by the recent arrest of a suspect in this case. 
True Crime (364.15)          Amy V. Pickett, Ridley School District
---
Swanson, James L. Chasing King's Killer: The Hunt for Martin Luther King, Jr.'s Assassin. Scholastic Press, 2018. 978-0545723336. 374 pp. $19.99. Grades 7+.
Outstanding historical nonfiction author James L. Swanson returns with a riveting look at the life, last days, death, and legacy of Martin Luther King, Jr. Swanson opens the book with the little-known 1958 attempted murder of King by a mentally ill woman named Izola Curry. King healed from his stab wounds, but the assassination attempt changed him; he realized the dangers of leading the Civil Rights movement, but King persisted in his cause. Swanson then focuses on the ten years leading up to King's 1968 murder. This tumultuous decade included the Montgomery Bus boycott, the Freedom Riders, the March on Washington, the death of John F. Kennedy, and the beginning of the Vietnam War (which King strongly opposed). Intertwining King's final years with the movements of a small-time criminal named James Earl Ray, Swanson skillfully depicts their "deadly collision course." A chapter on April 4, 1968 entitled "The Last Day" includes a heart-stopping, minute-by-minute overview of King's final hours. The book's gripping final section, Manhunt!, covers the FBI's two-month search for Ray. Photographs, diagrams, and meaningful captions enhance nearly every page of Chasing King's Killer. Extensive back matter includes an essay on Civil Rights landmarks to visit, a chronology of the Martin Luther King, Jr. Day federal holiday, and a timeline of James Earl Ray's arrests, prison record, and escapes.
THOUGHTS: April 4, 2018, marked the 50-year anniversary of Martin Luther King, Jr.'s assassination. There could be no better time to read this excellent piece of nonfiction for young adult readers!
Biography, True Crime (92)          Amy V. Pickett, Ridley School District
---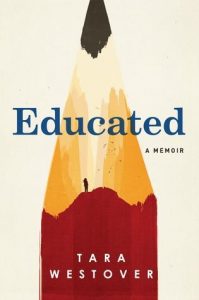 Westover, Tara. Educated: A Memoir. Random House, 2018. 978-0-399-59050-4. 334 pp. Grades 10+.
In her memoir, debut author Tara Westover brings readers along on her journey from her childhood as "an ignorant girl who'd crawled out of a scrap heap" to the upper echelons of academia. She grew up on a mountain in rural Idaho called Buck's Peak, the youngest of seven children in a family headed by her survivalist father and midwife mother. Her parents were so dedicated to staying off the grid that their younger children had no birth certificates, no visits to the doctor (despite several severe injuries), and no formal schooling. Tara's homeschooling experience was unstructured at best, and she spent most of her childhood lending a hand at her father's scrapyard. Eager to escape an abusive older brother, Tara began to eye college as a possible route to a different kind of life. After four years at Brigham Young University, where she often felt like a fish-out-of-water, Tara began graduate studies at Cambridge in England. Through education, her worldview expanded exponentially: "I felt an animating surge of adrenaline, of possibility, of a frontier being pushed outward." Tara Westover is a gifted writer, vividly depicting her early years on Buck's Peak, her adolescence, and her journey into a future that is different from her past. She also takes a loving, nonjudgmental approach in portraying her extremist parents, even as she rejects the pain and violence associated with their way of life.
THOUGHTS: This is a top-notch choice for a school-wide read, and it's a must-have for every library's biography section!
Biography (92)          Amy V. Pickett, Ridley School District