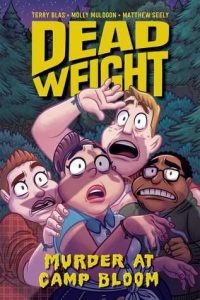 Blas, Terry, Molly Muldoon, and Matthew Seely. Dead Weight: Murder at Camp Bloom. Oni Press, 2018. 978-1-62010-481-1. 166 pp. $19.99. Grades 7+.
Welcome to Oregon's Camp Bloom, a health and fitness camp for overweight teens. Jesse would rather be at a summer fashion program, so she sneaks out one night to enjoy a contraband candy bar and search for a cell phone signal. Returning camper Noah follows her into the woods, where they witness the moonlit murder of popular counselor Cory. With just a few blurry photos on Jesse's phone to go on, the two team up with fellow campers Kate and Tony to analyze evidence, investigate suspects, and (hopefully) crack the case before the murderer can strike again. This lightning-paced graphic novel mystery contains some genuinely fun plot twists and even some convincing red herrings. The artwork is colorful and appealing; violence scenes are appropriately rendered for the format and target audience. Plenty of diversity is represented through each character's ethnicity, body shape, and sexual orientation.
THOUGHTS: Positive depictions of gay, genderqueer, and overweight teens make Dead Weight an especially important addition to graphic novel collections. Even better, it's a page-turning whodunnit that readers will inhale in one sitting!
Graphic Novel          Amy V. Pickett, Ridley School District
---
Franklin, Tee, Jenn St-Onge, and Joy San. Bingo Love. Image Comics, 2018. 978-1-5343-0750-6. unpaged. $9.99. Grades 9+.
In 1963, teenagers Hazel and Mari meet at a church Bingo event. A close friendship blossoms into physical attraction and a kiss, but the stern disapproval of their families leads to a fifty-year separation. Each goes on to marry a man and have children, but after reconnecting (at Bingo!) "Elle" and Mari decide they have waited long enough to be together. Bingo Love is a beautiful, vibrant depiction of young and not-so-young love, with a powerful message for readers: "There are so many various love equations and none of them are wrong. Love is love is love is love." A heart-tugging twist at the novel's ending puts a new spin on happily-ever-after.
THOUGHTS: True love trumps all in this read-it-in-one-sitting graphic novel from Tee Franklin. This is one to read, share, and read again!
Graphic Novel          Amy V. Pickett, Ridley School District