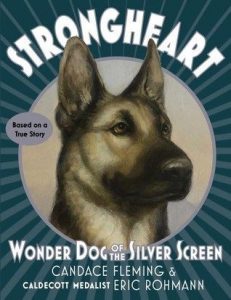 Fleming, Candace. Illustrated by Eric Rohmann. Strongheart: Wonder Dog of the Silver Screen. Schwartz & Wade Books, 2018. 978-1-101-93410-4. 245 p. $17.99. Grades 3+.
As a puppy, Etzel was plucked from his family and taken to a Berlin police kennel where he was transformed into a snarling, snapping guard dog. Far away, in the Hollywood Hills, film director Larry Trimble thinks the time is right to launch the career of a movie star dog. A worldwide search leads him to Etzel, and with each passing day "Strongheart" grows more trusting, playful, and affectionate. And from his very first on-screen appearance in 1921's The Silent Call, Strongheart is a star! Magazine covers, endorsements, and blockbuster movies follow, but an apparent attack on a young fan jeopardizes Strongheart's future. This fictional story is based on true events, and a brief author's note clarifies "The Truth Behind This Tale." Eric Rohmann's black and white oil paint illustrations bring Strongheart's adventures, unique characteristics, and "dog wisdom" to life on almost every page.
THOUGHTS: Strongheart is a top-notch choice for dog lovers, historical fiction fans, and budding film buffs. Today's readers will fall in love with Strongheart just like movie audiences did in the 1920s!
Historical Fiction (1920s)          Amy V. Pickett, Ridley School District
---
Pham, LeUyen. The Itchy Book. Hyperion, 2018. 978-1-368-00564-7.  64 p. $9.99. K-3.
This latest entry into the Elephant and Piggie Like Reading! series is the story of some anthropomorphized dinosaurs who have a problem with itchy skin.  All they want to do is to scratch, but are cautioned against it by a dinosaur wearing glasses. He points to some words carved on a rock which state that "Dinosaurs do not scratch."   As each dinosaur approaches the sign, the first dinosaur (of an unknown species) admonishes the others not to scratch because they are tough. The triceratops, pterodactyl, brachiosaurus, and even a Tyrannosaurus Rex still beg to be allowed to scratch.  The first dinosaur wants to show the others how tough he is, so he asks them to make him itchy, by tickling him with a feather, covering him with cut grass, sand and even "hair from his last haircut." All of the dinosaurs, clearly experiencing a worsening itchy discomfort, reluctantly acknowledge their toughness.  Then a turtle standing near the rock, moves and reveals the final word- alone, which leads to a scratchfest. The reason for the rule becomes clear and the turtle, now alone, has no one to help him scratch his own itch. The message is about understanding that one can question a rule when it makes no sense and Pham has literally shown that rules are not always "written in stone." Her comical illustrations will be appreciated by young readers and their facial illustrations are priceless.  
THOUGHTS:  School libraries will want to add this text to their collections.  When read aloud, this book will produce a lot of laughing and scratching, no doubt. Pham's work is a great starting point to discuss the reason for rules.
Picture Book (Easy Reader)          Denise Medwick, West Allegheny School District
---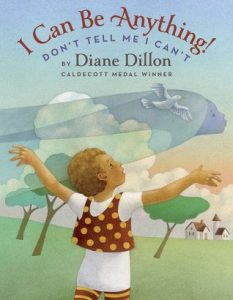 Dillon, Diane.  I Can Be Anything! : Don't Tell Me I Can't.  Blue Sky Press, 2018.  32 p. 978-1-338-16680-3. $17.99. Grades 1-4.
Zoe is a young girl who dreams of her future and what she will be when she grows up.  With each thought, a little voice plants a seed of doubt by pointing out her lack of skills or the risks of that career. The girl acknowledges that she "is not grown up yet" and may not be prepared to be a veterinarian, scientist, artist or a host of other professions right now, but that she will be someday.  Zoe explains that she can get ready for the future by reading "about all the things I can be." In her own strong voice, she challenges the little voice by saying "Don't tell me I can't." This book has a timely message in this era of career awareness initiatives. While the author states that you can have any career, she acknowledges that one must read and learn about that profession.  The other important theme is that one should not allow fear or discouraging thoughts to keep you from reaching your goals. Dillon's illustrations are soft and muted and make for a dreamy atmosphere, which fits well with the story. An illustration appears on each page with the text below. The little voice's statements are done in italics and in a reddish-brown color, which sets them apart. On the back cover are listed a number of careers.  One small quibble is the use of the word "fire girl" rather than firefighter, because this book has value for the universal child, male or female.
THOUGHTS: This book is a valuable addition to elementary collections and should be a first purchase. Counselors or teachers will find this useful for career awareness lessons. Even though the main character appears to be five or six years old, this story could easily be used with all elementary grade levels to introduce students to the world of possibilities and to give them some words of encouragement.
Easy Picture Book          Denise Medwick, West Allegheny School District
---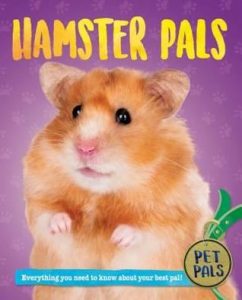 Jacobs, Pat.  Hamster Pals. Crabtree, 2018.  (Pet Pals series).  978-0-778-73560-1. 32 Pages.  $20.75. Grades  2-5.
Jacobs, Pat. Guinea Pig Pals. 978-0-778-73552-6.
Jacobs, Pat. Cat Pals. 978-0-778-73550-2.
Jacobs, Pat. Dog Pals. 978-0-778-73551-9.
Jacobs, Pat. Rabbit Pals.  978-0-778-73561-8.
This series on pets does indeed do what it claims on the front cover and provides the young reader with "everything you need to know about your best pal."  Jacobs has packed a lot of useful information in these slim volumes. Readers learn about choosing and feeding a pet, creating a home, pet behavior and other topics.  In Hamster Pet Pals, children can read about how to safely give their pet a treat, grooming tips and how to keep it from escaping.   The information is given in a text box style in a large font size. The pets themselves speak to the reader in "Pet Talk."  For instance, the guinea pig says, "Please feed me at the same time every day. I may not have a watch, but I know when it's dinner time!"  There is a glossary and index in the back, as well as a quiz based on the text. Suggested readings and websites are also given. However, the PBS link is no longer active and the veterinarian site contained a commercial ad. The photographs are engaging and done on a large scale.  
THOUGHTS: Librarians should make room on their shelves for this pet series, especially if your 600 section needs some updating. Pet lovers everywhere will enjoy reading about their pets. It is unlikely these books will stay on the shelves for long. The texts on rabbits, dogs and cats were not seen by this reviewer.
636  Pets Nonfiction          Denise Medwick, West Allegheny School District