Hannah, Kristin. The Great Alone. St. Martin's Press, 2018. 978-0-312-57723-0. 448 p. $28.99. Grades 10+.
The Great Alone, a remarkable family drama, is the latest novel from Kristin Hannah, author of The Nightingale. In 1974, thirteen-year old Leni Allbright's father has just returned to the U.S. after six torturous years as a Vietnam POW. Ernt inherits a small cabin in off-the-grid Alaska, and moves his wife Cora and daughter there for a fresh start. But the Allbright family is woefully unprepared for the upcoming Alaskan winter, and the months of darkness reveal a darkness within Ernt. Leni, for her part, embraces life in tiny Kaneq, attending a one-room schoolhouse and finding a friend in Matthew Walker, a third-generation Alaskan. Hannah lovingly unspools the years, interweaving Leni's coming-of-age with her parents' passionate but violent marriage. Several fraught survival scenes remind readers of the many ways to perish in Alaska, but finding out what happens to the inimitable Leni (and her beloved mother Cora) is what truly keeps those pages turning.
THOUGHTS: Readers will hate to see this lengthy crossover novel come to an end!
Historical Fiction          Amy V. Pickett, Ridley School District
---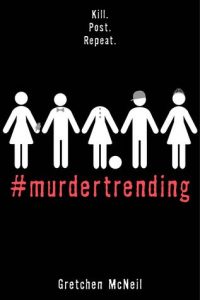 McNeil, Gretchen. #MurderTrending. Freeform, 2018. 978-1-368-01002-3. 352 p. $17.99. Gr. 9 and up.
Dee Guerrera wakes up in the middle of a nightmare. She's been sentenced to live out the remainder of her days (which won't be many) on Alcatraz 2.0, a modern reality app where convicted criminals are sent to be hunted by one of many authorized serial killer personalities. With a reality television star elected President of the United States and the Department of Justice sold to the highest bidder, convicted criminals have little hope of surviving until an appeal date. Initially Dee isn't hopeful, but as things seem to go her way, she aims to prove her innocence. On an island of serial killers hunting down convicted criminals, is there anyone Dee can trust or anyone who will believe her?
THOUGHTS: Teens hungry for fast-paced, serial killer fiction will rejoice with this YA title. #MurderTrending is an essential purchase where horror books are requested. Gruesome descriptions of death throughout the novel make this suitable for mature students.
Realistic Fiction          Maryalice Bond, South Middleton SD
---
Stokes, Paula. Hidden Pieces. HarperTeen, 2018. 978-0-062-67362-6. 448 p. $17.99. Gr. 9 and up.
Worried that everyone eventually will leave her, Embry doesn't share all of herself with many people. In fact, there's only one person who really knows her, and he's her best friend's ex-boyfriend. Immense guilt over choices she's made and things she's done prevents Embry from telling the truth to those she loves. When Embry begins to receive anonymous messages threatening to expose her biggest secrets and hurt the people she loves, Embry spirals into constant paranoia, suspecting everyone.
THOUGHTS: At the heart of this page-turning mystery, readers will find one girl's many insecurities – about friendship, family, love, and future plans. Desperate to solve the mystery and anxious to know the damages, mystery fans will fly through this one. Underage drinking, descriptions of sex, and language make this suitable for most high school readers.
Realistic Fiction          Maryalice Bond, South Middleton SD