McCarthy, Meghan. All That Trash: the Story of the 1987 Garbage Barge and Our Problem with Stuff. Simon & Schuster, 2018.  978-1-481-47752-9. Grades 2-5.  $17.99.
Meghan McCarthy has created yet another creative nonfiction book with her latest offering.  In her distinctive style, she tells the story of the 1987 Islip garbage fiasco in a way that is engaging to the reader.  On the first page, she humorously sets the scene by pointing out that 1987 was known for "a speedy white car (from Miami Vice), boxy-looking computers and big hair."  McCarthy explains it all began with Lowell Harrelson, a North Carolina waste management CEO, who had the idea to take the garbage from an overflowing New York landfill and transport it on a barge to North Carolina, where it would be allowed to decompose and create methane gas to use as energy.  This plan quickly fell apart when a reporter in a helicopter saw the barge and reported it. This led to an inspection by an environmental official who determined that toxic waste was on board. The captain was prohibited from docking there and the other locations he subsequently tried, such as New Orleans, Mississippi, Alabama and Mexico.  Months later, the barge returned to Islip where the trash was incinerated, after it was found that the trash was just plain old garbage, some of which could have been recycled. McCarthy's illustrations add an even more humorous element to this story. For instance, the barge captain is always pictured with flies buzzing around his head. There are pictures of various government officials and news personalities who comment on the crisis in speech bubbles.  A harbor police official states, "This is a pain in the neck," while Harrelson observes, "We are trying to keep a sense of humor about this to keep from getting angry." Although the author discusses the topic in a humorous way, it is clear that she is sending a message that trash is an environmental hazard and that we must work to find ways to reduce the amount of items that go into a landfill. Her drawings of the trash include items with which young readers can identify, such as dolls, bicycles and even a jack-o-lantern, showing them that they can help solve this problem as well. The back matter contains more information about the barge and its captain and crew and their photographs.  There are also some interesting facts about garbage and recycling and a few crafts ideas using found objects. Readers will be fascinated to learn that some of the Islip garbage was packaged and sold as a novelty item for ten dollars!
THOUGHTS: This book is a great example of narrative nonfiction and will make a great read aloud, especially for Earth Day. This can lead to a discussion of how to solve the trash problem. Even if your library already owns the equally entertaining Here Come the Garbage Barge! by Jonah Winter, librarians will want to add McCarthy's work to their collections.
363.72 Refuse and refuse disposal or
386 Commerce, Transportation – Inland Waterway and Ferry Transportation
Denise Medwick, West Allegheny SD
---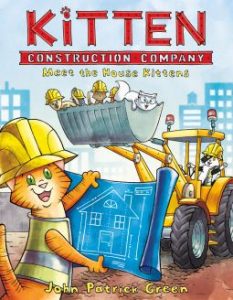 Green, John Patrick. Kitten Construction Company: Meet the House Kittens. First Second, 2018. 978-1-626-72830-1. 70 pp. $17.99. Grades 1-4.
Marmalade has designed an exceptional new mansion for the Mayor of Mewburg, but unfortunately the city planner won't approve the project because Marmalade is "just too adorable to be taken seriously." The admittedly adorable kitten is dismayed but not deterred. She teams up with Sampson (an electrical engineer turned grudging dishwasher) and Bubbles (a plumber) to start an all-kitten construction company. They're ready to prove that they've got the smarts and skills to earn respect, but what will it take to make everyone forget how darn cute they are? Maybe a competitor's catastrophe will turn into the House Kittens' golden opportunity, if only Bubbles can avoid distractions like laser pointers and balls of yarn!
THOUGHTS: Appealing artwork, bustling cityscapes, and friendly faces will draw elementary schoolers to this winning graphic novel. With a nod to respect and equality in the workplace, John Patrick Green has crafted a … yes, adorable addition to library shelves!
Graphic Novel          Amy V. Pickett, Ridley SD
---
Rylant, Cynthia. Rosetown. Beach Lane Books, 2018. 978-1-534-41277-4. $16.99.149 p. Grades 2-4.
For Flora, things have just not been going well. Living in her small town of Rosetown, Indiana in 1972, things should have been okay entering her 4th grade year, but things are not well. With her parents separated, she has to live between two houses. It does not help that her dog Laurence has passed away as well, making the hole seem bigger. Despite these changes, Flora finds comfort in the reading of her favorite purple velveteen chair in Wings and a Chair Used Books where her mother works part time. It is here and in the comfort of change that Flora begins to find a new balance, learning that life has both gives and takes. As new friendships bloom and her new change begins to take a hold, Flora learns that even in the hard times of life, things can become good.
THOUGHTS: I felt as though this book had a very peaceful and content feel to it. The changes and discovering of a new balance is something that many people go through, and many children can relate to the experiences of figuring out who they are and the balance in their life. This book is about family, friendships, pets, life and death, all discussed in an age appropriate way for children.
Realistic Fiction; Historical (1972)          Rachel Burkhouse, Otto-Eldred SD
---
Selznick, Brian, and David Serlin. Baby Monkey, Private Eye. New York: Scholastic Press. 2018. 978-1-338-18061-9. $16.99. 192 pages. Grades K-3.
The premise is as simple and adorable as the title and introduction: "He is a baby. He is a monkey. He has a job…" What follows are 5 chapters, each with a case to solve and a predictable pattern for beginning readers. Selnick brings his usual amazingly detailed pencil crosshatch drawings, enhanced by red for specific details. Every chapter has a theme with several classic references shown, such as great Italian works in the "Case of the Missing Pizza" or moon landing images connected to the "Case of the Missing Spaceship." Each chapter also brings the humor, both subtly from the looks of the characters, and overtly when the Private Eye needs to get his pants on! This hybrid format beginning reader and comic chapter book will disappear from shelves constantly.
THOUGHTS: Did I mention how ADORABLE that baby monkey is?! The predictable pattern makes it successful for early readers and builds confidence for struggling readers. The length and format also make this a quick pleasurable fit for all ages. Obviously, for older readers it would be a great gateway into the longer narratives of Selnick's collection.
Fiction / Early Chapter         Dustin Brackbill State College Area SD
---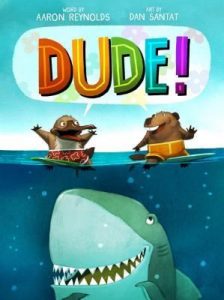 Reynolds, Aaron, and Dan Santat. Dude! New York: Roaring Brook Press. 2018. 978-1-626-72603-1. $16.99. 40 pages. Grades K-2.
Dude! This book takes one word and brings it repeatedly to life through several beach dwellers with adventurous and humorous results. A beaver and a platypus head out surfing (Ha! Great start!!). When a lonely, shy shark comes along, they need to improvise and connect. What comes with each obstacle is a lesson in attitude and nonverbal cues, all told through one bodacious word: Dude! Reynolds and Santat bring their approachable and unique work together for the hit story of summer!
THOUGHTS:  Please connect readers who love this book with the other works of Aaron Reynolds and Dan Santat, as books like Carnivores! and Are We There Yet? would make for great comparisons. Also, see how many interpretations can you and the oral readers come up with for expressing the range of emotion from saying, "Dude!"
Picture Book          Dustin Brackbill State College Area SD
---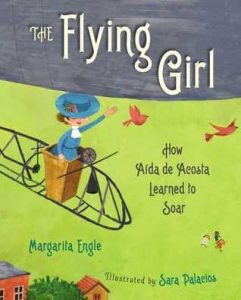 Engle, Margarita. The Flying Girl: How Aida de Acosta Learned to Soar. New York, NY: Atheneum Books for Young Readers. 2018. 978-1-481-44502-3. $17.99. unpaged. Grades 2-4.
Aida de Acosta was the kind of girl who saw a man doing something – flying for example- and believed that she could too. Overcoming family expectations and social norms for the early 1900s, that is exactly what she did. In this rarely heard tale, Aida became the first woman to fly a motorized vehicle, a balloon that was airborne in Europe months before the Wright Brothers.This tale speaks to perseverance, patience, and self confidence for girls and boys. Margarita Engle writes a free flowing poetic narrative with beauty and simplicity. The message is clear: "Sometimes," Aida said to Alberto, "all it takes to change the whole world is one wild dreamer's soaring example."
THOUGHTS: The informational endnotes help see into this pioneer's life a little better. Comparing her to other female aviators and groundbreakers would make an interesting research project. This would be an easy read aloud to inspire and discuss.
Nonfiction/ Biography          Dustin Brackbill State College Area SD
---
Even Weirder and Cuter (series). Bearpoint Publishing. 2018. $17.95 each. set of 8. 24 pages. K – 3.
Brigham, Marilyn. Dik-Dik. 978-1-68402-466-7.
Bryant, Laura. Pangolin. 978-1-68402-465-0.
Giannini, Alex. Coconut Crab. 978-1-68402-521-3.
Merwin, E. Highland Cattle. 978-1-68402-525-1.
Merwin, E. Matamata. 978-1-68402-522-0.
Merwin, E. Orchid Mantis. 978-1-68402-520-6.
Oldfield, Dawn. Aye-Aye. 978-1-68402-526-8.
Vasilyeva, Anastasiya. Velvet Ant. 978-1-68402-519-0.
No matter how strong your animal collection and knowledge may be, chances are you have little information on these weird but fascinating animals in this Bearpoint Press series. The Pangolin, for example, is a mammal with huge claws, armored scales, and an appetite for insects. They are also, as advertised, quite cute! The Dik-Dik and Aye-Aye and Matamata are so fun and funky that you need to say their name twice! Try the large print words and easy to read nonfiction text features inside each title to learn more about the lesser know critters in our kingdom.
599 Animals          Dustin Brackbill State College Area SD