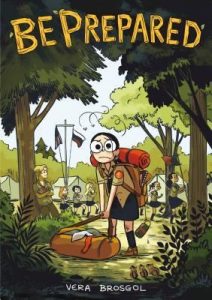 Brosgol, Vera. Be Prepared. First Second, 2018. 978-1-626-72444-0. 244 p. $22.99. Grades 5-8.
Vera, whose family moved from Russia to the United States when she was five, has never quite fit in with her American friends. When she learns of a Russian summer camp in Connecticut, she begs her single mom to let her and her younger brother attend. But camp isn't quite what Vera expects: the older girls are really mean, there's no running water but plenty of bugs, and worst of all she has "to poop in a hole!" Despite her pleas to return home, two weeks turn into four after Vera's mother lands a promising job interview overseas. Will Vera find her place at summer camp — and maybe even make a friend — or will the misery continue? Vera Brosgol, author of the well-received Anya's Ghost (2011), writes in her Author's Note that she consolidated her two summers at camp into one more eventful story. Her artwork is marvelously expressive, with illustrations in white, black, and olive green that perfectly match the natural surroundings. Behind her oversized round glasses, Vera's eyes are a window into her roiling preteen emotions.
THOUGHTS: This graphic mostly-memoir is a great read for anyone who has had (or covets) the true summer camp experience: often uncomfortable, sometimes transformative, always memorable.
Graphic Novel          Amy V. Pickett, Ridley SD
Readers who have grown to love the heart found in graphic novels from Holm and Tegelmeir are sure to adore Brosgol's true experiences from summer camp. At home she yearns to fit in, but none of the students relate to her Russian culture. She wishes that she could have opulent parties like students from school. When she learns about the camp at church, she begs her mom to let her attend. The artwork is accented by a green ink color.
THOUGHTS: Be Prepared to have plenty of students borrow this book. Readers can compare experiences in from their summer to the memories shared by the author for a great extension project.
Graphic Novel          Beth McGuire, Hempfield Area SD
Growing up in a somewhat strict Russian family, Vera has always felt like an outsider. Her classmates are sent to the nicest summer camps, but it's not something her single mother can afford. Then Vera discovers a Russian summer camp and is determined to go. But camping is not the perfect experience Vera imagined. She has to deal with catty bunkmates, terrifying outhouses, and nonstop Russian history lessons. Brosgol's artwork jumps off the page and will have middle grade readers giggling through Vera's camping misadventure.
THOUGHTS: Graphic novels rule in my library, and Anya's Ghost is one of the most popular. Be Prepared is proving the same. Students seem to gravitate to Brosgol's words and artwork and are excited for the next tale which is teased at the end of this book.
Graphic Novel          Victoria Schwoebel, Friends' Central School
---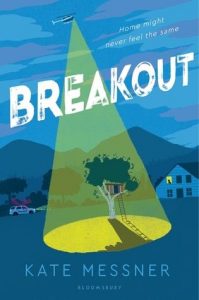 Messner, Kate. Breakout.  Bloomsbury, 2018.  978-1-681-19536-0.  420 p.  $16.99  Gr. 5-8.
Messner's ripped-from-the-headlines story of a sleepy New York town that suddenly becomes the epicenter of a manhunt when two felons escape from prison is told entirely through documents.  Letters, photographs, poems, text messages, comics, news stories, and even recipes, are all collected and assembled by Nora, a local middle schooler, for the town's time capsule. Nora, who is White, has always considered her town friendly and welcoming, but when she meets Elidee, a Black girl who has recently moved to the area, she begins to see things from a different perspective. Moreover, for the first time, Nora, whose own father works at the prison, starts to wonder why most of the prison inmates are Black, while nearly all of the prison workers and town residents are White. Elidee, whose brother is one of the inmates, writes poetry to help make sense and meaning of her world, using well-known poets of color as her models and inspiration. Meanwhile, the entire town is constantly under a cloud of fear and worry.  There are police blockades everywhere, the news media has descended on the town like a wolf pack, and alarms–sometimes false, sometimes real–are constantly being sounded.
THOUGHTS: Breakout is part mystery/adventure story, and part social justice discourse. Kids will be drawn in by the unusual format and the exciting plot, but will come away with much more. A must-buy for middle schools.
Realistic Fiction, Mystery Fiction          Maggie Bokelman, Cumberland Valley SD
Summer vacation plans for best friends Lizzie and Nora get derailed when two inmates break out from the local prison, a source of employment for many in the town. The town initially assumes the inmates, one white, one African American, will be caught quickly, but when days go by with no success, the mood of the largely white town subtly (and not no subtly) changes. Lizzie and Nora become more attuned to the racial overtones to the prison break when they attempt to befriend Elidee Jones, an African American classmate who recently moved to town with her mother to be closer to her brother, incarcerated in the prison. The story is told through the alternating voices of the three girls as they write letters to be included in a time capsule. Elidee's letters, often to her brother, provide a counterpoint to Lizzie's and Nora's experiences. Prickly and defensive, Elidee refuses to go along with the culture of the town. As the three girls develop an alliance, working towards a friendship, Lizzie and Nora begin to see their casually racist town through Elidee's eyes and experiences. In turn, Elidee lets down her defenses a bit to enjoy the friendship Lizzie and Nora offer. The voices of the three girls are clear and true as they chronicle the tense two week period through letters, news articles, texts and recorded conversations. Elidee in particular makes the book shine, as she begins to  experiment with poetry (while reading Jacqueline Woodson's Brown Girl Dreaming) and even throws in some Hamilton inspired raps.
THOUGHTS: A must-purchase. Inspired by real events, this story is a masterpiece at gently pointing out how even well-intentioned people can be casually and thoughtlessly racist,  and how fear can bring out the worst in everyone.
Mystery/Realistic          Nancy Nadig, Penn Manor SD
---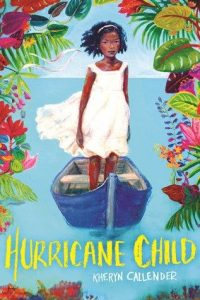 Callender, Kheryn. Hurricane Child.  Scholastic, 2018.  978-1-338-12930-4.  214 p.  $17.99  Gr. 4-7.
12-year-old Caroline, who lives in the U.S. Virgin Islands, has every reason to believe that being born during a hurricane is, in fact, unlucky.  Everyone at her school hates her, and her beloved mother left without saying goodbye . . . or why. Prone to fits of anger, and gifted–or cursed–with visions, Caroline is not interested in making friends anyway (or so she tells herself). But when she meets Kalinda, everything changes. Everyone loves Kalinda, and Caroline doesn't think she has a chance with her, but somehow, they become best friends.  As their friendship deepens, Caroline desperately wants to tell Kalinda how much she loves her, but she is afraid she will destroy their friendship if she does. Additionally, Caroline is determined to find her mother, even if it means abandoning her father . . . and Kalinda.
THOUGHTS:  This beautifully written, moving story of a child unintentionally hurt by a mother with mental illness is realistic fiction with a hint of magical realism woven in.  Would be highly recommended in any case, but the age-appropriate LGBTQ content moves this into the must-buy category.
Realistic Fiction          Maggie Bokelman, Cumberland Valley SD