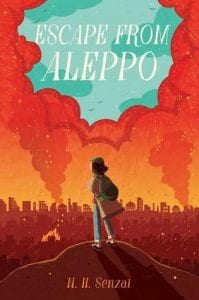 Senzai, N.H. Escape from Aleppo.  Paula Wiseman, 2018.  978-1-481-47217-3.  326 p.  $16.99  Gr. 5-8
As the civil war intensifies in Syria, Nadia's family decides they must flee their beloved city of Aleppo as it literally crumbles around them. However, Nadia, who has been traumatized by the bombing, freezes at the wrong moment and ends up separated from her family.  Determined to find them, Nadia joins a mysterious, frail old man who she knows only as Ammo Mazan, who promises to help her. But Ammo Mazan clearly has a secret agenda of his own, and Nadia is not sure if she can trust him. The two of them join up with two orphan boys as the story progresses, and the little group makes their way toward the Turkish border.  On the way, they meet people trying to preserve the city's history. They also make a few narrow escapes as they navigate their way toward freedom. The story moves back and forth between two time periods, before and after the escape, so the reader also learns about Nadia's life in Aleppo with her family before the escape.
THOUGHTS:  This book includes more exposition than storytelling or character development, but it contains a lot of interesting and useful information about the Syrian conflict and the Arab Spring as well as Syrian history, and the writing is clear and age-appropriate. Recommended for students who are interested in the topic (as opposed to those looking for a thriller), and for libraries looking to increase the diversity of their collections.
Realistic Fiction          Maggie Bokelman, Cumberland Valley SD
---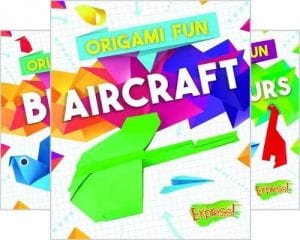 Hardyman, Robyn, and Jessica Moon. Origami Fun. Bellwether, 2018. 24 p. $19.95 ea. $159.60 set of 8. Gr. 3-7.

Aircraft. 978-1-62617-707-9.
Birds. 978-1-62617-708-6.
Dinosaurs. 978-1-62617-709-3.
Farm Animals. 978-1-62617-710-9.
Holidays. 978-1-62617-711-6.
Jungle Animals. 978-1-62617-712-3.
Ocean Animals. 978-1-62617-713-0.
Pets. 978-1-62617-714-7.

Origami has been a popular hobby with many students for years, and now is appearing in schools as part of the Makerspace movement. The Origami Fun series aims to teach upper elementary and middle school students the art of paper folding. Each volume offers basic folding tips/instructions, and then provides details on how to create eight unique origami items. Each volume also offers factual information about the real-life animal, planes, holidays, etc. For example, in the Farm Animals volume readers not only learn how to create origami sheep, cows and goats, they also will learn basic information about sheep, cows and goats (what they eat, what their role is on the farm, etc).
THOUGHTS: This series is a great option for schools with origami fans or looking to enhance their Makerspace collection. The instructions for creating the origami items are clearly numbered and illustrated and can easily been understood by origami novices. Recommended.

736.9 Origami          Elizabeth Henry, Lampeter-Strasburg SD
---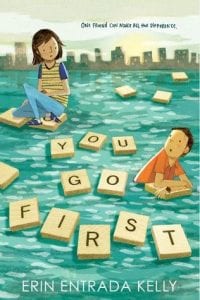 Kelly, Erin Entrada. You Go First.  Greenwillow, 2018. 978-0-062-41418-2.  304 p.  $16.99  Gr. 4-7.
This novel from 2018 Newbery award-winner Erin Entrada Kelly (Hello Universe) switches between the points of view of 11-year-old Ben Boxer, who lives in small-town Louisiana, and 12-year-old Charlotte Lockard, who lives just outside of Philadelphia. Both Ben and Charlotte are having a rough week:  Ben's parents have announced they are getting divorced, and Charlotte's father has just had a heart attack. Worst of all, neither of them has a close friend with whom to share their misery. Ben and Charlotte have been online scrabble friends for a while, but, desperate for someone to connect with, Ben decides to start texting, and then talking, with Charlotte, and they offer each other advice and support. Yet, rather than baring their souls to each other, they talk around rather than through their problems, keeping things light and pretending everything is rosier than it really is. Too, it is clear that both kids ultimately will need friends in real life as well as online.  The ending is hopeful, but not triumphant, as Charlotte and Ben discover that tackling life's problems takes time and patience as well as determination, and things don't always turn out the way you plan.
THOUGHTS: Expectations are high for an author coming off a Newbery win. This book is excellent, but it is a quiet, subtle novel that could easily fly under the radar and may need some booktalking to find the right readers.  Entrada, who is Filipino-American, addresses many of the same issues and themes she has in her previous novels here: friendship, bullying, kindness, diversity, and self-discovery. Her writing is top-notch. Highly recommended for older elementary and middle schools.
Realistic Fiction          Maggie Bokelman, Cumberland Valley SD