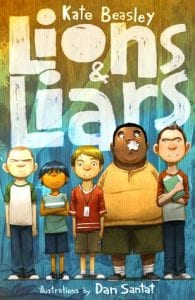 Beasley, Kate. Lions & Liars. Farrar Straus Giroux. 2018. 978-0-374-30263-4. $16.99. 288 p. Gr. 4-6.
The theory of life, according to Frederick's friends is that some people are the lions, other gazelles, followed by meerkats. But the lowest of the lows are the fleas that live on the butts of the meerkats. Frederick is tired of being the flea of life; all he wants to be is a lion, or at least be a gazelle. This thought takes him away on an accidental journey to a camp – a disciplinary camp. Between the exercises, activities, and escape plots, Frederick begins to fit in with the other boys in Group Thirteen – Nosebleed, the Professor, Ant Bite, and Specs. As a Category 5 hurricane makes its way toward the camp, Frederick will have to learn to become a lion – or at least part of the oddball group of fleas – in order to survive.

THOUGHTS: A great adventure story that makes you think about who you are in life and how you fit in within the world. Boys and girls will feel connected to the struggles of Frederick and realize that sometimes in life, you are both the lion and the flea, but what matters is friendship and the adventure you take in life.
Realistic Fiction          Rachel Burkhouse, Otto-Eldred SD
---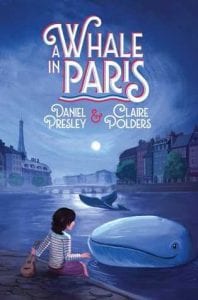 Presley, Daniel, and Claire Polders. A Whale in Paris. Atheneum Books for Young Readers. 2018.  978-1-5344-1915-5. $17.99. 246 p. Gr. 4-6
It's Paris, 1944, and the war is still ongoing. Despite the fact that there are whispers in the streets of the the Allies coming, the "guests" are still very much present. Chantal Duprey often wonders how the Allies will come, so it is no surprise that while fishing one night with her father, a fishmonger, a strange sound comes from the Seine. But… this sound is different than what a submarine should sound like. In fact, this sound is big and has a fin. A whale in in the Seine! As Chantal grows close to her whale friend, she realizes that they are both prisoners in Paris. It takes all of Chantal's courage to realize that in order for her to survive and save her family, she must also save her friend from a frightful fate as well.
THOUGHTS: A delightful tale of a heroine saving her family and friend in the time of war, A Whale in Paris is a great choice for upper elementary students who wish to have a historical tale with an adventurous twist.
Historical Fiction (WWII, 1944)          Rachel Burkhouse, Otto-Eldred SD
---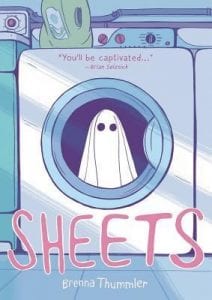 Thummler, Brenna. Sheets. Lion Forge. 2018. 978-1-941302-67-5. $12.99. 241 p. Gr. 4-8.
Marjorie Glatts feels isolated and alone, as if she were a ghost. With her mother gone and her father practically gone, she is left alone to take care of the family laundromat. As if life couldn't become any more isolated, customers are leaving, and Mr. Saubertuck is continuously bothering her about taking over the laundromat for his five-star resort.
Wendell is a ghost who feels isolated and alone in his ghost town. He decides to leave his town and takes up residence in a laundromat, which quickly becomes his midnight playground. Little does he know that his world is about to collide with Marjorie's. As he delights in his newfound life, he accidentally destroys everything that Marjorie knows.
Together, this isolated pair will have to come together to help repair what has been destroyed, one stain at a time.
THOUGHTS: This book contains some serious subjects – death, alcoholism, and depression – but is presented in a way that flows smoothly within the story. The illustrations are unique and light, which helps the reader tread some serious subjects, while investing themselves in the characters and the story.
Graphic Novel          Rachel Burkhouse, Otto-Eldred SD
Marjorie's family is overcome with grief when her mother passes away. While her father is overwhelmed with the loss, thirteen year old Marjorie steps into the supportive role, providing for her younger brother and father, and managing her Mom's laundromat. But Marjorie is sad, too, and slogs through hectic days caring for her family, dealing with testy customers and avoiding the questioning stares of her middle school peers. To complicate things, accidents start happening at the laundromat, and Marjorie finds it's haunted by a young ghost named Wendell. In an alternating storyline, readers learn about Wendell's past and his time in the land of ghosts. When a shady local businessman attempts to buy the laundromat, Marjorie is even more heartbroken and finds that Wendell is her only hope at saving the space and the memories of her mother.
THOUGHTS: Sheets is a thoughtful look at how grief can affect teens and tweens. This has not been on the shelves since I book talked it a few weeks ago, so I recommend it for a library where graphic novels are popular and teens are constantly looking for new reads.
Graphic Novel          Vicki Schwoebel, Friends' Central School