Spalding, Amy.  The Summer of Jordi Perez (and the Best Burger in Los Angeles). New York: Sky Pony Press, 2018. 978-1-510-72766-3. 284 p. $16.99. Gr. 8 and up.
Amy Spalding's frothy confection of a novel is an utterly charming example of a quintessential (21st century) YA book, and the perfect summer read. Abby has just landed her dream internship at quirky boutique clothing store, Lemonberry, along with the chance of a paid job at the end of it; her dream did not include sharing the internship with her undeniably cool and professional classmate Jordi Perez, however. Abby is a masterful and savvy social media guru, a talent that she both embraces, and feels vaguely embarrassed about in the face of Jordi's more "sophisticated" talent of photography; the more praise Jordi receives, the less confident Abby becomes. Nevertheless, Abby finds herself becoming increasingly attracted to Jordi, a sentiment she is positive Jordi does not share, but the more time the girls spend together, the more obvious their chemistry becomes.  Abby and Jordi are diametric opposites – Abby is bubbly, colorful, curious about everything, and lives her life like an open book; Jordi is more reserved, dresses solely in black, and has a less optimistic view of the world. Their romance is sweet, as it is the first relationship that either of the girls have been in, and their interplay is endearing. Abby also forms an unlikely connection with Jax, a definitive "bro," who clicks immediately with Abby – their two best friends are dating each other, and both Abby & Jax often feel overlooked. Together, the two of them embark on a quest to find the best burgers in LA for Jax's father's new Yelp-like app. Jax keeps Abby grounded, and forces her to confront the fact that she is worthy of being loved, and is, indeed quite the catch. While Abby experiences moments of emotional distress, the overall tone of the book is lighthearted, and it's refreshing to see a protagonist like Abby – openly gay, openly full-figured, and openly obsessed with fashion – get to shine.  
THOUGHTS: This should be in every contemporary YA collection. The fact that this is not a "coming out" story, and that Abby just happens to be gay – that her sexuality is not the center of the narrative – is a great shift in LBGTQ+ literature, and will hopefully continue to be a trend in future YA offerings.
Realistic Fiction          Lauren Friedman-Way, The Baldwin School
---
West, Kasie. Listen to Your Heart. Scholastic, 2018. 978-1-338-21005-7. 336p. $17.99. Gr. 7-12.
Kate Bailey lives in the town of Lakesprings, where her family runs the local marina. As summer winds to a close, she leaves her summer lake job behind to begin her junior year at school. Still getting over an amicable break-up (her boyfriend moved away), Kate's not really looking forward to the new school year–she's not much of a people person and would rather be out on the lake. And one of her electives is a podcasting course–she's never even listened to a podcast! Why did she let her best friend Alana talk her to taking the class? When her suggested topic of an advice show is chosen as the theme of the class-produced podcast, Kate finds herself in front of the microphone as the co-host of the podcast. While initially reluctant, Kate soon grows into the role of co-host and the podcast picks up fans at school. When one caller asks for romance advice, Kate is sure it is Alana's crush Diego. Kate does her best to steer him in Alana's direction, but slowly comes to the realization that she has feelings for Diego herself. How can this tangled situation be resolved?  
THOUGHTS: A perfect choice for contemporary romance fans, this title also incorporates themes of friendship, family, and challenging yourself and experiencing growth. Kasie West fans will want to add this to their bookshelves. Recommended for middle school and high school collections.
Realistic Fiction          Elizabeth Henry, Lampeter-Strasburg SD
---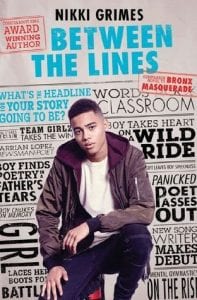 Grimes, Nikki. Between The Lines.  Nancy Paulsen Books, 2018. 978-0-399-24688-3.  224 p.  $17.99  Gr. 7-12.
Fans of Grimes' popular, groundbreaking novel Bronx Masquerade will love this follow-up, but Between The Lines also stands perfectly well on its own. The format is unusual:  it is not a novel in verse, but rather a novel interspersed with poems. Grimes' book follows nine teens who live  in the Bronx as they learn to share their personal stories through poetry in Mr. Ward's English class. The primary narrator, Darrian, hopes to become a journalist someday, and the book is framed through his perspective, using headlines as chapter subheadings to break up the text.  This technique is extremely effective, as it helps with the novel's pacing, and also adds some occasional humor to the emotionally intense and serious subject matter. Each student has a unique and often heart-wrenching backstory, from a girl who is burdened with the responsibility of caring for a sibling because of her mother's addiction, to a boy whose father was imprisoned for a crime he did not commit, to a girl terrified about what will happen to her when she ages out of the foster care system.  (Grimes shares information at the end of the book about organizations that assist former foster care children.) The ultimate message is one of perseverance and hope, even in the most difficult circumstances, and the importance of community.
THOUGHTS:  This book offers multiple perspectives about the lives of teens living in the same place but from diverse backgrounds, each experiencing and working through very different kinds of problems. It is an easy, yet thought-provoking read, that will have high appeal to teens and also many possibilities for curricular use.  Appropriate and very highly recommended for both middle and high school libraries.
Realistic Fiction, Poetry          Maggie Bokelman, Cumberland Valley SD
---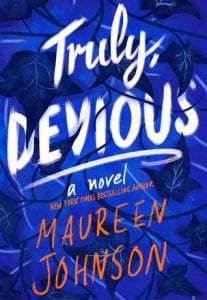 Johnson, Maureen. Truly, Devious. Katherine Tegen Books, 2018. 978-0-062-33805-1. 320 p. $17.99. Gr. 8 and up.
Private school Ellingham Academy is tucked into a remote Vermont mountainside. The school is known for encouraging some of the greatest minds – both academic and creative. Founded in the mid-1930s by wealthy philanthropist Albert Ellingham, a man fond of riddles and games, the school is free for those who attend, and the resources available to them are endless. Ellingham, his wife, and their young daughter live in the main house at the center of the school's campus. When Mrs. Ellingham and Alice go out on a drive and disappear, the only clue is a gruesome letter signed Truly Devious. Ransom calls come in, and Ellingham desperately does everything he can to rescue them to.
Nearly a century later, true-crime fan Stevie Bell is moving into Ellingham Academy, determined to succeed where all others have failed. Stevie feels like she has something to prove, though. While everyone else at school seems to have some incredible talent or skill, Stevie's fascination with crime-solving, specifically her obsession over the unsolved Ellingham case, is what she was admitted on. When past and present collide, it seems Truly Devious may be closer than Stevie thinks.
THOUGHTS: Mystery fiction fans will love the blending of two stories, and be desperate to puzzle the clues together. While Stevie deals with being away from home; the pressures of a new, competitive school; and her anxiety, readers will watch her grow and come into her own. Underage drinking takes place, but consequences are also discussed. Initially, I was disappointed not to have all of the answers in book one, but I will anxiously await them in books two and three!
Mystery          Maryalice Bond, South Middleton SD
Stevie Bell is a true crime aficionado. She will be attending the prestigious Ellington Academy in Vermont, which only admits a few unique students each year. Stevie is determined to solve the cold case abduction and murder that happened on the campus many years ago. In the 1930s, soon after the school was opened by Albert Ellington, his wife and daughter were kidnapped, and a student was killed. The only evidence was a cryptic letter, signed "Truly, Devious." For her cumulative school project, Stevie sets out to solve the murder, but soon discovers mysterious happenings all over campus. And after a fellow student is murdered, Stevie sees the Truly, Devious letter reflected on her wall, and knows the mystery is far from over. With the possibility of her school closing, Stevie is determined to get to the bottom of the mystery while navigating perilous friendships and heartbreak.
THOUGHTS: This captivating mystery will keep readers on their toes. But be warned – the cliffhanger ending will have you begging for the next book in the series!
Mystery          Vicki Schwoebel, Friends' Central School
Stevie Bell is a first year at Ellingham Academy, an eclectic school founded by millionaire Albert Ellingham. Her obsession with crime and criminology made her an expert on the 1936 Ellingham murders and disappearance of Alice Ellingham, Albert's daughter, after the morbid reception of a riddle by Truly Devious. Stevie is determined to figure out what happened to Alice and who Truly Devious actually is, but first she must figure out life at boarding school. As her life intertwines with those of her housemates, Ellie, David, Nate, Hayes, and Janelle, along with students at Ellingham, Stevie realizes there is more to everyone and everything than meets the eye. When Stevie receives a message from Truly Devious (or at least thinks she does), her world takes a turn that includes murder. With mystery surrounding many of her classmates, it is up to Stevie to figure out the truth and solve the newest Ellingham murder before the school shuts down, or worse, her parents make her come home.
THOUGHTS: Truly Devious truly is an enjoyable mystery. Stylistically closer to Agatha Christie than James Patterson (for reference), the novel takes time to build and is not action-packed. Characters develop, which allows the reader to piece together the story as it happens. The interspersed pieces from the original Ellingham murders with the current students and murder leave holes for the reader that Truly Devious doesn't answer. Some of the holes are frustrating (the compact), while others, David, will work themselves out in time. January 22, 2019, needs to get here.
Mystery Erin Bechdel, Beaver Area SD
---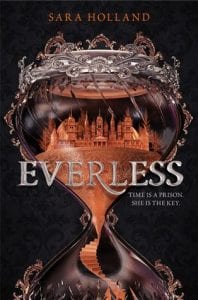 Holland, Sara. Everless. New York: HarperTeen, 2018. 978-0-062-65365-9. 368 p.  $17.99. Gr 7-12.
Jules Ember and her father live in poverty in Sempera. Years ago, they fled from danger in the grand Everless palace, and growing up, Jules has come to resent the rich aristocrats who live there, the Gerlings. In their kingdom, time is currency, and people can trade or sell the iron in their blood, taking years off their lives in order to pay off their debt. While the Gerlings drink an iron coin with each lavish meal, peasants like Jules and her father take years off their lives struggling to pay their ridiculous taxes and bills.  When Jules learns her father is sick, she realizes the only way to stop him from dying is by working at Everless. While there, she begins to remember the childhood she had there before her family left, and finds herself drawn to the enigmatic Roan. As she works among the Gerlings, Jules discovers she has the magical ability to freeze time, and also finds a mysterious connection to the Queen, who her father warned her never to trust.
THOUGHTS: Another fine fantasy book to add to a teen collection. This one might have trouble catching on, as the time/blood currency is confusing at first. But readers who stick with it will find themselves sucked into Holland's excellent writing and world-building.
Fantasy          Vicki Schwoebel, Friends' Central School