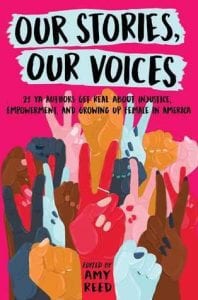 Reed, Amy, editor. Our Stories, Our Voices: 21 YA Authors Get Real about Injustice, Empowerment, and Growing Up Female in America. Delacorte Press, 2018. 978-1-524-71587-8. 352 p. $10.99. Gr. 9 and up.
Twenty-one writers, including many major young adult authors, tackle what it means to grow up female in America. With pieces on gender, race, religion, and ethnicity, these authors share their stories without fear of discrimination to show a new generation of women how to stand up and be strong. Note: Many authors don't hold back when discussing their views on the 2016 presidential election and Donald Trump.
THOUGHTS: Speaking up and speaking out, these writers will inspire teen girls to stand up for themselves, regardless of identity. In the introduction, specific articles are listed as potential trigger warnings. Due to the nature of the content, this collection is most appropriate for high school readers.
305.42, Social Role and Status of Women          Maryalice Bond, South Middleton SD
---
Prout, Chessy. I Have the Right To: A High School Survivor's Story of Sexual Assault, Justice, and Hope. Margaret K. McElderry Books, 2018. 978-1-534-41443-3. 416 p. $10.99. Gr. 9 and up.
A ripped from the headlines story of surviving sexual assault, Prout begins her story by taking readers through what initially brought her to Saint Paul's boarding school in New Hampshire as a high school freshman. Chessy shares details about life prior to boarding school and during her first year where she sheds light on unique "traditions" at Saint Paul's. One tradition, the senior salute, has forever changed Chessy's life. In explicit detail, Chessy describes her assault, the immediate aftermath, the trial that eventually followed, and the years of pain and recovery she faces as she tries to put voice to this crime. While sharing her story, Chessy also discusses how national events like the 2016 presidential election of Donald Trump and the women's marches that followed impacted her on a very personal level and how they empowered her to speak up for women. Though she cautions that each survivor's story is unique to him or her, Chessy's narrative is all too real for many survivors. Young women and teen girls especially need to read this story of suffering, resilience, and ultimately hope. 
THOUGHTS: With national attention of the #MeToo movement, and individuals in power being held accountable for their actions, teens will appreciate the honesty of Chessy's story. Regardless of background, many teens will relate to some experiences Chessy has as a high school student. Readers looking for a raw, emotional, and authentic read will appreciate Chessy's voice and ability to stand up for what is right. Graphic details of sexual assault make this suitable for mature readers. Note: I highly recommend listening to the audiobook version of this book (which is read by the author)!
362.88, Victims of Assault          Maryalice Bond, South Middleton SD
---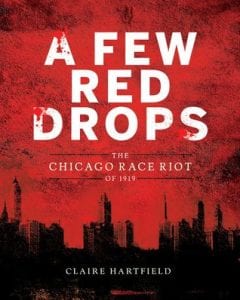 Hartfield, Claire. A Few Red Drops: The Chicago Race Riot of 1919. Clarion Books, 2018. 198 p. 978-0544-78513-7 $18.99 Grades 7-12.
In the hot summer of 1919 in Chicago, temperatures were high and residents were urged to cool off at the city's unofficially segregated beaches.  Five black teenagers rafted safely at the (black) Twenty-Sixth street beach, but when they drifted too close to the (white) Twenty-Ninth street beach, they attracted the ire of the white beach-goers angry at the "invasion."  When a white man began throwing stones at the boys, he accidentally but fatefully caused 17-year-old Eugene Williams to drown. When the white officers failed to arrest the guilty man, word spread quickly. Rumors and hatred few through the city, and riot took hold, taking the lives of 38 people and injuring 537 (two-thirds were black; one-third were white) in the span of one week.  
Also in that hot summer of 1919, the world was emerging from World War I and Chicago was a northern city still highly racially segregated.  Workers in the growing meat-processing plants were fighting for work, fighting for unionization, and fighting between each other; immigrants from Ireland and Eastern Europe faced persecution, as did the black immigrants from the southern states (who were usually the last to be hired).  Though the number of blacks employed grew from a thousand in 1915 to more than ten thousand in 1918, they "particularly resented that they, who were native to American soil, were passed over…in favor of recently arrived immigrants" (104). Locating housing was also painfully limited, for, as a real estate dealer said, "you people are not admitted to our society" (109).  The efforts of journalists and union workers to improve equality helps to tell the full story. Many details are chilling for their reality today, such as, "Just catching a policeman's attention might well cause a black person's heart to skip a beat" (113).
THOUGHTS: This is a thorough and detailed presentation of race relations and a changing nation, with bearing on our present.  The first two and the last three chapters are devoted to the riot, but the bulk of the book focuses on the economic, political and social history of Chicago that allowed the riot to occur–and not solely in Chicago. Hartfield explains that in the U.S. that summer, twenty-five riots with racial causes led to the label "Red Summer" for 1919. Chicago leaders could have blamed the poor and turned away from the unrest, but they chose to examine the riot and seek justice for the victims–and since that day "progress has come in fits and starts" (167). A compelling look at the causes and costs of social change.        
305.8 Race Relations, United States          Melissa Scott, Shenango Area SD
---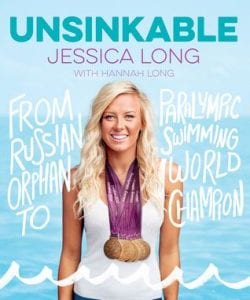 Long, Jessica, with Hannah Long. Unsinkable: From Russian Orphan to Paralympic Swimming World Champion. Houghton Mifflin Harcourt, 2018. 112 p. 978-1328-70725-3 $16.99 Grades 5-12.
Life-changing moments. Nineteen of them, to be exact. That's what Jessica Long chose to highlight when asked for her story. And she has quite a story to tell, as a congenital double-amputee, born in Siberia, adopted by an American family from an orphanage, and after ten years as a competitive swimmer, the second-most decorated paralympian in world history (with twenty-three medals, thirteen of them gold). Her moments (shared nearly chronologically) include: the moment I discovered water; the moment I failed, the moment I became a professional athlete, the moment I met my Russian family, and so on. Structuring her story in this way (she gives credit and thanks to her sister Hannah Long) is a refreshing change from stock series biographies. The many colorful photographs and page spreads enhance the feeling of reality, joy, and challenge that Long has encountered. Her story–mostly about swimming–is honest about failure, struggle, and anxiety, but also encouraging about the past not holding her back, her Christian faith to guide her future, and enormous support from her family and friends.  
THOUGHTS: At just 112 photo- and color-filled pages, this will be picked up easily by middle and high schoolers seeking insight into competitive athletics and celebrity.
797 Paralympics–Swimming          Melissa Scott, Shenango Area SD
---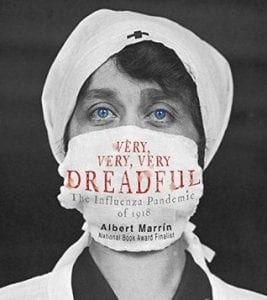 Marrin, Albert. Very, Very, Very Dreadful: The Influenza Pandemic of 1918. Alfred A. Knopf, 2018.  198 p. 978-1-101-93146-2. $21.99.  Grades 5-12.
Marrin expertly, if slowly, leads readers through the horror- and death-laden story of the 1918 influenza pandemic.  "You can't ignore the 1918 flu–it's the great-granddaddy of them all," a specialist notes (1). You can't ignore it, but you can be sobered by it; be prepared for a truly depressing look at war's impact on the spread of disease; the hazardous conditions set in place by World War I–for soldiers, health personnel, and civilians–paved an easy street for the 1918 flu to take the lives of an estimated 50-100 million worldwide, after infecting about 500 million. A 1994 World Health Organization report declared that the 1918 pandemic "killed more people in less time than any other disease before or since" (3). Marrin himself admits this is not "a happy story or a pretty one" but we owe it to those who lived and died to use what knowledge we can glean to prevent pandemics that pathologists state will surely happen. Marrin uses a multitude of primary sources, including statistics, soldiers' and civilian survivors' memories, songs, literature, advertisements, maps, and numerous black and white photos. Two factors led to the rapid spread of the three waves of influenza that struck over an 18-month period in 1918-19: the "Great War" in combination with the limited research and understanding of the disease (and medicine) of the time. Research since the 1930s has revealed insight into the virus, and Marrin explains attempts of numerous scientists–some attempts that have actually encouraged the disease. The first five chapters are heavy with real-life horror: trenches filled with water, rats and "trench-foot;" Germans so starved by the food shortages that they fought over the remains of dead horses in the streets; the ubiquitous face masks; bodies piled upon bodies as hospitals, then even the mortuaries, filled beyond capacity. A survivor later recalled that as a child, "we were afraid…to have contact of any kind…I remember I was actually afraid to breathe. People were afraid to talk to each other…because you might have the germs that will kill me" (106-7). The sixth and final chapter turns to look at the resulting research–cause, spread, ending, future. The answers have taken years, and the reality is stark: it will happen again. This final chapter is just as riveting and sobering as the earlier chapters.
THOUGHTS: Well-researched, well-written, and a must-have for middle and high school collections.  
614.5 Disease: Influenza          Melissa Scott, Shenango Area SD
"Like a mass of intertwined plant roots, the roots of the 1918 outbreak lie deep in the natural world, the history of science, and the sweeping arc of human history" (8). In Very, Very, Very Dreadful, his latest work of nonfiction for teens, Albert Marrin untangles these roots to help readers understand both how the influenza pandemic occurred a century ago and how we can better prepare for a future outbreak. The medical profession made huge strides during the 1800s but in 1918, "war and influenza joined forces to ignite history's worst-ever health disaster" (32). Millions suffered during the comparatively mild first wave in the spring of 1918, especially on the Western front. By August the virus had mutated into a "mass murderer of humans" and the second wave surged across the planet. During the third wave, the influenza virus would flare up, retreat, and then flare up again, and by mid-1920 the pandemic had ended. The book's closing chapter, "A Detective Story," explores the emerging menaces that guarantee job security for virologists … and keep them up at night.
THOUGHTS: It is a pleasure to discover nonfiction that is both rigorously researched and eminently readable. Plagues and pandemics are perennially page-turning topics, and Very, Very, Very Dreadful is highly recommended for readers of Gail Jarrow's excellent medical nonfiction trilogy: Red Madness, Fatal Fever, and Bubonic Panic.
614.5 Influenza Epidemic, Diseases          Amy V. Pickett, Ridley SD