Burgerman, Jon. Rhyme Crime. Dial Books for Young Readers, 2018. 978-0-7352-2884-9. Unpaged. $16.99. Gr. K-2.
Filled with bright, bold colors and a shadowy hand, Rhyme Crime is the tale of a thief who, "Once upon a time, / a thief / committed a crime. / Everything he stole / was replaced with / a rhyme" (2).  Gumpop's lovely head became bread. Tootle's dog was replaced with a log. That is until the thief steals Tumble's orange. What rhymes with orange?  Through fun, bright colored, alien characters, children will easily pick up the rhyme and complete it before the page is turned.
THOUGHTS: This is a fabulous read aloud that introduces readers to rhyme scheme.
Picture Book          Erin Bechdel, Beaver Area SD
---
Applegate, Katherine. Sometimes You Fly. Ill. Jennifer Black Reinhardt. Clarion Books, 2018. 978-0-547-63390-9. Unpaged. $17.99. Gr. PreK-2.
"What matters most / is what you take / from all you learn / before the cake."  Thus ends Katherine Applegate's newest picture book, Sometimes You Fly. Each right-hand page begins with "Before…" and reveals the after through a beautiful watercolor illustration on the following page. From beginning with a first birthday through graduation, Applegate highlights the ups and downs of growing up. With the help of family and friends, children learn and grow. By trying new things, they learn what they enjoy and their strengths; something every reader can relate to.
THOUGHTS: This is a wonderful picture book for the first day of Kindergarten to help ease any jitters; it explains the "bad" that happens before the good occurs.  
Picture Book          Erin Bechdel, Beaver Area School District
---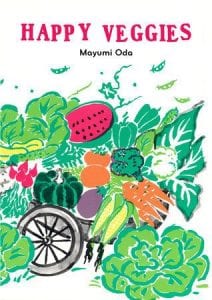 Oda, Mayumi. Happy Veggies. Plum Blossom Books. 2018. 978-1-946-76406-5. $12.95. Unpaged. Gr. PreK-2.
Open the doors to a lush and gorgeous garden. What might you see there? Perhaps some butterflies or bees buzzing about, busy at work. What are these insects working on? They are pollinating the different plants which make way to a variety of yummy garden treats! Cabbages, carrots, potatoes, asparagus, pumpkins, and a whole market growing in the ground of Mother Earth. Take a stroll through a delightful garden of happy veggies growing, created with beautiful watercolor illustrations that make readers want to jump into the garden and pick some vegetables right off the page!
THOUGHTS: The illustrations are stunning, created through watercolor paints. The variety of vegetables allows readers to see some items they already know and perhaps learn about a few new ones. This is a wonderful introduction to types of vegetables and how they grow for young children.
Picture Book          Rachel Burkhouse, Otto-Eldred SD
---
Ewert, Marcus. Mr. Pack Rat Really Wants That. Parallax Press: Plum Blossom. 2018. 978-1-946764-25-6. $14.95. Unpaged. Gr. K-2.
Mr. Pack Rat adores his brown midden – his brown nest that he made all on his own. Mr. Pack Rat is happy – until he goes outside and sees how beautiful the colors of the flowers are! In fact, these colors are so beautiful that he NEEDS them in his midden! Using his handy magical magnet, Mr. Pack Rat collects all of the flowers for his midden. But… he still isn't happy. So Mr. Pack Rat adds some shells from the sea to his midden. However, he still isn't happy. Item after item, big and small, crowd into his midden, yet he still isn't happy. Finally, Mr. Pack Rat sees the one thing that will make him happy – the night sky and all that belong in it! As Mr. Pack Rat uses his magical magnet to collect the night sky, he realizes his mistake! He pleads for the sky not to come into his midden; he does not want to be squashed by the night sky! After he pleads and sobs into the night, Mr. Pack Rat awakes with a new mindset. After all, he is happy, and there is nothing around him that he feels like he needs! With this new happiness, he returns all of the items he collected in his midden and returns to sleep, happy with his life.
THOUGHTS: This is a good story to teach to children about hoarding and the idea that having a lot of things in your life isn't what makes you happy. The illustrations are beautifully done, adding the color schemes that assist the flow of Mr. Pack Rat's story. All around, a beautiful book with an important lesson inside.
Picture Book          Rachel Burkhouse, Otto-Eldred SD
---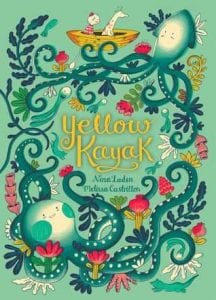 Laden, Nina. Yellow Kayak. Simon and Schuster Books for Young Readers, 2018: ISBN 978-1-534-40194-5. 32 p. $17.99. Gr K-3.
This sea story begins with a boy and his giraffe friend launching their yellow kayak, ready for a day of fun on the water. They watch fish jumping and loons floating as they glide through tranquil waters. However, as they enter the open sea, the winds and waves strengthen, and a storm is soon upon them. Gusty winds and pounding surf steal the paddle, and the pair is left bobbing on the open water. After the storm abates, a pod of unlikely friends gently guides their little boat back safely to shore. This story is told in sparse four-word rhyming verses, and the real stars are the digitally colored pencil illustrations. Featuring a palette of pink, yellow, blue, and green, there is much to look at on each spread. From swirling waves to swaying tentacles, the ocean is brimming with life and movement, and readers will notice new details during repeated readings.
THOUGHTS: This book celebrates the subtle themes of courage, keeping calm in the face of danger, and the strong bond of friendship. The rhyming text lends itself to a read-aloud, and students will enjoy searching for all the sea creatures woven into the illustrations. It would also be a good addition to any poetry unit.
Picture Book          Anne Bozievich, Southern York County SD
---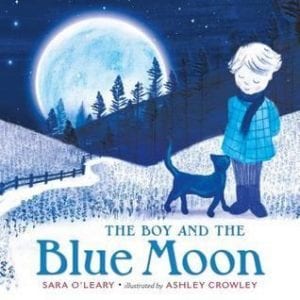 O'Leary, Sara. The Boy and the Blue Moon. Godwin Books: Henry Holt and Company, 2018: ISBN 978-1-627-79774-0. $17.99. Gr K-3.
Anything can happen on a night when there's a blue moon, and in this enchanting bedtime story, a boy and his cat experience some amazing adventures when they go walking in the moonlight. As they journey down a moonlit forest path, they hear bluebells ringing and imagine they hear dragons singing in the treetops. After rowing across a magical lake, the boy wishes he could travel to the moon. A sudden swirl envelopes them, and they are deposited softly on the surface of the moon. The moon is as perfect as the boy imagined it would be, and he and his cat frolic together until they feel a pang of longing for their cozy home back on Earth. A variety of mediums, including gouache, graphite sticks, pastels, colored pencils, and Photoshop, ensure the mixed media illustrations shine. The many shades of blue glow on the double-page spreads, heightening the magical, other-worldly tone of the story.
THOUGHTS: This story of adventure, longing, and discovery feels similar to Where the Wild Things Are, and the pair would be perfect for a magical, wonder-filled story time.
Picture Book          Anne Bozievich, Southern York County SD
---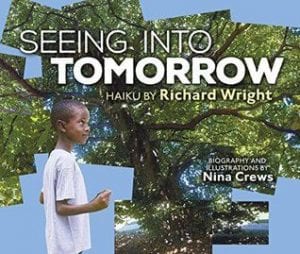 Wright, Richard, and Nina Crews. Seeing into Tomorrow. Minneapolis: Millbrook Press. 2018. 978-1-512-41865-1. $19.99. Unpaged. Grades K-3.
A haiku poem is both simple and often profound, capturing a moment and a thought in three short lines. This collection takes a dozen of the more than four thousand written by Richard Wright and makes them visually accessible to children. Traditional topics such as seasons, nature, and relationships come into sparkling reality with the photo collage craft of Nina Crews. She focuses the art on African American boys to represent Wright's youth, and the introduction and end notes provide excellent background into his life. Seeing Into Tomorrow offers promise and reflection between its pages, making it a worthwhile addition to your poetry collection.
THOUGHTS: The selections in this poetry book are geared toward younger readers, but could be reread differently for older youth as well as adults, which could be an interesting exercise. Also, interpreting the relationship between the photos Crews chose and the words allow for discussion and perhaps an extension project to capture more haikus through pictures.
811 / Poetry          Dustin Brackbill, State College Area SD
---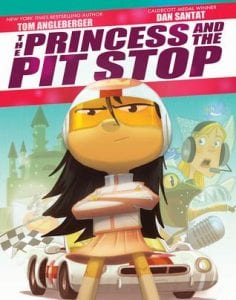 Angleberger, Tom and Dan Santat. The Princess and the Pit Stop. New York, NY: Abrams Books for Young Readers. 2018. 978-1-4197-2848-8. $16.99. Unpaged. Grades K-2.
"Once upon a time, there was a princess who made a pit stop." So begins a race through fairytale land with a princess straight out of Speed Racer! With action packed, colorful images and humorous extra details, star picture book creators Angleberger and Santat deliver an entertaining, fast paced story. A frog serves as the announcer who gives play by play details of the princess' run from last to first. Her rainbow streaking turbo race car zooms past characters such as the gingerbread man, the tortoise and the hare, and even the big bad wolf. The celebratory ball at the end will make sure that this is a happily ever after tale worth reading again and again!
THOUGHTS:  Readers hopefully will find their imagination revved up through the story. What do other fairy tale characters do when they compete or interact? This could also provide a nice bridge or comparison to those graphic novel novices.
Picture Book           Dustin Brackbill, State College Area SD
---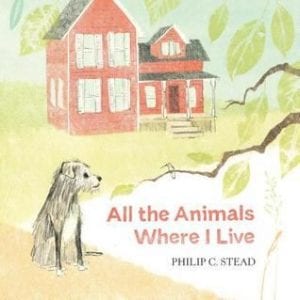 Stead, Philip. C. All the Animals Where I Live. Roaring Brook Press, 2018. 978-1-626-72656-7. Unpaged. K-3. $18.99.
In this beautifully crafted book, Stead takes us on a visit to his house in the country. The reader meets a variety of animals that live there, including his pet dog Wednesday and his stuffed bear called Frederick. The author shares his memories and impressions of this place by moving back and forth between a description of his own and his grandmother's home, which is just down the dirt road. This book is a feast for the senses as he describes how a room smells (like maple syrup), what he saw (a knitted wool blanket with chickens on it) and what he heard (dragonflies buzzing and coyotes howling). Some of the pages discuss a memory of his visits to his grandmother, while other parts of the story take us through the seasons with his dog. Stead gives readers a tranquil look into his surroundings through his observations of the sights and sounds of animals that are found right in his backyard. Readers might feel inspired to put down those electronic devices and take a look outside. The illustrations are full bleed with a double page spread, and Stead uses a soft muted color palette that contributes to a feeling of peace. There is not much story here, but just a gentle contemplation on the natural wonders close to us.
THOUGHTS: A quiet contemplative book that will work well as a read aloud. Hand this to children who enjoy reading about nature.
Picture Book          Denise Medwick, West Allegheny SD
---
Bowman, Donna Janell.  Abraham Lincoln's Dueling Words. Peachtree, 2018. Unpaged. 978-1-561-45852-3. $17.95.  Grades 3-5.
Bowman's text is the little-known anecdote of the sixteenth president's duel with an Illinois lawyer named James Shields.  In 1842, Lincoln wrote a letter to the newspaper under the pseudonym "Aunt Rebecca" and which attacked Shields' views on the payment of taxes. In this letter, Lincoln called Shields a liar and a "conceity dunce."  Others, including Mary Todd, Lincoln's future wife, followed Lincoln's lead and wrote letters poking fun at Shields. Shields became incensed over the letters and soon Lincoln revealed that he was to blame. A flurry of letters went back and forth with each man feeling he was the injured party.  Lincoln refused to apologize until Shields withdrew his accusation that Lincoln wrote all the letters, while Shields felt his reputation was damaged. Shields then challenged Lincoln to a duel, which was illegal in Illinois. Nevertheless, the men set off to duel with swords and the "almost-duel" ended peacefully. Schindler uses watercolor and ink to create the illustrations, which are especially helpful when the conditions of the duel are explained.  Bowman's text shows us that mudslinging can lead to serious consequences. In the back matter, the author tells us that Lincoln changed after this event and promised never to write a "hurtful word or use another man for political gain."
THOUGHTS: Bowman's book will be useful when explaining the difference between fact and opinion and the harmful effects of abusive language in the media, including social media. A timely and relevant work.
921 Biography          Denise Medwick, West Allegheny SD
973.7092  History                                     
---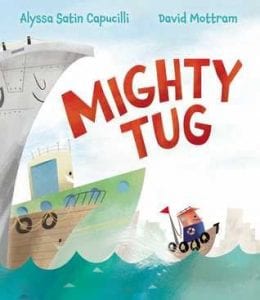 Capucilli, Alyssa Satin. Mighty Tug. Simon & Schuster Books for Young Readers, 2018. 978-1-4814-7681-2. Unpaged. $17.99. PreK-Gr. 2.
Mighty Tug might be small compared to the other boats in the harbor, but he has an important job to do. This book follows Mighty Tug throughout the day as he completes his work, pulling a cargo ship, a barge, rafts, and more. Just as the day is winding down, another boat catches on fire, and Mighty Tug once again comes to the rescue. Digitally composed watercolor and gouache illustrations and rhyming text accompany this charming tale about a small but mighty hero.
THOUGHTS: There is an important lesson to be learned from this story: no matter how small you are, you can make a difference. This message, along with the personification of the boats and the use of multiple onomatopoeias, is reminiscent of Alice Schertle's Little Blue Truck.  Young fans of Little Blue Truck and Thomas the Train will delight in this title.
Picture Book          Julie Ritter, Montoursville Area SD
---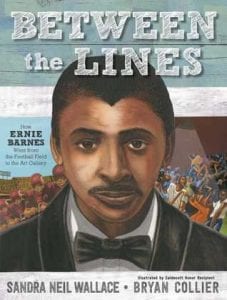 Wallace, Sandra Neil. Between the Lines: How Ernie Barnes Went from the Football Field to the Art Gallery. Simon & Schuster Books for Young Readers, 2018. 978-1-481-44387-6. Unpaged. $17.99. Gr. 2-4.
Ernie Barnes grew up in the segregated South in the 1940s. He loved art and longed to paint for a living, but art didn't pay the bills. Therefore, he became a professional football player instead. He continued to follow his dreams, sketching on the sidelines during games and painting football scenes from memory after his games. Eventually, his hard work paid off, and his paintings were displayed in galleries and museums across the country. This biography, which recounts the life of Ernie Barnes, shows how dedication, hard work, and perseverance always pay off – an excellent lesson for young readers.
THOUGHTS: An unusual blend of sports, art, and African American history should appeal to a wide variety of readers. The historical note and additional resources provided at the end of the book are perfect for delving deeper into the subject and creating extension activities. A well-researched and well-written story, this is a must-have for any elementary biography collection.
Picture Book          Julie Ritter, Montoursville Area High School