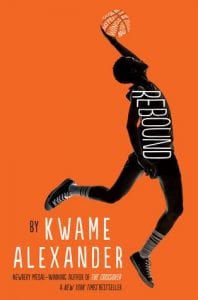 Alexander, Kwame. Rebound. Houghton Mifflin Harcourt, 2018. 978-0-544-86813-7. 414 p. $16.99. Gr. 6-9.
It's 1988, and Charlie Bell is spending the summer with his grandparents in Washington, D.C. after the death of his father.  Wanting only to get lost in his comics, Charlie (Chuck according to his grandfather) is put to work around the house, woken up early to go on walks to the lake and taken to the Boys & Girls club where Granddaddy works.  Having lost his love of the game, Chuck works with his cousin, Roxie, to strengthen his basketball skills which in turn allows him to come to terms with his grief. When Chuck makes a poor choice, he realizes the importance of love, friendship, and family.  
THOUGHTS: Receiving four starred reviews, Rebound follows the Bell family before Josh and Jordan.  Alexander's novel-in-verse once again explores the human experience of grief, loss, love, friendship, and family that readers loved in The Crossover.  This is a must-have for all middle school libraries.  It will fly off the shelves.
Realistic Fiction; Sports          Erin Bechdel, Beaver Area SD
In Rebound, Alexander returns to the Bell family, featured in his Newbery-award-winning book The Crossover, providing readers with the backstory of dad, Chuck. In the summer of 1988 Charlie Bell is a tormented 12-year-old. His father had suddenly died of heart failure, and he cannot find a way through his grief. He starts skipping school and acting out. His mother finally dispares and sends him off to his grandparents for the summer. Granddaddy provides the tough love Charlie desperately needs, and cousin Roxie starts shaping up his basketball game as well. As Charlie (now Chuck) reminisces, this was the summer he learned to rebound on and off the court. While the poetry is not as dynamic as The Crossover, the story is well-plotted and familiar characters are introduced, including mom C.J. The book stands well on its own, although readers familiar with The Crossover will enjoy watching the relationship between Chuck and Crystal develop.
THOUGHTS: A must purchase where Alexander's other books are popular.
Realistic Fiction; Sports          Nancy Nadig, Penn Manor School District
---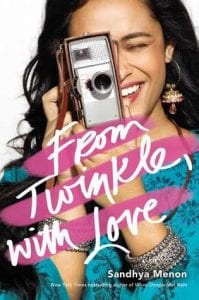 Menon, Sandhya. From Twinkle, with Love. New York: Simon Pulse, 2018. 978-1481495400. 336 p. $17.99. Gr. 7 and up.
Sandhya Menon's sophomore novel, From Twinkle, with Love, features another charming female protagonist looking to escape from the box her classmates, parents, and society at large has put her in. Meet Twinkle Mehra, aspiring filmmaker, and "groundling," (aka: social outcast), who dreams of getting her best friend, Maddie Tanaka, back from the "silk feathered hats" (aka: popular click). She thinks she's hit upon the perfect scheme when Sahil Roy (twin of Neil Roy, Twinkle's long time, and long-shot, crush) asks if she wants to team up with him to make a film for their school's Midsummer Night arts festival. Twinkle is naturally shy and non-confrontational – two things about herself she wishes she could change – and she decides that putting herself out there in such a spectacular fashion is the only way for her to rise up from groundling status. Unbeknownst to Twinkle, this is all part of Sahil's masterplan to finally get Twinkle to notice him, and to steal the limelight from his superstar twin. The two hit it off immediately, but Twinkle won't allow herself to give in to her growing feelings for Sahil until she can uncover who her secret admirer is – the mysterious "N," who has been emailing her for several weeks. Obviously, drama, romantic tension, and other teenage shenanigans ensue, leaving Twinkle teetering on the edge of a potentially disastrous decision. This is a breezy novel, with sitcom-like problems and tidy resolutions, and often unrealistically mature explorations of feelings. However, if you're a fan of rom-coms, slapstick comedy, and sweet first time love, this is a perfect book for you.
Thoughts: While some of the supporting characters can come off as fairly one dimensional, Twinkle's grandmother, Dadi, is possibly the most dynamic character of the bunch. A fanatical new ager, who support Twinkle in all of her endeavors, she offers insightful and/or fanciful advice, and is a wonderful counterpoint to Twinkle's absentee parents.  
Realistic Fiction          Lauren Friedman-Way, The Baldwin School
---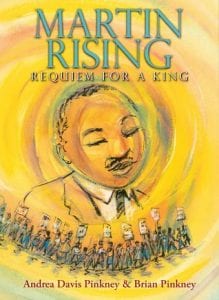 Pinkney, Andrea Davis, and Brian Pinkney.  Martin Rising: Requiem for a King.  Scholastic, 2018. 9780545702546.  128 pages. $19.99. Grades 4-7.
Pinkney takes us on a lyrical journey through the weeks preceding and the days following the death of Martin Luther King in a series of what she calls "docu-poems."  The book begins with a prelude about Henny-Penny of fairy tale fame who plays the role of the Greek Chorus, as explained by Pinkney in her author's note. Henny Penny appears throughout the text and in one poem tries to stop time in an effort to prevent the fatal events that will occur. This tribute focuses on the events surrounding the Memphis sanitation worker strike and the protest marches and speeches that King undertook in their support.  She makes use of the strike's phrase "I am a Man" in several poems. On April 3, King returned to Memphis to further help the workers' cause and gave his famous "I've Been to the Mountaintop" speech. He was assassinated the following day. The poems before Martin's death have chapter headings of "Dawn" and "Daylight," while those that discuss events after the assassination are labeled "Darkness." These serve as metaphors of the fight for civil rights. The title of each poem includes the date and events are presented chronologically. The final series of poems are presented under the heading "Dawn" once again and include a poem on the creation of Martin Luther King Day, which keeps his spirit and dreams alive. Pinkney includes a timeline of MLK's entire life in the back matter with a more detailed listing of the events that took place in 1968, which are the main focus of this book. In the author's note, Pinkney suggests that these poems could be performed out loud or read silently. Brian Pinkney's expressionist illustrations are done in watercolor, gouache, and India ink. In the Illustrator's note, he explains that he wanted them to convey the emotions of the events, rather than just a realistic portrait. The back matter includes a brief synopsis of King's life in prose, accompanied by photographs. This will help those unfamiliar with all the details of his life and the sanitation strike to understand this text better. Source notes are also included.
Thoughts:  This is an excellent example of creative nonfiction, but is more importantly a moving and fitting eulogy of a famous American. This book should be a part of every library's collection.
811.6   Poetry          Denise Medwick, West Allegheny SD