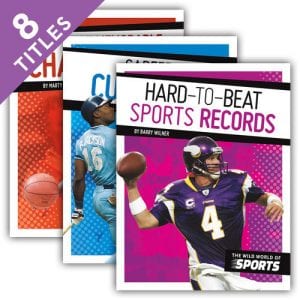 The Wild World of Sports. Abdo, 2018. $22.95ea. $183.60 set of 8. 48p. Gr. 3-6.
          Carothers, Thomas. Sports' One-Hit Wonders. 978-1-5321-1369-7.
          Gitlin, Mary. Sports' Most Memorable Characters. 978-1-5321-1368-0.
          Graves, Will. Greatest Teams That Didn't Win It All. 978-1-5321-1364-2.
          Hall, Bryan. Careers Cut Short. 978-1-5321-1363-5.
          Mason, Tyler. Biggest Scandals in Sports. 978-1-5321-1362-8.
          Marthaler, Jon. Offbeat Sports. 978-1-5321-1366-6.
          Rule, Heather. Sports' Greatest Turnarounds. 978-1-5321-1367-3.
          Wilner, Barry. Hard-to-Beat Sports Records. 978-1-5321-1365-9.
This series focuses on unusual and unique feats and personalities in athletics. A wide variety of sports are featured, from the traditional–football, baseball, swimming, to the unique–octopush and Quidditch. This reviewer had the opportunity to examine the volume on Offbeat Sports. This title consisted of 12 short chapters, each focusing on a unique sport played somewhere in the world today. A brief history of each sport is presented, along with a brief description of the rules of the sport. Full color photos accompany the text. Some of the offbeat sports presented included caber tossing, footgolf, hurling and bike polo, among others.
THOUGHTS: This series is best suited to the casual reader and sports fan rather than the student researcher. While the short chapters don't allow for in-depth discussion of the sport or sports personality, readers will nonetheless find themselves engaged in the text and turning the page to learn more interesting facts. A worthwhile additional purchase.
796 Sports          Elizabeth Henry, Lampeter-Strasburg SD
---
Murray, Julie. Nocturnal Animals. Abdo, 2018. $18.95 ea. $113.70 set of 6. 24 p. PreK-Gr. 1.
          Aye-Ayes. 978-1-5321-0404-6.
          Badgers. 978-5321-0405-3.
          Hedgehogs. 978-5321-0406-0.
          Sugar Gliders. 978-5321-0407-7.
          Tarsiers. 978-5321-0408-4.
          Wombats. 978-5321-0409-1.
Abdo's Nocturnal Animals series aims to inform young readers about a few of the fun creatures that come out at night. Each volume features basic information about the animal's physical characteristics, habitat, and nocturnal habits. With large, high-quality photos, each book also contains a code to access supplemental material online–including games, video, crafts, and additional photos.
THOUGHTS: This series is a worthy addition to the shelves of animal books in libraries serving young readers. The animals featured are unique and the numerous photos present in each book  are engaging and of high-quality. The supplemental materials available online are a cut above what publishers typically place online. For the Sugar Gliders book, supplemental materials online included a puzzle, a maze and a craft as well as photos and a video.
599 Animals          Elizabeth Henry, Lampeter-Strasburg SD
---
Murray, Julie. Slithering Snakes. Abdo, 2018. $18.95 ea. $113.70 set of 6. 24 p. Gr. K-2.
          Black Mambas. 978-1-5321-2071-8.
          Boomslangs. 978-1-5321-2072-5.
          Gabon Vipers. 978-1-5321-2073-2.
          King Cobras. 978-1-5321-2074-9.
          Rattlesnakes. 978-1-5321-2075-6.
          Tiger Snakes. 978-1-5321-2076-3.
Aimed specifically at beginning readers, the Slithering Snakes series is designed to inform readers about various species of snakes. Each volume features basic information about the type of snake under discussion. Readers will learn about where the snake lives, what it eats, and other unique features. The text is supplemented by high-quality full page photos. A glossary and link to online resources are also included.
THOUGHTS: This series is sure to appeal to the young reader intrigued and fascinated by snakes. The text is enhanced by the presence of high quality photographs–readers will feel like the snake is going to slither off the page! Recommended for libraries serving younger readers.
597 Snakes           Elizabeth Henry, Lampeter-Strasburg SD