Lee, Mackenzi. The Lady's Guide to Petticoats and Piracy. New York: Katherine Tegen Books, 2018. 978-0-062-79532-8. 464 p. $18.99. Gr 9-12.
After an exciting (if unplanned) tour of Europe with her brother Monty, Felicity Montague is living in Edinburgh, making ends meet working in a pastry shop. Her free time is spent appealing to local medical schools, determined to enroll and study – even if, at the time, women are not allowed to be doctors. After repeated rejections and an unwelcome and unwanted marriage proposal, Felicity finds herself in Germany on the heels of her idol, the radical physician Alexander Platt. But winning over Platt means winning over his fiance Johanna, who also happens to be Felicity's former childhood best friend. Felicity is reluctant to see Johanna again, but when she hears Platt is in need of research assistants, she knows reconnecting with Johanna is her only hope to pursue medicine. And complicating things is Sim, Felicity's mysterious companion who agreed to pay for her travel expenses to Germany in exchange for entrance to Johanna's house. Like last year's The Gentleman's Guide to Vice and Virtue, Lee breathes life into this spunky Montague sibling, and readers will love Felicity's determination, spirit, and adventures across the globe.
THOUGHTS: A lovely and refreshing look at gender roles in historical Europe, featuring an ace – or asexual – protagonist. Give this to any teen or adult looking for witty, spirited and LGBTQ+ friendly historical fiction.
Historical Fiction          Vicki Schwoebel, Friends' Central School
---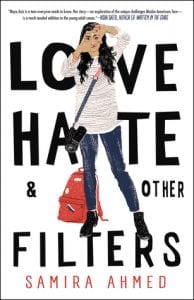 Ahmed, Samira. Love, Hate & Other Filters. Soho Teen, 2018. 978-1-616-95847-3. 281 p. $17.99. Gr. 9-12.
Illinois high school senior Maya Aziz is caught between two very different worlds. Her Indian American parents are very traditional and expect her to go to college close to home, study law or medicine, then marry a nice Muslim boy.  She, however, is more interested in attending NYU to study film and dating Phil, her white classmate and longtime crush. Just when she has worked up the courage to tell her parents her plan, a heinous crime is committed, presumably by a terrorist with the same last name as Maya.  This act is foreshadowed by the thoughts of a disturbed young man that precede each chapter of the book. The backlash experienced by her family after this act of terror causes her parents to tighten their rules even more. Readers will empathize with Maya as she struggles to chase her own dreams while simultaneously trying not to disappoint her parents.  
THOUGHTS: There are so many lessons about prejudice and tolerance to be learned from this title. Not only is Maya targeted and bullied at school because of her Muslim Indian background, but her parents' livelihood is even threatened in an act of hatred. In addition to terrorism and bigotry, this book could spark discussions about interracial couples and/or Muslim Indian culture and tradition. Pair it with Gloria Chao's American Panda for readers who want more stories about defying tradition or with Tanaz Bhathena's A Girl Like That for those who want to learn more about race, religion, and the Muslim culture. However it is used, this timely and thought-provoking novel definitely deserves a place in all high school library collections.
Realistic Fiction          Julie Ritter, Montoursville Area SD
---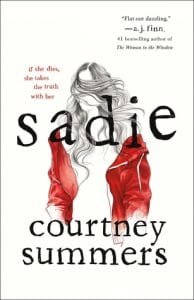 Summers, Courtney. Sadie. Wednesday Books, 2018. 978-1-250-10571-4. 311 p. $17.99. Grades 8-12.
About a year before the opening of Courtney Summers' latest novel, Sadie's younger sister, 13-year old Mattie, disappeared and was later found murdered. Now, Sadie has also disappeared, her car and few belongings found abandoned hundreds of miles away from her hometown of Cold Creek, Colorado. Chapters alternate between Sadie's first-person quest to deliver justice to the man she believes killed Mattie, and transcripts of The Girls, a podcast that chronicles the mysteries surrounding Sadie and her sister. The podcast, set just a few months later, follows in Sadie's footsteps. Both the show and Sadie's narrative reveal layer upon layer of abuse, neglect, and fierce sisterly love. Sadie, who speaks with a stutter, is a gritty anti-heroine. She both endures violence and threatens violence against others in her single-minded mission.
THOUGHTS: The novel's unique format and tough-as-nails main character make this an appealing choice for a variety of readers. The ending leaves a few plot threads and at least one central question unresolved, which may prompt discussion with some readers but frustrate others. The full-cast audiobook (and accompanying 6-episode podcast) enhance the novel's accessibility.
Fiction (Mystery)          Amy V. Pickett, Ridley SD
After her sister Mattie is murdered, Sadie Hunters disappears into the cold Colorado night, hellbent on vengeance. After both Mattie's murder and Sadie's disappearance go cold, May Beth – the girls surrogate grandmother – contacts popular New York podcast host West McCray, begging for help in finding Sadie. McCray becomes absorbed in the case, and begins a serial podcast called The Girls, detailing Mattie's murder and Sadie's disappearance. As McCray chases leads, Sadie hunts for revenge, and finds that the truth about her sister's murder and its link to her past is both unnerving and disturbing. Alternating between episode transcripts of the podcast and Sadie's brutal, violent hunt for justice, readers are thrust into the bleak poverty of small town America and the haunting aftermath of the murder, all building to a crescendo as McCray and Sadie unmask and confront the killer.
THOUGHTS: Teens familiar with true-crime shows like Serial and The Staircase will keep this book in constant circulation. The unique format helps this stand out from other YA books out there, but strong violence, sexual abuse, and language make this one for older teens.
Mystery          Vicki Schwoebel, Friends' Central School
---
McGhee, Alison. What I Leave Behind. Atheneum, 2018. 978-1-481-47656-0. $17.99. 199 p. Gr 7+.
Will walks – to and from school, to his job at the dollar store, and many more miles as needed to put his grief and fears behind. Will started walking three years ago, after his father committed suicide. While he walks, he thinks, remembers, and observes. He observes the people in his neighborhood: Little Butterfly Dude, the young boy who waits every afternoon for the butterflies to come; Superman, an apparently homeless individual. He remembers his father and his father's cornbread which Will tries to replicate. And he thinks about his old friend Playa, who was gang-raped at a party. Can walking be enough for Will to recover from all his grief? This is a quiet, but stunning book. Will is a strong, thoughtful character who deals with life as best he can, with an assist from David Bowie.
THOUGHTS: Just like feet hitting the pavement, Will drives this book with the warmth of his personality. The gritty plot and light text (one hundred words of text on every other page, complemented by a Chinese character on the verso) make it a great offering for reluctant readers as well.
Realistic Fiction          Nancy Nadig, Penn Manor SD
---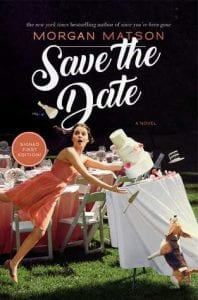 Matson, Morgan. Save the Date. Simon & Schuster, 2018. 978-1-4814-0457-0. 417 p. Gr. 9-12.
Charlie Grant's life is full of upheaval – her parents are selling the family home, her mother's long-running comic strip is coming to an end, one of her older brothers is currently estranged from the family, she needs to make a decision about college and her future, and her crush may finally be showing an interest in her. And this weekend is her sister's wedding! Charlie is determined that the wedding weekend be perfect. After all, it will be last time the whole family is together in the family home. It doesn't take long for the best laid plans to turn to chaos. Unexpected guests, a malfunctioning house alarm, a disappearing wedding planner, and a wedding band that only plays Journey covers are just a few of the disasters the Grant family encounters over the course of the weekend. Along the way, Charlie must confront the fact that she has developed a romanticized and nostalgic view of her family when the truth is they are complex individuals with both positive and negative attributes.
THOUGHTS: This enjoyable and laugh out loud (some of the wedding-related disasters are pretty humorous) title will appeal to fans of realistic fiction. While there are some romantic elements to the story, the focus of the story is the Grant family–their strong bonds, family dynamic, etc. Fans of Matson's earlier works will not be disappointed.

Realistic Fiction          Elizabeth Henry, Lampeter-Strasburg SD