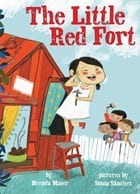 Maier, Brenda. The Little Red Fort. Scholastic Press, 2018: ISBN 978-0-545-85919-6. 40pp. $17.99. Gr K-3.
Inspired by the folktale of The Little Red Hen, this is the story of Ruby, a spunky girl with a mind full of big ideas. After discovering a pile of old boards, Ruby sets out to build something. She asks her three brothers for help, but they are too busy with their own activities. They also point out that she has no experience building anything. Ruby is undeterred by her brothers' lack of faith in her. Although they proclaim that she doesn't know how to build, sketch plans, gather supplies, saw, or hammer, Ruby proves them wrong every step of the way. When she finishes building her fort and asks who wants to play, all three boys change their tunes and are eager to join in the fun. But, Ruby turns them away, deciding to play by herself instead. While she's inside the fort, her brothers finally chip in by building a mailbox, planting some flowers, and painting the fort bright red. That night, Ruby invites them all to a fort-warming party, and they all chow down on a plate of freshly-baked cookies. This fresh retelling shines thanks to a cast of diverse characters and bright, splashy illustrations.
THOUGHTS: This retelling will be a good fit for STEM-inspired story times, and it effectively underscores the idea that children, and in particular, girls, can do anything they set their minds to. It would also work well for a compare and contrast folktale unit.
Picture Book          Anne Bozievich, Southern York County SD
---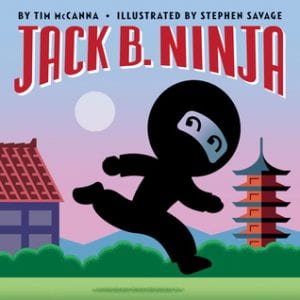 McCanna, Tim. Jack B. Ninja. Orchard Books, 2018: ISBN 978-0-545-91728-5. 32 p. $16.99. Gr K-3.
This fractured nursery rhyme, set in Japan, features Ninja Jack who is on a secret mission. He leaps over bamboo sticks, scales high walls, dives into garden pools, and breaks into a bandit cave. In the cave, he recovers the stolen treasure chest but must fight off the bandits with his grappling hook and rope. After escaping, it's revealed that the bandits are actually his family in disguise, and the stolen chest contains a birthday cake! The entire family frolics on the rooftops in their ninja gear until the sun rises and they disappear to begin their next mission. The story's rhymed couplets are fast-paced, and their bold, white text stands out against the large-scale, full-bleed illustrations.
THOUGHTS: Hand this to ninja fans, or to anyone looking for an action-packed read-aloud. This will also be a good fit for units featuring stories that have been retold or for nursery rhyme story times.
Picture Book. Anne Bozievich, Southern York County SD
---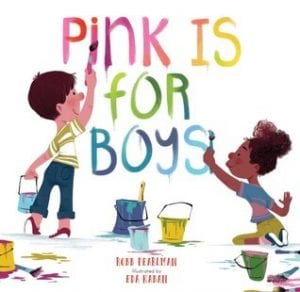 Pearlman, Robb, and Eda Kaban. Pink Is For Boys. New York, NY: Running Press Kids. 2018. 978-0-762-46247-6. $17.99. Unpaged. Grades K-2.
Even though this title would seem to draw in debate, Pink Is For Boys is all about gender and color equality for everyone. With a basic pattern of alternating boys and girls first, we go through the crayon box from pink to blue and down to black and white. There is a brief action statement attached to each color which is also accessible to boys and girls. For example, "BLUE is for girls. And boys. And uniforms on a team." There is imagination and variety to Eda Kaban's colorful illustrations which can lead to further discussions, or maybe just end the controversy over color designations for genders once and for all! As the ending suggests, "And all the colors are for EVERYONE. Girls and boys."
THOUGHTS: While this binary format does not include gender neutral options, I do think that all children could feel represented from this book. It helps to break down stereotypes and creatively shows gender harmony in the roles that children can play. I would pair it with other primary books like They She He Me by Maya & Matthew to give a balanced picture of identity.
Picture Book          Dustin Brackbill, State College Area SD
---
Freeman, Martha, and Violet Kim. If You're Going to a March. New York, NY: Sterling Children's Books. 2018. 978-1-4549-2993-2. $16.95. Unpaged. Grades K-3.
As social activism becomes a meaningful part of children's lives, Martha Freeman's newest book provides some valuable advice. Going to a march or protest can be in turns invigorating, exhausting, joyful, and fearful. Hearing simple advice addressed directly to young readers can help alleviate worries and prepare the participants. Freeman goes through basics- from signage to outfits to emotions- and keeps the advice specific enough to be useful but general enough to apply to various marches. Likewise, the artwork from Violet Kim keeps the diverse students at the forefront while showing many of the realistic operations happening in the background. Advice for recognizing officers, reporters, and even counter-protestors is succinct and relevant for children heading into these situations. Most importantly, Freeman wants readers to know that their voice matters, their ideas can help make a difference, and a little protest can march our country in the right direction!
THOUGHTS: Even students who may not be heading into a march will find value in the concept of this book and the insight that it provides. There are plenty of subjects that students feel passionate about, and this gives them one outlet for sharing their opinions respectfully and sincerely. Knowing what to look for in advance can go a long way toward creating a positive experience.
300, Social Sciences          Dustin Brackbill, State College Area SD
---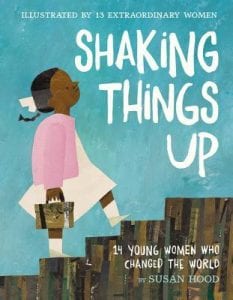 Hood, Susan. Shaking Things Up: 14 Young Women Who Changed the World. New York, NY: HarperCollins. 2018. 978-0-06-269945-9. $18.99. 40 pages. Grades 3-6.
"If you want to do it, you can do it!" Nellie Bly's straight-forward message is at the heart of this poetry collection about 14 brave and interesting females who pursue their passions. Across careers from artist to astronaut to activist, Susan Hood chose girls and women who were willing to step into the light and make history. Her poems are one page for each entry, including a quote and bios mixed with a variety of poetic forms. The illustrations are from 13 different female artist, so that further highlights a mosaic of styles and interests. Perhaps future female firefighters (Molly Williams), librarians (Pura Belpre) and scientists (Angela Zhang) will find inspiration to shake things up themselves!
THOUGHTS: The variety of this book appeals to me, from the art to the poetry to the choices of women both famous and less well known. Certainly, further research about any of these subjects would be beneficial. Likewise, discussing the traits such as grit, persistence, and process along with the quotes provided would make for lessons that go way beyond Women's History Month.
811, Poetry          Dustin Brackbill, State College Area SD
---
Van Genechten, Guido. Little White Fish. Clavis Publishing. 2018. 978-1-605-37430-7. $12.95. 11 p. Birth-K.
Little White Fish is lost and looking for his mother! As he searches the sea, he finds a lot of sea animals of many colors, but none that match him. Follow Little White Fish as he tries to find his mother, who looks just like him!
THOUGHTS: Little White Fish is a birth-Kindergarten book that is great for developing readers, especially those may need assistance with some basic skills. This book provides young readers with the chance to practice their color and matching skills. While designed for colors and matching, this book does provide insight to some of the sea creatures of the world, opening additional doors and exploratory areas for young readers. A beginner book for young children. Note: This book is now being republished as a board book.
Picture Book          Rachel Burkhouse, Otto-Eldred SD
---
Fan, Terry, and Eric Fan. Ocean Meets Sky. Simon and Schuster Books for Young Readers, 978-1-481-47037-7. Unpaged.  K-3. $17.99
This is a beautiful and imaginative book that tells the story of a young boy who is searching for the place where "the ocean meets the sky," as described in the tales told to him by his late grandfather. Readers see an illustration of the boy listening to his grandfather in his workshop, which contains many artifacts and curiosities. The boy decides to seek out this special place and builds a boat. After a short nap, the boy awakens to find himself on a sea voyage, where he encounters a giant golden fish with a moustache who resembles his grandfather. During the voyage, he sees clouds in the shape of an elephant, a pipe, a whale, and bird, and as night falls, he sees moon jellyfish floating in the sky. Later the boy meets a large whale and finds himself floating in the sky where he sees a moon with his grandfather's face on it. His mother awakens him, and the boy stands there looking at the moon, thinking about how it indeed was a "good day for sailing." The illustrations are done in graphite and enhanced digitally with color, which adds a dreamy quality to the book. Young readers will enjoy poring over the details in the drawings and will be delighted to find objects in the workshop reappearing in the sky and ocean during the boy's voyage. This story deals with the theme of the loss of a loved one, but this message may be missed by young readers.  
THOUGHTS: This is a contemplative book best shared one on one and would be a good choice when a book on grief and loss is needed.
Picture Book          Denise Medwick, West Allegheny SD
---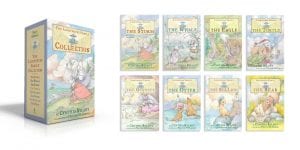 Rylant, Cynthia. The Lighthouse Family: The Bear. Beach Lane Books, 2018. 978-1-481-46028-6. 48 p. $15.99. Grades K-3. (The Lighthouse Family series)
          The Sea Lion.  978-1-48146-025-5
          The Storm. 978-0-689-84880-3
          The Otter. 978-1-48146-045-3
          The Whale.  978-0-689-84881-0
          The Eagle. 978-0-689-86243-4
          The Turtle.  978-0-689-86244-1
          The Octopus.  978-0-689-86246-5
In her latest offering in "The Lighthouse Family" series, Rylant tells the story of a bear called Thomas who comes out early from hibernation. While visiting his neighbors, the Lighthouse family, he eats a large number of pancakes and then goes to sleep on the family's hammock for another 43 days. In the beginning of the book, the author explains how the Lighthouse family came together. They represent a diverse group with a female cat acting as mother, a fluffy dog acting as father, and three young mice who appeared on the island after being found drifting on the sea in a teacup. The family occupation is to "keep the lights burning" in the lighthouse so that boats will avoid the rocks near the island. The illustrations by McDaniels are done in graphite and appear full bleed on the chapter heading pages. While this book looks like an easy reader at first glance, the word length is a little longer than found in the Henry and Mudge series and is at a higher reading level. 
THOUGHTS: Purchase where this Rylant series is popular.
Fiction          Denise Medwick, West Allegheny SD
---
Donne, Elena Delle. Elle of the Ball.  Simon and Schuster, 2018. 978-1-534-41231-6. 16.99. 148 p. Gr. 3-5.
Seventh grader Elle feels like a freak. At 6 feet tall, she towers over her classmates, as well as many of her teachers. Luckily for Elle, she actually does like basketball, but her sudden growth spurt has left her feeling awkward on the court as well as at school. Her misery is compounded by the upcoming school cotillion, where Elle and her two large left feet will have to dance, with a boy, in front of the school and assembled parents. Can life get any more humiliating? Written by WNBA and Olympic gold medalist Donne, this apparently autobiographical book is entertaining, sure to be enjoyed by any student who ever felt out of place. However, Donne has difficulty  differentiating between her childhood and that of her fictional character, resulting in several annoying anachronisms. But it is likely students will either not catch these or not be bothered by them.
THOUGHTS:  A nice addition to middle grade collections, particularly where sports books with female leads will be welcomed.  
Realistic Fiction          Nancy Nadig, Penn Manor SD