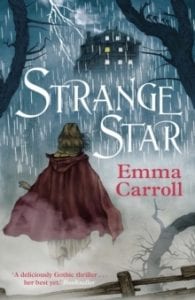 Carroll, Emma. Strange Star. Delacorte Press. 2018. 978-0-399-55606-7. $16.99. 240 p. Gr. 5 and up.
Strange Star showcases the art of storytelling producing a scary ghost story. The setting is June of 1816. Friends are enjoying company and sharing ghost stories when a stranger appears at their door with a haunting tale to share.
THOUGHTS: The writing and research is solid. Readers will learn about Percy Shelley, Mary Shelley, Claire Clairmont, Dr. John Polidori, and Lord Byron. They will ponder between the blending of fact and fiction in the tale.
Mystery/Horror          Beth McGuire, Hempfield Area SD
---
Collins, A.L. Redworld. Illustrated by Tomislav Tikulin. Stone Arch Books,  2018. 978-1-496-55892-3. 40 p. Set of 6 titles. $116.94. 128 p. Gr. 3-8.
Books the review is based upon:
Homestead: A New Life on Mars
Legacy: Relics of Mars
Bella Song is not thrilled when her family moves to Mars to find employment. She is shocked to learn that life is more difficult that she could have imagined. This exciting science fiction series includes a map, crisp illustrations, a glossary, Mars terms, an about the author and illustrator section, and a "What Do You Think" topic perfect for discussion or classroom activities.
THOUGHTS: The books can be used with a planet display including fiction and nonfiction books.
Science Fiction          Beth McGuire, Hempfield Area SD
---
Lasky, Kathryn. Bears of the Ice: The Quest of the Cubs. Scholastic, 2018. 978-0-545-68304-3. $16.99. 240 p. Gr 3-8.
On the dreadful day of Tuesday, Svenna, mother polar bear that can read and write, will turn in herself in to spare her bear cubs. She makes a plan for her young cubs First and Second to stay with her sister. Not wanting her cubs to worry about her, Svenna says that she is leaving for a while to be with The Den of Forever Frost. When the cubs see the cruelty in the mother's cousin, Taaka, they decide to escape. The question is, can the cubs survive?
THOUGHTS: This type of adventure is ideal for fans of Kathryn Lasky in addition to readers of the Spirit Animals and Warrior series.
Adventure          Beth McGuire, Hempfield Area SD
---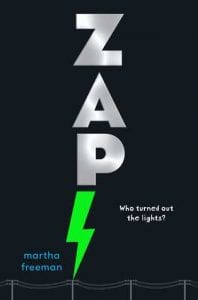 Freeman, Martha. Zap. Simon and Schuster. 2018. 978-1-534-40557-8. $16.99. 293 p. Gr 4-8.
What would you like to do if school was cancelled due to power outages? At first it seems neat to Luis and his friends when school is cancelled. Then they realize with all of the power out, they can't play their games or use phones, the novelty wears off. With the help of his friends Carlos and Maura, Luis works to solve the mystery of the power outage. Topics including coding, corruption in politics, retirement benefits, socioeconomic status, and changing dynamics in friendship are addressed.
THOUGHTS: Areas related to science are further discussed in the back matter which also includes a glossary of Spanish words and phrases used throughout the book. The book could work well as a book club selection.
Mystery          Beth McGuire, Hempfield Area SD
Eleven year old Luis Cardenal isn't too upset when the power goes off one morning in Hampton, New Jersey; he gets the day off from school and figures the power will be back on soon enough. But as the hours tick by, Luis and his friend Maura learn that the outage is growing, and the electric company and local authorities have no idea what caused it – and have no way to restore it. As paranoia deepens, dangerous rumors begin to spread. Luis and Maura are not sure if the outage was an accident or something deliberately done – perhaps a political tactic for the upcoming mayoral election. And is it possible that Maura's own grandfather is connected to the outage? The two teens get wrapped up on the mystery as their town falls into chaos, and the readers will be left guessing until the very last page.
THOUGHTS: A fun mystery that will hook reluctant readers, this story also explores science, technology, engineering and math (STEM) concepts.
Mystery          Vicki Schwoebel, Friends' Central School
---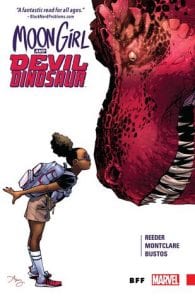 Reeder, Amy, and Brandon Montclare. Illustrated by Natscha Bustos and Tamra Bonvillain. Moon Girl and Devil Dinosaur: BFF #1: Repeat After Me. ABDO. 2018. 978-1-5321-4008-2. $17.95. 24 p. Gr 2-8.
Lunella would rather stay focused on her inventions. She must get ready for school held in the lower east side of Manhattan. When her teacher takes away her Kree-o-neter during dodgeball, a dinosaur takes Lunella away by its mouth. The story will be continued. At this time there are a total of six books in the series.
THOUGHTS: This series provides a diverse cast of character for readers to develop connections. Ideal addition to graphic novel collections.
Graphic Novel          Beth McGuire, Hempfield Area SD
---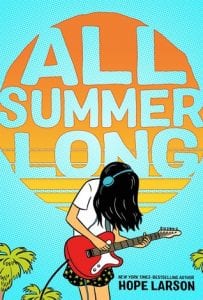 Larson, Hope. All Summer Long. Farrar Straus Giroux. 2018. 978-0-374-31071-4. $12.99. 172 p. Gr 5-8.
Summer was a time where Bina and Austin used to spend together. Now Bina and Austin are separated in the summer. Bina wonders if she will ever have fun and tries to make new friends in the summer. The artwork is accented by an orange ink color.
THOUGHTS: Add this to the graphic novel collection for your students. This is a super graphic novel to partner with Be Prepared, since summer activities are key to both novels. It could also be part of a summer reading book display.
Graphic Novel          Beth McGuire, Hempfield Area SD
Graphic novel staple Hope Larson pens another successful coming of age story for middle schoolers. Thirteen year old Brina is excited for her summer. Like previous years, she expects to spend her days with her best Austin. But this summer, Austin is going to soccer camp, and as the summer progresses, he texts Brina less and less. Bored and lonely, Brina ends up spending a lot of time with Austin's older sister, learning guitar and about herself, too. With subdued colors, this one will have readers nostalgic for warm summer as they sit in their classrooms.
THOUGHTS: As always, Larson's illustrations and dialogue are relatable and interesting. She has a knack for engaging readers and showcasing realistic moments in tween and teen life. If graphic novels are popular in your library, this is a worthy addition.
Graphic novel          Victoria Schwoebel, Friends' Central School
---
Saracino, Luciano, et al. Victor Hugo's Les Miserables: a Graphic Novel. Stone Arch Books, a Capstone Imprint, 2018. 978-1-496-56111-4. $20.49. 80 p. Gr. 5-9.
Books in this graphic novel series help introduce readers to classics. The artwork is detailed in full color while dialogue and narration advance the story. The book also contains information about the author, retelling author and illustrator, and a detailed glossary. The back matter includes additional information about revolutions and history during the time frame of the book.
THOUGHTS: While the discussion questions and writing prompts are included, this is more likely information that will help teachers and librarians lead lessons about the book. There is a lot of value not only to have these books serve as an introduction to students, but also as a reference when students read the classic writings.
Graphic Novel          Beth McGuire, Hempfield Area SD