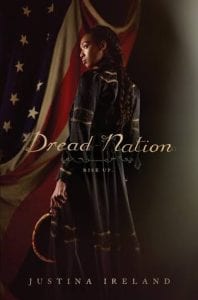 Ireland, Justina. Dread Nation. New York: Balzer + Bray, 2018. 978-0-062-57060-4. 451 p. $17.99. Gr. 9-12.
In the late 1800s, people have lived in constant fear since the dead came to life after the Battle of Gettysburg. The dead roam the countryside, while major cities like Baltimore and Philadelphia struggle to protect their citizens from attacks. As a black woman in the late 1800s, Jane McKee doesn't have many options, and is studying to be an attendant – a highly skilled personal guard for an upper class white woman. But Jane dreams of heading home to Kentucky, and to her mother – the only person who has ever loved her. As families in Baltimore begin to go missing, Jane and her fellow attendant (and nemesis/frenemy) Katherine are thrown into a life changing mystery that exposes corrupt politicians and dark conspiracies.
THOUGHTS: This is more than just an alternative history or gory zombie tale – Ireland expertly explores the political landscape of the time and scrutinizes slavery, racism, and sexism, which echoes strongly across today's political climate. A must-read for teens.
Historical Fantasy          Vicki Schwoebel, Friends' Central School
In an alternative past, the United States Civil War morphs into the War on the Dead when the corpses on the battlefield at Gettysburg rise from the dead to feed on the fresh meat of the surviving soldiers.  When bitten by these "shamblers" the victims themselves turn in to flesh eating zombies unless they are quickly shot or decapitated . This horrific development swiftly spreads through cities and the countryside and American society is threatened. In response the United States implements the Negro and Native American Re-education Act, which requires African American and Native American youth to undergo training to combat the zombie scourge.  Jane McKeene, a biracial teen,  is one of the students at the prestigious Miss Preston's School for Combat near Baltimore, Maryland. Jane and her fellow students have been training to serve as Attendants to protect wealthy, white citizens from shambler attacks.  But the politicians in Baltimore are involved in some shady practices and when Jane, her former boyfriend Jackson, and her lightskinned school rival, Katherine, investigate the disappearance of Jackson's sister, the teens attract the unwanted attention of the corrupt mayor and are shipped off to a desolate and dangerous Western town to fight the zombies on the frontier.
THOUGHTS:  This page turning adventure features an empowered, resourceful and inspiring protagonist.  It is a fantastic combination of horror tale, alternate historical fiction and civil rights satire that sheds a glaring light on institutionalized racism. Pair with Steve Sheinkin's Undefeated: Jim Thorpe and the Carlisle Indian School Football Team  to learn about the real life boarding schools for Native American Children.
Fantasy Fiction        Nancy Summers Abington SD
---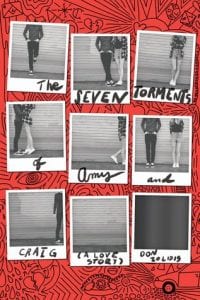 Zolidis, Don. The Seven Torments of Amy and Craig (A Love Story). Disney Hyperion,  2018. 9781368009614. $17.99. 410 p. Grades 9-12.
Seven Torments chronicles the on-again, off-again romance of Amy and Craig over the course of their senior year. Craig, the geeky Dungeons and Dragons aficionado, is amazed to find that Amy, the beautiful and determined class president is interested in him and they start an unlikely romance. The two main characters are each struggling with trying to reconcile their pasts and figuring out what the future may hold for them.   Craig, somewhat of a social outcast living in the shadow of his athletic and popular twin sister, has been laying low in high school, biding his time until he can escape the small town of Janesville WI. Amy is determined to prove that her dyslexia cannot hold her back, and has been over achieving her way to the top of the class and the presidency of nearly every club on campus. Craig's voice is sarcastic, humorous and thoroughly enlightened despite his myopic focus on his relationship with his dream girl, Amy.  And though Amy breaks up with him every other week, Craig steadfastly holds on to the hope that he and Amy will prevail in the end. But Amy is not as committed or optimistic and her mother's illness and her own self doubts keep her from being there for Craig as she breaks his heart again and again. Though things do not wrap up perfectly, their alternately touching and tortured relationship rings true.
THOUGHTS: It is refreshing to read a realistic YA romance story with the focus solidly on the male character. A quirky and appealing read and a great choice for fans of John Green and Rainbow Rowell.
Realistic Fiction      Nancy Summers Abington SD
---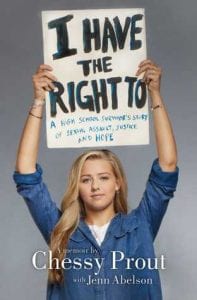 Prout, Chessy. I Have the Right To: A High School Survivor's Story of Sexual Assault, Justice, and Hope. Margaret K. McElderry Books, 2018. 978-1-534-41443-3. 416 p. $10.99. Gr. 9 and up.
A ripped from the headlines story of surviving sexual assault, Prout begins her story by taking readers through what initially brought her to Saint Paul's boarding school in New Hampshire as a high school freshman. Chessy shares details about life prior to boarding school and during her first year where she sheds light on unique "traditions" at Saint Paul's. One tradition, the senior salute, has forever changed Chessy's life. In explicit detail, Chessy describes her assault, the immediate aftermath, the trial that eventually followed, and the years of pain and recovery she faces as she tries to put voice to this crime. While sharing her story, Chessy also discusses how national events like the 2016 presidential election of Donald Trump and the women's marches that followed impacted her on a very personal level and how they empowered her to speak up for women. Though she cautions that each survivor's story is unique to him or her, Chessy's narrative is all too real for many survivors. Young women and teen girls especially need to read this story of suffering, resilience, and ultimately hope. 
THOUGHTS: With national attention of the #MeToo movement, and individuals in power being held accountable for their actions, teens will appreciate the honesty of Chessy's story. Regardless of background, many teens will relate to some experiences Chessy has as a high school student. Readers looking for a raw, emotional, and authentic read will appreciate Chessy's voice and ability to stand up for what is right. Graphic details of sexual assault make this suitable for mature readers.
362.88          Maryalice Bond, South Middleton SD
---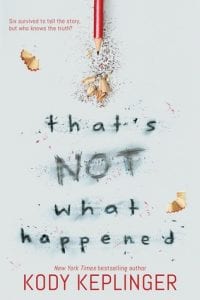 Keplinger, Kody. That's Not What Happened. Scholastic Press, 2018. 978-1-338-18652-9. 329 p. $18.99. Gr. 9 and up.
What happens in the aftermath of tragedy, after the cameras leave, and the whole world knows what really happened? What happens if the truth wasn't told? Living with grief and regrets and trying to move on, the Virgil County High School massacre survivors – the ones who were there – are still only able to talk to each other about that day. It's the last year any survivors will be in high school, and Lee feels like it's finally time to tell Sarah's story. Except Lee's version of Sarah's story isn't the one that was sensationalized in the media and is being turned into a book by Sarah's parents. Lee can be persuasive, and she needs to do this – needs to set the record straight – but not all of the survivors want to share their stories of that day, and a lot of people don't want Lee tarnishing their memory or Sarah's memory with her lies.  
THOUGHTS: Timely and relevant, Keplinger's book takes a unique approach to the topic of gun violence in school shootings. Instead of focusing on the shooting itself, though details are included, Keplinger fasts forward, evaluating the aftermath from a survivor's standpoint and leaves readers thinking about the impact of news sensationalizing. After all, every story is a matter of perspective. Readers will devour this book, desperate to discover the whole truth, as told by someone who actually witnessed it. 
Realistic Fiction          Maryalice Bond, South Middleton SD
---
Lu, Marie. Wildcard. GP Putnam's Sons Books for Young Readers, 2018. 978-0-399-54799-7. 341 p. $18.99. Gr. 9 and up.
Exposed, celebrated, then outcast in book one, Emika continues her journey to uncover the truth behind the NeuroLink and Hideo's and Zero's true intent for its use. Unable to trust anyone but her gut, Emika's life is more on the line this time. With a bounty on her own head, Emika barely escapes without the help of others, but who are the Blackcoats, and do they share mutual interests? Having no clear path, Emika trusts herself and her team of Phoenix Riders to uncover the truth.  
THOUGHTS: Readers who were invested in Emika and Hideo's relationship or the secret that tore them apart will be thrilled to jump right back into this story and learn what the outcome will be. Typical of Lu's writing, readers are taken on an adventure with plenty of twists and turns, and the end will not be what they expect. 
Science Fiction          Maryalice Bond, South Middleton SD
---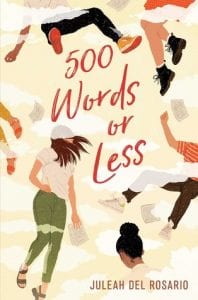 del Rosario, Juleah. 500 Words or Less. Simon Pulse, 2018. 978-1-534-41044-2. 384 p. $18.99. Gr. 9 and up.
Losing a lot that defined her for the past two years, Nic has been outcast from her Ivy League hopeful peers for breaking her perfect boyfriend's heart. Not what she had in mind for senior year, Nic uses her writing skills to start a business of writing college application essays for her peers. She doesn't need the money, and her peers have plenty for a good essay, so why not? The essays Nic writes are raw, revealing, and ultimately successful in their goal of college admission. 
THOUGHTS: I found the premise of this book intriguing, and students writing college application essays may glimpse some helpful tips about what makes a good essay. Purchase 500 words or Less where novels in verse are popular. 
Realistic Fiction          Maryalice Bond, South Middleton SD
---
Coles, Jay. Tyler Johnson Was Here. Little, Brown Books for Young Readers, 2018. 978-0-316-44077-6. 304 p. $17.99. Gr. 9 and up.
Twin brothers Marvin and Tyler have overcome adversity together. With their father in prison, they have managed to keep each other out of trouble under the watchful eye of their mother. When Tyler starts to fall in with the wrong crowd gaining an invitation to a questionable party, Marvin tags along to keep his eye on Tyler. Broken up by the cops, the party goers quickly disperse, and Tyler and Marvin are separated from each other. Always having his brother's back Marvin covers for Tyler. But when he still hasn't returned home the next day, Marvin must come clean to their mother and face the possibility that Tyler might not be coming home. Just as the trail seems to go cold, a video is leaked, and the truth about Tyler's disappearance comes to light. Overcome with guilt and anger, Marvin must decide what his life looks like without his other half. 
THOUGHTS: Focusing on those impacted by police violence, Coles' book will be a high demand read for fans of All American Boys, Dear Martin, and The Hate U Give. 
Realistic Fiction          Maryalice Bond, South Middleton SD
---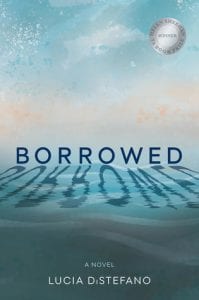 DiStefano, Lucia. Borrowed. Elephant Rock Books, 2018. 978-1-732-41410-5. 264 p. $14.00. Gr. 10 and up.
Meet Linnea, almost 18 and not quite at the momentous one year post transplant mark. A budding pastry chef in Austin, Texas, Linnea fears she's on borrowed time. An increasing number of dreams and unusual cravings for things she's never liked make her question if this heart is really hers to keep. 
Across town Maxine is living in a fog of grief. Devastated by the sudden death of her sister Harper, yet unable to focus on her own grief, Maxine is the only thread keeping her family afloat. While her mother is drowning in grief, Max tries to focus on caring for her younger brothers Will and Race. Max has her own feelings to deal with too; even with help from her best friend Shelby and Harper's boyfriend Ezra, Max is barely getting by. 
Harper's death gave Linnea a chance to live, but as the line between dream and reality blurs, Linnea is drawn towards what would have been Harper's life. Is becoming Harper even possible? One desperate to save herself, and one struggling to understand what happened to her sister, Linnea's and Maxine's worlds will collide, taking readers on an unforgettable journey into the unknown. 
THOUGHTS: Honored to be selected for the blog tour, I was excited to read Borrowed because my students are always asking for mysteries. What begins as a seemingly innocent story about grief and life abruptly transitions into so much more. DiStefano's multiple, well-developed narrators vie for attention in this fast-paced, genre-blending thriller. Buckle up because this book will take readers on a wild and unpredictable ride. 
Realistic Fiction          Maryalice Bond, South Middleton SD