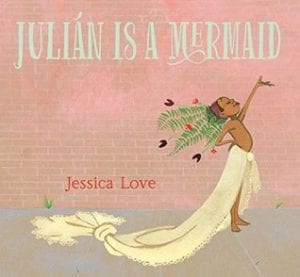 Love, Jessica. Julián is a Mermaid. Candlewick Press, 2018. 978-0-763-69045-8. 32 p. $16.99. Gr. PreK – 2.
A young boy, Julián, goes swimming with his abuela (grandmother) at the pool. On the ride home they see women dressed like mermaids boarding their bus. Julián is smitten and as soon as his grandmother leaves him alone to take a shower, Julián decides that he too will become a mermaid. Creatively using supplies at hand (ferns from the plant, lacy curtains, lipstick) Julián transforms himself. When discovered by abuela there is a tense moment, the reader and Julián wondering how she will react… though the fear is unfounded. Abuela embraces who Julián has become and takes him to the Coney Island Mermaid Parade, so he can revel with other mermaids.
THOUGHTS: First of all the message of this book is beautiful, simple, and heartwarming. It discusses the gender spectrum without any preaching adults or taunting children. The message of acceptance and support is an important one for all kids. The illustrations in this book are so true to life it's almost like they are breathing. Julián, abuela, the people on the street and in the bus are so real you almost want to talk to them. The details, from the grass growing through the cement, to the knot in abuela's headscarf, add realistic depth to this beautiful tale (and tail) of acceptance.
Picture Book          Emily Woodward, The Baldwin School
---
Mass, Wendy, and Rebecca Stead. Bob. Feiwel & Friends, 2018. 978-1-250-16662-3. 208 p. $16.99. Gr. 3-6
Livy is in Australia to visit her grandmother who she hasn't seen for the last 5 years. Now 10 years old, Livy has difficulty remembering what it was like last time, but since she is much older, she doubts she will do such childish things this time around… Yet when a green "not-zombie fake chicken" walks out of her closet and expects to be welcomed with open arms, Livy is a bit thrown off. Is it an imaginary friend come to life? What was she thinking when she was five?? Bob, the green creature, remembers what 5-year-old Livy thought and is happy to tell this more mature version. Together, can they piece together what Bob is and how to get him home?
THOUGHTS: I saw the authors speak, and one of the ideas they wanted to get across is how much children change between the ages of five and ten — how much less they use their imagination, how they are less confident, and what the loss of innocence is even though at ten you are still a child. As an adult I enjoyed reading it through that lens. Students adore it because it is funny and unexpected, with plenty of adventure and loveable characters. And of course a happy ending.
Fantasy          Emily Woodward, The Baldwin School
---
Hargrave, Kiran Millwood. The Island at the End of Everything. Alfred A. Knopf, 2018. 978-0-553-53532-7. 243 p. $16.99. Gr. 4-6.
Set in a leper colony in the Philippines, this story is about a girl, Amihan (Ami), who was born and grew up on the island of Culion in the early 1900s. Her mother and most of her neighbors were "Touched" with the leprosy disease, though Ami was not infected. She lives a quiet and happy life until, when she is twelve, Mr. Zamora from the government decides to force all the lepers into one colony. Thus Culion's population is taken over and since Ami is sano (the government word for "Untouched") she is forced to move to a neighboring island and live in an orphanage. At the orphanage the children are confronted with prejudice and scorn for coming from Culion. Ami continually writes letters to her mother, and yearns to go back. A girl who was already at the orphanage, Mariposa, connects strongly with Ami, and together they plan a way to get back to Culion when Ami receives heart-wrenching news.
THOUGHTS: In the beginning, the narration is leisurely and beautiful, building characters and setting so you can feel what it is like to be there. Therefore, this book might not be for those who only like fast-paced adventures. I really enjoyed the writing, symbols, and experiences of this book. I think adults should read this book to their children, that way there is added incentive to stick with it, and they can discuss central topics and themes.
Historical Fiction          Emily Woodward, The Baldwin School
---
Awesome Dogs (series). Bellwether Media, 2018. $25.95 ea. Set of 36 $934.20. 24p. Gr. K – 2.
Polinsky, Paige V. Basset Hounds. 9781626177383.
Schuetz, Kari. Shih Tzus. 9781626175600.
Schuh, Mari. Collies. 9781626176126.
Schuh, Mari. Dalmatians. 9781626176133.
Sommer, Nathan. Saint Bernards. 9781626176157.
Dog books are an ever-popular staple of the non-fiction collection. If you have a lot of dog lovers, or just need a few titles to refresh your collection, this series is great for the younger grades. It has specific breed information (features that are easily recognizable) as well as comparative information (such as how easy a specific breed is to train compared to other dogs). Each entry also provides a history of the breed, including a world map, as well as a glossary, index and table of contents.
THOUGHTS: Definitely for the younger students, this series has a larger font size and minimal writing on each page. But still it's chock-full of facts and good quality images!
636.7          Emily Woodward, The Baldwin School