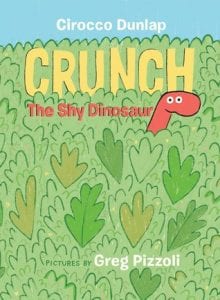 Dunlap, Cirocco. Crunch: The Shy Dinosaur. Random House, 2018. 978-0-399-55056-2. Unpaged. $17.99. PreK-Gr. 1.
Crunch is a friendly dinosaur, but he is very shy. In order to get him to come out of his shell, the reader must carry out actions like using an appropriate tone of voice, singing "Happy Birthday," and sitting very quietly. After all of the excitement of interacting with his new friend (the reader), Crunch is ready for bed, and the audience is called on once again to help out, this time with coaxing Crunch to sleep. In addition to the interactive nature of the book, cartoon-like illustrations by Geisel Award winner Greg Pizzoli add to the book's appeal for young readers. An engaging and playful title, this makes a great bedtime story for young children.  
THOUGHTS: Not only will children love getting involved in the story, but they may also learn a thing or two about engaging with individuals who are not outgoing. This book could certainly spark discussions about appropriate interaction between two people. Alternately, the book could be paired with other dinosaur stories like Ryan T. Higgins's We Don't Eat Our Classmates or Jane Yolen's How Do Dinosaurs…? series.
Picture Book          Julie Ritter, Montoursville Area SD
---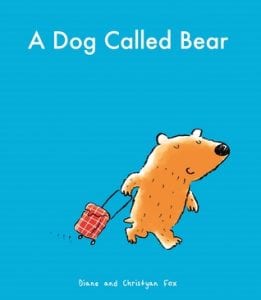 Fox, Diane, and Christyan Fox.  A Dog Called Bear. Henry Holt, 2018. Unpaged.  978-1-627-79867-9. $16.99. Grades K-2.
This British import is the story of a young girl named Lucy who is searching for a pet dog.  She prepared to become a dog owner by reading about dogs and saving money to buy "doggy things."  On her quest, she first meets two other animals who do not meet her conditions. The frog requires daily baths, and she only has a shower at home, while the fox is not sure he can stay indoors every day. Next she meets a bear who claims to be a dog. Although Lucy is skeptical about this "new breed of dog," she takes Bear into her home, where he proceeds to hibernate for several months. Soon both the pet and owner have issues with each other. Lucy is fed up with the porridge mess, while Bear is tired of playing fetch. Bear runs away, only to realize that he misses Lucy and his comfortable life. Lucy also has a change of heart and has posted signs everywhere for her "lost dog." The illustrations are done in a whimsical style, and there is a lot of white space on each page. The dialogue is depicted in callouts.
THOUGHTS: While not an essential purchase, this book makes a good read aloud. Children will have a good laugh at this story of mistaken identity.
Picture Book          Denise Medwick, West Allegheny SD                              
---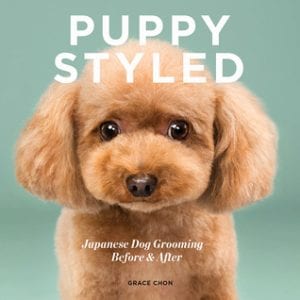 Chon, Grace. Puppy Styled: Japanese Dog Grooming – Before and After. The Countryman Press, 2018. 978-1-682-68176-3. 95 p. $12.95. Grades 3+.
Traditional dog grooming is designed to showcase each breed's ideal characteristics. Japanese dog grooming, on the other hand, takes a completely different approach. Instead of highlighting breed attributes and disguising individual flaws, the goal of Japanese dog grooming is simply to make every dog as cute as possible while allowing its unique personality to shine through! Puppy Styled by acclaimed animal photographer Grace Chon compiles forty-two before and after photographs of small-breed dogs such as Maltese, Bichon Frise, and Miniature Schnauzer. Side parts, swoops, spikes, general fluffiness complement expressive eyes, wet noses, and plenty of canine smiles. "Through these images," Chon writes in her Introduction, "we can recognize the power of transformation and the possibilities that can come from change. Sometimes, all it takes is a great haircut."
THOUGHTS: Several Life Skills classes visit the library regularly, and these students love checking out magazines, cookbooks, travel guides, and other books with plenty of vibrant photographs and illustrations to support the text. Puppy Styled is a great choice for students of all ages who are still learning to read but love books all the same. It's also a perfect option for anyone who is looking for something fun to page through in between longer reads.
636 Animals          Amy V. Pickett, Ridley SD
---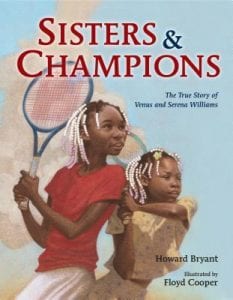 Bryant, Howard. Sisters & Champions: The True Story of Venus and Serena Williams. New York, Philomel Books. 2018. 978-0-399-16906-9. $17.99. Unpaged. Grades 2-4.
The Williams family was always tight, and the father was confident. Richard would brag and boast about his two girls, and the girls proved him right. Others would laugh and throw doubt, but Venus and Serena worked hard and stuck together when times got tough. This thin biographical picture book by ESPN writer Howard Bryant drives home several key values that make the Williams' story special: their grit, determination, ability, and family. Floyd Cooper brings usual wonderful detail and facial familiarity to his stylish illustrations. Much of the gossip and distractions from their family saga are missing here, but their on the court action makes the story an winner.
THOUGHTS: Any collection of racial and societal barriers should include the story of Venus and Serena. They each had personal setbacks and fought to return to the court that helped them make history. Both are still proving skeptics wrong, and many young girls will be able to transfer the story to their own dreams and goals.
Biography          Dustin Brackbill State College Area SD
---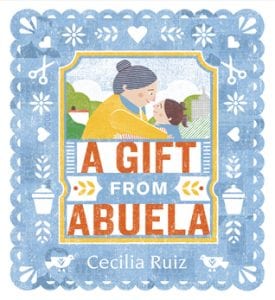 Ruiz, Cecelia. A Gift From Abuela. Somerville, MA: Candlewick Press. 2018. 978-0-763-69267-4. $15.99. Unpaged. Grades K-2.
Abuela and Niña have had a special relationship since Niña was born. They spent quality time playing and exploring in Mexico City as Nina grew up, often capped off by sitting in the park and eating a pan dulce. Abuela wanted to give Niña a special gift, so she began saving for it, but circumstances in the country and in their lives interfered. Will time and changes prevent a happy ending? Cecilia Ruiz provides a sweet intergenerational story with gentle, screened prints to explore Mexico City. There are Spanish words interspersed through the narrative, but the story is for anyone wanting to connect back to their grandparents.
THOUGHTS: The surprising ending will leave young readers debating what is truly valuable. Older readers will also be curious about the social, political, and economic evolution of Mexico during this time. The traditions included (papel picados) will be comforting and familiar to some while hopefully leading other readers to explore more.
Picture Book          Dustin Brackbill State College Area SD
---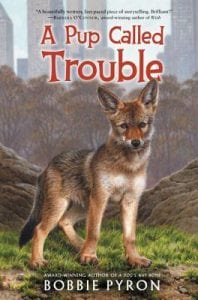 Pyron, Bobbie. A Pup Called Trouble. Catherine Tegen, 2018. 978-0-062-68522-3. 200 p. $16.99. Grades 3-6.
A coyote pup named Trouble lives with his family in a comfortable den. True to his name, he manages to find himself in troublesome situations because of his curiosity. One day he climbs into a produce truck parked at a nearby farm and soon finds himself in New York City. Trouble meets some animal friends during his adventures in the big city, and these include a mischievous crow, an empathetic poodle, a friendly opossum, and a wise owl. On his trail is an animal control officer who is relentless in his pursuit of the coyote. After escaping from an office building and a subway, Trouble finds some solace in Central Park. This peace does not last long, and the fate of Trouble rests in the hands of a young girl and in the paws or claws of his animal friends. Will Trouble ever find his way back to his family? There is plenty of action and suspense in this novel, and animal lovers will find themselves rooting for Trouble as they enjoy reading about his escapades.
THOUGHTS:  This book belongs in every elementary collection. Hand this one to those who enjoy animal stories, like Lasky's Wolves of the Beyond series or Avi's Old Wolf or The Good Dog.
Fantasy          Denise Medwick, West Allegheny SD
---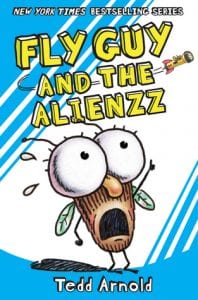 Arnold, Tedd. Fly Guy and the Alienzz. Cartwheel Books, 2018. 978-0-545-66318-2. 30 p. $6.99. Gr. K-3.
Buzz Boy and Fly Guy are back, and in this adventure they're movie stars! Buzz makes a movie (using his cell phone, some puppets on sticks, and a flashlight "spaceship") in which Buzz Boy and Fly Guy are attacked by aliens. The aliens suck the superheroes into their spaceship and tie up Buzz Boy. Fly Guy manages to escape and get help from pal Dragon Dude and Fly Girl. All is well in the end except Fly Guy realizes that Buzz's character was never rescued – oh no! Buzz suggests a sequel and gets to work. With short, easy-to-read chapters (called scenes in this book), lovable characters, and fun illustrations, Arnold created another winning Fly Guy adventure.
THOUGHTS: Fans of the series will love the new addition.
Picture Book           Lindsey Long, Lower Dauphin SD
---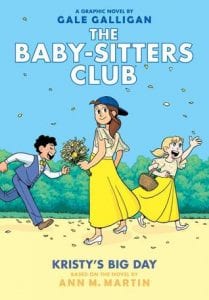 Galligan, Gale. Kristy's Big Day (The Baby-Sitters Club). Graphix, 2018. 978-1-338-06768-2. 153 p. $24.99. Gr. 3-6.
I am loving the BSC reboot! As a hardcore childhood BSC fan, these books alternately make me reminisce for the good old Ann M. Martin chapter books while wishing the Telgemeier/Galligan versions were available when I was a kid. Book 6 finds Kristy's mom marrying Watson Brewer, and the two families moving to Watson's mansion across town. The catch? It must be planned and completed in two weeks! With fourteen children underfoot while relatives and friends help with wedding prep, Kristy enlists help from the BSC, and the sitters take on their biggest challenge yet – a week-long day camp for all fourteen kids. All the classic highlights are there – the raucous barbershop trip, the Mary Poppins viewing, the disastrous playground visit. Everyone survives the week, and Kristy warms up to the idea of her new blended family. Overall, I think the graphic novel version was done really well. A few notes: Nanny's classic "Pink Clinker" is gone, replaced by a sporty red Beetle-like convertible, and Galligan's style of drawing eyes is sometimes a bit strange, but it's a really enjoyable story.
THOUGHTS: Fans of the BSC and new readers alike will find a BSC character to relate to and will surely enjoy this story.
Graphic Novel            Lindsey Long, Lower Dauphin SD
---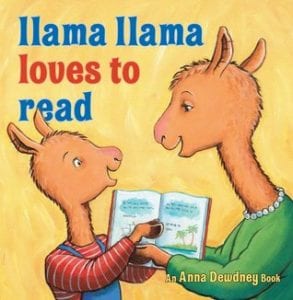 Dewdney, Anna, and Reed Duncan. Llama Llama Loves to Read. Viking, 2018. 978-0-670-01397-5. Unpaged. $17.99. Gr. K-2.
Llama Llama Loves to Read was created in a writing partnership between Dewdney and long-time life partner Reed Duncan. Fans of Llama Llama will happily read about Llama's adventures in learning to read. Even when he gets frustrated, Llama perseveres and finds small victories, like when he recognizes the word "Go" on a sign held at walking time. He goes on to have lots of happy moments of reading accomplishment. JT Morrow's illustrations are delightfully like those of Dewdney, and I truthfully didn't realize the difference in illustrator until after I read the book twice. While Dewdney co-wrote the story, some of the rhymes feel a little too long for her usual style, and the story lacks a little bit of her normal warmth. Regardless, it's a nice addition to the series.
THOUGHTS: Fans of Llama Llama will enjoy another title about the endearing little llama even if it lacks all it's usual pizzazz.
Picture Book          Lindsey Long, Lower Dauphin SD
---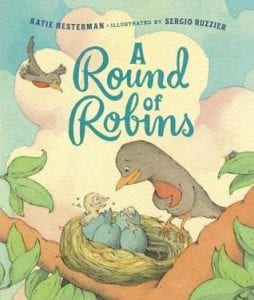 Hesterman, Katie. A Round of Robins. Nancy Paulsen Books, 2018. 978-0-399-54778-2. Unpaged. $16.99. Gr. K-3.
A lovely springtime read aloud, Hesterman created 16 poems detailing the life of a robin, from "Turf Tune" and "Home Sweet Home" in which Mom and Dad are claiming space and creating a nest to "Welcome to the World" in which the four robin eggs break open. Each poem is charming and packed with facts about robins (such as the fact that they usually lay four eggs). My favorite poem is "Earning Their Wings" when the fledglings finally learn to fly. Sergio Ruzzier's pen and ink and watercolor illustrations are warm and lively and alternate between full page scenes and spare pictures (a single nest full of babies) with lots of surrounding white space. Fun note: the front endpapers show different bird eggs and the back endpapers show the same eggs, but the robin eggs are hatching.
THOUHGTS: A Round of Robins is a beautifully done look at a springtime wonder. Enjoy with a small group or whole class when the weather warms up.
Picture Book          Lindsey Long, Lower Dauphin SD
---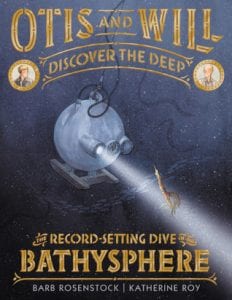 Rosenstock, Barb. Otis and Will Discover the Deep: The Record-Setting Dive of the Bathysphere. Little, Brown and Company, 2018. 978-0-316-39382-9. Unpaged. $18.99. Gr. K-3.
This is a great true-life scientific adventure! Otis Barton and Will Beebe were the first men to dive "…down, down into the deep" and discover the amazing deep sea world. Barton and Beebe, both adventurers and nature lovers, partnered to design and build the Bathyspere, a hollow round diving tank that was carefully planned and constructed. Rosenstock's text conveys the excitement and tension surrounding the first dive because so many things could have gone wrong – leaks, problems with oxygen levels, and so many more. The pages detailing their first dive are done SO well. You can see the Bathyspere sinking deeper and deeper into darker water and just feel the tension in that tiny metal tank. At 800 feet, after a few minor problems, Barton and Beebe stopped descending and had their first look at the amazing world around them, which opens into a four page spread of dark inky water and shadowy life forms, highlighted by the brightly lit Bathyspere in the middle. It's just gorgeous. Katherine Roy was the perfect illustrator for this book, and her amazingly detailed ink drawings give so much emotion to the story. The book ends with a lengthy Author's Note, an Illustrator's Note that details Roy's process for researching and creating the illustrations, a note from Beebe's former assistant, and a source list.
THOUGHTS: Make sure to buy this book and share the amazing story with your students. They'll be captivated by the story and pictures alike.
551.46          Lindsey Long, Lower Dauphin SD