Barnett, Mac. Square. Candlewick, 2018. 978-0-763-69607-8. Unpaged. $15.99. PreK-Gr. 2.
Square spends his days pushing blocks up and out of his secret cave. One day, Circle floats by while Square is doing his work and mistakes Square's block for a self-portrait. Awed by his talent, Circle demands that Square create a sculpture of Circle. But will Square, who isn't really a sculptor, be able to achieve perfect round edges that are up to par with Circle's expectations? Find out in his hilarious, thought-provoking story. Short sentences, simple illustrations, and lots of repetition make this an excellent selection for early readers.
THOUGHTS: Learning possibilities abound with this second title in a planned trilogy. The book is sure to provoke discussions about ingenuity, deceit, perspective, and what makes a true work of art. It would certainly be a comical way for elementary science teachers to introduce the concept of reflection or for elementary art teachers to show that art is all about perspective. For preschool readers, the book is a great way to introduce simple shapes. Highly recommended for collections that serve early elementary students.
Picture Book          Julie Ritter, Montoursville Area SD
---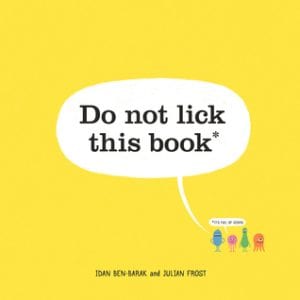 Ben-Barak, Idan, and Julian Frost. Do Not Lick This Book: It's Full of Germs. Roaring Book Press, 2018. 978-1-760-29305-5. Pages 32. $16.99. Gr. K-3.
Such a fun idea for a book! This book introduces young readers to the ideas of microbes and germs. They go on an adventure (you get to see teeth, clothes, and paper incredibly magnified) ON YOU! The reader follows them around learning about how different microbes live in different places and how they can easily get from one place to another (your finger). The end of the book has what the microbes look like when they are not illustrated, and what their real names are.
THOUGHTS: A fun and funny book that is sure to make kids smile (and possibly gross some kids out), this is a good introduction for numerous things from why it's so important to wash your hands to introducing the concept of microscopes.
579 Germs           Emily Woodward, The Baldwin School
---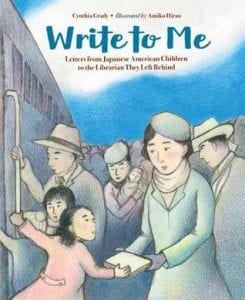 Grady, Cynthia, Illustrated by Amiko Hirao. Write to Me: Letters from Japanese American Children to the Librarian They Left Behind. Charlesbridge, 2018. 978-1-580-89688-7. Pages 32. $16.99. Gr. 1-3.
This moving true story turned picture book is a personal story about an event in American history that some are unaware of. It is a true story of some Japanese-American children who were sent to an internment camp by the government during World War II. Before they were forced to leave, Miss Breed (a public librarian in San Diego) gives her young friends books to take with them and paid postcards, so they can write to her. Their relationship grows, and Miss Breed continues to send care packages of books and more postcards to the children in the internment camps. Miss Breed also writes magazine articles about the treatment of the Japanese-Americans and advocates for schools in the camps.
THOUGHTS: I think it's wonderful that the illustrations show excerpts from actual letters that were sent to Miss Breed. This would be a good introduction to primary sources, as well as a read-aloud for middle or high school students who are learning about this topic.
940.53 World War II           Emily Woodward, The Baldwin School
---
Oliver, Alison. Moon. Clarion Books, 2018. 978-1-328-78160-4. Pages 32. $17.99. Gr. PreK – 2.
Moon was a typical over-scheduled girl who wasn't very happy. She wanted to know what it would feel like to be wild, but she researched it instead of trying to experience it. Finally, a shooting star lures her outside, and she discovers a perfect teacher–a wild animal. Moon learns not only how to play and pounce but how to be still and feel. In the end she takes her wolfy ways back to school with her to show her classmates.
THOUGHTS: This is such an important book for all those over-achieving families! It is essential for children to LEARN to play, use their imagination, and be silent after wearing themselves out. I wish there was a way I could bottle this book up and give it to parents as a parenting book!
Picture Book          Emily Woodward, The Baldwin School
---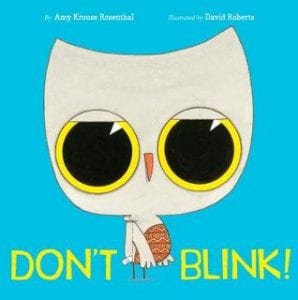 Rosenthal, Amy Krouse. Don't Blink. Random House, 2018. 978-0-385-39187-0. Unpaged. $17.99. PreK-Gr. 2.
The idea behind this book is simple: every time readers blink, they must turn the page. If they can avoid blinking, they can avoid finishing the book and having to go to bed.  The narrator, a wide-eyed owl, encourages readers to stare, squint, cover one eye, and try other strategies to prevent them from blinking. Eventually, the owl suggests closing both eyes and humming a song, counting to one million, or thinking about the day. This humorous, adorable story will have even the most stubborn of bedtime goers drifting off to sleep.
THOUGHTS: I thoroughly enjoyed reading this story with my daughter, as it reminded me of one of my childhood favorites: The Monster at the End of This Book by Jon Stone. Like this book, Stone's story encouraged readers to avoid turning pages so they wouldn't have to see the monster at the end of the book. Because my daughter is a night owl, the idea of avoiding bedtime was certainly alluring to her, drawing her into the story. The owl's commands kept her engaged throughout the book, and she enjoyed some of the optical illusions that were offered while she was being encouraged to stare. Although the book may not hold much educational value, it is definitely an excellent choice for an interactive bedtime read.
Picture Book          Julie Ritter, Montoursville Area SD
---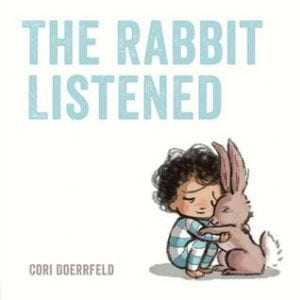 Doerrfeld. Cori. The Rabbit Listened. Dial Books for Young Readers, 2018. 978-0-735-22935-8. Unpaged. $17.99. PreK-Gr. 2.
Just when Taylor has finished building an enormous castle out of blocks, a flock of birds flies in and knocks it over. Taylor is devastated. Several animals come in and find Taylor upset. They all try to cheer Taylor up in their own way; the chicken offers to talk about it, the bear suggests that they shout about it, the elephant tries to fix the castle, and so forth. Taylor, however, doesn't feel like doing anything with any of them. That's when the rabbit enters and simply sits with Taylor, listening as Taylor talks, shouts, and experiences a range of other emotions and reactions. By the book's end, readers will see that all Taylor needed was just someone to listen.
THOUGHTS: This book delivers some powerful messages for young readers. First, it shows them that when something devastating happens, it's normal to feel anger, disappointment, sadness, and many other emotions. It also teaches readers that sometimes the best way to comfort someone is simply to listen. The basic message that words aren't always necessary when consoling someone is one that even many adults could stand to hear. Emotional intelligence is something that should not be overlooked in an elementary curriculum, and this title would supplement such a curriculum beautifully.
Picture Book          Julie Ritter, Montoursville Area SD
---
Olson, Elsie. Earth Detectives. ABDO Publishing Group, 2018.  $17.95 each, $107.70, set of 6.  24 p. Grades 2-5.
Exploring Fossils: Paleontologists at Work! 978-1-532-11231-0
Exploring Earthquakes: Seismologists at Work!  978-1-614-79936-8
Exploring Minerals: Mineralogists at Work! 978-1-614-79938-2
Exploring Volcanoes: Volcanologists at Work! 978-1-614-79940-5
Exploring Weather: Meteorologists at Work! 978-1-614-79941-2
Exploring the Rock Cycle: Petrologists at Work!  978-1-614-79939-9
This elementary non-fiction series focuses on careers in the Earth Sciences and is created by education professionals, reading specialists, and content experts. Each book defines the title subject and the scientists who study it. Features include noted experts in the field as well as informative text features such as photos, bolded vocabulary words, comprehension quiz, and glossary.
THOUGHTS: This is a great series for young readers to explore careers and aligns with new federal and state guidelines on career education.
560 Earth Science          Nancy Summers, Abington SD
---
Cusolito, Michelle. Illustrated by Nicole Wong. Flying Deep: Climb inside Deep Sea Submersible Alvin. Charlesbridge. 2018.  978-1-5808-9811-9. $17.99. Grades 2-5.
This beautifully illustrated children's book is about Alvin, the human occupied submersible famous for its journey to the bottom of the ocean to explore the remains of the Titanic. The story takes the reader on a detailed look  into life on Alvin, outlining a typical day's work of exploring the mysteries in the ocean deep. The author includes background information on the development and technical aspects of the vehicle, a glossary, a list of the animals found in the depths of the oceans, a bibliography, recommended websites, and the author's Pinterest board for curious students to check out.
THOUGHTS: This title is an excellent choice for elementary STEM collections, giving students a glimpse into the work of the scientific study of oceanographers.
627 Oceanography          Nancy Summers, Abington SD
---
Charman, Katrina.  The Titanic (Survival Tails). Little, Brown and Company, 2018.  978-0-316-47783-3. 190 pages. $7.99. Grades 3-5.
Mutt is a lonely dog, left behind in England after his owner, young Alice, and her father leave their home to travel to America on the newly built steamship, the RMS Titanic. He is determined to find her before the ship departs and with the help of a clever rat named King Leon, the dog finds himself on board. Because of the size of the ship, Mutt has difficulty finding Alice but is aided in this mission by the Captain's cat named Clara, who often accompanies the captain on his voyages. Joining these unlikely friends are a trio of abandoned kittens. Near midnight on April 14, the ocean liner strikes an iceberg. Will Mutt find Alice before the great ship sinks, and will the animals and their owners survive their voyage on the great Titanic? The back matter contains a timeline of the ship's crossing, a description of the ship, an explanation of nautical terms, and information on animals that traveled on the Titanic.
THOUGHTS: This story is full of suspense, and readers will enjoy the insights of the animal friends. This appears to be the first book in the Survival Tails series.  Hand this one to fans of the Ranger in Time series.

Historical Fiction           Denise Medwick, West Allegheny SD
---
Hansen, Grace.  Stan Lee: Comic Book Writer & Creator of Spider-Man. (History Maker Biographies Set 3.)  Abdo, 2018. 9781532104305. 24 pages.  Grades K-3. $20.00
Hansen, Grace.  George Lucas: Filmmaker & Creator of Star Wars. 978-1-53210-425-1
—. Michelle Obama: Former First Lady & Role Model. 978-1-53210-427-5
—.  Neil Armstrong:  Astronaut & First Human to Walk on the Moon. 978-1-53210-428-2
—.  Queen Elizabeth ll: The World's Longest Reigning Monarch. 978-1-53210-429-9
Kinney, Dan.  Hillary Clinton: Remarkable American Politician.  978-1-53210-426-8
This collection of primary biographies discusses the life of a variety of people who have made a contribution to the world in the political, entertainment, or scientific field.  The text is very simple and written in a large font size with a few sentences on each two page spread. Each page of text is accompanied by a full page photograph on the opposite page. In Stan Lee, the reader learns how the artist entered the industry and which comics he is famous for. The back matter contains a timeline and glossary as well as a link to Abdo Kids Online for access to crafts, videos, and games.  The writing is factual and somewhat bland but is accessible to young readers who will enjoy reading about their favorite Marvel superheroes. 
THOUGHTS: These biographies will be useful for biography units in primary grades. Students will also enjoy reading certain titles for personal interest. Purchase if there is a need for serviceable nonfiction for classroom assignments.
Biography          Denise Medwick, West Allegheny SD
92, 921, or 741.5
---
Higgins, Ryan T. We Don't Eat Our Classmates. Disney-Hyperion, 2018. 978-1-368-00355-1. Unpaged. $17.99. PreK-Gr. 2.
When Penelope Rex starts school, she has a hard time making friends. Her classmates are children, and she wants to eat them because children are delicious. It turns out, however, that her classmates do not want to be eaten. Soon enough, she gets a taste of her own medicine when the class goldfish bites her finger. Once she realizes what it feels like to be eaten, she stops trying to eat her classmates and has an easier time making friends. This fresh, cheeky title is sure to elicit chuckles from young students–all while making them think about what it means to treat others as they want to be treated.
THOUGHTS: I absolutely love the way this book highlights the golden rule: do unto others as you would have them do unto you. It provides content that is sure to spark discussion about this concept, yet adds an element of humor to lighten the discussion. The illustrations depict a diverse cast of children; one is wearing a yamaka, another is wearing a hijab, and they all display various tones of skin color. This book is a very refreshing story of inclusion in a world where exclusion and bullying is all too common.
Picture Book          Julie Ritter, Montoursville Area SD
---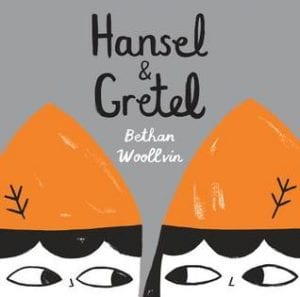 Woollvin, Bethan. Hansel & Gretel. Peachtree Publishers, 2018: 978-1-682-63073-0. 32 p. $16.95. Gr K-3.
Willow, a witch who only does good magic, lives happily in a snug gingerbread cottage in the woods. When she spots Hansel and Gretel dropping a trail of breadcrumbs in the forest one day, she politely asks them to help clean up, so mice and birds will not follow the trail to her tasty house. The children refuse to help, and while Willow cleans up the mess herself, the twins hurry ahead and begin eating her house themselves. Because she is so kind-hearted, Willow assumes the children must be hungry, so she invites them inside for some food. However, their bad manners persist as they eat all of Willow's food, play with her spell books and wand, and ultimately push Willow into the oven when the decide they want the cottage to themselves. The children finally push good-hearted Willow too far, and she reveals that she isn't always such a good witch. The gouache illustrations pop thanks to the tight color palette of black, white, gray, and orange. Observant readers will enjoy small details scattered through the illustrations, including birds and mice on almost every spread.
Picture Book          Anne Bozievich, Southern York County SD
THOUGHTS: Pair this with Woollvin's other retellings of Little Red Riding Hood and Rapunzel for a fun fractured fairy tale unit. Students will enjoy finding similarities and differences in Woollvin's slightly twisted stories and the original fairy tales.
---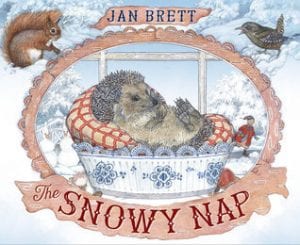 Brett, Jan. The Snowy Nap. G. P. Putnam's Sons, 2018: 978-0-399-17073-7. 32 p. $18.99. Gr K-3.
As the leaves fall and the air chills, Hedgie knows winter is approaching, and his time to hibernate is nearing. Hedge takes one final walk around the farm before his long nap, and as he passes by, each farm animal shares a winter delight Hedige will miss out on while he is sleeping. From a sparkling, ice-covered chicken coop to a frozen skating pond, to a tall snowman, it all sounds too good to miss. Hedgie decides to stay awake and see winter, but luckily, the farm girl, Lisa, brings him in from the cold before a snowstorm begins. She places Hedgie in a cozy basket on the windowsill where Hedige gets a first-hand look at all of winter's wonders. This companion to The Hat features many familiar farm characters, and on the book jacket, Brett describes how this story was inspired by her own pet rabbit who was interested in the wintery view of her backyard. Brett's detailed watercolor and gouache illustrations brim with life, and her familiar Scandinavian influences are part of the page borders.
Picture Book          Anne Bozievich, Southern York County SD
THOUGHTS: This book will be a welcome addition to units about hibernation, and students will enjoy predicting what animals will appear on upcoming pages by studying the intricate page borders.
---
Science Concepts. ABDO Zoom, 2018. $18.95 ea. $119.70 set of 6. 24 p. Gr. PreK – 2.
Rivera, Andrea. Air. 978-1-532-12050-3.
—. Gravity. 978-1-532-12051-0.
—. Light. 978-1-532-12052-7.
—. Living and Nonliving. 978-1-532-12053-4.
—. Motion. 978-1-532-12054-1.
—. Sound. 978-1-532-12055-8.
Explaining abstruse scientific ideas to preschoolers can be daunting, but this series tackles six such concepts. In Living and Nonliving, readers are introduced to a variety of living and nonliving objects. Short chapters illustrate various classes of living and nonliving things, such as science, technology, engineering. The logic behind the classifications can be challenging to discern: in the chapter entitled Math, we are informed that living things need energy and they reproduce. Book features include table of contents, glossary and index. For additional information, readers are directed to the Abdo site.
THOUGHTS: This attractive book gamely attempts to simplify a complex topic for the youngest scientists.
Air, 533          Nancy Nadig, Penn Manor SD
Gravity, 531
Light, 535
Living and Nonliving, 570
Motion, 531
Sound, 534

---
Dinosaurs (set 2). ABDO Kids, 2018.  $19.95 ea. $119.70 set of 6. 24 p. Gr. K-3.
Hansen, Grace. Allosaurus. 978-1-532-10035-3.
—. Ankylosaurus.  978-1-532-10036-9.
—. Diplodocus. 978-1-532-10037-0.
—. Iguanodon.  978-1-532-10038-3.
—. Spinosaurus. 978-1-532-10039-0.
—. Styracosaurus. 978-1-532-10040-6.
Budding paleontologists and young dinosaur fans will enjoy these lushly illustrated introductions to six dinosaur species. Each double page spread contains a large illustration, accompanied by clear text in a large, bold easy-to-read font, including the page numbers. While youngsters are sure to enjoy the graphic design of the book, teachers and librarians will appreciate the many text features this series provides. The books contain a table of contents, glossary and index, as well as links to three websites for more information. Readers are also given a code to use online at ABDOkids.com, which provides them with a collection of activities, videos and pictures about dinosaurs.
THOUGHTS: These books are lovely to look at and perfect to introduce parts of a book or early research skills.   
Allosaurus, 567.912          Nancy Nadig, Penn Manor SD
Ankylosaurus, 567.915
Diplodocus, 567.913
Iguanodon, 567.914
Spinosaurus, 567.912
Styracosaurus, 567.915
---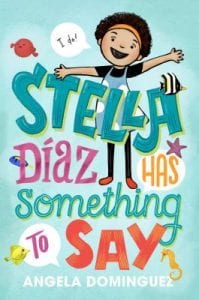 Dominguez, Angela. Stella Diaz has Something to Say. Roaring Brook, 2018. 978-1-626-72858-5. $16.99. 198 p. Gr. 2-5.
Shy Stella Diaz may have something to say, but all too often, her words stay inside her. The third grader loves spending time with her mom and older brother, but she is less comfortable at school. Because her family emigrated from Mexico when she was young, English is her second language, and sometimes words don't come out right, to the amusement of her classmates. To make matters worse, her best friend Jenny, is in a different class this year. But Stella is determined to make another friend, and perhaps it will be the new student moving into the class. However, when Stella embarrasses herself in front of Stanley on his first day, she despairs of being friends with him. Stella really panics when her teacher announces that the class will do oral reports on the animal they are researching. Stella is fascinated by fish, but can this shy girl find the courage to talk in front of the class? Perhaps with the help of a new friend, she can. Stella is an easily relatable character for young readers, even if they are not immigrants like Stella. Her shyness and hesitations in dealing with people are emotions most people share. Stella also does an excellent job creating empathy for students who are from another culture or struggle with English as a second language.
THOUGHTS: A solid purchase for middle grade collections. Young readers will cheer Stella on to success.
Realistic Fiction          Nancy Nadig, Penn Manor SD