McLemore, Anna-Marie.  Blanca & Roja. New York: Feiwel & Friends, 2018. 9781250162717. 375 p. $17.99. Gr. 8 and up.
Everyone knows the del Cisne sisters – beautiful, blond, selfless, compliant Blanca, and small, dark, manipulative, witchy Roja – and everyone knows that one of them will be transformed into a swan; that's just how it has been for generations of del Cisne girls – there are always two daughters born, and one of those daughters, after the youngest turns fifteen, is always transformed into a swan. Both Blanca and Roja have spent their childhoods believing that Roja will be taken, and they decide to outsmart the swans by becoming so much alike, the swans won't be able to tell them apart. However, as readers of fairy tales know, there's no outrunning a curse. When the swans do come, two boys who are trying to outrun their pasts also arrive on the del Cisne doorstep – blue-eyed, blue-blooded Barclay Holt, and his best friend, awkward yet charming, Page Ashby. The lives and destinies of these four teens become inextricably intertwined; Roja believes that Barclay, whom she calls Yearling (for reasons too complicated to reveal here) is the key to saving herself from the swans, and Blanca, who should be focusing her energies on saving her sister, can't stop thinking about Page. Due to a catastrophic failure in communication, Roja is convinced that Blanca is trying desperately to save herself, when really, Blanca, without disclosing any of her plans to Roja, is secretly scheming to get herself taken, rather than Roja. McLemore's characters usually have an entire cadre of familial supporters behind them, but in this story, Blanca and Roja are entirely on their own, which provides a deep tension and sense of urgency to their predicament. Similarly, Barclay and Page choose to be on their own, believing, for very different reasons, that it's far better than being with their families. There is a complex web connecting all of these stories together, with family secrets galore, and the balance if sometimes off-center, leaving more questions than answers. Blanca and Roja are not as well developed as some of McLemore's characters, leaving the readers less attached than they might want to be.  However, the writing is what we've come to expect from McLemore – beautiful, whimsical, precise, and spell-binding.
THOUGHTS: The secondary female characters – namely Page and Barclay's grandmothers – are perhaps the most memorable, the most fierce, and the most likeable of all of the characters in the book. They provide much needed guidance and no-nonsense attitudes to the sometimes melodramatic situations in this book.
Fantasy          Lauren Friedman-Way, The Baldwin School
---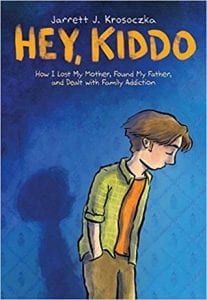 Krosoczka, Jarrett J. Hey, Kiddo: How I Lost My Mother, Found My Father, and Dealt with Family Addiction. Graphix, 2018. 978-0-545-90248-9. 320 p. $14.99. Grades 8+.
As a child, Jarrett "Ja" Krosoczka was taken in by his grandparents because his single mom, a heroin addict, was unable to care for him. Over the years, Jarrett would occasionally see his mother, Leslie, but she was usually absent from birthdays and special occasions as she moved in and out of jail, rehab, and halfway homes. His true support system was his grandparents (the very colorful Joe and Shirl), aunts and uncles, and a handful of close friends. When his father reaches out via a letter, Jarrett must decide whether or not to pursue a relationship with the man who has always been just a name on his birth certificate. Through it all, Joe and Shirl are stalwart, loving guardians who support their grandson's interest in art and comics. Krosoczka's artwork is rendered in shades of burnt orange, grey, and brown. Soft lines and shading lend a nostalgic mood to memories both cherished and painful. Actual letters from Jarrett's parents, his childhood drawings, and other family artifacts make this graphic memoir especially personal.
THOUGHTS: Readers will embrace Ja's journey from confused little boy to teenager finding his voice through art. Don't skip the Author's Note, which provides further context and an epilogue of sorts. Also check out the book trailer and Krosoczka's 2013 TED talk for even more insights into how addiction and art have impacted his life.
92, Graphic Memoir          Amy V. Pickett, Ridley SD
Full of heart and heartbreak, this biographical graphic memoir tells the author's story of growing up in a family of addition. Taken from his mother at a young age, Jarrett "Ja" Krosoczka is raised by his grandparents (who struggle with addition issues of their own). Seeing his mother sporadically throughout his life leaves Jarrett full of unanswered questions about who he is. Jarrett's only solace is in his art, and his grandparents recognize and encourage this through his life by ensuring Jarrett is enrolled in a variety of art courses and camps. This love is demonstrated even more by the inclusion of original art and letters spanning Jarrett's life. 

THOUGHTS: Hand this one to readers looking to be inspired by one man's struggle to overcome his situation. Krosoczka's honesty will change the way readers define family and view addiction. A National Book Award Finalist, this graphic memoir is a must-have for high schools. Middle school libraries should preview due to language and mature situations. 
 92, Graphic Memoir          Maryalice Bond, South Middleton SD
Jarrett J. Krosoczka was adopted and raised by his grandparents because his heroin addicted mother could not care for him. This graphic memoir explores his childhood with his grandparents, his search for his biological father, and his relationship with his mother, who weaves in and out of his life like a fever during the flu. His complicated relationship with his grandparents is riddled with verbal abuse, alcoholism, and crime. Jarrett's one outlet during this time is art, and he incorporates actual drawings done from preschool through graduation into the memoir. The artwork is often somber, colored in dark greys and black, reflecting the ripple effect that his families addiction can have.
THOUGHTS: This is a stunning, vulnerable look at addiction. The authors choice to create a graphic memoir will appeal to teens, and should not be overlooked. Recommended for older teens due to drug use and violence.
Memoir          Victoria Schwoebel, Friends' Central School
---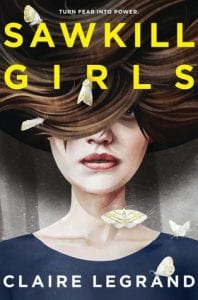 Legrand, Claire. Sawkill Girls. Katherine Tegen Books, 2018. 978-0-062-69660-1. 447 p. $17.99. Grades 9-12.
Something strange and sinister is afoot on Sawkill Rock. For years, girls have vanished without a trace in the night, but life continues apace among the staid citizens of Sawkill. As always, someone knows something … and maybe the time has come for three girls to banish Sawkill's unseen menace. "Queen Bee" Val Mortimer, a lifelong resident of Sawkill Rock, is part of the influential and untouchable line of Mortimer women. Zoey Harlow, the police chief's daughter, is still mourning the loss of her best friend, first to Val's circle of mean girls and then to the island's "Collector." Finally, the arrival of Marion Althouse and her sister Charlotte — eventful from the first moment — stirs something deep within Sawkill Rock itself. The girls are initially adversaries, then tentative allies, then soldiers-in-arms (and more) as they battle demons both internal and quite real. Claire Legrand puts a feminist spin on classic horror conventions, including hidden rooms, a book of Latin incantations, a secret society dedicated to eradicating the Collector, and imperiled girls walking home through the woods.
THOUGHTS: This is a very solid teen horror selection. In an essay for Bookish.com, Legrand herself described Sawkill Girls as an "angry, queer, feminist YA horror novel." It is these things, and a pageturner with some truly scary moments as well. I read this book with my 9th grade book club, a group of about 20 girls. It was the perfect choice for the Halloween / dark-at-4:30 season. The atmosphere of Sawkill Rock, the horses, and some of the creepy elements reminded me of The Scorpio Races by Maggie Stiefvater, one of my all-time favorites.
Horror Fiction          Amy V. Pickett, Ridley SD
---
Thrace, Mischa. My Whole Truth. Flux, 2018. 978-1-635-83024-8. 256 p. $11.99. Grades 9-12.
"I need help," seventeen year old Seelie Stanton whispers to the 911 operator after escaping her attacker. Brutally attacked while alone at work, Seelie saves herself and in the process kills Shane Mayfield, son of a well-connected family. When she wakes up in the hospital and is questioned by officers, Seelie isn't even sure if Shane is living. All she knows is that she had to save herself. While one officer seems to empathize with Seelie, the other twists her words. Upon Seelie's release from the hospital, she's arrested and is being charged as an adult for murder. Seelie thought the loft of the barn was her worst nightmare, but really it was only the beginning. 
THOUGHTS: Fans of thrillers will appreciate the mystery that the title implies. Clearly, readers do not have the whole truth from the beginning. Due to the graphic nature of her attack, this is recommended for mature high school readers. 
Realistic Fiction          Maryalice Bond, South Middleton SD
---
Barnes, Jennifer Lynn. Little White Lies. Freeform, 2018. 978-1-368-01413-7. 400 p. $17.99. Grades 9-12.
The hardworking daughter of a flighty single mom, eighteen year old Sawyer Taft does not expect to become a member of high society. When her estranged grandmother makes an offer she cannot refuse, Sawyer steps into her mother's former world to participate in debutante season. Initially caught up in the life she hasn't had, Sawyer eventually realizes that there is more than meets the eye. If she wants to get the answers she's looking for, Sawyer will have to join the others and play dirty. 
THOUGHTS: Readers will adore and root for Sawyer, respecting her search for the truth about her family origins. The complex and twisted friendships and family ties will leave readers unsuspecting of the eventual outcome and highly anticipating its sequel. 
Realistic Fiction          Maryalice Bond, South Middleton SD
Sawyer Taft knows little about luxury and even less about her family.  So when Lillian Taft, her grandmother, appears and offers her half-a-million dollars to come live with her and fulfill a debutante contract, Sawyer can't refuse.  Soon she finds herself in a new world, full of debutantes, wealth, Southern hospitality, and family secrets that was only 45-minutes away her entire life. As Sawyer befriends her cousin, Lily, and her friends, she also learns secrets that lead to blackmail, arrest, and enemies coming together for a common good.  But with secrets, comes curiosity too. Sawyer knows her mother left this life when she got pregnant during her debutante year, and one of four men must be her father. With the help of a friend, she begins to eliminate potential dads until she unleashes a secret that could tear apart her new life and her new-found family.  
THOUGHTS:  Told through first-person narration and alternating between present and past events, Little White Lies is an entertaining romp through secrets, wealth, Southern hospitality, and debutantes.  
Mystery          Erin Bechdel, Beaver Area SD
---
Crockett, Mary. How She Died, How I Lived. Little, Brown Books, 2018. 978-0-316-52381-3. 416 p. $17.99. Grades 9-12.
"Want to hang out this afternoon?" One simple message has an irrevocable ripple effect; five girls received it, and only the one who responded – beautiful, sweet, innocent Jamie – was brutally murdered. Coming up on the sentencing hearing one year later, each girl is (or isn't) coping in her own way. Though readers know the other survivor's names, the narrator remains anonymous. Through her eyes readers are taken on a journey of pain, grief, and survivor's guilt, as she tries to make sense of the senseless and move on from this tragedy. Together with Charlie, Jamie's boyfriend at the time of her death, and Lindsey, another of the targeted girls, these teens process their emotions and the role this event has played in their lives while trying to figure out how to live. 
THOUGHTS: The unique point of view of this novel helps readers understand how trauma survivors (and friends and family of those impacted by trauma) cope, process their emotions, and learn how to live. The author's note adds some insight into how Crockett was inspired by a violent act in her own community and used writing to process her own anger (listen to this podcast for more). Recommended for fans of character driven, realistic novels. 
Realistic Fiction          Maryalice Bond, South Middleton SD