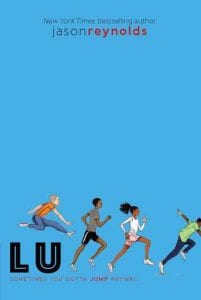 Reynolds, Jason. Lu, 2018. 978-1-481-45024-9. 218 p. $16.99 Gr. 5-8.
The fourth and final installment in Jason Reynold's popular Track series features Lu, the blinged-out, lightning fast (and fast-talking) team co-captain. Lu has albinism, but his insecurities about that (or anything else) are well-masked.  "I am/ the man/ the guy/ the kid/ the one/ the only/ The Lu/ Lucky Lu" (1), he tells himself, rightfully taking pride in his identity and abilities. Lu has a lot going for him, not the least of which is that his homelife is more secure and stable than that of his teammates featured earlier in the series (Ghost, 2016;  Patina, 2017; Sunny, 2018). However, Lu's seemingly unshakeable self-confidence begins to wobble a bit when his coach decides that Lu should try running hurdles. These literal obstacles in his path serve as a gentle metaphor for the other new things in Lu's life that are stopping him short and tripping him up. His mother is pregnant after years of infertility, and Lu isn't sure he's ready give up his only-child status. Meanwhile, some threatening ghosts from the past–his own and his father's–have resurfaced, forcing Lu to dig deep inside himself for strength and courage.  
THOUGHTS: The book's ending is a little over-the-top dramatic; nevertheless, it is satisfying. Lu is a winner, as is the entire Track series.
Realistic Fiction          Maggie Bokelman, Cumberland Valley SD
---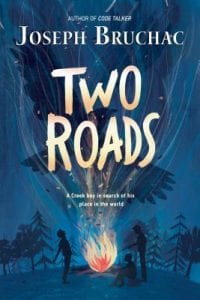 Bruchac, Joseph. Two Roads. Dial Books, 2018.  978-0-7352-2886-3.  320 p.  $16.99  Gr. 5-8.
Cal Black and his Pop are hobos during the Great Depression. They're broke but not unhappy, riding the rails and living on and by Pop's wisdom, wiles, and ethical code. Cal also has a kind of second sight, which he doesn't quite understand and doesn't share with anyone, which allows him to step into the lives of others for brief moments. Then, rocking Cal's world, Pop decides to join the Bonus March on Washington. He tells Cal two things that shock him: first, that Cal can't come with him; and second, that Cal, who's been raised as White, is half Creek Indian. The plan is for Cal to attend Challagi Indian School, where Pop went. Considering that the school's primary mission is "to educate everything Indian out of" (65)  the students, Cal, at first, doesn't understand, especially after he has mystical visions of Challagi that terrify him. But Pop explains that Cal will meet Creek boys there and learn about his heritage, and that, too, he will be educated about modern agricultural practices. Reluctantly, Cal agrees to go, and he misses his father dreadfully. The school has undergone some reforms since its worst days, but it still has the same mission. However, through the friends he makes at Challagi, Cal begins to learn the language, rituals, and history of his father's people, and is positioned to use his gifts to help others.
THOUGHTS:  This book covers a number of historical topics (most notably the Bonus March) that are rarely included in books for young people, all painstakingly researched by author Joseph Bruchac (Abenaki), a longtime, well-respected Native American scholar. At times, the story feels a bit didactic and overly detailed. While the plot and characters are interesting, it is definitely history, not story, that takes center stage here–but it's fascinating, under-reported, and important history. Recommended for middle school libraries.
Historical Fiction (1930s)          Maggie Bokelman, Cumberland Valley SD