LaJiness, Katie. Awesome Animal Powers. Abdo, 2019. $19.95 ea. $159.60 set of 8. 32 p. Gr. 2-4.
Beavers: Construction Experts. 978-1-532-11496-0.
Bees: Cool Communicators. 978-1-532-11497-7.
Devil Rays: Dynamic Dancers. 978-1-532-11498-4.
Homing Pigeons: Navigation All-Stars. 978-1-532-11499-1.
Humpback Whales: Super Singers. 978-1-532-11500-4.
Lyrebirds: Master Mimics. 978-1-532-11501-1.
Otters: Tool Users. 978-1-532-11502-8.
Ravens: Problem Solvers. 978-1-532-11503-5.
Readers will learn about some unique animal abilities in the Awesome Animal Powers series. Each volume opens with a discussion of of the unique characteristics and abilities of the animal. Subsequent chapters discuss the animal's habitat, daily life, diet, life cycle, and future outlook for the species. Each spread features text accompanied by an oversize photo. Book features include text boxes, maps, diagrams, and a glossary as well as curated web links.
THOUGHTS: These enjoyable titles will engage students interested in the animal kingdom. While some titles spotlight more common animals (beavers, otters, etc.), other titles focus on animals that may be new to readers (homing pigeons and lyrebirds). A worthwhile addition for libraries looking to update their animal resources.
590s Animals           Elizabeth Henry, Lampeter-Strasburg SD
---
Great Sports Debates. Abdo, 2019. $22.95 ea. $137.70 set of 6. 48 p. Gr. 3-6.
Gitlin, Marty. Great Baseball Debates. 978-1-532-11441-0.
Ybarra, Andres. Great Basketball Debates. 978-1-532-11442-7.
Marquardt, Meg. Great E-Sports Debates. 978-1-532-11443-4.
Wilner, Barry. Great Football Debates. 978-1-532-11444-1.
Ferrell, Giles. Great Hockey Debates. 978-1-532-11445-8.
Avise, Jonathan. Great Soccer Debates. 978-1-532-11446-5.
Sports fans are well-known for their passionate nature and opinionated views on their favorite sports leagues, teams, and players. Each title in this series examines some of the debates surrounding major sports today. This reviewer had the opportunity to examine Great Soccer Debates which contained chapters debating the better player-Messi or Ronaldo, which league and club are the best, if video replay should be used in soccer, and the popularity of soccer in America. The text is supplemented by the inclusion of numerous photos and a glossary.
THOUGHTS: The books in this series are better suited to the sports fan, rather than the casual reader. Those with prior knowledge of the sport will be more engaged and more fully understand the nuances of the topics being debated. A good choice for libraries seeking to foster critical thinking skills.
796 Sports          Elizabeth Henry, Lampeter-Strasburg SD
---
Hansen, Grace. Super Species (Set 2). Abdo, 2019. $19.95 ea. $119.70 set of 6. 24 p. Gr. PreK-2.
African Elephants. 978-1-532-10821-1.
Beluga Sturgeons. 978-1-532-10822-8.
Goliath Frogs. 978-1-532-10823-5.
Mola Ocean Sunfish. 978-1-532-10824-2.
Saltwater Crocodile. 978-1-532-10825-9.
Siberian Tigers. 978-1-532-10826-6.
The goal of the Super Species series is to introduce young readers to some of the largest animals in the world. Each oversize spread includes an average of two sentences accompanied by a high-quality photograph. Much of the text focuses on the supersize nature of the animal (length, weight, height, etc.). Other basic facts such as diet, life cycle, and life span are also included. For students interested in learning more (or teachers looking to incorporate the book into a lesson), a link to the Abdo Kids website containing supplemental information, a word find, a video, and a craft activity is included at the end of the book.
THOUGHTS: Students will love browsing through these oversize books and learning interesting facts about some unique creatures. A great introduction to non-fiction text for younger readers. The supplemental materials available online are a cut above what is typical for many books. Recommended.
590s Animals          Elizabeth Henry, Lampeter-Strasburg SD
---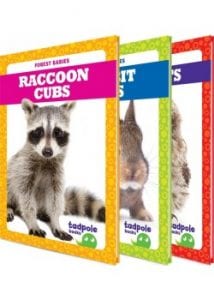 Nilsen, Genevieve. Forest Babies. Jump!, 2019. $16.95 ea. $135.60 set of 8. Gr. PreK-1.
Bear Cubs. 978-1-624-96955-3.
Deer Fawns. 978-1-624-96958-4.
Fox Kits. 978-1-624-96961-4.
Owlets. 978-1-624-96964-5.
Rabbit Kits. 978-1-624-96967-6.
Raccoon Cubs. 978-1-624-96970-6.
Skunk Kits. 978-1-624-96973-7.
Squirrel Kits. 978-1-624-96976-8.
The Forest Babies series is designed to introduce beginning readers to non-fiction. Each title imparts basic facts about some of the most common baby animals found in the forest. Short sentences feature repetition and simple words in order to meet the needs of early readers. (For example, the Bear Cubs volume has sentences such as: "They climb. They play. They follow mom.") The presence of numerous high-quality photographs greatly enhance appeal of each volume. A "Tools for Teachers" section includes before and after reading suggestions for educators to use within the classroom.
THOUGHTS: An excellent choice for primary libraries looking to add to their non-fiction collection for their earliest readers. Young readers will love the numerous photos of cute baby animals in each volume.
590s Animals          Elizabeth Henry, Lampeter-Strasburg SD
---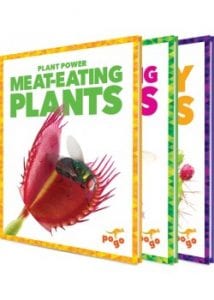 Plant Power. Jump!, 2019. $17.95 ea. $107.70 set of 6. Gr. 2-5.
Kenney, Karen. Healing Plants. 978-1-624-96874-7.
Kenney, Karen. Photosynthesis. 978-1-624-96880-8.
Kenney, Karen. Pollinating Plants. 978-1-624-96886-0.
Schuh, Mari. Meat-Eating Plants. 978-1-624-96877-8.
Schuh, Mari. Poisonous Plants. 978-1-624-96883-9.
Schuh, Mari. Prickly Plants. 978-1-624-96889-1.
From learning about the pollinating capability of bats to the dangers of the poisonous foxglove to the sticky traps the sundew plant uses to lure its prey, this series will inform readers about the amazing power of plants. Each volume contains interesting plant-related facts and high quality photographs. The text is supplemented by informative sidebars as well as diagrams, a glossary, and links to curated websites. Each volume also contains a suggested activity. For example, in Pollinating Plants readers are provided step-by-step instructions on how to create a simple butterfly feeder.
THOUGHTS: A great choice for elementary libraries looking to refresh their resources on plants or to support STEM-related initiatives. Students will enjoy the engaging text (a whole volume on Meat Eating Plants – definitely not another boring plant book!) and browsing the excellent photos.
500s Plants          Elizabeth Henry, Lampeter-Strasburg SD
---
Grant, Jacob. Bear's Scare. Bloomsbury, 2018: 978-1-681-19720-3. 32 p. $17.99. Gr. K-3.
Bear is very proud of the neat and tidy house he shares with his stuffed bear, Ursa. Every day, he and Ursa clean the house from top to bottom and ensure everything is in its place. One morning, Bear spots a book on the floor, and that's when the trouble begins. As he places the book back on its shelf, he notices a sticky spider web attached to the back cover. When Bear inspects his home more closely, he discovers spider webs on the houseplants, under the cupboards, and clinging to his knicknacks. Bear panics, imagining that his home is being overrun by a messy guest who has nothing in common with him and Ursa. Bear tears the house apart, searching for the offending spider. He doesn't locate him, but he does make a huge mess, removing pictures from walls, unstacking logs in the fireplace, and pulling drawers from dressers. When Bear lifts up the sofa and peeks under, disaster strikes. One of Ursa's arms gets stuck under the sofa and separates from his body. Bear hurries to gather first aid supplies, but when he returns, the spider has mended Ursa's arm with spider web. From then on, Bear decides to make room in his home for one more friend, even if it does mean he will have more cleaning to do. The charcoal and crayon illustrations stick to a tight palette of purples, oranges, and yellows, and readers will enjoy spotting the white spider webs that begin popping up throughout the story. Watchful readers will also notice that spider is nothing like Bear imagines: she enjoys quiet activities like drinking tea, reading, painting, and watering her plants. 
THOUGHTS: This gentle story emphasizes unlikely friendships and promotes tolerance, particularly when meeting those who may be different than us. This will be a welcome addition to friendship-themed storytimes, and it will be useful for reminding students not to make assumptions about others.
Picture Book          Anne Bozievich, Southern York County SD
---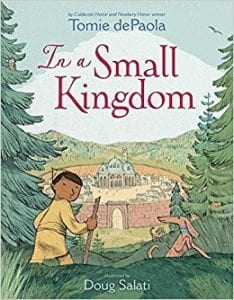 dePaola, Tomie. In a Small Kingdom. Simon and Schuster Books for Young Readers, 2018: 978-1-481-49800-5. 32 p. $17.99. Gr. K-3.
This modern-day fairy tale begins with the death of an old king who is much-loved by his people. According to legend, he ruled and protected his subjects so well thanks to a magnificent Imperial Robe that has only ever been seen by a few people. When it is announced that the king's youngest son will be his successor, the prince's half-brother jealously plots to destroy the robe so his half-brother will be powerless and too weak to rule. He secretly shreds the robe and scatters the torn pieces from a high tower. When he learns that the robe is missing, the young prince's faith in himself is shaken, and he begins to doubt his ability to rule. Meanwhile, in another more humble part of the kingdom, some children find pieces of beautiful cloth in a field. They take the scraps to an old woman who recognizes them as pieces of the old king's Imperial Robe. The townspeople gather up as many pieces of the robe as they can and begin to repair it. Since so many pieces of original fabric are missing, the people contribute scraps of their most precious fabrics to patch the robe. Soon, the original robe is pieced together with scraps from wedding veils, blankets, scarves, and coats. The people present the restored robe to the young king, and he recognizes the love that has been stitched into it. His confidence soars, and the people are reassured that they are in good hands, and they place their full trust in their new leader. dePaola's gentle story reminds readers that being a leader doesn't always mean ruling with force. Intelligence, gentleness, and love can be far more powerful and can win more loyal followers. Debut illustrator Doug Salati's muted palette of blues, browns, and greens grounds this story in an agrarian setting. Additionally, he portrays the young king as biracial, and the townspeople are racially diverse as well.
THOUGHTS: With its themes of generosity, cooperation, support, and coming together as a community, this story will be a good fit for many read-aloud settings.
Picture Book          Anne Bozievich, Southern York County SD
---
Thermes, Jennifer. Grandma Gatewood Hikes the Appalachian Trail. Abrams Books for Young Readers, 2018: 978-1-419-72839-6. 42 p. $17.99. Gr K-3.
This book shares the story of Emma "Grandma" Gatewood, the first woman to hike the entire 2,160-mile Appalachian Trail alone. Gatewood began her five-month hike in Georgia in May of 1955 at the age of 67 and ended at the top of a mountain in Maine in September. Along the way, she braved bears, hiked through a hurricane, and wore through five pairs of canvas shoes. The text is sprinkled with quotes from Gatewood herself, so her down-to-earth personality shines through. Several double-page spreads also describe the history of the Appalachian Trail and some of its notable landmarks.
THOUGHTS: Since part of the Appalachian Trail passes through Pennsylvania, this will be a nice addition to nonfiction collections. Fourth grade teachers studying regions of the United States will also find the detailed maps useful.
796.51 Hiking          Anne Bozievich, Southern York County SD
---
Verde, Susan. I am Human: A Book of Empathy. Abrams Books for Young Readers, 2018: 978-1-419-73165-5. 32 p. $14.99. Gr K-3.
This third title in Susan Verde and Peter Reynolds' Wellness series is the companion to I am Yoga and I am Peace. Each title in this series stands alone, but each also empowers young readers to choose kindness and compassion towards others. I am Human celebrates some of the many traits that make each of us human: our hopes, our dreams, our curiosity, our ability to learn and to feel amazement and wonder. The book also acknowledges that humans are not perfect. We make mistakes, we hurt others, we are fearful, and we feel sadness. But, we also make choices, and our choices help us move forward and turn our negative feelings around. Thoughtfulness, kindness, compassion, equality, peacefulness, and forgiveness help us connect to our fellow humans. This book encourages readers to be the best version of themselves and to look for the "human-ness" in all of us. Peter Reynolds' vibrant  ink and watercolor illustrations shine against their white backgrounds, perfectly complementing the concise text.
THOUGHTS: This is a must-have for guidance counselors, and it will also work well as a read-aloud during classroom morning meeting times. Although the text is simple and brief, there are many jumping off-points for discussion, and there are opportunities for students to share where they could apply some of these ideas in their own school or in their personal lives. An Author's Note at the back of the book also includes kindness meditations readers can use to encourage positive feelings for themselves and for others.
Picture Book          Anne Bozievich, Southern York County SD
---
MacLachlan, Patricia, and Emily MacLachlan Charest.  Little Robot Alone.  Houghton Mifflin Harcourt Publishing, 2018.  978-0-544-44280-1. Unpaged. $17.99. Grades PreK-2.
This is the sweet story of Little Robot who enjoys his daily routine in a little white house. One day he realizes that he is alone and decides to create a companion robot- a dog. He sets to work in his workshop but finds the robot is not turning out as he wished. Little Robot does some thinking and makes improvements with materials found in his treasure box. Tension mounts as he pushes the button to see if the model works. Happily, all turns out well, and now Little Robot has a new friend in Little Dog. The book contains both text in black for the main storyline, as well as rhyming text in green in first person, which could be sung. The muted illustrations by Matt Phelan are done in pencil and watercolor and add a calm feeling to the story. As an aside, it is interesting to note that Little Robot's toaster head closely resembles the robot's head in DiPucchio's Clink.
THOUGHTS: This story of friendship works as a read aloud as well as for one-to-one sharing.
Picture Book          Denise Medwick, West Allegheny SD
---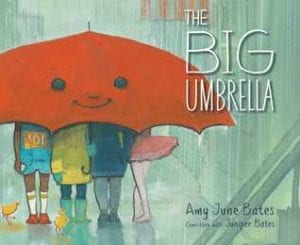 Bates, Amy June. The Big Umbrella. Simon & Schuster Books for Young Readers, 2018. 978-1-534-40658-2. Unpaged. $16.99. PreK-Gr. 2.
This story about kindness and inclusion uses a smiling red umbrella to deliver a memorable message. This particular umbrella is big and friendly and likes to provide shelter to anyone who needs it. It doesn't matter what each person looks like; they all fit under the umbrella regardless. Although it seems like the umbrella won't be big enough to fit everyone underneath, it continues to expand as new people gather, its smile growing wider and wider. On the final page, the umbrella is seen covering an entire park full of wonderfully diverse characters. Sure to spark meaningful discussion about kindness and inclusion, this title deserves a place in every elementary library.
THOUGHTS: One of many books recently published about kindness and acceptance, this is yet another timely addition to our current social and political landscape. Pair it with Higgins's We Don't Eat Our Classmates and/or Cori Doerrfeld's The Rabbit Listened if you want to delve into an in-depth classroom discussion about understanding, accepting, and being there for others. It might also be used to introduce the concept of metaphors, as the red umbrella could be a metaphor for the United States. A simple, yet powerful narrative with great classroom potential, this is a must-have.
Picture Book          Julie Ritter, Montoursville Area SD
---
Moss, Marissa, and Jeremy Holmes. The Eye that Never Sleeps: How Detective Pinkerton Saved President Lincoln. New York: Abrams Books for Young Readers. 2018. 978-1-419-73064-1. $17.99. 48 p. Grades 2-4.
Today many students understand that the CIA and the Secret Service work tirelessly to protect our country and president from danger; however, less of them are aware of the intelligence agency that started it all. The Pinkerton Detective Agency and its founder Allan Pinkerton rose to prominence in Chicago and spread his "spycraft" skills around the country using his curiosity, keen observations, and search for truth. But the danger of threats to the life of President Lincoln challenged Allan to think above and beyond his usual tactics. This engaging nonfiction text from Marissa Moss keeps a succinct story moving with intrigue and mystery that lets readers follow Allan's progress and thought process. Jeremy Holmes excels at creating large detailed "digital scratchboard" illustrations of the action which seem both modern and antiquated. Readers follow some pages like a wordless graphic novel, and some with a detective's eye to solve the problems. One spread includes Morse Code messages to decipher. Altogether, The Eye That Never Sleeps brings the skills of Allan Pinkerton – his "sharp eyes, keen mind, and passion for justice" to new light!
THOUGHTS: The history of spies and detectives in the US has always fascinated me. Perhaps this title will get more young readers to discover the Pinkerton method. The end notes explain more about the timeline, art, and life of Allan. Further reading should include Moss' other work of the time period: a biography of Kate Warne: Pinkerton Detective and Nurse, Soldier, Spy: The Story of Sarah Edmonds, a Civil War Hero.
973 US History          Dustin Brackbill State College Area SD
---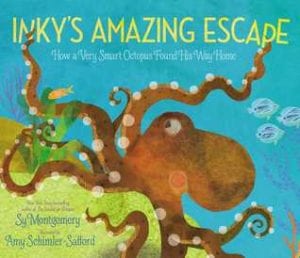 Montgomery, Sy, and Amy Schimler-Safford. Inky's Amazing Escape: How a Very Smart Octopus Found His Way Home. New York: Simon & Shuster Books for Young Readers. 2018. 978-1-534-40191-4. $17.99. Unpaged. Grades 1-4.
An octopus is a naturally curious creature, and Inky is no exception. When a lobsterman finds the octopus trapped in one of its crates with two broken tentacles, he takes it to the nearby aquarium. As they work with the creature now named Inky, they learn much about its nature. Once Inky is healed, he naturally seeks a way home, even if that involves an impossibly small drain on the floor of the aquarium. Amy Schimler-Safford provides colorful, playful collage illustrations to go with the narrative nonfiction of Sy Montgomery. Together, they provide a deep sea adventure about an elusive and amazing animal. The endnotes and octopus facts help emphasize that Inky was always ready to explore, much as some readers may be!
THOUGHTS: This story could easily connect to several creative STEAM and makerspace challenges involving suction, filling space, tubing, collage, and problem solving. Partner with many other picture books and beginning nonfiction books about octopi to create a comparison chart and inquiry cycle.
590 Animals          Dustin Brackbill State College Area SD
---
Pettiford, Rebecca. Geology Genius (series). POGO Books. 2019. $19.00 each. set of 8. 24 pages. K – 3.
Crystals. 978-1-62496-824-2.
Fossils. 978-1-62496-827-3.
Gemstones. 978-1-62496-830-3.
Igneous Rocks. 978-1-62496-833-4.
Metamorphic Rocks. 978-1-62496-836-5.
Minerals. 978-1-62496-839-6.
The Rock Cycle. 978-1-62496-842-6.
Sedimentary Rocks. 978-1-62496-845-7.
If you have a young geologist ready to absorb some beginning information about rocks and minerals, this is an attractive set to explore. POGO and Rebecca Pettiford have created an eight volume set with a predictable text pattern, full color images, and lots of text features. The expository text in each book helps to define the topic (minerals, gemstones, crystals, etc.) and explains how they form with plenty of examples. The opening of the book has tips for adults to assist in inquiry mindset reading, and the back of the book includes an experiment, glossary, index, and website links for further information. Try to raise a better reader and a geology genius at the same time!
THOUGHTS: This set seems cleaner and easier for young readers than other sets available. While certainly not comprehensive, they should provide initial research and assist with an inquiry project.
550 Earth Science          Dustin Brackbill State College Area SD
---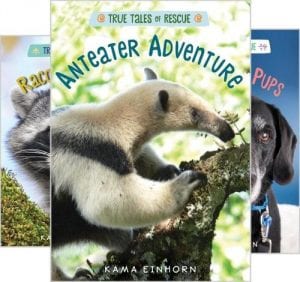 Einhorn, Kama.  Sweet Senior Pups. (True Tales of Rescue).  Houghton Mifflin Harcourt, 2018.  141 p. 978-1-328-76703-5. $14.99.  Grades 3-6.
Welcome, Wombat.  9781328767028.
Anteater Adventure. 9781328767042.
Raccoon Rescue. 9781328767059.
This series focuses on animal rescue sanctuaries, the  volunteers who work there, and especially on the animals who live there. In Sweet Senior Pups, the reader is introduced to Val Lynch, who began rescuing dogs from childhood. After he retired from the Air Force, he and his wife established a sanctuary for older dogs in Maryland, making this a special place for senior dogs with illnesses and disabilities. The book is divided into four sections: Rescue, Recovery, Rehabilitation, and Release. Each chapter contains "testimonials" from the dogs themselves, which are told in first person. The book centers on the lives of three particular dogs as they move from the shelter to their "furever" homes and for some, their final resting place at Rainbow Bridge. The stories are very moving and the numerous photographs are engaging. The author does not shy away from describing the illnesses of the dogs but does so in a way accessible to children. The book contains a number of text boxes highlighted in different colors. These are either stories told by the dogs themselves or information about shelters or dog care. The author also shows examples of the social media used to inform the public of the shelter's activities and showcase the antics of specific dogs. An important message is this book is that senior dogs, also known as "sugarfaces," make good pets despite their health issues. In the back matter, the author gives suggestions for helping these dogs by donating supplies to shelters. There are also treat recipes and ideas for games. The author notes that a percentage of the proceeds from the sale of this book will go to the Senior Dog Sanctuary of Maryland.
THOUGHTS: This engaging narrative will fly off the shelves for those animal loving readers and may well encourage them to adopt a senior dog themselves. Libraries will want to add this series to their collections.
636.7 Dogs          Denise Medwick, West Allegheny SD
---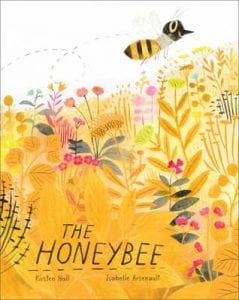 Hall. Kirsten. The Honeybee. Atheneum Books for Young Readers, 2018. Unpaged. 978-1-481-46997-5.  $17.99. Grades K-3.
This beautifully crafted book tells the story of the honeybee from its gathering of nectar to the creation of honey.  Using rhyming text, the author begins the tale with a single bee who sees a colorful field of flowers and begins collecting nectar.  After the rest of the scouting party take their treasure back to the hive, they alert the other bees, who travel to the field in a swarm to collect more.   The house bees take the nectar and chew it until it finally becomes honey, which is then stored in honeycombs. As winter approaches, the queen informs her subjects that they must "huddle and cuddle" in the hive throughout the cold season.  When spring arrives, a single bee comes out of the hive, looking for a new field of flowers to begin the cycle once again. This book is a fiction and creative nonfiction hybrid, because the "story" is a really description of honeybee behavior and honey making. The whimsical illustrations by Isabelle Arsenault are done in ink, pencil, gouache and colored pencil and alternate between full bleed and leaving some white space.  The bees are simply adorable and the queen appears larger than the other bees and has rays on the top of her head, which resemble a crown. At the beginning of the book, the first bee is shown on a large scale on a two page spread, which adds some drama as the reader is first asked to guess who is buzzing around the flowers. Some extra creative touches are the font created by the illustrator, which she calls Honeybee and the endpapers which are done in alternating black and yellow.  The bees speak to each other in callouts and some text is written in a large font size like "Buzz!" When the bees are in the hive, the background is black. Details like this show that close attention was paid to the fine points. Hall, an advocate for these endangered insects, includes a letter in the back matter, which lists ways the reader can help the honeybee survive.
THOUGHTS: This is a must have for every collection. Children will enjoy poring over the illustrations for the details.  This book with its rhyming text will make a great read aloud and is a perfect choice to introduce science units on the honeybee.
Picture Book          Denise Medwick, West Allegheny SD
---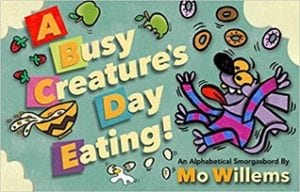 Willems, Mo. A Busy Creature's Day Eating. Hyperion Books for Children, 2018. 978-1-368-01352-9. Unpaged. $17.99. PreK-Gr. 1.
In this comical tale, a little purple creature eats his way through the alphabet, beginning with apples and berries. Just when readers think the creature will simply eat a food item beginning with each letter of the alphabet, the story takes a hilarious twist. Suddenly, the creature is eating inedible and outrageous items (like "furniture"), then ends up getting "queasy" and "vomit"-ing. As the story comes to a close, the creature's father gives him water, hugs, and kisses, and puts him to bed. Great for young readers, this title will reinforce letters of the alphabet while also entertaining.
THOUGHTS: Award-winning Willems has done it again. His fans will be thrilled to find that beloved characters like Knuffle Bunny and the Pigeon have made cameo appearances in his newest release. If the author's name itself doesn't entice you to purchase this book, perhaps the endless learning possibilities and classroom potential will.  Not only will the book help young readers learn their letters, but teachers could create extension activities to reinforce this knowledge. For instance, students could write their own stories involving a creature who eats through the alphabet, which would require them to come up with their own ideas for each letter. Those who work with young children should definitely considering purchasing this title!
Picture Book          Julie Ritter, Montoursville Area SD