Dominy, Amy Fellner, and Nate Evans. Cookiesaurus Christmas. Ill. AG Ford. Disney Hyperion, 2018. 978-1-484-76745-0. $16.99. Unpaged. Gr. K-2.
Cookiesaurus Rex wants to be Santa's cookie and go to the North Pole, but Mr. Spatula has a different cookie in mind.  As Cookiesaurus Rex tries to be the cookie on Santa's plate, disaster strikes. Although he makes his way to Santa's cookie plate he realizes that perhaps the cost of showing his Christmas spirit might have been too high.  
THOUGHTS:  Cookisaurus Christmas is a sweet story about the price paid trying to make it to the top.  It shares a lesson on friendship and the importance of be apart of something instead of trying to be something.  The play on words throughout keeps all readers entertained, and the illustrations are bright pencil drawings that incorporate the whole picture (counter) and all of Cookiesaurus Rex's individual ideas and shenanigans.
Picture Book          Erin Bechdel, Beaver Area SD
---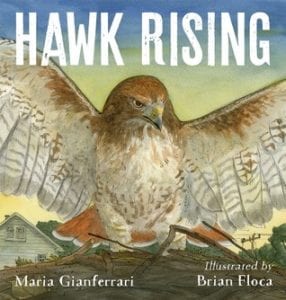 Gianferrari, Maria. Hawk Rising. Roaring Brook Press. 2018. 978-1-626-72096-1. $18.99. Gr. K-3.
The story of a hawk family being observed by a young girl in the distance. We watch as Father Hawk travels to perch-hunt for his chicks that are hungry and waiting back in the nest. Father Hawk examines the area and swoops down, only to have his prey escape. As we watch this process, the young girl in the story observes him as well, watching to see where he goes. Father Hawk continues to search for prey and miss, until he is finally successful and captures dinner for his chick's meal.
THOUGHTS: This early level nonfiction picture book provides beautiful illustrations by Brian Floca on red-tailed hawks. This books is an appropriate description of predator vs. prey in a simple way for children to understand. The book also contains facts in the back of the book for continued knowledge and information on red-tailed hawks, which can provide increased instruction and information for students, teachers, and parents.
598.9 Birds          Rachel Burkhouse, Otto-Eldred SD
---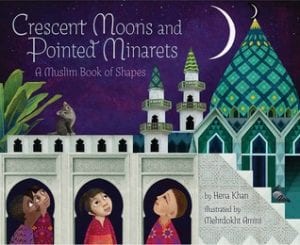 Khan, Hena. Crescent Moons and Pointed Minarets: A Muslim Book of Shapes. Chronicle Books, 2018. 978-1-452-15541-8. 32 p. $17.99. Gr. Pre-K – K
This lovely book introduces young children to different shapes and relates them to objects of Islam. A little girl points out the different shapes her Muslim family encounters from things in their home (diamond patterned clothing and hexagonal wall tile) to designs in a Mosque (rectangle door and octagon fountain). People of Islamic faith will feel at home with the vocabulary of this book such as Quran (holy book) and wudu (ritual washing). Readers who are learning about something new will be exposed to foundational terms of Muslims and find the glossary in the back easy to use. The in-depth text is accompanied by beautiful and descriptive pictures, portraying various lives of Muslims all over the world.
THOUGHTS: I strongly believe that children should be introduced to many cultures and religions at a young age. They should have their first, second, third, and fourth introductions to be positive and wholesome before introducing what are viewed as the negative aspects. It is equally, if not more, important that children of minorities should be able to see themselves positively portrayed in books and literature.
Picture Book          Emily Woodward, The Baldwin School
---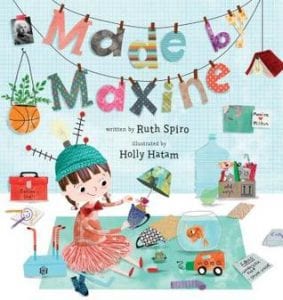 Spiro, Ruth. Made by Maxine. Dial Books for Young Readers, 2018. 978-0-399-18629-5. 32 p. $16.99. Gr. K – 3.
The rise of the Maker Culture makes this book ideal for young elementary school students. An upcycler and inventor, Maxine, wants her best friend, Milton the goldfish, to be able to participate in the class pet parade. Yet Milton, unable to walk on his own, would have to be carried. Maxine, who's made loads of successful inventions before (out of old, used things), is sure she can solve this problem! But she can't… at least at first. Failure doesn't stop Maxine! She thinks of it as figuring out what won't work, that way she can find something that does.
THOUGHTS: I love the celebration of failure in this book. Maxine, who is a strong individual and loves being unique, from her colored hair to having an unusual pet, is a wonderful role model for young children. If I did have a complaint about this book it would be that the invention she comes up with isn't really realistic. But maybe that's why Maxine, a kid, makes it and not an adult like me.
Picture Book          Emily Woodward, The Baldwin School
---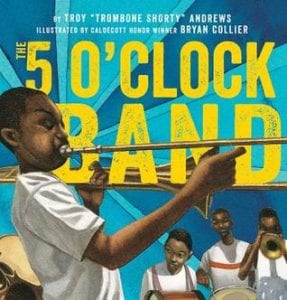 Andrews, Troy. The 5 O'Clock Band. Abrams Books for Young Readers, 2018. Unpaged. 978-1-419-72836-5. $17.99. Grades 2-5.
In this companion book to the Caldecott Honor winning Trombone Shorty, Troy Andrews shares more memories of his life as a child in New Orleans. Told in third person, this text focuses on the famous trombonist's hometown and his first band, known as the Five O'Clock Band. Troy, whose nickname is Trombone Shorty, was supposed to meet his band friends, but was caught up playing his trombone and missed them. The young musician laments being late and wonders how he will ever become a bandleader if he lets his friends down like this. As Shorty searches for them, he meets some interesting town residents, who give him advice on how to accomplish his goal. Tuba Tremé says that it is important to understand the tradition of New Orleans music, while chef Queen Lola tells Troy that loving what you do is the key to success. Big Chief of the Mardi Gras Indian tribe explains that it is the dedication to and the practicing of one's craft that makes a leader. Eventually, the band is reunited, and Shorty reports what he has learned. The back matter contains an author's note, where Andrews discusses the musical legends of New Orleans, the musical parades, and Mardi Gras. The author also explains that he formed the Trombone Shorty Foundation to help young musicians in the community. Collier's illustrations are just as appealing in this text as in his Caldecott Honor book. Once again he uses watercolor, pen and ink, and collage to create expressive images that allow the reader to almost hear the music reverberating from each page. There are photographs of individuals discussed in the story, including a special one of the band members themselves.  
THOUGHTS: This book is a valuable addition to all elementary libraries. Children will be inspired by this story and may embark on a musical career of their own. After reading this book out loud, librarians may wish to show a video clip of Shorty's "NPR Tiny Desk Concert" to cap off a fun-filled musical storytime.  
92, 921, 788.9          Denise Medwick, West Allegheny SD
Biography, Brass Instruments
---
Jha, Richa, and Mithila Ananth. The Manic Panic. Creston Books, 2018. 978-1-939-54743-9. Pages 32. $16.99. Gr. K – 4.
Originally published in India, this book is timely for many kids around the world. When the internet goes down one day, the world seems like it is ending… for the parents. The girl and her grandmother know what to do, however! The kid takes charge, showing the screen-addicted adults what the world is like when you are not consumed by technology. It takes them a bit, but they learn to enjoy themselves. The daughter and grandmother provide ample activities for the adults, and it ends with the girl sighing about what a perfect day it has been…until she realizes she has a book report due!
THOUGHTS: I love the fact that it's the parents throwing fits and acting immature, while the child takes charge. A fun book for anyone, but a much needed book for kids who feel that technology is drawing away their parents' time and attention.
Picture Book          Emily Woodward, The Baldwin School
---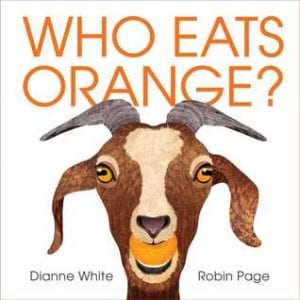 White, Dianne.  Who Eats Orange?  Beach Lane Books, 2018.  Unpaged. 978-1-534-40408-3. $17.99.  Grades PreK-2.
The young reader becomes acquainted with the colorful food eaten by various animals in this creative concept book. The text is written in a question and answer format, where the author asks who eats food of a particular color and then gives the answers. The fifth answer is incorrect and answered with a resounding "NO!" and the correct color of food is listed on the next page. The color words are written in their actual colors and are placed at the top left corner of the left page in a large font size. The reader must look to the back matter to identify the names of the foods and to learn more about the animals, which includes some that are lesser known. A page near the end of the book shows a child's hand grabbing some blueberries, with the author stating that she eats a "rainbow" of fruits and vegetables just like the reader. Robin Page's signature illustrations are done on a large scale and show a lot of white space, making the animal and its food the main focus. She uses Adobe Photoshop to create drawings that are brightly colored and appealing to the target audience.  
THOUGHTS: This book is a great resource for teaching children about colors, as well as the food habits of animals. The question and answer format makes this text an ideal interactive readaloud that will generate some interesting discussion. Elementary librarians will want to add this one to their collections.
591.5 Ecology of Animals          Denise Medwick, West Allegheny SD
---
Waters, Fiona, Ed. Sing a Song of Seasons:  A Nature Poem for Each Day of the Year. Nosy Crow, 2018.  978-1-5362-0247-2   333 p.  $40.00  Gr. K-12.
This heavy tome edited by Fiona Waters, who is British, contains carefully selected nature poems, one–just as the subtitle promises–for each day of the year.  Accompanying the poems are lush, gorgeous illustrations by Frann Preston-Gannon. The poems range in tone, form, and style; some are silly, some serious; many are classics, and all are easily accessible to and enjoyable for children of almost any age.  Poets as disparate as William Shakespeare and Jack Prelutsky are included; many poems are anonymous. However, it is important to note that only a few poems included are NOT by white authors.
THOUGHTS: The book's impressive design and presentation, in addition to its content, make it worth the price. Any school seeking to bulk up its poetry collection would find this a welcome and popular addition.
Poetry          Maggie Bokelman, Cumberland Valley SD
---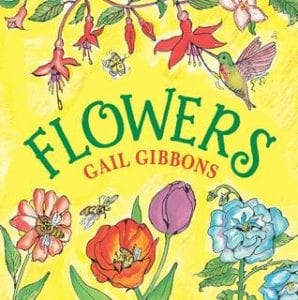 Gibbons, Gail.  Flowers.  Holiday House, 2018. 978-0-823-43787-0.  32 p. $17.99. Grades 2-5.
This is the latest addition to Gibbons' series of science picture books. In this text, the author-illustrator explores the field of floral botany. The work contains vividly colored drawings, which were created with ink, watercolors, and colored pencils. The illustrations are full bleed, and the text appears at the bottom of the page. Each page contains panels and numerous images, many of which have labels. Gibbons discusses such topics as habitat, anatomy, seed formation, pollination, gardening, and types of flowers. The section on pollination is fairly detailed.  
THOUGHTS: This book is a good introduction to flower units. Due to the number of small images, it is better viewed individually or in small groups.
635.9 Flowers          Denise Medwick, West Allegheny SD