Gibbs, Andrew. Baby Bird. Francis Lincoln Children's Books, 2019. 978-1-786-03591-2. $17.99. Gr. K-2.
Baby bird is a little different than his brothers and sisters. One of his wings is a little bit smaller than the other. While this normally does not keep him back, it is now time for him to fly. As much as Baby tries, he is unable to fly. While practicing, he runs into a new bird – a Cooter! Cooter tries to help him fly but realizes that he will not be able to do so. Cooter takes Baby on a water ride and teaches him that it is okay if he cannot fly in the air, but there are other ways that Baby can fly.
THOUGHTS: A cute book with beautiful illustrations. Cooter helps teacher Baby that there are ways to overcome diversity and that one different thing about him can make him unique and strong in other ways.
Picture Book          Rachel Burkhouse, Otto-Eldred SD
---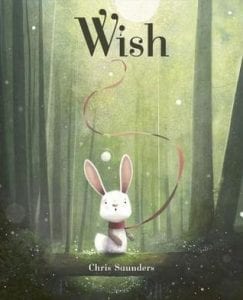 Saunders, Chris. Wish. Quarto Publishing Group, 2019. 978-1-786-03346-8. $17.95. Gr. K-3
Once a year wishes fill the sky. If you are lucky, you may be chosen by a wish. Rabbit is extra lucky, as he was chosen by three wishes! Rabbit does not know what to do with these wishes, so he asks his friends what they would want with their wishes. Rabbit asks Mouse, Fox, and Bear what they would want with their wishes, and he wonders if these would be the wishes that he would want. Rabbit decides that he could grant their wishes to give them what they want but realizes afterwards that he no longer has a wish of his own. The three friends decide to give Rabbit his own special wish, as he has done something far more wonderful with friendship and kindness.
THOUGHTS: An extremely touching book that shows how we can help others achieve wishes and dreams with kindness and friendship. The book is beautifully designed and illustrated, allowing the reader to feel pulled into the story.
Picture Book          Rachel Burkhouse, Otto-Eldred SD
---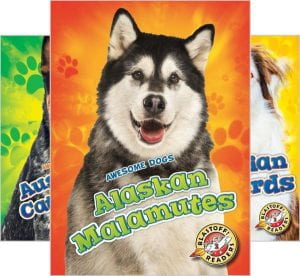 Polinksy, Paige V. Awesome Dogs. Bellwether, 2019. $17.95 ea. 24 p. Gr. K-2.

Alaskan Malamutes. 978-1-626-17791-8.
Irish Wolfhounds. 978-1-626-17792-5.
Mastiffs. 978-1-626-17793-2
Scottish Terriers. 978-1-626-17794-9.
Bellwether expands their Awesome Dogs series with the addition of four new titles sure to be of interest to young readers. Each volume focuses on a specific, well-known dog breed and includes information about the history and evolution of the breed as well details about the characteristics of the breed. Infographics, maps, and sidebars are utilized to highlight key terms and ideas. The text is supplemented by numerous large, high-quality photos, as well as a glossary, index, and links to web resources.
THOUGHTS: A worthwhile additional to the shelves of primary libraries, where animal titles are always in demand. If your dog section is in need of a refresh, consider adding these titles.
636.7 Dogs          Elizabeth Henry, Lampeter-Strasburg SD
---
Sabelko, Rebecca. North American Animals. Bellwether, 2019. $17.95 ea. 24 p. Gr. 1-2.

American Badgers. 978-1-626-17795-6.
California Condors. 978-1-626-17796-3.
Gila Monsters. 978-1-626-17797-0
Long-tailed Weasels. 978-1-626-17798-7.
Pileated Woodpeckers. 978-1-626-17799-4.
Rocky Mountain Elk. 978-1-626-17800-7.
The North American Animals series introduces early readers to some of the most interesting animals on the continent. Readers will find themselves engaged by the high-quality photos that appear on each page. Numerous infographics presenting the animal's enemies and prey, size, and unique characteristics also enhance the basic animal information presented within the text. A glossary and web links are also included.

THOUGHTS: Sure to be popular with primary readers, these titles offer a great introduction to many common animals of interest to students. The high-quality photos are sure to draw students into the information being presented, and the infographics are a great way to communicate specific information/characteristics to younger readers. If you are looking for additional animal titles for the primary level, consider this series.  
500s Animals       Elizabeth Henry, Lampeter-Strasburg SD
---

Koestler-Grack, Rachel A. Celebrating Holidays. Bellwether, 2019. $17.95 ea. 24 ea. Gr. 1-2.
Holi. 978-1-626-17787-1
Juneteenth. 978-1-626-17788-8
Labor Day. 978-1-626-17789-5
Passover. 978-1-626-17790-1
The Celebrating Holidays series provides beginning readers with an introduction to major holidays as well as cultural and religious celebrations. Each title opens by informing readers that the holiday "is here!" Further chapters define the holiday, discussing the origin and historical significance of the day(s). Traditions and ways to celebrate the holiday are also discussed. A simple craft or recipe related to the holiday is also included. The layout features numerous high-quality photos as well as sidebars, maps, and timelines. A glossary and web links are also included.
THOUGHTS: This series is a great choice to introduce primary age students to major seasonal, religious, and cultural celebrations. Readers will gain an understanding of why these holidays are of importance to many. The inclusion of a craft or recipe in each title is a nice additional feature. If your holiday collection needs a refresh, consider purchasing this series.
394 Holidays         Elizabeth Henry, Lampeter-Strasburg SD
---

Bowman, Chris. Mighty Machines in Action. Bellwether, 2018. $17.95 ea. Gr. 24 ea. Gr. 1-2.
Ambulances. 978-1-626-17756-7
Motorcycles. 978-1-626-17758-1
Pickup Trucks. 978-1-626-17757-4
Race Cars. 978-1-626-17759-8
Powerful vehicles are the focus of Bellwether's Mighty Machines in Action series. Readers will learn about the purpose and function of the machine as well as its unique characteristics. Infographics are used to help readers visualize the size of the machine as well as identify various subtypes of the vehicle. The large font and simple sentences make this series ideal for primary-aged students. Large photos of the vehicle in action are sure to be of interest to machine-loving readers.
THOUGHTS: This series offers a great introduction to non-fiction titles for younger readers. Sure to be popular with fans of trucks, construction vehicles, and other large machines, consider adding titles form this series to primary collections.
600s Machines, Transportation          Elizabeth Henry, Lampeter-Strasburg SD