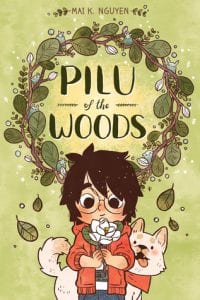 Nguyen, Mai K. Pilu of the Woods. Oni Press, 2019. 978-1-620-10551-1. $12.99. Gr. 4-6.
Willow has heard it all recently, the whispers and the name calling. She's trying too hard to keep her monsters bottled up, to hold up the most important promise she has made. Despite this, it seems that every time she blows up, those monsters grow and spread, and she cannot help but break the promise she made. After running off into the woods following an argument with her sister, Willow runs into Pilu, the most mysterious person she has met who is just as lost as her. Pilu confesses that she has ran away from home because she knows she is not wanted and that her mother has other saplings to take care of. Willow tells her that her mother does miss her, and she must return and she knows the way.
Together, Willow and Pilu fight their monsters, talking about the importance of realizing that we all have monsters and things we face, but we cannot ignore them. If we ignore the monsters, things only get worse, as no one wants to be ignored. Discover how Willow and Pilu battle their monsters together.
THOUGHTS: The illustrations of this graphic novel are beautifully created, with details and information on nature shown throughout the story. The moral of dealing with with your battles and struggles, among the hardships of life, is presented in a positive way for higher elementary and middle school aged students.
Graphic Novel          Rachel Burkhouse, Otto-Eldred SD