Allen, Kate. The Line Tender. Dutton, 2019. 978-0-735-23160-3. $17.99. Gr. 4-6. 
Life for twelve year old Lucy Everhart hasn't been easy. Her mother died suddenly while researching great white sharks when Lucy was eight. Lucy had to deal with getting her period on her own, and she doesn't know the first thing about boys. With the love of a few neighbors like Mr. Patterson and Fred's family, Lucy and her father have gotten by. Looking forward to summer, Lucy and Fred tackle an extra credit field guide project for school. Fred is in charge of the research, and Lucy is in charge of the art. Together, they travel around their small Rockport, MA coastal town recording specimens. When a Great White is found in the harbor, Lucy and Fred turn back to her mother's research to learn more. Tragedy strikes Lucy's life once again, though, and she must learn how to wade through another sudden loss. Lucy may have lost her mom years ago, but she has a lot to learn about herself and her mother's research to help her move forward. 
THOUGHTS: This touching middle grade novel will reach a variety of readers. Hand it to fans of emotional, realistic works and students interested in science and marine life.
Realistic Fiction          Maryalice Bond, South Middleton SD
Lucy and Fred are best friends spending the summer together working on their extra-credit science project, a field guide to the wildlife in their coastal community. When a great white shark is caught by Sookie, a fisherman friend of Lucy's parents, Lucy is reminded of her mother's passion as a biologist for sea life, especially white sharks. After the white shark disappears from the dock, Lucy begins to explore more about sharks and her mother's work. When tragedy strikes again for Lucy, she loses a bit of herself. In her need to find answers, Lucy learns about her mother's last project proposal studying white sharks. With the help of her father, Sookie, and neighbor, Mr. Patterson, Lucy is able to find answers from her mother's colleagues while also finding strength in loss and a voice in her memories.
THOUGHTS: The Line Tender deals with loss and trauma in very real, appropriate, and understandable ways for middle-grade students. Allen does not shy away from feelings of sorrow or loss, nor does she sugar-coat growing up in middle school, as she does address changes emotionally and physically that one goes through.  This is a great novel for students who have experienced loss as well as those who have not. It helps readers of all ages to understand, accept, and learn from their feelings in order to grow.
Realistic Fiction          Erin Bechdel, Beaver Area SD
---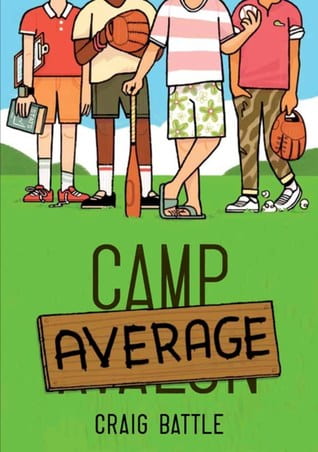 Battle, Craig. Camp Average. Owlkids Books, 2019. 978-1-771-47305-7. 240 p. $16.95. Gr. 3-6
When your whole goal for summer sports camp is to be number two, a leader who only wants to win is your worst nightmare. Eleven year old Mack returns for his Junior year at Camp Avenger expecting a relaxing summer with his friends in cabin 10. What he does not plan for is Winston, the new Junior leader, who is all about winning. Instead of swimming, rockery, and general camp fun, Mack and his friends' lives are all about sports, including lunch and dinner on the diamond. Mack can't take it and rounds up his friends in cabin 10 to lose in extraordinary fashion. The goal is simple, break Winston by showing how terrible they are at sports. What they do not count on is how tough Winston is to break. Instead of the losses causing him to lose faith in the boys, he becomes a drill sergeant, literally. As the students in the other cabins reach their breaking point and almost turn on cabin 10, can Mack negotiate his way into having the summer he dreamed of?
THOUGHTS: This is a great book about friendship and standing up for what you believe. This books shows how, sometimes, when things don't go as planned it can lead to a better outcome than you ever dreamed.
Realistic Fiction          Arryn Cumpston, Crawford Central SD
---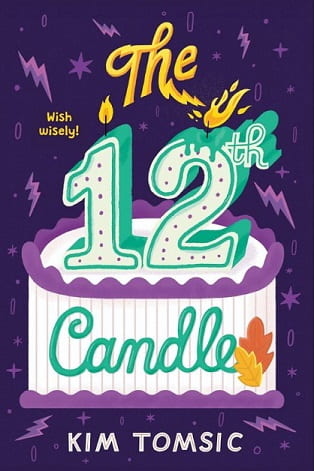 Tomsic, Kim. The 12th Candle. Katherine Tegen Books, 2019. 978-0-062-65497-7. 336 p. $16.99. Gr. 3-7.
Sage's life is far from perfect; in fact it's cursed. Even worse, the curse isn't her fault, but passed on to her by her mother. The conundrum curse is between the Sassafras girls and the Petty girls. When one has good luck, the other has bad, and vice versa. The catch, however, is the Pettys always seem to get the good luck. Sage is making due with her best friend Bailee and just hoping the curse doesn't make her life too hard. That is, until her twelfth birthday when they visit a unique new store, Minerva, and are given a special magical candle with lots of rules. With this candle, Sage can make one wish every day until the winter equinox, one week away, or until the candle is gone. On her birthday, however, Sage gets 4 wishes. The biggest warning is "Remember, if you don't do what needs to be done before the solstice, you'll have to wait another generation." Sage's first four wishes take the candle down to an inch and a half. With seven more days, will Sage figure out what needs to be done before it is too late?
THOUGHTS: This book is a fun, lighthearted story about friendship and enemies. It would be a fun book to read with a small literacy circle as the foreshadowing could lead to some awesome discussions.  
Fantasy           Arryn Cumpston, Crawford Central SD
---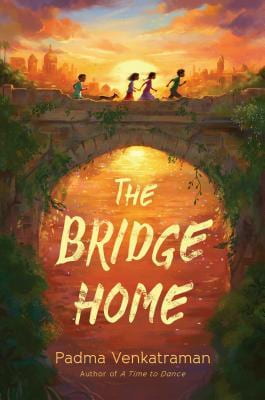 Venkatrama, Padma. The Bridge Home. Nancy Paulsen Books, 2019.  978-1-524-73811-2.  208 p.  $16.99  Gr. 5-8.
In her first middle grade novel, Padma Venkatrama (A Time to Dance) tells the heartrending story of four homeless children in Chennai, India. Fed up with her abusive father, Viji runs away with her developmentally delayed sister, Rukku. The sisters meet up with two equally destitute boys, and the children soon become a family of sorts, making their "home" near a crumbling bridge. They share their meager resources and work together in the foul, stinking trash heaps of the city, selling glass and scraps to junk dealers. Despite her disability, Rukku is determined to do her share, and time and again proves to be an asset rather than a liability. Many of the adults in the story are threatening, and, as a result, the children keep a low profile and are afraid to trust anyone. The resolution of the story is simultaneously heartbreaking and hopeful.
THOUGHTS: There is a lot going on is this very slim volume: poverty, homelessness, abuse, disability, and even some interesting discussions about religion, but it all feels completely integral to the story. Although reading about children living out traumatic experiences is difficult, Venkatrama writes the story in an age-appropriate way, and the end (and the author's note) offers hope. An important book. Highly recommended.
Realistic Fiction          Maggie Bokelman, Cumberland Valley SD