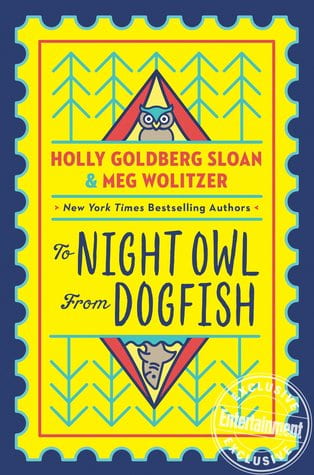 Sloan, Holly Goldberg. To Night Owl from Dogfish. Dial Books for Young Readers, 2019. 978-0-525-55323-6. 293 p. $17.99. Gr. 5-8.
A random email, a summer camp, and two dads in love – what could possibly go wrong? Bett discovers that her father has arranged for her to attend summer camp with the daughter of a man he has fallen in love with in the hopes they become best friends. Told through a series of emails between Bett, who lives in California, and Avery, who lives in New York, To Night Owl from Dogfish is a heartwarming tale of what family truly can be. Bett and Avery decide to plot against their fathers by not speaking to each other at camp while their fathers are off galavanting in China. However as the girls spend more time together, a friendship blossoms. With Parent Day looming (and no parents to be found for Bett and Avery), Bett reaches out to Avery's biological mom, a playwright in New York, to come to camp. Disaster ensues and the final nail in the coffin is that their fathers are ending the relationship! Determined to bring their dads back together, Avery and Bett formulate a plan to keep this newly formed "family" together once and for all.  
THOUGHTS: This book has relatable tween characters, a fast paced plot, and a style of writing sure to hook reluctant readers. Positive messages about being yourself and loving everyone regardless of their relationship status are prevalent.
Realistic Fiction          Jillian Gasper, Northwestern Lehigh SD
Authors Goldberg and Wolitzer team up for this utterly charming middle grade novel with a Parent Trap vibe told entirely through emails. Carefree, California girl Bett Devlin, and nerdy, nervous New Yorker Avery Bloom are horrified when their dads fall in love and plot to send them to the same summer camp, so they can get to know each other. The girls agree to sabotage the plan, yet somehow become the best of friends. To their horror, their dads split up, and the girls start scheming to get them back together–a plot that backfires spectacularly when they introduce Bett's dad to another man in  hopes of making Avery's dad jealous. Along the way, Avery meets her biological mom, a playwright, who discovers that Bett's grandmother is perfect for a lead role in one of her plays. Twists and turns abound as the families become more and more entangled. Readers will stay riveted right up to the surprise ending.
THOUGHTS:  This is an absolutely delightful romp:  a funny, fast-paced, page-turner that also includes a gentle message about the power of love and acceptance, and the real meaning of family, that belongs on the shelves of every middle school.  
Realistic Fiction          Maggie Bokelman, Cumberland Valley SD
---