Robbins, Dean. The True Story of Alan Bean: The Astronaut Who Painted the Moon. Orchard, 2019. 978-1-338-25953-7. 32 p. $17.99. Gr. K-6.
A young boy fascinated with aviation grows up to be an astronaut. In fact, he becomes the fourth man to walk on the moon. Alan Bean is mesmerized by the beauty of outer space, but back on earth he finds that pictures could not do justice to the splendor he experienced in orbit. Determined to share the magnificence of his journey, Bean took to painting moonscapes that were at once scientifically accurate and artistically surreal. Rather than painting the moon in grayscale, Dean combined wonderfully uncharacteristic colors in his art to convey the feeling of treading into completely uncharted territory. Much like the artwork of Bean, the illustrations of this book combine a rainbow of color to represent the artist's life and work in a way that is steeped in feeling. Light-years beyond an ordinary biography, this picture book will appeal to everyone (young and old) who ever wanted to be an artist and an astronaut.
THOUGHTS: This book is a perfect example of STEAM interdisciplinary learning applied in real-life.
920 Picture Book Biography           Jackie Fulton, Butler Area SD
---
Tsurumi, Andrea. Crab Cake: Turning the Tide Together. Houghton Mifflin Harcourt, 2019.  978-0-544-95900-2. 32 p. $17.99. Gr K-3.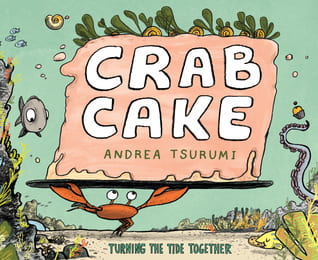 In a beautiful and serene underwater scene "where sunlight meets sand" (Tsurumi, 1), a bounty of sea creatures play their (realistic) part in the blissful biome. That is, of course, except for crab. While "Sea Turtle holds her breath/Tangs swim in schools" (Tsurumi, 2), Crab is busy baking up a storm. Whimsically out-of-place, Crab continues baking extravagant desserts whilst the rest of the creatures perform characteristically appropriate tasks. That is, until something unthinkable happens, and everyone freezes. Except for Crab who knows exactly what to do to bring everyone back to their senses. Just as before, everyone has a role to play but this time it is for a common goal.
THOUGHTS: Crab Cake is quirky, endearing, and inspiring. Young readers will be enchanted by this call-to-action environmental tale.
Picture Book          Jackie Fulton, Butler Area SD
---
Brannen, Sarah S. Bear Needs Help. Philomel Books, 2019. 978-0-525-51650-7. 32 p. $16.99. Gr PreK-1.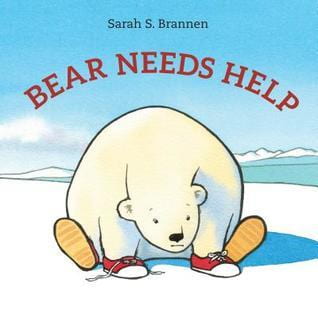 Polar Bear has a problem. A shoelace problem! Young children will empathize with the lovable young bear's unlikely plight to find a find to a friend who will help. Beautifully understated watercolor illustrations expertly utilize negative space to emphasize polar bear's isolation and loneliness when all of the smaller animals scatter in fright instead of lending a hand. A simple yet thoughtful story that cuts to the heart of what it means to need and ask for help.
Thoughts: This book is sure to be loved by preschool aged children and the adults who help them daily. A great starting point for conversations about kindness and compassion for preschool audiences.  
Picture Book           Jackie Fulton, Butler Area SD
---
Duncan, Alice Faye. Illustrated by Xia Gordon. A Song for Gwendolyn Brooks. Sterling, 2019.  978-1-454-93088-4. Unpaged. $16.95. Gr. K-8.
Duncan tells the story of Brooks' childhood through free verse that hints at, rather than imitating, Brooks' own poetic style. Several of Brooks' original poems are also woven into the story (however, it is unfortunate that they are not distinguished from the text very well–readers could understandably confuse them as the author's writing). The biography emphasizes Brooks' Southside Chicago childhood, where her interest in poetry began at a young age. Her talents were encouraged and nurtured first by her loving parents. Duncan employs compelling flower imagery, comparing Brooks to a well cared for, but ultimately "fierce" blossom. Gordon's pink, brown, and gold palette is striking and effective.
THOUGHTS: This is a picture book that can be used with both older as well as younger students. Younger students can enjoy the rhythmic language and simpler aspects of the story; whereas, older students can dig in deeper, including into the backmatter, and use the book as a springboard to dive deeply into Gwendolyn Brooks' accessible poetry. An excellent addition to all picture book biography collections.
Picture Book Biography          Maggie Bokelman, Cumberland Valley SD