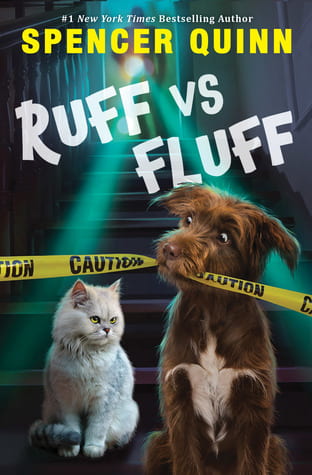 Quinn, Spencer. Ruff vs. Fluff: A Queenie and Arthur Novel. Scholastic, 2019. 978-1-338-09139-7. 293 p. $17.99. Grades 3-7.
Arthur the dog and Queenie the cat live with Mom and the twins (Harmony and Bro) at the Blackberry Hill Inn. Business is slow, so they are delighted when Mr. LeMaire checks in and recruits the twins to guide him partway up the Old Sokoki Trail. The twins return, but Mr. LeMaire doesn't, and he is soon discovered dead on the mountainside. Happy-go-lucky Arthur and aloof Queenie know what the humans do not: Mr. LeMaire had a gun as well as an old map of the region. The local sheriff quickly makes an arrest, but both the animals and their people know that the case hasn't really been cracked. A new guest might not be who he claims, and it seems that more than one mystery haunts the Old Sokoki Trail. Also, Arthur accidentally ate the map! Can Arthur and Queenie save the day before anyone else gets hurt?
THOUGHTS: Arthur's voice will remind readers of Bowser from Spencer Quinn's delightful Bowser & Birdie series: loyal, a little absent-minded, and always in the mood for a treat. Queenie, more self-possessed, is entirely disdainful of her canine compatriot. It's all in good fun (except for the murder) with a big finale that gets the whole gang together on the mountaintop. Stay tuned for Paws vs. Claws, coming in September!
Mystery          Amy V. Pickett, Ridley SD
---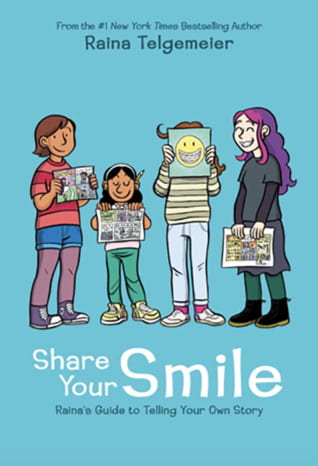 Telgemeier, Raina. Share Your Smile: Rainia's Guide to Telling Your Own Story. Graphix, 2019. 978-1-338-35384-6. 133 p. $17.99. Grades 3-7.
Sometimes the wait for a new Raina Telgemeier book can feel never-ending! Until Guts arrives in September, readers can get a little practice telling their own stories with this interactive journal, which is full of "tips, tricks, and inspirational kick-starters for getting your story down on paper." In Chapter One, "Share Your Smile," Rainia shares how she transformed the dental drama she experienced as a tween into her beloved graphic memoir, Smile. She also provides prompts for readers to begin sharing their unique experiences through both pictures and words. Chapter Two, "All in the Family," focuses on the week long road trip that inspired Sisters, and encourages readers to find inspiration in their own family adventures. "The Drama of School" and "The World Around You" chapters flow from Raina's fictional comics, Drama and Ghosts, and demonstrate how real life can generate story ideas, settings, and even supernatural elements. A sneak peek at Guts rounds out this fun, colorful guide.
THOUGHTS: With plenty of empty panels for readers to practice drawing, paste in their own photos, and write their own stories, Share Your Smile is a contender for "Library Book Most Likely to Be Written In." But it will be worth it to see Raina Telgemeier's many fans find inspiration in these pages. Share Your Smile could also provide some fresh prompts for classroom writing assignments, especially the traditional how-I-spent-my-summer essay, as well as an English/Art curriculum crossover.
808 Writing and Drawing; Graphic Novel          Amy V. Pickett, Ridley SD
---
Aronson, Marc. Rising Water: The Thai Cave Rescue. Nancy Paulsen Books, 2019.  978-1-534-44441-3. 148 p.  $17.99  Gr. 5-9.
Marc Aronson tells the gripping story of the rescue of twelve young Thai soccer players and their coach during the summer of 2018, an event that attracted media attention from around the world. Aronson begins by providing information about each one of the boys, including information about the "stateless" status of many of them. The book generally follows a chronological timeline, as Thai authorities gradually started inviting various experts from other countries in to work with them to find and rescue the boys. The true story is so full of twists, dashed hopes, highs, lows, and then a final, almost unbelievable ending, that even Aronson's restrained, matter-of-fact writing style can't stop the book from being a page-turner. A highlight of the book actually comes in the backmatter, when Aronson explains his struggle to tell the story through a lens that is global, and not just American, in nature.
THOUGHTS: Many kids enjoy reading rescue and survival stories, and this one has all the elements of real-life drama with a happy outcome. However, this story also brings a number of global issues to the forefront, including the plight of people who, for whatever reason, find themselves undocumented or stateless. Recommended for middle schools and high schools.
796.52  Caving          Maggie Bokelman, Cumberland Valley
Aronson is renowned for his non-fiction and this book does not disappoint. Present readers will recall the dangerous and brave experiences of both the Wild Boars Soccer Team and their rescuers in a cave complex in Thailand in 2018. A cast of characters reveals the large scale of the event from the coaches, players, military, government officials, and expert helpers from other countries. The book reads like a detailed log of the events with pictures and words creating a sense of urgency to orchestrate the rescue. As time passes, students will not recall the events unfolding before their eyes, but the book will transport them to the events. Important primary quotations and facts such as being "stateless" or the story behind the name of the cave system are interwoven into the text. Four pages of full color images with captions help to clearly visualize the location and those involved. 
THOUGHTS: The author includes a section on their research. This would be very helpful to share with students embarking upon a research project. There are a lot of caves that students may have visited. A creative option is to make a display for students and faculty to share a picture or a favorite memory from visiting a cave.
796.52 World History, Survival Stories          Beth McGuire, Hempfield Area SD
---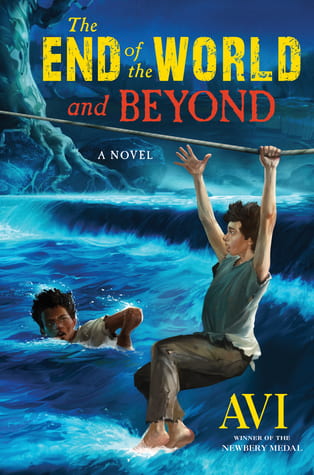 Avi. The End of the World and Beyond. Algonquin Young Readers, 2019. 978-1-6162-0565-2. $16.95. 304 p. Gr. 4-7.
12-year old Oliver Cromwell was convicted of stealing and must board a prisoner ship bound for the colonies, specifically, Maryland, to serve out his 7-year indentured servant sentence. His father is left behind in England and his beloved sister, Charity, is placed on a different prison ship also headed to America. (Oliver's mother died at his birth.) Oliver soon gets purchased by a dreadful man named Fitzhugh to replace a slave that he recently murdered for trying to escape. Oliver suffers much abuse at Fitzhugh's hands, and it seems like the only positive thing is that Fitzhugh also owns a slave, Bara, who eventually becomes friends with Oliver. Bara and Oliver spend their days tending Fitzhugh's tobacco farm and trying to plan an escape through the swamp to find the maroons, who are groups of slaves and indentured servants rumored to have escaped and formed small colonies. Bara and Oliver know they will be killed if they are caught, but Oliver's need to find his sister and both of their desire to leave the inhumane treatment by Fitzhugh gives them the courage to want to try. Even though they have a plan in place, they are forced to run when another of Oliver's "follies" puts them in danger. They make their way to the great swamp and will need to use their wits to avoid the large cats, cottonmouth snakes, quicksand, and, most especially Fitzhugh and his band of men, who have followed them into the swamp.
THOUGHTS: Although this book is written for students 8 through 12 years old, some of the descriptions of brutality on the ship and actions by the evil master, Fitzhugh, are disturbing. Oliver's somewhat sophisticated thoughts may also be lost on all but the most precocious young readers. This is the second book in the Oliver Cromwell story, but you do not have to have read the first book to enjoy and understand The End of the World and Beyond.
Historical Fiction          Bridget Fox, Central Bucks SD
---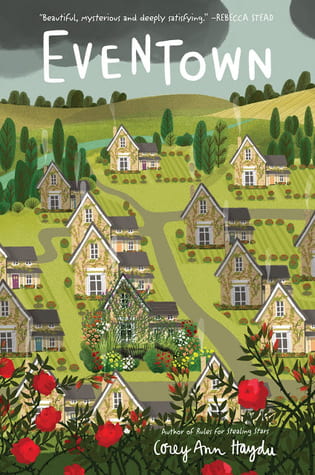 Haydu, Corey Ann. Eventown. Katherine Teagen Books, 2019. 978-0-062-68980-1.  336 p.  $16.99  Gr. 5-8.
A tragic event has left Elodee, her twin sister, Naomi, and their parents, shattered. Although they do not talk about the past, they are unable to move on from it. Then, Elodee's mother gets a job in the too-good-to-be-true village of Eventown, where the sun always shines and no one is ever sad. Naomi and their parents immediately settle in, but Elodee can't shake the feeling that something isn't quite right . . . even though everything's perfect. She starts to ask questions, but soon finds that curiosity isn't welcome in Eventown. When she visits the Eventown library and discovers it's nothing like any library she's been to before, Elodee is horrified. Elodee grows more and more frustrated at both Naomi and herself as she wonders why she can't just be happy like everyone else in this seeming paradise. When strange things start to happen, like the first rainstorm ever, everyone blames Elodee, and the residents of Eventown have to make some heartfelt choices.  
THOUGHTS: This is a complex, deep, but age-appropriate story that offers an interesting take not only on the themes of grieving and the importance of sharing feelings, but also on a number of interesting philosophical questions. However, the story can also be read for the enjoyment of its well-paced narrative and well-developed characters. Highly recommended for middle schools.
Fantasy-Magical Realism          Maggie Bokelman, Cumberland Valley