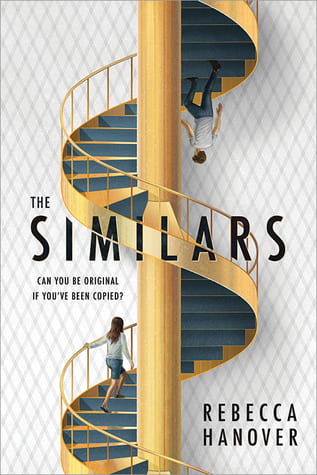 Hanover, Rebecca. The Similars. Sourcebooks Fire, 2019. 978-1-4926-6510-6. $17.99. 381 p. Gr. 8 and up.
The Similars takes place in a dystopic future, but most of the story setting is familiar enough. There's a private boarding school in Vermont, teen romance and drama, and testing into a select group of students that ensures acceptance into any Ivy League school. However, Darkwood Academy just enrolled six clones (called The Similars), and the people they were illegally cloned from 16-years ago are all upperclassmen at the school. Students and their wealthy parents' reactions to these newcomers is mostly opposite Darkwood's legacy of acceptance and diversity, but soon a club is formed, and demonstrations are held to boycott the Similars' presence at the school. Emmaline Chance, the protagonist, is in her junior year and, although she welcomes The Similars and believes they have a right to be at Darkwood, she is having a difficult year after the suicide of her best friend, and fellow student, Oliver. It doesn't help that one of the Similars, Levi, was cloned from Oliver. Not only does she see him all around campus, but they are both inducted into the elite group of students called The Ten where she's forced to interact with him. When someone tries to kill Emma's friend, Pru, and Levi becomes a suspect, Emma tries to figure out who was behind the attack. The story includes a lot of sneaking out of dorms past curfew to uncover illegal experiments and breaking into a top-secret island laboratory owned by a madman. The story ends with the set-up for a sequel which will aggravate some readers.
THOUGHTS: This debut novel is a fun read, despite some formulaic characters and over-the-top espionage work done by teens. The interesting twist and the use of teens clones should make it a book that 8th grade and up will enjoy reading. The acceptance/rejection of the Similars mirrors some of what's currently being said about immigrants.
Dystopian/Mystery          Bridget Fox, Central Bucks SD
---
Kuhn, Sarah. I Love You So Mochi. Scholastic Press, 2019. 978-1-338-30288-2. $17.99. 308 p. Gr. 8 and up.
Kimi's future seems bright and sure. While many high school seniors experience anxiety over future plans, Kimi has been accepted into a prestigious art academy, and her path appears clear. In reality, she hasn't been able to paint in months and has dropped her Fine Arts class, all unbeknownst to her mother, also an artist; she has instead been "goofing off" designing and making her own clothing. In fact, she's not even sure she wants to attend the Liu Academy anymore. When Kimi's secrets are revealed and she feels the wrath of her mother's silent disappointment – the worst equation in "Asian Mom Math" according to Kimi's friends – she decides to forgo spring break plans at home in southern California and instead spend two weeks in Japan visiting the grandparents she's never met (and who have not spoken to Kimi's mother in 20 years) on a journey of self discovery. Though most readers will know the answer to Kimi's problem within the first few pages (even though she doesn't), the journey she takes to get there makes this book worth reading. In a story slightly reminiscent of Amy Tan's Joy Luck Club, Kimi's self discovery relies heavily upon learning her family history, particularly the complicated relationships between the women. Of course, a budding romantic relationship with Akira, a cute boy Kimi first meets as he is dancing in a giant mochi costume in front of his uncle's mochi shop, also drives this plot. "What. Is this extremely handsome piece of mochi trying to flirt with me?" Kimi asks herself in Kuhn's authentic teenage voice. Young women readers will empathize with Kimi, as she discovers the answer to this and many other questions.
THOUGHTS: Though the plot is predictable, Kuhn's imagery and integration of Japanese culture give this story more substance than the typical YA contemporary. Readers may find themselves wanting to use "the Google" – as Kimi's grandfather calls it – to look up Japanese words, food, landmarks, and clothing.
Realistic Fiction          Sarah Strouse, Nazareth Area SD
---
Dessen, Sarah. The Rest of the Story. Balzer + Bray, 2019. 987-0-062-93362-1. $19.99. 440 p. Gr. 9 and up. 
Emma Saylor lost her mother when she was just 10 years old. Due to addiction Waverly was in and out of Emma's life long before she died. Though she doesn't remember a lot about her mom, Emma recalls the bedtime stores about life in North Lake, Waverly's hometown. Since her mother's death, Emma has lived a privileged life, growing up in Nana Payne's fancy apartment with her dad who works as a dentist. Just remarried, her dad and new wife Tracy (also a dentist) are planning to honeymoon sailing around Greece. Nana is scheduled for a cruise while her apartment is renovated. Emma is an organized planner – to a fault. Due to a sudden illness in her best friend's family, Emma's carefully arranged summer has to change. Emma goes to stay with Mimi Calvander and her mother's family in North Lake – family she doesn't remember, family who calls her Saylor, and family who she hasn't seen since she was four. Emma quickly notices the two different lakeside communities – North Lake where her mother grew up and Lake North where her father vacationed in the summer. Though only 3 miles apart, these two communities couldn't be more different. Always known as Saylor to her mother's family, Emma begins to see the world through a new lens. Once she breaks through the icy welcome of some of her cousins (who think she's just there for a vacation, not to work like them), Saylor learns what it means to be a Calvander. As her time too quickly passes, Saylor tries to learn as much about her mother as she can. When her dad returns from his honeymoon, Emma Saylor has changed, and she has to decide who she wants to be. One thing is certain: She's not the same Emma Saylor she was when she arrived in North Lake.
THOUGHTS: No one does teen romances like Dessen. This sweet story will captivate readers, transporting them to summers on North Lake as Emma learns more about her family and herself. This one will fly off the shelves. Underage drinking (to excess) and Emma's mother's drug use are included. Highly recommended for high school collections, especially those where romance is popular.
Realistic Fiction          Maryalice Bond, South Middleton SD
---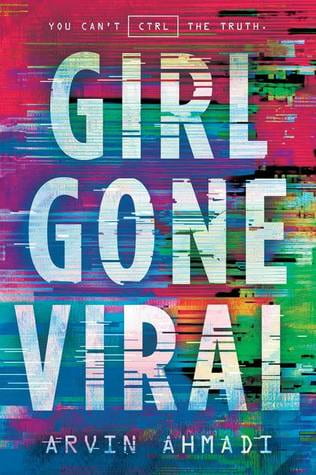 Ahmadi, Arvin. Girl Gone Viral. Viking Books for Young Readers, 2019. 978-0-425-28990-7. 384 p. $17.99. Gr. 9 and up. 
17 year old Opal Tal – now known as Opal Hopper – is a coding genius who is determined to learn what happened to her father, a tech guru who disappeared seven years ago. Howie Mendelsohn, her father's business partner at the time, may know more than he admits, but he hasn't ever responded to Opal's emails. Now a senior at a prestigious boarding school for tech whizzes, Opal and her friends Moyo and Shane are coding their way into a WAVE competition. WAVE is a virtual reality world with incredible detail and lifelike features. Stumbling upon information that causes their channel to go viral brings its fair share of challenges, including Opal's initial desire to be out of the limelight. As she quickly learns, though, the self you put out there on WAVE isn't always the self you really are. Opal has to decide what she believes in and if finding out what happened to her father is worth the risk – for herself and for her friends.
THOUGHTS: There is a lot of technical jargon, so this might be a tough read for some. The mystery keeps the pace moving, but there's a lot more than fun and games going on here, including government/police corruption and social media's influence on politics. Hand this STEM title to students who are into VR, AR, or video gaming, as the worlds Ahmadi depicts sound incredible. A great addition to high school libraries looking to diversify their STEM offerings with a strong female lead.
Science Fiction          Maryalice Bond, South Middleton SD
---
Needell, Claire. The First True Thing. HarperTeen, 2019. 978-0-062-36054-0. $17.99. 256 p. Gr 10 and up. 
After riding on a dangerous path through the woods while drunk, Marcelle crashed her bike under a neighbor's parked car. Her alcohol use finally catching up with her, Marcelle is forced to attend rehab sessions at the Center after being discharged from the hospital. Being labeled an alcoholic isn't the easiest, especially considering her friends are into much worse things. With her parents on high alert for missteps, it seems like Marcelle can do no right. Even her peers at the Center don't fully believe she's giving her best effort. When Marcelle receives a text from her best friend Hannah asking her to cover, she is desperate to feel connected. Hannah disappears, though, and Marcelle is the last one to hear from her. Torn between loyalty to her friend (and her friend's dangerous secrets) and guilt over not doing more to intervene before it came to this, Marcelle keeps her story to Hannah's mom and the police vague. As time goes on, though, everyone's panic levels increase, and Marcelle has to decide if it's better to keep a friend's secret or be honest with everyone including herself.
THOUGHTS: Drug and alcohol abuse are openly discussed, making this most suitable for mature readers. The lack of support for Marcelle both as she recovers and faces the disappearance of her friend is surprising. Readers who want to know what happened to Hannah will stick with the story. Recommended as an additional purchase where realistic mysteries are popular.
Realistic Fiction          Maryalice Bond, South Middleton SD
---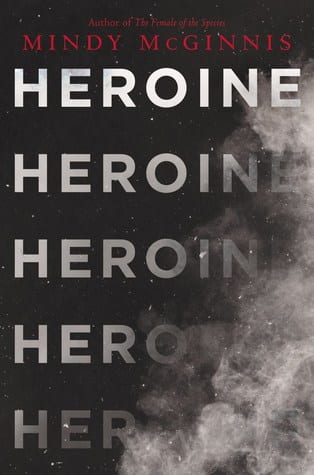 McGinnis, Mindy. Heroine. Katherine Tegen Books, 2019. 978-0-062-84719-5. $17.99. 432 p. Gr. 10 and up. 
Trigger Warning: Please proceed with caution, as this book discusses (in great detail) addiction, drug use, overdose, and withdrawal, among other difficult topics.
The Prologue begins with the end: "When I wake up, all of my friends are dead." Readers are placed front and center and feel the sheer terror of this realization before being told what happened. Mickey Catalan has never felt comfortable in her own skin, unless she's behind home plate catching for her best friend and star pitcher Carolina. Though Mickey doesn't quite know who she is, playing catcher defines her. When Mickey is in a terrible car accident with Carolina as her passenger, their chances of playing senior season are threatened, as is Carolina's Division I pitching scholarship. Mickey is determined to get back on the field; she too wants to earn a scholarship. What starts as pain management for a major injury quickly spirals into an addiction, as Mickey tries to make it back into shape for spring training. When her physician refuses to refill her Oxycontin prescription, saying she's doing so well she doesn't need it, Mickey turns to alternative methods. It's just to get her back on the field, though, and she can stop at any time. She's not an addict, and Mickey has some great new friends who understand her and will keep her (and her secret) safe. Mickey's tolerance level quickly increases, and she begins to lose control of all she was fighting for.
THOUGHTS: Heroine is definitely for mature readers and should be presented with a trigger warning. That said, it serves as a great cautionary tale about how easily one can become addicted to opioids, regardless of age, gender, race, or socioeconomic status. Check your ego and what you think you know about addiction at the door. McGinnis's novel will take you on a terrifying roller coaster ride with some unforeseen consequences. I listened to the audiobook version and was hooked from the first minute.
Realistic Fiction          Maryalice Bond, South Middleton SD
---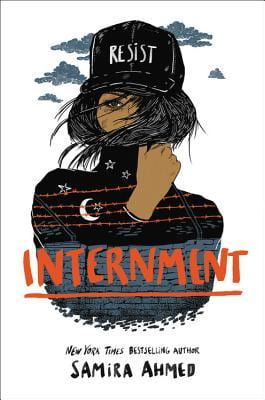 Ahmed, Samira. Internment. Little, Brown Books for Young Readers, 2019. 978-0-316-52269-4. $17.99. 387 p. Gr. 9 and up. 
In a future United States where the Presidential election has shaken up American beliefs and freedoms, 17 year old Muslim American Layla Amin is frustrated. Her parents always had been respected in their community, but with the President's new Exclusion Act they feel compliance will keep them safe. Layla, however, breaks government mandated curfew to see her Jewish boyfriend. Though unfriendly neighbor stares bring fears to the forefront of her mind, the risk is worth the reward. Despite her parents attempts to remain safe, Layla's family is rounded up and taken off to an interment camp, one like those used for Japanese and German Americans during World War II. They only have a few moments to gather comforts of home, not knowing if they will ever return or if their possessions will still be there. Once in the camp, Layla finds herself increasingly frustrated by her parents' (and many of the adults') complaisance but is fortunate to find friends who she can laugh with and share her frustrations. Together, Layla and her friends find subtle ways (at first) to rebel against the Director. Building their rebellion also increases the risks they face, and Layla has to decide if standing up for what she believes in – what is right – is worth risking her life and the lives of those she loves.
THOUGHTS: This timely diverse title will appeal to fans of historical fiction. Internment will pair well with World War II novels or memoirs, especially those relating to internment or concentration camps. I personally enjoyed reading it then reading The War Outside by Monica Hesse. Highly recommended.
Realistic Fiction          Maryalice Bond, South Middleton SD
Layla and her family are American, but they also happen to be non-practicing Muslims. After the 2020 census, all Muslims are taken to internment camps for the safety of all citizens. In this all too real and near future novel, Layla and her friends inside the walls of the camp, her boyfriend outside, and one brave guard on the inside plan a revolt to end the camp once and for all. Much of this book skims the surface of many of the political, racial, and religious issues that many Americans are facing with today's political climate. Some of Layla's decisions seem rash, even for an angry teen, which makes parts of the story a bit difficult to rationalize. 
THOUGHTS: Although this book moved me and scared me, I wanted more. I think this book belongs on the shelves of high school libraries, if the budget allows because it will open conversations of possibilities of the future state of our country. It will only start the conversation and pique the interest of students who wonder what could happen with the next census and elected officials. 
Realistic Fiction          Samantha Hull, Ephrata Area SD
---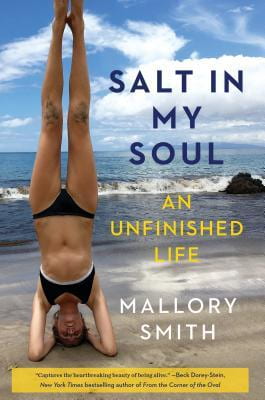 Smith, Mallory. Salt in My Soul: An Unfinished Life. Spiegel & Grau, 2019. 978-1-984-85542-8. $26.00. 288 p. Gr 9 and up. 
Immensely positive and determined to live her best life, even in the face of cystic fibrosis and rare bacteria B. cenocepacia, Mallory Smith is a girl everyone loved. From the beginning readers know Mallory tragically dies young; however, it is how she lived her life that will inspire readers. Her "live happy" mantra carries her through frustrating hospital stays and discharges and helps her remain focused on really living. In reading Mallory's most personal thoughts, readers are given a glimpse into the life of someone who struggles with a chronic illness, though not always visible on the outside.
THOUGHTS: Pair this nonfiction text with the fiction Five Feet Apart which will be even more popular with the 2019 movie. Excellent addition for high school nonfiction collections where memoirs and medical stories are popular.
616.372 Diseases          Maryalice Bond, South Middleton SD
---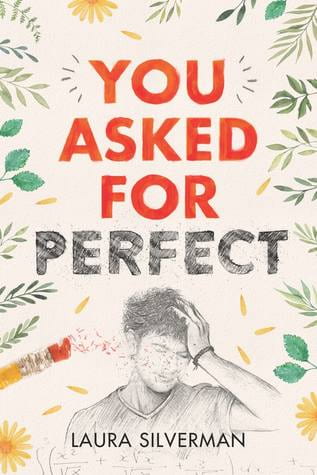 Silverman, Laura. You Asked for Perfect. Sourcebooks Fire, 2019. 978-1-492-65827-6. $10.99. 288 p. Gr. 9 and up. 
Seemingly perfect senior Ariel Stone has everything going for him. He's a great student, musician, and his college application couldn't be more well-rounded, especially since he's expected to be valedictorian. When Ariel earns a 5/10 on his first Calculus quiz and there's no opportunity for redemption, Ariel's careful facade begins to crumble. Accepting help means he's not as perfect as everyone, especially himself, thinks. With a Harvard interview to prepare for, and his top spot on the line, though, Ariel doesn't have much choice. He finds he was wrong about Amir, who is actually nice to be around, and Amir is really great at Calculus. Among a long list of obligations, one more might just be enough to break Ariel.
THOUGHTS: This should be required reading for every high school student. The internal and external pressures on students to be perfect, to achieve the top rank, to go to the best school is unfortunate. I see many students so stressed that they don't allow themselves room to breathe and relax. Highly recommended for high school collections.
Realistic Fiction          Maryalice Bond, South Middleton SD