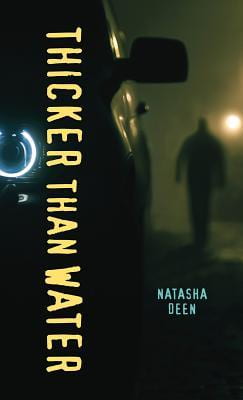 Deen, Natasha. Thicker Than Water. Orca, 2009. 978-1-459-82198-9. 128 p. $9.95. Grades 7-12.
Zack is an aspiring criminologist, so the recent disappearance of his friend Ella has him searching for answers. He's keeping it secret that they had a disagreement that day, and worse, that after they parted, he saw Ella meet with his dad (their school guidance counselor) and get into his dad's SUV. His dad hasn't spoken a word, and Zack worries and imagines the worst, trying to piece together the truth while protecting himself and his dad. Zack's friend Ayo Mohammad repeatedly offers logical perspective, and reminds Zack of his all-too-frequent over-reacting, likely due to crime show binging. Zack is on to something, but it isn't what he thinks, and he needs a wake-up call in order to set things right. Ayo stands out as a solid friend and necessary voice of reason.
THOUGHTS: Another addition to the Orca Soundings series, this is a realistic story written at 3rd-4th grade level for young adult readers and worth considering for reluctant readers.
Mystery          Melissa Scott, Shenango Area SD
---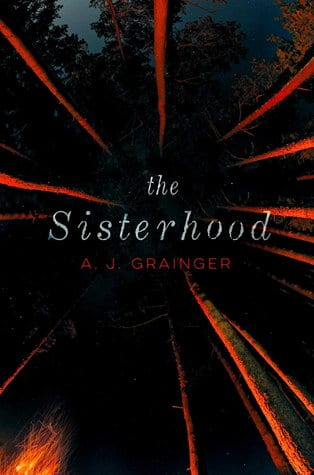 Grainger, A.J. The Sisterhood. Simon & Schuster, 2019. 978-1-481-42906-1. 298 p. $18.99. Grades 9-12.  
Sixteen-year-old Welsh teenager Lil has withdrawn since the disappearance of her older sister, Mella, four months ago. She devotes most of her time to updating a blog about Mella, questioning her police officer aunt about the case, watching her single mom deteriorate, and having detailed conversations in her head with Mella. While biking one day as a terrible storm approaches, she stumbles upon a young woman who is unconscious and injured in the road. "Alice" is fearful and willing to run if Lil involves authorities, and Lil becomes determined to not let Alice down the way she feels she's let her sister down. Lil takes Alice home, and she and friend Kiran debate the girl's odd speech, intense fear, and slow reveal of the Sisterhood, led by the charismatic Moon. Soon it becomes clear that Mella is involved in the dangerous cult, and Lil must walk a fine line between exposing Alice and losing her sister. Lil's devotion to her clearly difficult sister shows how a strong personality can mold and rule a family; Mella consistently turns the spotlight on herself, erupts in tantrums, and lately, vanishes at will. The secluded atmosphere lends itself to the story, though readers may wish for more details on the cult's inner workings. Told largely from Lil's perspective, the novel benefits from occasional slips into Mella's mind, as well as frequent inside views of Moon and the Sisterhood.
THOUGHTS: This book will find an audience among those who find cults fascinating.
Suspense          Melissa Scott, Shenango Area SD
---
Wilson, Kip. White Rose. Versify, 2019. 978-1-328-59443-3. 358 p. $17.99 Grades 5-12.
Sophie Scholl was one of five siblings in a strong, close-knit family who watched as Hitler rose to power in Germany. This novel in verse gives Sophie a strong voice, showing her early teenage years as she and brother Hans were enthusiastic members of the Hitler Youth. Their enthusiasm waned, then vanished, as they witnessed increasing restrictions and discrimination. Years passed and as university students in Munich, Sophie and her brother Hans and some like-minded students began the White Rose society, dedicated to spreading anti-Nazi messages. Hans wrote content for the leaflets, and Sophie found duplicating machines and all members found ways to distribute the leaflets. Such treasonous activity as free speech was punishable by death, a fate that she and Hans and friend Christoph Probst met in February 1943 (three other White Rose members were arrested, tried, and killed later the same year). Told primarily from Sophie's perspective, the novel is strengthened by letters from Hans, boyfriend Fritz's thoughts, and the clinical coldness of Robert Mohr, Gestapo investigator who tracked down their illegal activity. This book effectively shows Sophie's steadfast and tenacious desire to make a difference, and her realization that simply remaining silent was akin to endorsement of Nazi beliefs.  
THOUGHTS: This is a suspenseful, powerful novel made richer for the paucity of words per page. Wilson illuminates the steel in Sophie's mind and soul; her story should be should be widely read and remembered. Recommended for all middle and high school libraries.
Historical Fiction          Melissa Scott, Shenango Area SD
---
Kemmerer, Brigid. A Curse So Dark and Lonely. Bloomsbury, 2019. 978-1-681-19508-7. $18.99. 477 p. Gr. 8 and up.
Harper's mother is dying of cancer, and her brother is in trouble with some loan sharks, but these are conflicts only revealed in the opening chapter of this Beauty and the Beast retelling. Life then gets even more complicated for Harper when she is swept from Washington, DC into a parallel fantasy universe, the kingdom of Emberfall. As in the original fairytale, Prince Rhen, heir to the throne, is cursed by an enchantress, a curse that can only be broken by falling in mutual love. Prince Rhen's beast form only manifests each autumn though, making it seemingly easier to fall in love with him. However, also in a similar fashion to the original, Harper's worry for her ailing family prevents her from fully committing to life in Emberfall. Likewise, politics and threats from neighboring kingdoms prevent Prince Rhen from wholly throwing himself into wooing Harper to break the curse, not to mention appearances by the enchantress Lilith who cast the curse, Rhen's handsome and loyal Guard Commander Grey, and Harper's cerebral palsy. Despite all the hurdles Harper and Prince Rhen face, the struggling kingdom of Emberfall and its people unite them with a common cause that propels this story, which is told in alternating points of view from Harper to Rhen. Harper's cerebral palsy is almost never mentioned after the opening chapters, which was intentional on the part of the author to prove a point, though sometimes it simply feels forgotten. Regardless, Harper's character is definitely strong and likable, and the friendships she forges with the people of Emberfall are a bright spot in the slower mid-plot before the book becomes unputdownable in the final 100 pages.
THOUGHTS: Far more violent than the Disney version and with its own very original plot, this fairytale retelling will be enjoyable for fans of both YA speculative AND contemporary fiction as the characters hail from both worlds.
Fantasy (Fairytale)          Sarah Strouse, Nazareth Area High School
---
Lerner, Sarah, editor. Parkland Speaks: Survivors from Marjory Stoneman Douglas Share Their Stories. Crown Books for Young Readers, 2019. 978-1-984-84999-1. 192 p. $17.99. Grades 9+.   
This collection of poems, photos, essays, and journal entries by students that survived the February 2018 school shooting in Parkland, Florida will leave you feeling ripped apart and connected to each student at the same time. The anthology features a scrapbook like feel with handwritten entries, scraps of paper seemingly taped onto the page, as well as both student artwork and photographs. Although some entries are short with little detail, others vividly account what was experienced that day. There are several themes prevalent throughout their poems, stories, and speeches that will resonate with every reader. They include facing grief from the tragic loss of 17 Eagles, anger with the government for change not occurring fast enough, and betrayal that another school shooting resulted in the loss of life. Readers will also find messages of hope, love, and strength threaded throughout their first hand accounts. This book may be difficult for certain individuals who may struggle with the fear and uncertainty that follows a school shooting.
THOUGHTS: The handwritten pieces and images in the text allow you to feel connected to each student who survived the horrific events at MSD High School. The book allows all readers to reflect on the importance of protecting those you love and inspires us to work toward instituting change in our schools to make them safe places for learning.
371.1, Teachers & Teaching          Jillian Gasper, Northwestern Lehigh SD
---
Acevedo, Elizabeth. With the Fire on High. HarperTeen, 2019. 978-0-062-66283-5. 400 p. $17.99. Gr. 9 and up.
Emoni Santiago loves to cook.  She has a natural connection with spices and flavors that evokes emotion, not just a good taste. Raised by her 'Buela after her mother's death and father's return to Puerto Rico, Emoni has learned to use her passion for food in good times and bad. With her senior year looming and her future not far away, Emoni enrolls in Culinary Arts; it seems like an easy-A, but she soon learns that although she is a natural in the kitchen, she has a lot to learn. Meanwhile, Emoni's structure begins to unroll with the entrance of new student, Malachi Johnson. With a smile that melts, Emoni's rule of no dating is challenged. But Emoni has more than just herself to consider; she has her daughter, Emma (Baby Girl), too. On top of it all, Culinary Arts includes an immersion trip to Sevilla, Spain, over spring break. There, Emoni is challenged to find her way while remaining true to her own desires.
THOUGHTS: With the Fire on High shares present day struggles for many students through a universal topic: food. Acevedo takes the familiar and weaves an individual story of wants, desires, and the here-and-now. She looks at the struggles faced by many but does not dwell on any of the struggles. Instead, she gives realistic hope to readers through Emoni and an understanding that each choice one makes connects to their overall story, and one choice does not define a person. This novel is a wonderful addition to high school collections.
As a side-note, I did not love With the Fire on High like I did The Poet X.  Although I greatly enjoyed Fire, Poet X evoked emotions from me that I hadn't felt in a while. I deeply connected with Xiomara, but not so much with Emoni, although I liked her story. I would have liked Acevedo to delve deeper into the social issues she skims in Fire.  I guess I wanted more.
As a second side-note, I love Acevedo's audio recordings. The fact that she reads her work adds a layer of intimacy with the text and the characters that reading the words doesn't give. I hope she continues to read her novels in the future.
Realistic Fiction          Erin Bechdel, Beaver Area SD
Elizabeth Acevedo has a hard act to follow:  herself. The Poet X, her debut novel, won an almost impossible trifecta of awards (The Printz Award, the National Book Award For Young People, and the Carnegie Medal).  However, her new release, With The Fire on High, does not disappoint. African-Latina-American Emoni is a senior in a Philadelphia charter high school and the mother of a two-year-old girl, Emma ("Babygirl"), whom she is raising with the help of her Abuela. Babygirl's father, Tyrone, is a better parent then ex-boyfriend, and Emoni is slow to trust when a boy in her culinary arts class, Malachi, seems too good to be true. Becoming a chef is fiery, fierce Emoni's dream . . . but she's not sure what dreams are in her reach. Emoni's struggles with parenting, families, relationships, school, college applications, and trying to decide what's best for both her and her daughter's futures are realistically portrayed in this fast-paced novel with short, snappy chapters. Recipes with more of a literary than culinary purpose are included, but they might work for bold-spirited cooks willing to interpret ambiguous and playful directions.
THOUGHTS: Vivid prose, well developed characters (including Emoni's best friend, Angelica, who is a lesbian), and a narrative that includes but does not center on romance will have teen readers eating up this book. Highly recommended. 
Realistic Fiction          Maggie Bokelman, Cumberland Valley SD
This book made me hungry for Emoni to find success in her life. Despite having multiple roadblocks (becoming a mom as a teen, working while going to school, living with her grandmother who is nursing an injury), she finds a way to constantly strive for what's best for herself and her daughter. She knows what she wants out of life, and that is to be a chef. She is even in a culinary arts class at school with the possibility of a week long apprenticeship in Spain, not that she can afford it. There is a truth to the balance of Emoni's struggles at school, at home, and at work all while raising a three-year-old and navigating the balance of an amicable relationship with her daughter's father and his family. 
THOUGHTS: Another addition to the urban fiction cannon that should be on a high school shelves. Emoni's positive outlook in a less than desirable environment will motivate the less than inspired students. The addition of recipes and creative descriptions of the food she makes will make the readers hungry for more.
Realistic Fiction                Samantha Hull, Ephrata Area SD

---
Anderson, Laurie Halse. Shout: A Poetry Memoir. Viking, 2019. 978-0-670-01210-7. 291 p. $17.99. Gr. 8 and up
Laurie Halse Anderson's memoir of growing up in a shattered family and surviving a sexual assault at the age of thirteen is heart-wrenching and beautiful. Her father, a World War II veteran, suffered from memories of death and destruction during the war. Her mother, shattered from miscarriage after miscarriage of sons and abuse from her husband, tried to repair the torn family and be the "proper" pastor's wife. Laurie and her sister were born out of heartache and desire. A desire for something more; a desire to move beyond the past into the present and future, but the past is hard to escape. As the daughter of a pastor, Laurie learned to accept what she had and developed a creativity that helped her through her days. Sharing her torn family life, she sheds light on situations often left undiscussed. As she moves from her shattered family, to her rape and then into her time in Denmark where she saw a family structure different from her own, Anderson highlights the hope within darkness. In Part II of Shout, she looks at the impact of her writing and her school visits. She addresses the censorship she has dealt with along with the numerous stories of assaults shared with her by students. Shout is a beautifully written memoir-in-verse that proves life and hope can grow from tragedy and hardship.  
THOUGHTS: Anderson once again delivers an emotional story of survival. Much like her novels, Shout forces readers to examine what they know (or think they know), and then face reality head on. She does not sugar coat the abuse and hardships of her family or glaze over her own rape at thirteen. Anderson's overt style, without being in-your-face and vulgar, is breath-taking and much appreciated. This is a must have for all high school collections.
811 Poetry or 92 Memoir          Erin Bechdel, Beaver Area SD
Written in free verse, Anderson delivers her own story in a powerful memoir. Shout has clear parallels with her first novel, Speak which make reading Anderson's story that much more painful. She chose to tell her story beginning with an act of assault that she has had to live with, and the rest of the book is the journey Anderson takes to heal. She is fierce and effective at getting her point across in the current climate of our world.
THOUGHTS: This memoir should be required reading for all high school students and staff. It belongs on the shelf of every high school library to allow those who are victims an opportunity to heal and those who are lucky enough not to have been abused or assaulted a glance into the mind of someone who has and survived.  
Memoir          Samantha Hull, Ephrata Area SD
---
Konen, Leah. Happy Messy Scary Love. Abrams, 2019. 978-1-419-73489-2. $18.99. 336 p. Gr. 7 and up.
Olivia Knight dreams of attending film school, but procrastinating on writing her horror screenplay is not helping her attain that dream. She's failed to get into an NYU summer writing program and now must spend her summer in the Catskill Mountains with her parents while her friends have their dream summers. To pass time through her writer's block, Olivia watches lots of horror films on Netflix and messages Elm, another horror film addict she meets on a discussion board where she goes by the name "Carrie" – after her favorite film, of course. When Elm suggests they exchange photos, self-conscious Olivia panics, especially when he sends his picture, and he's cute! Assuming they'll never meet in person anyway, since she's from Brooklyn and he lives in North Carolina, Olivia sends back a selfie of her best friend Katie who is the traditional definition of attractive. Awkwardness averted… at least until Olivia shows up to her summer part time job in the Catskills to find Elm is working there as well. Though she wants to tell him the truth, the thought of trying to explain herself is more horrifying than her favorite films. As she admits, "Being close to people, being honest with them, not being afraid to fail – that's the scariest thing of all." So as Olivia and Elm's real-life relationship develops, "Carrie" must also maintain their online relationship, all while trying to finish her screenplay and navigate a summer job for which she feels ill-equipped. Some surprises along the way create a Shakespearean comedy-like plot while exploring relevant and important themes for high schoolers such as body image, self-worth, breaking out of one's comfort zone, and friendship.
THOUGHTS: A delightful summer read, this book will be fun for hardcore horror fans, but it's not so full of jargon or allusions that non-fans can't enjoy it.
Realistic Fiction          Sarah Strouse, Nazareth Area SD
---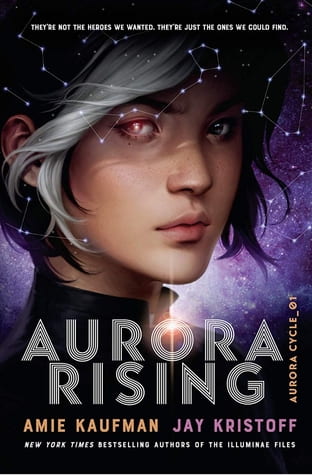 Kaufman, Amie, and Jay Kristoff.  Aurora Rising. Alfred Knopf, 2019. 978-1-524-72096-4. 480 p. $18.99. Gr. 8 and up. 
Amy Kaufman and Jay Kristoff have squarely secured their place as scions of young adult science fiction. Their sophomore series, The Aurora Cycle, like the Illuminae Files, propels readers once again into a wild conspiracy featuring a scrappy crew of space cadets, shadowy overlords, a girl who shouldn't exist, and an intricate spider web of a plot. The crew's leader is golden boy Tyler Jones, the highest ranked Alpha at Aurora Academy, who is primed to hand-pick his squad from the best of the best. His plan goes completely awry, however, when he discovers not only a generation ship thought to be lost two centuries earlier, but also a surviving passenger – Aurora Jie-Lin O'Malley. Now Ty is saddled with a squad he had no say in – though fortunately for him, his twin sister, Scarlett, and his best friend, Cat, both choose loyalty to Ty over ambition – and a girl two centuries old who is much more than she seems. When Ty's team is sent on their first humanitarian mission, it goes completely wrong, and sets off a chain of events that leave the squad questioning everything they thought they knew about their world, and running from the highest authorities in the galaxy, authorities who are determined to eliminate Ty's crew, and capture Auri for their own nefarious purposes. Kaufman and Kristoff's plot is twisty, complex, and fun as all get out. The story is told from multiple perspectives – not an easy feat, given there are seven unique characters – and crew members narrates their own chapter, in their own voice, with their own personalities shining through. This is a page-turning romp through space that will leave readers clamoring for book two.
THOUGHTS: While all of the characters are well-developed, Zila, the crew's scientist, provides the most interesting perspective – she struggles mightily in social situations and has an underdeveloped sense of empathy, making it almost impossible for her to gauge and understand human emotions and motivations. Her chapters are often very short, very funny, and very poignant.
Science Fiction          Lauren Friedman-Way, The Baldwin School
---
Tan, Shaun. Cicada. Arthur A. Levine Books, 2019. 978-1-338-29839-0. Unpaged. $19.99. Gr. 6 and up.
For seventeen years, Cicada has worked in an office where it is mistreated and ignored. Although Cicada works harder than the humans, it cannot use a bathroom in the building (it must go downtown for a bathroom). It cannot afford rent, so it lives at the office. It does not receive any benefits or resources like the humans and is verbally and physically abused by the humans regularly. When Cicada decides to retire, it leaves without fanfare and goes into the unknown; it has no home, no money, and now, no job. At the top of the tall office building, Cicada stands at the edge. Has Cicada's journey come to an end, or is it just beginning?
Tan's illustrations are breathtaking. Using oil on canvas and paper, he creates a world of gray for Cicada. The illustrations enhance the abuse and mistreatment faced by Cicada. They evoke emotion from the reader as they intensify the symbolism of Cicada and its dismal life.  
THOUGHTS: Cicada is a timely (2019 is the year of cicada) look into mistreatment and cruelty. By addressing mistreatment, it highlights the spiral of cruelty beyond work into one's home and personal lives. This YA picture book forces readers to consider social injustices and, through symbolism, dive deeper into the impact of society and how people are treated by governments, economics, and one another. As a minimalist picture book, it is an impactful case study for English and social studies courses into symbolism, human interaction, social justice, law and policy, mental health, discrimination, and more.  Highly recommended for all middle school and high school collections.
Picture Book          Erin Bechdel, Beaver Area SD
---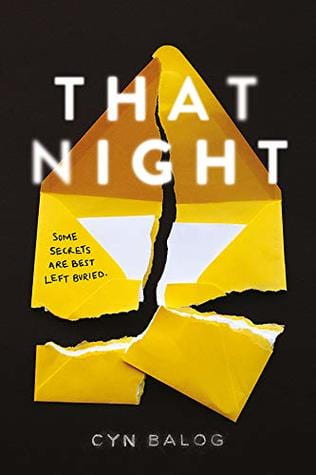 Balog, Cyn. That Night. Sourcebooks Fire, 2019. 978-1-492-67904-2. 320 p. $10.99. Gr. 10 and up. 
One year ago Hailey's boyfriend Declan ended his life, and she has lived in a fog ever since. A stay in rehab only blurred her memories of the weeks surrounding Declan's death. One thing is certain in her mind, though, Hailey knows Declan never would have killed himself. All she wants is to remember. It is Declan's step-brother Kane, who has been Hailey's best friend forever, that helps her begin to remember the last year. Kane and Hailey have a complicated relationship, but with the help of a box of Declan's things, Hailey begins to remember the past as she tries to move on. She can't understand why Kane's on again of again girlfriend (and Hailey's former best friend) won't even look at her. As she tries to puzzle through her memories, this fast-paced mystery flashes between Hailey's present grief and the year leading up to Declan's death. The answers might not be exactly what Hailey was looking for, though.
THOUGHTS: Thriller fans will devour this unpredictable read. Recommended for high schools where mysteries are popular.
Mystery          Maryalice Bond, South Middleton SD