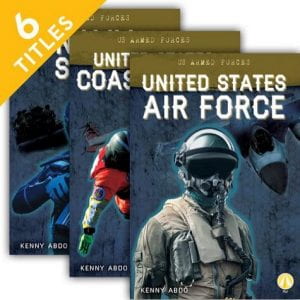 Abdo, Kenny. US Armed Forces. ABDO Zoom, 2019. 24 p. Gr. 1-4.
Navy Seals. 978-1-532-12549-2
United States Air Force. 978-1-532-12550-8
United States Army. 978-1-532-12551-5
United States Coast Guard. 978-1-532-12552-2
United States Marine Corps. 978-1-532-12554-6
United States Navy. 978-1-532-12553-9.
This new Hi-Lo nonfiction series from ABDO Zoom looks at the inception, history, and current United States military. United States Navy begins with the purpose of the Navy, motto, and creation of this branch of the military.  It highlights specific battles and important members of the Navy. The last section looks at the current Navy and specific roles and missions, such as submariner and NCIS. Each two-page spread includes an image or two and large print font. Specific words are highlighted in red and included in a glossary at the back. Information for online resources through ABDO's Booklinks are included with an image of the seal of the particular military branch of focus above the text.
THOUGHTS: Although recommended by ABDO for grades 2-8, this Hi-Lo series is very basic and may bore older students. It briefly highlights a variety of information about the US Navy and then moves on, an appropriate approach for early readers and upper-elementary struggling readers. With the US military of high interest, this series is recommended for elementary schools and classrooms with Life Skills students who have a low reading level.
359 United States Military          Erin Bechdel, Beaver Area SD
---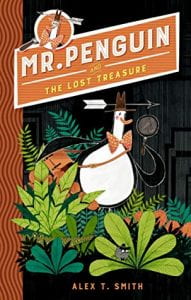 Smith, Alex T. Mr. Penguin and the Lost Treasure. Peachtree. 2019. 978-1-682-63120-1. $16.95. Gr. 2-4.
Mr. Penguin has decided to follow in the footsteps of his favorite books and become an Adventurer! He has the hat, the sandwich… and the bills to prove it! Who knew that becoming an adventurer was going to take so long to get started! When he finally gets a phone call, it is the perfect adventure to go on! Buried treasurer, an old museum, flying toilets…. Why, this adventure has everything an adventurer needs! As Mr. Penguin and his best friend, a spider named Colin, begin this adventure to solve the mystery of the buried treasure, something seems off. Away they go together, attempting to find the treasure and not be killed in the process!
THOUGHTS: This chapter book is for students who like to have illustrations accompanying them on their reading adventure! This book has a little bit of everything in it: adventure, mystery, animals, and funny happenings around every corner!
Adventure          Rachel Burkhouse, Otto-Eldred SD
---
Sayre, April Pulley. Bloom Boom! Beach Lane Books. 2019. 978-1-481-49472-4. $17.99. Gr. K-3.
This introductory book to how nature blooms in spring is artistically done beautifully. Each page is filled with a basic statement of nature beginning to spring from the earth accompanied with a gorgeous up close photograph of a variety of plants in various stages of birth. Filled with new vocabulary and plants that some readers may not have seen before, Bloom Boom! Is a great introduction to a science unit or gardening theme.
THOUGHTS: This book is absolutely beautiful with the up close and personal photographs of a variety of plants and animals. Readers will fall into the book with the simple writing and expressive photographs. A fantastic introduction for teachers wishing to explore a science unit.
581 Nature          Rachel Burkhouse, Otto-Eldred SD
---
Hendra, Sue & Paul Linnet. Cake. Aladdin. 2019. 978-1-534-42550-7. $17.99. Gr. K-2.
Cake is so excited to be going to a party! The only problem is Cake has no idea what to wear! After help from his goldfish friend, Cake goes off to find a hat. He is amazed to find the perfect hat to look his best at the party! It has candles and lights up! Cake goes to the party and has the best of times. After all, what is a party without Cake? Things get a little strange when everyone starts singing "Happy Birthday." Why did everything suddenly go dark? What is happening at this party?!
THOUGHTS: A cute story about how cake is needed at a party! Kids will love to listen to this story and yell for cake to realize what will happen to it as the story continues deeper and deeper into the party. A great, easy read for early elementary students.
Picture Book          Rachel Burkhouse, Otto-Eldred SD
---
Page, Robin. Seeds Move! Beach Lane Books, 2019. 978-1-534-40915-6. 32 p. $17.99.Gr K-4. 
From catapulting to floating and rolling to parachuting, seeds move in all kinds of different ways. Using lively verbs, this book describes how seeds move to get the things they need to thrive, including sunlight, soil, water, and a place to put down roots. Each double-page spread features a one-sentence description of a way a seeds moves, and near the bottom of the page, more details about how that movement is accomplished. For example, one spread featuring a raccoon, details how seeds hitchhike by snagging themselves on a raccoon's fur and are transported long distances before falling off. The large, colorful illustrations, created in Photoshop, resemble textured cut-paper collages.
THOUGHTS: While this book could benefit from reference information about the scale of the seeds in relation to the animals they are depicted with, it is still an engaging, visually-appealing introduction to seeds and the ways animals aid in their transportation. 
581.4 Seeds          Anne Bozievich, Southern York County SD
---
Falatko, Julie. The Great Indoors. Disney Hyperion, 2019. 978-1-368-00083-3. 36 p. $17.99. Gr K-3. 
When a family of humans hits the road in their RV packed with fishing gear, sleeping bags, and camping equipment, they're ready for a week in the great outdoors. They're barely out of the driveway before the bears, beavers, skunks, and deer move in, ready for a week in the great indoors. The animals are excited to experience the simple life: indoor plumbing, electricity, and comfy furniture. The deer bring their karaoke machine, the skunks have excellent cell phone reception, and the teenage bear can finally plug in her curling iron. After a few days, however, the animals start missing the woods as the garbage and dirty dishes pile up, the toaster catches fire, and the noise gets to be unbearable. Loose watercolor illustrations brim with humorous details such as bears using hairdryers, beavers playing video games, and skunks rocking out with guitars.
THOUGHTS: This title will lend itself to compare and contrast discussions about how life is different in nature versus in civilization, and it will also spark discussions about role reversal. A natural extension would be asking students to imagine what might go on in their homes if animals moved in for a week. 
Picture Book          Anne Bozievich, Southern York County SD
---
Kirsch, Vincent. How I Learned to Fall Out of Trees. Abrams Books for Young Readers, 2019. 978-1-419-73413-7. Unpaged. $16.99. Grades K-2.
Adelia is up a tree and announces that she has to move away. Roger is not ready – for tree climbing or losing his best friend. So, Adelia offers to teach him the valuable lesson of how to climb a tree – and how to let go and fall out. What follows are alternating pages of collecting items that hold special meaning for the friends (but could help cushion a fall) and the lessons of tree climbing. Roger worries about falling still, but Adelia says, "Falling will be easy. Letting go will be the hardest part." Time passes from spring to summer to fall to winter. Soon enough it is time to part, and Roger gets ready to practice what he's learned. To his delight, Adelia has indeed made the process of letting go and falling easier thanks to her thoughtfulness. Children of any age can appreciate the process of parting ways that is represented through this extended metaphor. Kirsch provides beautiful watercolor and ink illustrations to capture details worth repeated readings and the formatting and layout allow readers to make inferences about the story happening behind the main dialogue. Falling out of trees has never been sweeter!
THOUGHTS: Friends could create their own pile of memories to jump into as they look at Roger and Adelia. There are plenty of discussion starters here for writing prompts or group storytime or one on one recommendations. A very delightful book for many occasions!
Picture Book          Dustin Brackbill State College Area SD
---
Amato, Max. Perfect. Scholastic Press, 2019. 978-0-545-82931-1. Unpaged. $14.95. Grades K-2.
Any student who has ever held a brand new pink eraser knows two things: that it looks perfectly clean until it's used, and that nothing stays perfect, because mistakes happen! The eraser in Max Amato's clever debut story needs to realize that perfect never lasts when a pencil will always be around to make a mess. At first, the eraser moves from satisfied to annoyed to frustrated by the wordless actions of the playful pencil. But then it is quickly outmatched and ends up in a dark place in the book – chased and lost in a graphite world with scribbles everywhere. However, a little change of perspective soon gets the eraser to create something new and start over with a clean slate! The pencil and eraser's new friendship becomes a reminder that sharing our imperfections, losing control and working together offer a chance to explore a fun new world.
THOUGHTS: An art teacher would love this for an example of positive and negative space, as well as a chance to show animated art supplies. Creative ideas should be flowing after reading this worthwhile story of an odd couple's friendship.
Picture Book          Dustin Brackbill, State College Area SD
---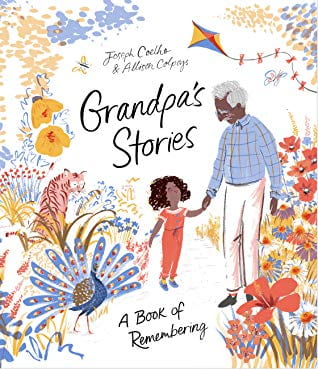 Coelho, Joseph, and Allison Colpoys. Grandpa's Stories. Abrams Books for Young Readers, 2019. 978-1-419-73498-4. 36 p. $16.99. Grades K-3. 
In this gentle story, a young girl finds an outlet for her grief when her beloved grandfather passes away. The book opens during spring, when the girl and her grandfather take long walks and explore flowers, birds, and insects. During each season, they continue spending time together. In summer they play with race cars, in autumn grandpa makes the girl a journal for her writings and drawings, and in winter, they share stories and candy. Then, one day, grandpa's chair is empty, and the girl helps her parents clean out grandpa's room. In his room, she finds souvenirs of their time together: dried flowers, toy cars, leather string from her journal, candy wrappers, and colored pencils. The girl describes the relics as a kaleidoscope of memories, and when she finds a brand-new blank journal on grandpa's chair, she fills the pages with memories of her grandfather. Vibrant primary-colored illustrations capture the wonderful times the pair shared in beautiful detail. 
THOUGHTS: This is a touching celebration of life, and it's also a tribute to the power writing and art have for fostering healing after loss. This intergenerational story will speak to readers of all ages, and it will be a valuable addition for both librarians and guidance counselors. 
Picture Book          Anne Bozievich, Southern York County SD
---
Lassieur, Allison. Building a New Nation: An Interactive American Revolution Adventure. Capstone Press, 2019. 978-1-543-51539-8. 112 p. $24.54. Grades 3-6. 
This book is one of four in a new series titled "You Choose: Founding the United States." These interactive, choose your own adventure books put readers in the middle of the action as they make choices that drive the ending of the story. With 55 different choices and 22 different endings, there are plenty of famous Americans to meet and lots of excitement to witness. Some paths lead to joining Benjamin Franklin in France as he brokers peace talks with England and France. Others put readers on the front lines during Shay's Rebellion, and others put readers in the shoes of a young Philadelphia apprentice who has the honor of meeting George Washington. A timeline, a list of additional books and websites to explore, a glossary, a bibliography, and an index round out the backmatter.
THOUGHTS: This will be a popular addition to American Revolution curriculum, and the decisions students make will jumpstart discussions about choices colonists made to survive during this tumultuous time in American history. 
Picture Book          Anne Bozievich, Southern York County SD
---
Alexander, Kwame. Illustrated by Kadir Nelson. The Undefeated. Versify, 2019. 978-1-328-78096-6. 40 p. $17.99  Grades 3-7.
Kwame Alexander, in a picture book published by his own imprint, Versify, writes heartfelt, heartrending poetry honoring famous, lesser-known, and forgotten African-Americans that is accessible to a wide range of ages. The rhythmic text begs to be read aloud, yet is also visually striking: black font on a bright white background, with key words set even larger and bolder for emphasis. Kadir Nelson's realistically rendered oil portraits of African-Americans from leaders like Martin Luther King to sports stars like Michael Jordan to everyday people from the past and present are also thrown in stark relief against the uncompromisingly white pages. In many instances, the gazes of Nelson's subjects are directed straight at the reader, creating a deep sense of intimacy. However, perhaps the most arresting page is a blank one, a memorial to those lost to time and history, but whose struggles still matter.  For teachers and older readers, an afterword in which Alexander writes repeatedly that "Black. Lives. Matter." as well as a "Historical Figures and Events" section extends the use of the book. Also included is a link to an audio version of the poem.
THOUGHTS: This collaboration between a talented poet and a gifted artist, each at the top of his game, is something special; a must-buy for elementary school libraries and highly recommended for middle school libraries.  
Picture Book/Poetry          Maggie Bokelman, Cumberland Valley SD