Thompson, Lisa. The Light Jar. Scholastic, 2019. 978-1-338-21630-1. 240 p. $17.99. Grades 5-8.
Nate and his mother escape in the middle of the night from his abusive stepfather Gary.  Due to an argument between his mother and grandmother, and because Gary would look for them at Nate's grandmother's house, Nate's mom takes them to an old cottage of a friend. They hope they have found quiet refuge, but the cottage is in filthy condition and a bitterly cold climate. Just as Nate realizes this is nothing like what he'd hoped, his mother leaves to get them some much-needed food. And she doesn't return. Fears old and new close in on Nate. Is he completely alone? Can he trust anyone? What if his mom has returned to Gary? Then Nate's old friend Sam reappears. Seriously, he thought his imaginary friend was gone! How could he be such a baby? Nate wants to be brave, but Sam is comfortable, and it sure is nice to have someone to talk to. Then a young girl named Kitty appears, from the adjacent estate, and pulls him into a local treasure hunt unsolved by a girl who died years ago. Again, he's torn. Companionship helps, but his fears are huge and his questions unanswered. As he helps Kitty and waits for his mom, Nate remembers his anger at how his own father left, how Gary seemed so nice, and how slowly he and his mom became subject to Gary's anger and abuse.  The story concludes as Nate finds strength to survive and make hard decisions…and says goodbye to Sam and Kitty.
THOUGHTS: An unusual and well-meaning story, with uneven character development. Nate's past seems real, but his present reality is marred by his own contradictory responses. In the early chapters he seems to be an 8 or 9-year old unaware of why his mom is leaving and why she is afraid, while a week later he seems to be the 12-year-old who fully understands the dynamics and is ready to forge ahead. The return of Nate's mom, and his dad, the restoration of their relationship with his grandma, and amazingly, the vanishing of Gary make for a happy, if unbelievable, ending. Best for upper elementary.
Suspense          Melissa Scott, Shenango Area SD
---
Schroff, Laura, and Alex Tresniowski. An Invisible Thread. A Young Readers' Edition. Simon & Schuster, 2019.  978-1-534-43727-2. 212 p. $17.99. Grades 5-8.  
This title is the young reader's edition of the 2011 An Invisible Thread. It details the early life of 11-year-old Maurice, essentially homeless in Manhattan in the mid-1980s, who often goes for days without food and must beg for change in hopes of a meal. He is always between temporary homes with his grandma, two sisters, mom (when not jailed for fighting), and a rotating group of up to a dozen family and friends. On the street one day, Laura Schroff, USA Today advertising executive, declines to give him money, then returns and offers to buy him lunch at McDonald's. Maurice is grateful for a full stomach but wary when she offers to meet regularly on Mondays; he's been taught that no one does something for nothing. Trust no one. His hunger wins out, and a friendship with Miss Laura begins. They meet regularly for four years, Maurice learning various life skills and Laura learning compassion and how to keep a promise. What Maurice says he loves the most is "the big table"–that is, Laura's Thanksgiving family meal that goes on for two hours, with family talking and laughing. For the first time in his life, he makes a goal for the future: "Someday, when I grow up, I'm gonna have a big table like that for me and my family. And we're all gonna sit around and talk and laugh just like your sister's family does" (120). The story is told largely from the point of view of Maurice, with good results. Readers see his confusion about social expectations, his awe of huge meals, and his growing confidence as he takes in not only food but also helpful lessons all new to him.  
THOUGHTS: An inspiring and eye-opening tale for young people who may never have imagined a homeless life or what it takes to change one life. Perhaps the strongest message comes from Maurice's teacher, when she meets Miss Laura at a parent-teacher night: "Children like Maurice are always disappointed. Every day someone else lets them down. I hope you realize that you can't just come in and out of Maurice's life. If you are going to be there for him, you have to really be there for him. You can't just wake up one day and abandon this boy" (101). That message of resilience–in the face of need, lies, difficulties, or let-downs–is a necessary one for would-be helpers to hear. Recommended.
Biography          Melissa Scott, Shenango Area SD
---
Schmidt, Gary. Pay Attention, Carter Jones. Clarion Books, 2019. 978-0-544-79085-8. 217 p. $16.99. Grades 5-8.  
Carter Jones' first day of sixth grade is memorable for the mayhem of his family–he and three younger sisters under the care of their overburdened mother. And it is memorable for the arrival of the butler–Mr. Bowles-Fitzpatrick, former employee of their grandfather, willed to the family after his grandfather's death. Mr. Bowles-Fitzpatrick drives a purple Bentley (dubbed "the Eggplant" by Carter) and preaches proper decorum while having an appropriate, timely solution for just about everything and remaining impeccably neat. The humor is palpable as he chafes at American slang, dress, food, and more. His arrival is perfectly timed, for Carter's father is deployed to Afghanistan, and the family is struggling with a loss slowly revealed by Carter. As Carter rightfully struggles with anger and grief, the butler teaches him and his classmates cricket, which improbably becomes wildly popular at their school. The school is led by Principal Sweiteck–the novel is thus linked to Schmidt's Wednesday Wars and Okay for Now. The butler also teaches Carter how to handle his overwhelming emotions–with proper decorum befitting a young man on either side of the pond.  
THOUGHTS: Gary Schmidt understands growing up and gets to the heart of how to do so in the midst of devastating pain. This fantastic novel will make many wish for a Mr. Bowles-Fitzpatrick of their own and is highly recommended for every middle school library.   
Realistic Fiction          Melissa Scott, Shenango Area SD
---
Marshall, Barry, and Lorna Hendry. How to Win a Nobel Prize. Kane Miller, 2019. 978-1-610-67829-2. 178 p. $6.99. Grades 3-6.
Mary is an aspiring scientist who dreams of one day winning the Nobel Prize for something that she contributes to the world of science. As the tale begins, she is waiting to meet a real Nobel winner named Barry Marshall, but he is late, so she starts to snoop around. Somehow she stumbles into a room full of winners from across and space and time, and Mary bargains with the group to see their moments in history and gather advice from each member. What follows is a series of short, informative chapters which introduce discoveries and Nobel Prize winners familiar (Einstein, Curie, Fleming) with many unfamiliar voices. In fact, the travels wonderfully highlight the diversity and varied backgrounds and countries that the selected winners represent, including commentary about equal rights for women in their fields. The book also does a great job of taking concepts that are complex and explaining them into an understandable scientific terms. To assist, there is an activity associated with each chapter which allow for the readers to experiment, observe, and try it yourself. Extra notes and illustrations accompany each chapter and keep the tone and information appropriate for readers looking for an introduction to this unique world of world-changers!
THOUGHTS: As the author is himself a Nobel Prize winner and main character in the story, there is a sense of both relatability and authority to the nonfiction story. Though some subplots and patterns are inconsistent during the story, it is a fine example of how to merge fiction (science fiction time travel) in with nonfiction and biography. It could compare well with the Kid Series (Kid Athletes, Kid Scientists) by Quirk Books.
Science Fiction          Dustin Brackbill State College Area SD
---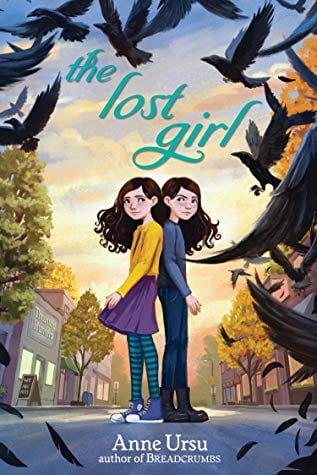 Ursu, Anne. The Lost Girl. Walden Pond Press, 2019. 978-0-062-27509-7. 368 p. $16.99  Grades 4-7.
Twins Iris and Lark are "identical, but not the same."  Practical, responsible Iris has always looked out for Lark, who has a big imagination but is introverted and a worrier. They've always been inseparable–until fifth grade, when they are placed in separate classrooms for the first time, and forced to join different after-school clubs as well. Both girls struggle. Lark does not like her teacher, who encourages her to participate when she would rather stay in the background. Iris feels bereft, and worries that Lark is falling apart without her. Meanwhile, things are going missing: everything from Lark's favorite bracelet to a famous painting in a city museum. Iris is sure something is amiss, something she can't quite name but that terrifies her all the same. As she starts spending more time in a local antique shop with a very peculiar owner, Iris finds herself drawn into a full-blown magical mystery. The sometimes-intrusive narrator's identity is not revealed until the end of the novel.
THOUGHTS:  The Lost Girl is a beautifully written story, rooted in reality for the most part, but interwoven with hints of folk- and fairy-tales, and a fantastical ending. This is a complex, thought provoking novel that, among other things, offers a positive portrayal of different ways girls can be strong and powerful, and can give and ask for help. Highly recommended for middle school libraries.
Fantasy Fiction          Maggie Bokelman, Cumberland Valley SD
---
Miller, Kayla. Click. Houghton Mifflin Harcourt. 2019. 978-1-328-70735-2. $24.99. Gr. 4-6.
Olive has the ability to be friends with everyone; she just naturally clicks! The 5th grade is going to be hosting their annual Variety Show which is great, except for the fact that not one specific person wants Olive to be in their act. Olive feels pulled in every direction and can't see why she doesn't have just one best friend or just one person who would want her in her group. How can she find her own place and her own person, rather than just being friends with everyone? It isn't until she has a sleepover with her eccentric Aunt Molly that she finds a way to work with everyone…a way to make everything click!
THOUGHTS: The idea of finding that one special friend that you are best friends with can be hard, especially for someone who gets along with everyone! This story is told in a graphic novel format, allowing for an easy read for students, especially girls, who may be struggling to find their own clique in school.
Graphic Novel          Rachel Burkhouse, Otto-Eldred SD
---
Marciano, Johnny, and Emily Chenoweth. Klawde: Evil Alien Warlord Cat. Book 1. Penguin Workshop. 2019. 978-1-524-78720-2. $14.99. Grades 4-8.
For an evil warlord cat, what could be worse than being banished to the worst possible place in the galaxy? ABSOLUTELY NOTHING! Which is exactly what happens to former Lord High Emperor Wyss-Kuzz. Thankfully, there is something that comes even sweeter after being banished… revenge! After being banished to Earth, Wyss-Kuzz decides to force his way into one of the ogre's dwellings and create a device to return back to his home planet for his sweet revenge.
At the same time, Raj is bored. His family has just moved from New York City to the middle of nowhere. Not only that, his mother has signed him up for Survival Camp! When a green flash appears in the night and the doorbell rings, Raj is delighted to see a cat on his doorstep! After convincing his mom to let him keep the cat, Raj has no idea what he has let into his house or his new pet's plan…until newly named Klawde begins to talk to him about his plans. Can Raj help Klawde return to his home planet? Or even more important, can Raj survive Survival Camp?
THOUGHTS: The first in a series, Klawde: Evil Alien Warlord Cat holds a lot of inside jokes that older elementary and middle school students would greatly appreciate. The double-sided story of both Klawde and Raj are captivating, making the reader feel as though they are diving into two different worlds. The illustrations accompanying the story are funny yet allow readers to still their imaginations. A great story for reluctant readers that can continue as the series grows.
Adventure/Action/Fantasy           Rachel Burkhouse, Otto-Eldred SD
---
Marciano, Johnny and Emily Chenoweth. Klawde: Evil Alien Warlord Cat: Enemies. Book 2. Penguin Workshop. 2019. 978-1-5247-8722-6. $14.99. Grades 4-8.
After being sent back to Earth, Klawde is furious! Not only has he been sent back, but his number one loyal subject has taken his job and is now the ruler of his previous homeland! This is absolutely ludicrous. The only that that could be worse has happened; his number one enemy Ffang has been banished to Earth as well. It is up to Klawde to show Ffang who is the number one most evil ruler of them all.
Meanwhile, Raj is facing his own enemy. After starting school and really enjoying his new robotics class, his enemy from Brooklyn has joined him. How can Raj stay friends when Cameron seems to take them all away from him? Everyone things Cameron is so cool since his mom is a famous comic book writer. Raj decides to take a note from Klawde and perform sweet, sweet revenge…
 THOUGHTS: A great second book to the Klawde: Evil Alien Warlord Cat series!  This books lets us dive further into real life and alien life trouble with two completely different characters. Readers will enjoy the growth and depth as they continue to read about Raj and Klawde.
Adventure/Action/Fantasy         Rachel Burkhouse, Otto-Eldred SD
---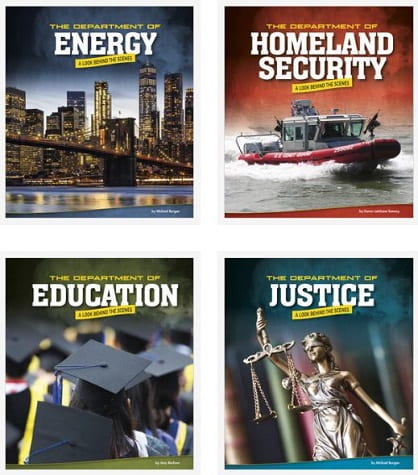 U.S. Government Behind the Scenes. Capstone Press, 2019. $26.49 ea. $105.96 set of 4 (hardcover). 64 p. Grades 6-8.
*Burgan, Michael. The Department of Justice. 978-0-7565-5903-8
Burgan, Michael. The Department of Energy. 978-0-7565-5900-7
Kenney, Karen Latchana. The Department of Homeland Security. 978-0-7565-5901-4
Rechner, Amy. The Department of Education. 978-0-7565-5902-1
This series takes readers on a behind the scenes tour of several government departments. The title I reviewed, The Department of Justice, does a wonderful job of explaining the role, function and make up of the justice department. The title includes pictures of current individuals in the government, a timeline, charts, and even a section on how kids can find lawmakers in their area and get involved. There is also a comprehensive bibliography and source notes which provide a perfect example of how to cite sources for students. 
THOUGHTS: This book will appeal to students who are interested in becoming involved in making change in our government. With easy to read chapters and valuable resources included, this title and series would be an upgrade to your government collection. The series would provide an in depth look into several government departments that have been in the news recently.
347.73 Civil Procedure & Courts          Jillian Gasper, Northwestern Lehigh SD
---
Art Skills Lab. Crabtree Publishing, 2019. $8.95 ea. (paperback). 32 p. Grades 4-7.
* Ewasiuk, Sandee. Drawing Skills Lab. 978-0-7787-5234-9
Ewasiuk, Sandee. Mixed Media Skills Lab. 978-0-7787-5235-6
Ewasiuk, Sandee. Painting Skills Lab. 978-0-7787-5236-3
Hodgson, Sarah. Collage Skills Lab. 978-0-7787-5233-2
Hodgson, Sarah. Printmaking Skills Lab. 978-0-7787-5237-0
Yates, Jane. 3-D Art Skills Lab. 978-0-7787-5225-7
This series provides a hands-on approach to assist students in building their art repertoire. Each book provides techniques, tools, and skills that can be used to hone students' skills in various mediums and methods of art. Each book provides tips, a "try this" section, and examples of different art pieces. Each title also provides inserts on famous artists and what they became famous for (including a picture of their work) that relates to the skill being presented. The projects allow readers a chance to apply the techniques discussed in each title to create their own amazing art. The titles in the series highlight various types of art from pencil and paper to 3D art.
THOUGHTS: This series is easy to read and full of excellent tips and strategies that can make anyone feel like an artist! The information regarding a skill can be found on a single spread in the title, making it easy to follow all directions and to be able to see the final product. This series is a valuable asset to any school looking to provide a positive experience when it comes to creating your own artwork.
741.2 Drawing          Jillian Gasper, Northwestern Lehigh SD
---
Legendary Goddesses. Capstone Press, 2019. $21.49 ea. $85.96 set of 4 (hardcover). 32 p. Grades 3-9.
Gagne, Tammy. Aphrodite: Greek Goddess of Love and Beauty. 978-1-543-55451-9
* Gagne, Tammy. Hera: Queen of the Greek Gods. 978-1-5435-5453-3
Leavitt, Amie Jane. Persephone: Greek Goddess of the Underworld. 978-1-543-55454-0
Schwartz, Heather . Athena: Greek Goddess of Wisdom and War. 978-1-543-55452-6
Legendary Goddesses focuses on the women deities of Greek mythology. The series explores several well known goddesses and the stories that made them famous. Each title is divided into chapters with distinct focus on their powers and skills and how they played a role in history as well as modern culture. There is a glossary, a list of titles to read more about the goddesses, and internet sites related to the title provided through FactHound. The layout of the text is reader friendly with pictures and captions, challenging words with their definitions, and Goddess Facts. 
THOUGHTS: This series would be a welcome addition to a library collection that is Greek God heavy (Zeus, Poseidon, Ares, Apollo, etc.) and provide a look into the power and cunningness of the Greek Goddesses. There are little known facts and interesting stories about the goddesses that will leave readers impressed with the women of mythology.
292.2 Classical (Greek & Roman) Religion          Jillian Gasper, Northwestern Lehigh SD
---
Maclear, Kyo. Illustrated by Byron Eggenschwiler. Operatic, 2019. 978-1-554-98972-0. 160 p. $19.95  Grades 5-8.
Maclear's spare text paired with Eggenschweiler's lush, broadstroke monochromatic illustrations are the perfect vehicle to deliver a story exploring the perennial issues facing middle schoolers. Charlie, one of three Asian girls in her middle school, knows that you should always "look bored" (32) and never let anyone know you care about anything . . . or anyone. Yet, she's fascinated by the enthusiasm of her music teacher, Mr. K., who challenges his students to find a song that speaks to their souls. When Mr. K. introduces the class to opera, Charlie is entranced, and decides to learn more about Maria Callas, a woman who was not satisfied to be quiet and stay in the shadows. Meanwhile, she's also entranced by her crush, Emile . . . who can't return her romantic feelings, but turns out to be just what she needs in a friend. Without being preachy or coming to simple, tidy conclusions, Maclear and Eggenschweiler show their characters wrestling with taking risks when it comes to standing out and reaching out. Separate storylines and time periods are indicated by color: yellow for the current, end-of-school springtime; blue for the previous fall; and red for Maria Callas's biography as told by Charlie.
THOUGHTS:  This nuanced portrayal of the deep emotional lives of middle school students infused with music history (there's more than opera here) will be a big hit with the intended audience. Highly recommended for middle school libraries; a solid purchase for high school libraries. 
Graphic Novel          Maggie Bokelman, Cumberland Valley SD
---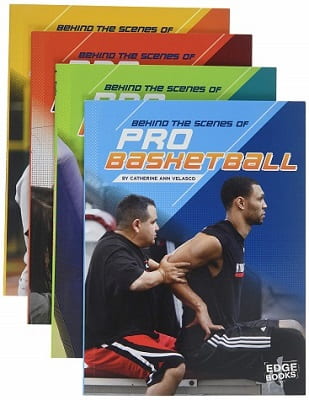 Behind the Scenes with the Pros. Capstone Press, 2019. $21.49 ea. $85.96 set of 4 (hardcover). 32 p. Grades 3-9.
Koehn, Rebecca. Behind the Scenes of Pro Football. 978-1-543-55525-0
Nicks, Erin. Behind the Scenes of Pro Hockey. 978-1-543-55426-7
Velasco, Catherine Ann. Behind the Scenes of Pro Baseball. 978-1-543-55427-4
*Velasco, Catherine Ann. Behind the Scenes of Pro Basketball. 978-1-543-55424-3
This series gives insight into the way a sport is run behind the scenes. Readers will learn how players train to keep their bodies healthy, how they recover after games, get endorsements, and how players are traded between teams. The text is easy to read, and each section is displayed on a two page spread. The challenging words are in boldface type and explained at the bottom of each page. The title has photographs of current players as well as intriguing fast facts. The series covers a variety of sports and uses FactHound to allow readers to access other websites related to the content of the book.
THOUGHTS: This series is great for kids who are interested in learning more about what goes into becoming a major league sports player. There is decent content connected to famous players to keep readers interested. Definitely for upper elementary to lower middle school even though it is for grades 3-9.
796.323 Basketball          Jillian Gasper, Northwestern Lehigh SD
---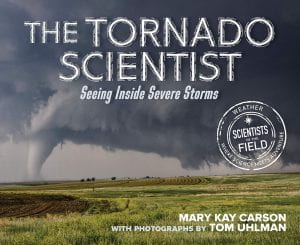 Carson, Mary Kay. The Tornado Scientist: Seeing Inside Severe Storms. Houghton Mifflin Harcourt, 2019. 978-0-544-96582-9. $18.99. 75 pg. Grades 4-6.
This narrative nonfiction title on storm hunting is sure to grab the attention of any student that has a passion for meteorology. The title chronicles the life of Robin Tanamachi and her passion for studying tornadoes and supercells across the nation. Broken into seven chapters that focus on topics from where tornadoes are prevalent to the science behind the formation, this title has it all. Each chapter supplies stunning photographs of tornadoes, damage caused by tornadoes, and the scientists in action. The text provides graphics to explain tornado devastation and is the perfect balance between science and storytelling. There is a detailed collection of words and acronyms storm chasers use which is helpful to decoding parts of the more "sciency" chapters. Links at the back of the title provide further information on tornado safety, the Vortex Southeast team, as well as Robin's blog. 
THOUGHTS: For avid storm chasers, this title is a must! This book reads quickly and provides jaw dropping photographs of just how powerful a tornado can be. Will surely inspire students to want to know more!
551.55 Meteorology          Jillian Gasper, Northwestern Lehigh SD