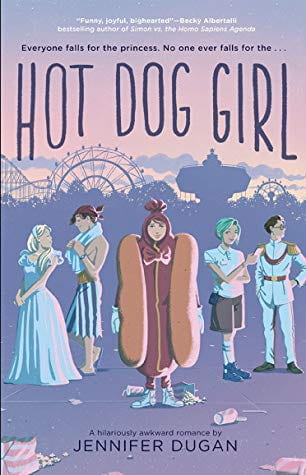 Dugan, Jennifer. Hot Dog Girl. G.P. Putnam's Sons, 2019. 978-0-525-51625-5. $18.99. 320 p. Grades 8 and up.
The summer before senior year should be carefree and fun-filled, but Elouise (Lou) Parker's summer is off to an awful start. Magic Castle, the amusement park she has frequented since childhood and has worked at since last year, has announced this summer will be its last. To add insult to injury, Lou gets stuck with one of the worst jobs in the park. Again. She'll play the role of the dancing Hot Dog Girl in the food court. The unflattering, hot, vomit-inducing costume is yet another reminder that she is just not crush-worthy. Her feelings for her crush Nick – the Pirate Diver in one of the park's shows – will never be reciprocated, especially not when he's dating Jessa, the girl who plays the princess at Magic Castle. Lou decides to revive her summer by secretly scheming to save Magic Castle via some questionable methods and rejuvenating her best friend Seeley's love life by fixing her up on a date with the perfect girl. Lou's scheming goes a little far, though, when she involves Seeley in her quest to break up Nick and Jessa. Subplots with family conflicts give the plot a little more substance, as well, but ultimately, this is a solid coming-of-age tale about love and facing inevitable change.
THOUGHTS: Laugh-out-loud funny at times and written in an authentic first-person teen voice, this book will appeal primarily to female readers looking for a fun summer read. The-dying-old-business-that-holds-so-many-childhood-memories-it-must-be-saved plot feels a bit stale, but the complex relationships are what make this book a good addition to teen collections, especially where there is a high demand for LGBTQ titles. 
Realistic Fiction          Sarah Strouse, Nazareth Area SD
---
Moldover, Joseph. Every Moment After. Houghton Mifflin Harcourt, 2019. 978-1-328-54727-9. $17.99. 362 p. Grades 9 and up.
Cole Hewitt and Matt Simpson are well-known in their suburban New Jersey town, but it's because they are some of just a few survivors of a tragic school shooting that happened in their first grade classroom when 18 of their classmates were killed. And that depends on one's definition of "survivor;" the only reason – in Matt's mind – that he survived is because he was home struggling with his diabetes that day. In the years since the shooting, the town has turned into a living memorial. Monuments both large and small pop up everywhere. The diner in town posts every failed gun control bill on its walls. The survivors themselves serve as living reminders, and the boys each handle it differently. Cole is reserved and awkward, not wanting people to recognize him as the boy in the viral photo from the shooting. Matt is wracked with guilt over not being there that day and constantly questions whether or not he is meant to live. Now they are graduating from high school, and a time in life that is scary enough for any teenager is exponentially more complicated for Cole and Matt. They must navigate family, love, and their friendship through the summer after high school carrying with them the after-effects of the tragedy that they will never forget. Told in alternating points of view between Cole and Matt, this book – which is Muldover's debut novel – will appeal more to male readers, but that is not necessarily a bad thing.
THOUGHTS: This book is heavy. Though not graphic, it obviously deals with matters of life and death. Additionally, just as a warning, it contains more offensive language than the average YA. However, the fact that it also deals with typical YA themes like love and friendship with MALE narrators is a huge plus for this book. Cole and Matt's friendship is real and raw and touching, and this is one of the best male-narrated YA books I've read. I find it similar in style and tone to a John Corey Whaley novel. In an English or Social Studies class, this novel would pair well with a non-fiction book about a school shooting or gun control. Moldover focuses on the human element of a tragedy such as this, but still manages to touch on both sides of a deeply personal and passionate political debate without being overly political.
Realistic Fiction           Sarah Strouse, Nazareth Area SD
---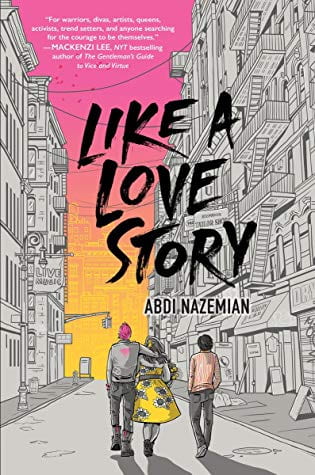 Nazemian, Abdi. Like a Love Story. Balzer + Bray, 2019. 978-0-06-283936-7. $17.99. 413 p. Grades 9 and up.
It's 1989. The AIDS epidemic evokes fear in the gay community, and Madonna's music is at peak popularity. This is the New York City in which Art, Reza, and Judy live. Reza, originally born in Iran, just moved to Manhattan from Toronto. He and his mom and sister fled from Iran during the revolution, and now his mom is remarried. When he starts school, Reza quickly befriends edgy aspiring fashion designer Judy. Her best friend Art is the only known gay student at school. At first Judy misreads Reza's fear of Art as homophobia, but Reza's fears have more to do with himself. Reza's known for some time he likes boys but is afraid to come out for multiple reasons, namely fear of his Iranian family's reaction but also of contracting AIDS – which at this time was thought to be a disease that plagued only the gay community. As Reza starts dating Judy, he gets to know Art better and develops a secret crush on him. He also gets to know Judy's Uncle Stephen who is gay too and suffers from AIDS. Stephen is an activist for AIDS research, and Art and Judy attend meetings and protests with him; eventually, Reza joins them, despite fear of what his parents would think if they found out. Art also introduces Reza to Madonna, and they all bond over their love of her music and the ideas for which she stands. Can Reza keep hiding who he really is – and his feelings for Art? Find out in this funny and moving coming of age novel about self-expression and owning who you are no matter your age, race, gender, or orientation. 
THOUGHTS: This book is more than just an LGBTQ love story. Because of its setting and Uncle Stephen's position in the ACT UP activist group, it serves as a history lesson on the AIDS crisis and how far gay rights have come in the last 30 years. As a lifelong fan of Madonna, I found her role in this novel and the allusions to her songs particularly enjoyable as well. Current teen readers may not understand or appreciate these references as much, though it may serve as a good education for them on the Queen of Pop (Recently, a student actually asked me if Madonna was even still alive). Excellent addition to any YA collection, and possibly a good supplementary novel for health, history, or any class studying the AIDS crisis. Appealing to not only LGBTQ readers but also anyone fighting discrimination of any kind. The hopeful message to all readers is to "Express Yourself" no matter who your "True Blue" self is!
Historical Fiction           Sarah Strouse, Nazareth Area SD
---
Panetta, Kevin, and Savanna Ganucheau. Bloom. First Second, 2019. 978-1-626-72641-3. 351 p. $17.99. Grades 9-12.
Ari Kyrkos wants to move to the city with his bandmates to try and make their music career happen, but his parents want him to stay home and work full-time at their struggling Kyrkos Family Bakery. If he can find a qualified employee to replace him, maybe Ari can move without leaving his family in the lurch. Enter dreamy Hector Galeai, who has just finished his first year at culinary school and is in town to empty his Nana's house. The boys bond over sourdough rolls, stargazing, and a road trip to the Maryland State Fair. But just when they connect physically, an accident at the bakery and misplaced blame drive them apart. Can Ari swallow his pride and reconnect with the boy he loves, delivering readers a happy-for-now ending to this sweet summer romance?
THOUGHTS: This winning graphic novel in beachy blues and greys is the perfect choice for readers seeking a romance with heart and a realistic conflict that doesn't hinge on the characters' sexual identity. Well-developed supporting characters, a recipe, and a playlist round out a delightful read.
Graphic Novel          Amy V. Pickett, Ridley SD
---
Heller, Peter. The River. Alfred A. Knopf, 2019. 978-0-525-52187-7. 253 p. $25.95. Grades 10 and up.
Dartmouth students Jack and Wynn, best friends who have just wrapped up a summer working as wilderness instructors in the Adirondacks, are now taking a month-long canoe trip through the lakes leading into the Maskwa River (Canada) and eventually the Hudson Bay. After smelling smoke for two days, they observe a potentially deadly forest fire. They do their best to warn other campers about the fire, including a couple they previously overheard arguing loudly on the lakeshore. But when they find him, the man is alone, injured, and claiming his wife disappeared in the night. Jack and Wynn double back to find her, touching off a chain of events that pits them against their fellow adventurers as well as the elements. This slim novel successfully blends elements of psychological suspense, survival, and transformative journeys. The prose is beautifully austere, with Jack's and Wynn's backstories filling in the calm stretches between whitewater and other perils. The River is a literary achievement that's also a pageturner; it's as taut as a spring-loaded snare trap! 
THOUGHTS: With main characters in their very early twenties, The River is an excellent crossover selection for readers who enjoy adventure stories with a tinge of menace. Comparable crossover thrillers include Those Who Wish Me Dead by Michael Koryta and Bearskin by James A. McLaughlin.
Each year, seniors in Ridley High School's Advanced Placement English Literature class participate in an end-of-year book club during the month between their A.P. exam and graduation. Recent selections include Killers of the Flower Moon by David Grann and Bad Blood by John Carreyrou. I will definitely suggest The River as an option for next year's book club!
Fiction (Crossover)          Amy V. Pickett, Ridley SD
---
Prior-Palmer, Lara. Rough Magic: Riding the World's Loneliest Horse Race. Catapult, 2019. 978-1-948-22619-6. 288 p. $25.00. Grades 9 and up.
When Lara Prior-Palmer was nineteen, she entered the Mongol Derby, touted as the world's toughest horse race, on a whim, and much to everyone's surprise, including her own, she won, becoming the first female, and the youngest rider ever to do so. It's telling that the title of the book uses the adjective "loneliest" rather than "toughest" to describe this race; not once throughout the entire 1,000 kilometer journey does Prior-Palmer allude to the toughness of the experience, while her solitude is palpable. With little hope of winning, let alone finishing the race, Prior-Palmer sets her expectations low, and when she is in close to last place at the end of the first day, it seems like a good plan. It is just this freedom from the trappings of competition, along with her ambivalence towards riding solo, that allows her to move up the ranks. Once she realizes that she's doing well, however, she doesn't shy away from her (somewhat shameful) need to remain at the top of the pack. She is an unusual narrator, given to philosophical musings, and starkly honest self-reflection, and writes very much in the vein of the 1950s Beat movement. Just like the race itself, the book is a meandering, introspective, yet gripping, narrative. Peppered throughout are quotes from the Tempest (the only book she brought with her), letters to her mother, Mongolian sayings and cultural references, and poetic descriptions of the landscape. This is not an endorsement for the Derby itself, nor is it a motivational guide to risk-taking and living life to its fullest; it is a no-nonsense, strangely compelling, almost epistolary exploration of this singular moment in Prior-Palmer's life, told without hubris, but with a dash of dry British wit.
THOUGHTS: Prior-Palmer speaks often about her inability to fit in anywhere, and especially her frustration with the rigidity of the institution of education; her story, and her narration, will speak to those students who have similar feelings of frustration, isolation, and a touch of wanderlust, which, let's face it, is most adolescents.
Memoir          Lauren Friedman-Way, The Baldwin School
---
Snaith, Simone. Between the Water and the Woods. Holiday House, 2019. 978-0-823-44020-7. 311 p. $18.99. Grades 7 and up.
Magic, chivalry, monsters, secrets – these are just a few things that drive Simone Snaith's debut novel, Between the Water and the Woods. We first meet the Bird family – Emeline, her younger brother, Dale, and Dada, their father – living a quaint country life in the small village of Equane. Their quiet lives are shattered, however, when Emeline and Dale encounter an Ithin, a monster of myth, living in the haunting woods across the moat. After reviewing the laws of the land, it is determined that the family must travel to the capital to tell the king in person about their encounter. The Birds, along with their driver, Fish, and their stowaway, Aladane (Dale's good friend, with a serious case of FOMO), are unprepared for the ruthlessness of the world, and in short succession come across highway men, an assassin, a haughty Lash Knight, and a wealthy Sapient who is the potential heir to the throne. When they finally arrive in the capital, the villagers find themselves in the middle of a philosophical war between the Sapients – those who only believe in science and technology – and the Theurgists – those who believe deeply in magic, and the old tales. In the midst of all of this, Emeline discovers that she possesses true elemental magic, and has the ability to control water plants. She keeps it a secret, even from her family, for she knows that in the wrong hands, this knowledge could have potentially dangerous consequences for her and for her family. This is a rollicking adventure, with a courageous heroine at its heart who readers will root for. There is a sweet, chaste romance, as well, along with more serious treatment of class divisions, oligarchy, and, in a small way, the trappings of wealth. Readers will eagerly await the next installment.
THOUGHTS: A perfect book for fans of medieval tales of knights and chivalry, and for middle grade readers looking to graduate up to more complex fairy tales.
Fantasy          Lauren Friedman-Way, The Baldwin School
---
Hulick, Kathryn. Cyber Nation: How the Digital Revolution is Changing Society. ReferencePoint Press, 2019. 978-1-682-82469-6. $29.95. 80 pg. Grades 6-12.
This stand alone title focuses on how digital technology is changing the way people interact, learn, and form their identities online. Broken into chapters focusing on relationships, society, information overload, identity dilemma, and future issues, this title is full of information and real life connections. Chapters are broken into subsections that highlight how easy it is to "hide" your true self while online – leading to cyberbullying, addiction, and overstimulation. Information is provided on how digital culture is affecting change in how people spend money and the need to have items "now." Topics also addressed in brief detail include fake news, cybercrimes, censorship, and propaganda. The final chapter will hit home with students as it focuses on how the internet will greatly affect their future with virtual reality, AI, and how "smart" cities can help fix worldly problems. 
THOUGHTS: A great title for students researching the cause and effects of constant access to the internet and the future of digital access. A bit dry at times, the information is useful and applicable to the topic. The source notes, websites, and organizations available in the back of the book allow students to delve further into how the cyber world is shaping our lives.
302.30285 Social Interaction        Jillian Gasper, Northwestern Lehigh SD
---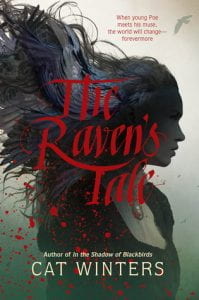 Winters, Cat. The Raven's Tale. Amulet Books, 2019. 368 p. $17.99. 978-1-419-73362-8.  Grades 9-12.  
1826, Richmond, Virginia. Seventeen-year-old Edgar Allan Poe longs to escape his foster father, John Allan. The Allans took in three-year-old Edgar when his parents died, and though his foster father showed some pride in Edgar for a while, that feeling has vanished in the face of Edgar's writing, a talent in which businessman John Allan sees no future. Freedom is less than two weeks away, when Edgar leaves for college in Charlottesville. That's if Edgar can make it that long. The situation worsens when Edgar's muse physically appears in town, making residents fearful with her garish, increasingly raven-like appearance. Edgar–and John–know muses are real–John killed his own muse years ago by pushing her into a fire, and he'll be damned if Edgar gives in to the same weaknesses. Edgar faces a devastating choice: obey his wealthy "Pa" and succumb to mindless business career, or follow the macabre muse he names Lenore and live penniless and shunned, unable to support himself let alone his secret love Elmira Royster. Yet Lenore is relentless: "Let them see me!" she demands. Edgar's circumstances worsen at college as his foster father denies him adequate funds, and Edgar turns unsuccessfully to gambling. Many recognize his giftedness, including a second would-be muse, Garland O'Peale. Both O'Peale and Lenore hope for victory over Edgar's soul, but neither will find this an easy fight. Edgar is young, tortured by death, and so very alone. 
THOUGHTS: Drawing on extensive research into Poe's life, Winters crafts an elegantly written tale, told in alternating chapters from Edgar's and Lenore's points-of-view. The result is a novel appropriately suspenseful and macabre, weaving in Poe's writing and creating an atmosphere which evokes a grim yet creative life that brings to mind the tortured Mary Shelley depicted beautifully in Lita Judge's Mary's Monster. Highly recommended for high school collections, this will entice many readers into a new or strengthened following of Poe's horror writing.      
Historical Horror: Poe, Muses          Melissa Scott, Shenango Area SD
---
Enni, Sarah. Tell Me Everything. Scholastic, 2019. 282 p. $17.99. 978-1-338-13915-0.  Grades 7-12. 
Ivy thrives on art and photography, but people or the spotlight, not so much. She does well enough keeping to herself, though she's just endured a boring summer without her best friend since fourth grade, Harold, by her side. Harold is an intelligent go-getter whose summer was spent at an Ivy League prep camp, an experience both exhilarating and sobering. Now Harold is diving into any class or club that he can, determined to impact the world, while Ivy prefers the newly minted anonymous art-sharing app VEIL. VEIL has made headlines nationwide, but it stays local, and wipes itself clean every Sunday. Though Ivy never posts any of her own artwork, she follows the posts eagerly, feeling curious about the artists and so inspired that she wishes to thank artists for the connection she feels. This desire to help and encourage others is Ivy's strength, and she gives gifts, anonymously, then openly, to various people she has identified by their posts. But the pressure is high for Harold, and so, when Ivy discovers what she thinks is his secret, she decides to throw him a party. However, her assumptions about Harold, and her disregard for the "anonymous" label, create some horrible breakdowns in friendships. Meanwhile, a hateful anti-gay VEIL post has parents concerned and suing the creator, who unexpectedly folds the app. Where can Ivy go now?
THOUGHTS: Ivy is a likable character with a huge heart and talent, and thankfully, a strong friend in Harold.  Several adult characters, including Ivy's art teacher and refreshingly, her parents, counsel her wisely and with compassion. Enni has a knack for current slang and a feel for how teenagers relate on and offline. The novel uses social media and art as a clever way to investigate anonymity, bravery, and character change. Though Ivy and Harold are sophomores, the novel feels written for junior high, and will work for grades 7-12.      
Realistic Fiction          Melissa Scott, Shenango Area SD
---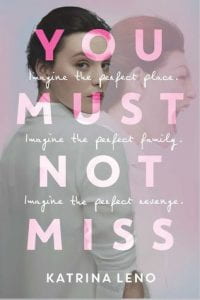 Leno, Katrina. You Must Not Miss.  Little, Brown & Company, 2019. 294 p. $17.99. 978-0-316-44977-9. Grades 10-12.  
Six months ago, sophomore Margaret "Magpie" Lewis had a decent life. Normal family, close best friend Allison, and reasonable grades. But in one night, everything collapsed. She and Allison walked in on Magpie's naked dad and aunt having sex, her mom retreated into alcohol, and her college sister Eryn kept her promise to leave if her mom ever got drunk again. To add to the pain, Magpie got drunk and was sexually assaulted by Allison's boyfriend Brandon, and popular Allison immediately decimated Magpie's social life. Now, a very depressed Magpie attends school, does no schoolwork, sits at the outcast lunch table, and is in danger of repeating her sophomore year. She holds her new social circle at arm's length–Clare, whose father committed suicide; bisexual Luke; trans Ben; and Brianna, who is not allowed to live down a humiliating school incident. In a yellow notebook, Magpie creates Near, a place where her former life never fell apart, where everything is perfect, and she feels no pain, only happiness.  She believes in Near so strongly that she brings it to life, accessible via the shed in her backyard. It becomes not only a refuge, but a plan of revenge. Magpie introduces Clare to Near but quickly sees the difficulties. She instead uses Near to exact revenge on those who have hurt her–her father, her sister, Brandon, Allison (who escapes), and oddly, her teacher but not her mother. This is a slow read of an interesting premise whose details are not fleshed out well. Her alter-ego "Hither" warns her of consequences, but nothing more than exhaustion and migraines affect Magpie.  Magpie disappears into Near, but her teacher and her father return (with no memories), though they were all eaten by monsters like Brandon (who does not return). Then Allison herself chooses Near.
THOUGHTS: This is a dull read of a girl who gets temporary revenge that changes only Allison's opinion of her, but Magpie never gets the help she needs to face reality.   
Fantasy          Melissa Scott, Shenango Area SD
---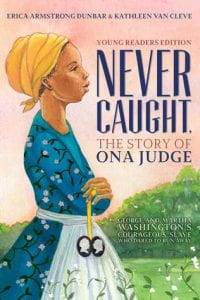 Dunbar, Erica Armstrong, and Kathleen Van Cleve. Never Caught, the Story of Ona Judge: George and Martha Washington's Courageous Slave Who Dared to Run Away. Simon and Schuster, 2019. 254 p. $18.99. 978-1-534-41617-8. Grades 5-12.
Ona "Oney" Judge was born into slavery on George and Martha Washington's estate.  At ten years old, she became Martha's personal attendant, working to smooth all the details of Martha's wardrobe, comfort, and volatile personality. But times were changing, and many in the country were pushing for laws to free slaves, whether immediately, gradually, or at the owner's death. As evidenced by their letters, George's views conflicted, but Martha's did not; she clung to the life she had been born to expect, and slaves were part of that world. As a teenager, Oney accompanied Martha to Philadelphia, seeing a completely different world: a largely free black society, white servants, and making friends in the free black community. Upon learning that Martha planned to give Oney as a wedding gift to her granddaughter–a spoiled girl who grew into an incorrigible woman–Oney decided to escape. On March 21, 1796, at twenty-two years old, Oney chose the one time of day she was least needed, during dinner, and escape by walking from the estate onto a ship bound for Portsmouth. Enraged at the humiliation by a girl "brought up and treated more like a child than a servant," (177) the Washingtons maintained that Oney "ought not to escape with impunity" (177). What follows is a pursuit thwarted by Oney's stalwart resolution not to return to Mount Vernon to be freed: "I am free now and choose to remain so." It was also thwarted by abolitionists: New Hampshire Governor Langdon, who tipped off Oney to a pursuer's second attempt to take her by force, and by customs officer Joseph Whipple, who after meeting Ona communicated clearly to George Washington to consider abandoning slavery nationwide, follow the established laws (which Washington was sidestepping) and acknowledge the changing tide of opinion on slavery. Due to political changes and to George Washington's death in December 1799, Oney was no longer pursued, but neither was she technically "free" unless freed by Martha or Martha's descendants (she never was). Her life in New Hampshire was one of her own making–she chose to marry a free black sailor and raised three children–it was also a life of great poverty and hardship (she outlived her husband and children, and never learned of her Mount Vernon relatives again).
THOUGHTS: A little-known story of a young woman whose "audacity" to live free astonished leaders of our nation and certainly helped to push for anti-slavery laws. Many "supposed" thoughts are inserted into Oney's (and others') actions, "Maybe she closed her eyes and imagined her mother…maybe she thought about the new black church that was forming just a few blocks away…" (97). This is an uncomfortable interpretation on history that is more than overdone in the book, but it could serve to make these characters feel more real to young readers. A solid addition to middle and high school collections.               
Biography          Melissa Scott, Shenango Area SD
---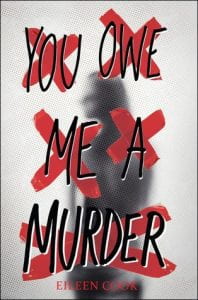 Cook, Eileen. You Owe Me a Murder. Houghton Mifflin Harcourt, 2019. 9781328519023. 346 p. $17.99. Grades 7-10. 
Kim is on her way to Europe, but rather than being excited, she is miserable. Her ex-boyfriend is also on the trip, with his new girlfriend. When a friendly girl named Nikki starts talking to Kim on the plane, they find they have many interests in common, including being so mad at someone they could just kill them. Nikki proposes that she will kill Connor, Kim's ex, if Kim kills Nikki's mother. After the flight lands in London, Kim doesn't give the conversation another thought, until Connor dies. Was it an accident? Or did Nikki really kill him? All doubts are erased when Kim receives a note: You owe me a murder. At first she shrugs it off; how can Nikki make her commit murder? But it soon becomes evident that Nikki has plotted this well, and Kim will have to out-think Nikki to be free of her control. The tension is high throughout the book, with red herrings and plot twists to keep readers guessing until the very end.
THOUGHTS: A taut psychological thriller that will captivate fans of One of Us is Lying.
Mystery          Nancy Nadig, Penn Manor SD
---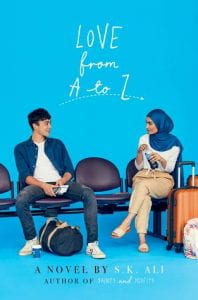 Ali, S.K. Love from A to Z. Salaam Reads, 2019. 978-1-5344-4272-6. 335 p. $18.99. Grades 7-12.
Oddity: When Zayneb gets suspended from school for (once again) defending her Muslim faith to her Islamaphobic teacher, her frustrated mother decides to send her to Doha, Qatar, to visit her aunt. Oddity: Adam, coming to terms with a diagnosis of MS, the disease that killed his mother, decides to drop out of college and return home to Doha, Qatar. Marvel: They notice each other in the London airport. Marvel: They speak on the plane to Qatar. Marvel: Her aunt works with his dad. They meet. There is attraction. But Zayneb is on her best behavior, trying to develop a more mellow personality than her outspoken activist self. Adam has yet to reveal his medical prognosis to his father. Can true love flourish under these conditions? This journal-style narrative switches viewpoints between Zaynab and Adam, slowly revealing the layers of their personalities. Intertwined is their devotion to their faith, which gently allows Ali to discuss Islamophobia, cultural appropriation and Muslim culture, including wearing the hijab and dating mores. Readers may be attracted by the plot but will be all the richer for having read the book.
THOUGHTS: A first purchase where romances are popular and an excellent addition to multi-cultural collections. 
Romance          Nancy Nadig, Penn Manor SD
---
Bennett, Jenn.  Serious Moonlight. Simon Pulse, 2019. 978-1-534-42514-9. 425 p. $18.99. Grades 9 and up.
Birdie Lindbergh, mystery lover extraordinaire, is in something of a pickle. The boy she had both a wonderful and disastrous one night stand with just happens to be working at the same hotel where she has landed her first job. Daniel is everything Birdie is not – gregarious, charming, friends with everyone, and in Birdie's estimation, uncomplicated. Despite their obvious attraction to each other, and Daniel's solicitous behavior towards her, Birdie is floundering, unsure of her own feelings. Birdie, whose mother passed away when she was young, has lived under her grandmother's conservative and overprotective thumb for so long, isolated from peers who her own age because of homeschooling, that she second guesses every interaction. When Daniel suggests they work together – strictly as friends – to solve a mystery at the hotel involving a hyper-famous mystery writer, she can't resist. Jenn Bennett, just like magic-loving Daniel, masterfully utilizes misdirection throughout the novel; just when the reader thinks they know exactly what path Birdie and Daniel are going down, she veers off into an unexpected, but wholly welcome, direction. The secondary characters, particularly Birdie's sweet natured grandfather, and her outrageous, larger-than-life auntie, are well developed and play vital roles in Birdie's life. While Birdie is our main protagonist, it is actually Daniel who steals the spotlight over and over again – Birdie often comes off as a bit one dimensional. Daniel, on the other hand, with his outgoing, witty, and disarmingly nerdy personality draw readers in right away. A breezy, fun, and heartfelt romance novel.
THOUGHTS: This is a decidedly mature book, peppered throughout with cursing, and fairly graphic intimacy – recommended for an older YA audience.
Realistic Fiction          Lauren Friedman-Way, The Baldwin School